1929 Stutz Model M news, pictures, specifications, and information

Tweet
In 1929, Stutz dispatched three of its new Model M chassis to Paris, to the firm of Hibbard & Darrin. Hibbard-Darrin also produced one-off bodies for Duesenberg, Hispano-Suiza, Mercedes-Benz and Packard. Tom Hibbard and Howard 'Dutch' Darrin had roots in the American coachbuilding community, but they met in Paris and set up a thriving business there in the mid-1920s. They took on Minerva and built many bodies for that marque but are most famous for their individual designs, such as this example with torpedo style fenders, or 'wheel pants' as they were called on racing aircraft.

The three Stutz models supplied to Hibbard & Darrin were to be fitted with unique coachwork. One of them, this car, was fitted with convertible victoria coachwork, parabolic cycle-type fenders, dual rear-mounted spare tires and a unique extended hood that swept past the fire-wall to the base of the windshield. This design would become a styling trend among the vogue American coachbuilders in the years that followed.

Harry Stutz's marque, known for the legendary Bearcat, was also renowned for building performance automobiles. All Stutz's in 1929 were Model M's, and all were powered by a 322 cubic-inch, 113 horsepower overhead camshaft straight-eight engine installed on a 134.5 inch wheelbase chassis. The braking system consists of Lockheed vacuum-assisted, 4-wheel hydraulic drum brakes. It was the last year for Lovejoy dual hydraulic shock absorbers. Like many of its competitors, Stutz offered a vast array of models in an effort to compete in the luxury market.

Stutz delivered 2,320 cars in 1929, but similar to many of its competitors, the Indianapolis firm became a victim of the Depression in 1934.

This car arrived stateside in time for the New York Automobile Salon in December of 1929. A total restoration was completed in 2004.
The Stutz Company was named after its founder, Harry Stutz, who had a strong engineering background, beginning with a spectacular initial success at Indianapolis in 1911. This victory earned the company a reputation as 'the car that made good in a day.' Along with Duesenberg, Stutz earnestly maintained a racing presence. The last Stutz was manufactured in 1934. Only 35,000 examples were produced during the company's 25-year history.

The Model M was introduced in 1929. It featured an auxiliary trunk, rumble seat, dual side-mount tires and wire wheels. Power was from a 352 cubic-inch single overhead camshaft engine offering 185 horsepower.

This 1930 Stutz Model M Supercharged Coupe carries chassis number 31312, and is one of only two Supercharged Model M Examples ever constructed. The coachwork is courtesy of Lancefield of England, thus the vehicle has very many 'European' characteristics. It was originally sold by Warwick Wright, Ltd of London, the main UK dealer.

The 325 cubic-inch single overhead camshaft engine produces 185 horsepower which is sent to the rear wheels through a four-speed manual gearbox. Drum brakes provide the stopping power while a semi-elliptic leaf spring suspension in the front and rear provide a comfortable ride.

The car is exquisite, with side step plates, cycle fenders, and a sliding sunroof. The giant Zeiss headlamps provide ample light during night driving.

In 1996 it was sold at auction where it netted $151,000 in un-restored form. A restoration soon was undertaken and the finished product was covered in red and black paint. It was entered in the 1997 Peking to Paris Rally, after it had just been restored. The car had endured no testing. Even still, the car performed exceptionally well. It was not until a failed electrical part for the car to retire from the 45 day race.

The car was shown at the 50th anniversary of the Pebble Beach Concours d'Elegance where it earned a Best in Class award and the Briggs Cunningham award for the most exciting car present. It was awarded Best of Show at the 2006 Greenwich Concours d'Elegance.

It went to auction in September of 2000 where the auction house, RM Auctions, sold the masterpiece for $348,000. The new owner, the legendary Skip Barber, had won the high bid. He commissioned work to be done on some of the mechanical components. The engine was sent to Holman Engineering in Springfield, Massachusetts where it received a complete mechanical rebuild of various parts.

This elegant car has toured the international concours d'Eelegance circuit, where it has racked up impressive awards.
By Daniel Vaughan | Aug 2012
The ultimate formal Stutz, this town car pairs a racing-bred chassis with crisp and elegant coachwork. Lebaron Carrossiers was founded in New York by former Brewster employees Ray Dietrich and Tom Hibbard, soon joined by Ralph Roberts. Dietrich said the LeBaron name was chosen from the Manhattan phone book because it sounded prestigious and French.
The company that bore Harry C. Stutz's surname was a low production, quality company that had a reputation for their performance and speed. They were victorious in the American racing scene, and were a dominant force with the 'White Squadron' racing team. Their Bearcat models have become immortalized and will always be considered as one of the great icons of motoring.

Throughout the lifespan of the company, it experienced its shares of 'ups and downs.' Harry C. Stutz eventually lost control of his company and was replaced by Fred Moskovics, who was an equally brilliant man and a visionary. Moskovics resume included work at Marmon and he was inspired by many great European marques such as Alfa Romeo, Daimler, Mercedes, and Bentley.

Part of the formula for the Stutz cars performance success was their low chassis and powerful Eight cylinder motor. By using a Timken worm drive rear axle the entire chassis could be lowered considerably. This setup was also used to the same effect in the Double Six Daimler and the low chassis Invictas.

Timken hydrostatic brakes were initially used but later replaced with Lockheed hydraulics with oversized finned drums at all four corners. A Warner three-speed transmission was used, later replaced by a four-speed Detroit Gear unit. At the time, four-speed gearbox was a novelty in the United States and very few automakers used it. Eventually, Stutz went back to the three-speed Warner in 1931.

The new Eight-cylinder 'Safety Stutz' proved their potential on the racing circuit, for in 1928 their Stutz won every American Stock Car race entered and was declared World's Champion. Two custom Blackhawk Speedster bodies were penned by Le Baron to take full advantage of the performance. The four-passenger speedster body was designed and built so Stutz would have a car eligible for racing that required four seats.

The 24 Hours of LeMans was the most famous race requiring passenger cars with four seats adn a top. At the time, this event was relatively unknown in America but was the highlight on the European racing calendar. A French Stutz agent entered the Stock Stutz Blackhawk Four-Passenger Speedster int he 1928 event. This was the only Stutz entered in the race, and it held the lead for much of the race, battling off an entire team of works Bentleys. Unfortunately, a loss of high gear late in the race forced the Stutz to finish second.

Chasis M843CY17A
This Four-Passenger Dual-Cowl Speedster Model M features the 'Challenger' engine, used at LeMans, with better head porting and improved performance and flexibility. There is a four-speed transmission that only 1929 and 1930 model Stutz were given. The brakes are the vacuum boosted Lockheed units which proved to be far superior to the Timken design of earlier models.

The LeBaron Speedster bodywork is elegant and 'European', with cut-down doors, dual cowl configuration and a close coupled design.

This vehicle was once part of the Briggs Cunningham collection and featured in his book 'Connoisseur's Choice - Racing, Sports and Touring Cars.' After its time in the Cunningham collection, it went to the Stutz Club founding member William Ruger.

In 2011, the car was offered for sale at the Quail Lodge auction presented by Bonhams. As bidding came to a close, the car had been sold for the sum of $282,000 inclusive of buyer's premium.
By Daniel Vaughan | Nov 2011
The Stutz Company was well known for their performance and speed. During the teens, their 'White Squadron' racing team were very successful in American racing. Despite the various market trends, the company never abandoned its sporting heritage.

The company went through many ups and downs and Harry C. Stutz eventually lost control of his company. When Mr. Stutz left, his shoes were filled by Fred Moskovics. Mr. Moskovics resume included work with Marmon and with many talented engineers, including Charles 'Pop' Greuter. Greuter was an engine man very interested in overhead cam valve trains. His design for Excelsior of an overhead cam straight-eight would prove the basis for the new Stutz Eight. The 8-cylinder engine was chain-driven, with an overhead cam configuration, ten main bearings, dual ignition, dual throat carburetion and cross flow porting.

The Stutz Eight would enjoy international motoring acclaim, most notably at the 1928 Le Mans 24 Hours, where a French-entered stock Stutz Blackhawk Four-Passenger Speedster held the lead for much of the race.

Chassis no. M854CD223
The Stutz chassis models for the late 1920s were European-inspired with a series of fashionable Continental-style bodies with each given the name of an exotic European location (Biarritz, Chamonix, Versailles, Fontainbleau, etc.)

This example wears Monte Carlo coachwork with Weymann construction which features the company's trademark light and rattle-free fabric-covered finish.

This car was given a restoration approximately in the 1990s. It has been part of an East Coast collection for the past 15 years and has recently received a thorough service.
By Daniel Vaughan | Jan 2014
In 1876, Harry C. Stutz was born. He grew up on the family farm where he often helped repair their farm equipment. This led to a fascination with engines and in 1897 he built his first car; soon after he began designing and creating engines. The Stutz Company, based in Indianapolis, Indiana, introduced its first production vehicle in 1911. The vehicle, after only five months of design and build, was immediately entered in the inaugural Indianapolis 500 mile race where it captured an 11th place finish. Not bad for its first vehicle and first race. Throughout the company's life span, it would endure good and bad times. The Stutz Company was in production during World War I and the Great Depression, both responsible for negatively affecting Industry.
Stutz will be forever remembered for their Bearcat model, a vehicle produced until 1925. This pure-bred race car had an aggressive and masculine stance; the interior was void of luxury and amenities. With its high revving straight 8-cylinder overhead camshaft engine and lightweight construction, the vehicle was poised to compete in national and international competition.

In 1919, Harry Stutz was forced by stock holders to leave his company. In 1922, Charles Schwab was given control of the company. In 1925, Schwab gave control of the company to Frederick Moskovics. Moskovic planed to revitalize the company by shifting the priorities from racing to producing luxurious automobiles. This did not mean that the company was to abandon its racing heritage, rather Moskovics wanted to expand its racing prowess by entering it in International competition. The 24 Hours of Le Mans is a grueling endurance battle that tests stamina, speed, and durability. In 1928 a Stutz Series BB Black Hawk Speedster, driven by Edouard Brisson and Robert Bloch, was entered in the French LeMans race. The vehicle did well, leading for most of the race. Half way through the 22nd hour, the gearbox broke on the Stutz and a Bentley 4.5-liter was able secure a first place finish. The Stutz was second, the best an American car had ever placed in this prestigious race.

In 1929, the Stutz Company decided to increase their chances of victory by entering more than one vehicle into the Le Mans race. The vehicles were designed and prepared especially for the race. Gordon Buehrig was tasked with designing the bodies for the 2-seater sportscars. A modified 5.5-liter straight 8-cylinder with a supercharger were placed in the front and powered the rear wheels. Three vehicles entered by Stutz Paris, Colonel Warwick Wright, and Charles Weymann were anxiously anticipating a repeat of the prior years success or possibly an overall victory. Sadly, only one vehicle would finish. Behind a fleet of Bentley's was the Stutz followed by a Chrysler 75. With a fifth place finish, the Stutz cars were no match for the powerful and agile Bentley Speed Six models.

In the early part of 1929, Moskovics resigned and Edgar Gorrell assumed the duties of president. Many manufacturers were developing multi-cylinder cars which attracted a larger market share of the already small luxury car market. The Stutz Company was not in a financial position to develop an engine of this caliber. Instead, Stutz embarked on developing an inline eight cylinder engine with single overhead cams. The result was the SV16, representing the side-valve 16 meaning that one exhaust and one intake valve per cylinder was allocated for the eight cylinders. By using the name SV16, it gave the vehicle an allure of equal capacity to other nameplates such as the Cadillac and Marmon V16. The SV-16 came equipped with a windshield safety glass and hydrostatic brakes. The chassis sat lower than most of the competition giving it an advantage through turns. During its production run, around 100 examples were produced.

Following on the heals of the SV16 was the DV-32. The engine featured updraft Schebler carburetors and four valves per cylinder equaling 32 valves and dual overhead camshafts. The power-plant was capable of producing 156 horsepower. The vehicle sat atop of a 145 inch wheelbase and outfitted with Stutz 8 hubcaps. At $6,400 these vehicles were extremely expensive at the time.

The Stutz 8 was produced from 1926 through 1935. The engine produced just over 90 horsepower. Within a few years, horsepower had been incrased to over 115.

In 1928, the Blackhawk series was introduced. These sports cars were affordable, competitive, and compact; outfitted with a powerful engines.

During the close of the 1920's, the Stutz company was riddled with lawsuits, including 'breach-of-contract' over engine building. James Scripps-Booth entered a lawsuit about the low-slung worm drive design Stutz had been using. The Stutz Company was beginning to fall on hard times.

The demise on the race track would slowly transcend to the market place. For all of 1930, there were less than 1500 cars produced. Sales declined even more in the following years and in 1934, after only six Stutz cars produced, the factory closed its doors. This is not to suggest the racing results were solely responsible for the company's woes. The Great Depression crippled and destroyed many auto manufacturers at this time. Competition in design and technology was ever present and the dependable, mass-produced, low-cost automobile manufacturers were in the best positions to come out on top. The Stutz Company had an impressive racing heritage and its automobiles are legendary. The Stutz name is respected by many including those overseas.

In 1968 a New York banker named James O'Donnell incorporated Stutz Motor Car of America. Ghia was commissioned to create a design for the Stutz Blackhawk, which was shown to the public in 1970. Sales continued for more than a decade selling very strongly until 1987. Production slowed from 1987 until 1995 when production ceased.
By Daniel Vaughan | Dec 2006
The Stutz Series M coupe was introduced in 1929 and featured an auxiliary trunk, a rumble seat, and dual side-mount spare tires and wire wheels. Right above the front bumper are driving lights that turn in synchronization with the steering.

Before the Series M was the introduction of the Stutz Vertical Eight in 1926, which is considered to be 'the most European of the US auto designs of the era'. The Stutz Model M Supercharged Coupe was dramatic, and featured a very low-slung, one-off coupe coachwork by Lancefield and is one of only 24 supercharged vehicles ever produced by Stutz. A total of 2,320 units Model M units were produced in 1929.

Featuring a rare supercharged engine, the Model M was spectacular in design and featured step plates, a sliding sunroof and cycle fenders that created a truly sporting appearance. Large Zeiss headlamps aided the vehicle in night driving. Originally the Lancefield body has been fabric-covered over wood; the Weymann body building method. The original advertisement was quoted as 'this striking motorcar holds the potential to become one of the premier entrants on the international concours d'elegance circuit.'
By Jessica Donaldson
For more information and related vehicles, click
here
'Best of Show' Named at 2013 Hilton Head Island Motoring Festival & Concours d'Elegance
HILTON HEAD ISLAND, S.C. (Nov. 3, 2013) – The coveted 'Best of Show' and 'People's Choice' honors were awarded today at the prestigious Hilton Head Island Motoring Festival & Concours d'Elegance, held at the Port Royal Golf Club on Hilton Head Island, S.C. The top honor at Sunday's Concours d'Elegance, 'Best of Show,' was awarded to a 1929 Stutz Supercharged Coupe owned by Richard and Irina Mitchell of Montgomery, Texas. This car is the only example of its kind still in existence. ...[Read more...]
9th Keeneland Concours d'Elegance names 1929 Stutz Best of Show
More than 130 collector cars and motorcycles are showcased during competition The 9th annual Keeneland Concours d'Elegance featured many of the finest classic automobiles and motorcycles on display Saturday, July 21, at the Keeneland Race Course, with a fabulous 1929 Stutz Model M Lancefield Coupe taking home Best of Show honors. These rare automobiles, motorcycles and other unique vehicles on display were judged for their historical accuracy, presentation and overall cleanliness. E...[Read more...]
Early Supercharged Automobiles Will Be Featured at 2012 Glenmoor Gathering
One of the highlighted features of the 2012 Gathering will be early supercharged automobiles. Here's a special example—a 1929 Stutz type MC with custom coachwork by Lancefield. This one-of-a-kind Stutz is owned by noted collector Richard Mitchell of Montgomery, Texas. Among the famous marques equipped with superchargers were American automobiles such as Auburn, Cord, Graham and Duesenberg as well as foreign makes such as Bentley, Mercedes-Benz and Alfa-Romeo. In all, more than 200 vintage...[Read more...]
1960 FERRARI 400 SUPERAMERICA SWB CABRIOLET HEADLINES STUNNING LIST OF EUROPEAN SPORTS-TOURING CARS AT RM'S AMELIA ISLAND SALE
• RM Auctions announces additional highlights for its Amelia Island, Florida sale, March 14 • Recent entries led by a 1960 Ferrari 400 Superamerica SWB Cabriolet, one of the most valuable automobiles ever offered during the Amelia Island weekend • The official auction of the Amelia Island Concours d'Elegance, single-day RM sale lifts gavel more than 90 automobiles • Premier offerings showcased at http://m.rmauctions.com BLENHEIM, Ontario (January 27, 2015) – Fresh on the hee...[Read more...]
Two Best of Show Winners : Similar Designs : Same Owner
When these two vehicles won Best of Show honors at major Concours d'Elegance events, they both were owned by Judge Joseph Cassini III. The green colored Chrysler 4 door Phaeton with tan convertible top wears coachwork by LeBaron. In 2012, it won the Best of Show title (for an American car) at the Concours d'Elegance of America at St. Johns. The other car is a Packard 2 door Convertible Victoria with coachwork by Dietrich. It won this years Pebble Beach Concours d'Elegance Best of Show honors...[Read more...]
63rd Pebble Beach Concours d'Elegance Names 1934 Packard 'Best of Show'
The competition showcased 248 cars, including 48 from abroad PEBBLE BEACH, Calif. (August 18, 2013) -- A 1934 Packard 1108 Twelve Dietrich Convertible Victoria owned by Joseph and Margie Cassini III of West Orange, New Jersey, was named Best of Show at the 63rd Pebble Beach Concours d'Elegance, held Sunday on the 18th fairway of Pebble Beach Golf Links at Pebble Beach Resorts. The event showcased 248 cars from 36 states and 12 countries and raised $1,277,007 for charity. 'This Pack...[Read more...]
MULSANNE LE MANS LIMITED EDITION MAKES NORTH AMERICAN DEBUT AT PEBBLE BEACH
Continental Range of Le Mans Limited Edition models on display • 1931 Bentley 4½ Litre Supercharged Le Mans headlines a series of vintage Bentleys to be auctioned during the Monterey Classic Car Week (Pebble Beach, 13 August 2013). The past meets the present for Bentley this year as California's Monterey Peninsula is primed for a week of the world's most coveted historic automobile displays and events. Bentley continues to celebrate the 90th Anniversary of the Le Mans 24 Hour...[Read more...]
Historic Aston Martin DB3S Sports Racing Car Joins RM's Monterey Sale
A rare and spectacular 1955 Aston Martin DB3S Sports Racing Car, chassis DB3S/118, is the latest multi-million-dollar entry to join RM's highly anticipated Monterey sale, August 17–18 in California. Noteworthy for its outstanding provenance, rarity, and trendsetting Aston Martin design, the DB3S is widely considered one of the most attractive and elegantly designed sports racing cars of the post war period—a masterpiece of David Brown's vision, executed stunningly in aluminum from the charact...[Read more...]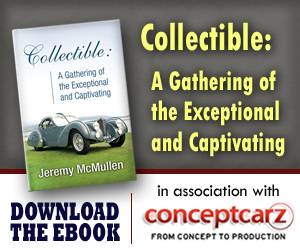 © 1998-2014. All rights reserved. The material may not be published, broadcast, rewritten, or redistributed.