1958 Mercedes-Benz 300D news, pictures, specifications, and information

Tweet
Mercedes-Benz's vast 300D was the ultimate evolution of the 300 sedan series that debuted in 1951 and evolved through the B and C variants to the 300D, which incorporated parts from the legendary 300SL. The Mercedes-Benz 300 Series, from road racing champion to limousine of the Chancellor of Germany, was a potent social icon in post-war Germany.

The giant 300D's direct-overhead-cam, six-cylinder engine shared the 300SL's valves and Bosch fuel injection, and produced 160 horsepower. It was the perfect car to transport the Chief of State on the Autobahn at high speed. The D was the ultimate evolution of the 300 Series sedan.

The Brumos Collection is the second owner of this vehicle.
The Mercedes-Benz 300D was introduced in 1951 and produced through 1954. The 300 Series, also known as the W186, was first shown at the 1951 Paris Auto Show. The car instantly became popular with the social elite, the rich, and the famous. The cars were powered by a six-cylinder overhead valve carbureted engine. There were seven Mercedes-Benz colors to select from. Optional equipment included a Becker radio, VHF short-wave telephone, custom wood trims, leather or cloth seats, carpeting, and a dictation machine, to name a few.

In late 1954, the model was updated resulting in the 300b. The 300b included improvements such as finned drum brakes, a brake booster, and vents in the front door.

The next installment of the 300 was the 300c, which appeared in 1955 and continued through 1957. A sedan version of the 300C cost over $10,800 while the convertible version cost $14,230.

The 300 'd' model, series W189, was produced from August of 1957 and continued until March of 1962. There were a total of 3077 examples produced. The cars were powered by a Bosch fuel-injected six-cylinder engine that produced an impressive 160 horsepower. The Borg-Warner automatic gearbox was a popular option. All cars that were sent to the US were given the automatic gearbox.

Total production of the six different 300 series cars, which lasted from 1951 through 1962, totaled 12,290 units.

A limited number of the 300 Series sedan and cabriolet models were given the name 'Adenauer', which was derived from Dr. Konrad Adenauer, the chancellor of Germany. He used six of these 300 models during his time in office.
By Daniel Vaughan | Apr 2007
For more information and related vehicles, click
here
BOSCH ANNOUNCES NATIONWIDE DISTRIBUTION PARTNERSHIP WITH MYERS TIRE SUPPLY
◾National distributor to carry full line of Bosch Wheel Service products ◾Balancer Models WBE 4200 and WBE 4400 will be exclusive products available only from Myers Tire Supply Warren, MI., - Bosch Automotive Service Solutions today announced a nationwide distribution partnership with Myers Tire Supply to carry Bosch Wheel Service equipment. Bosch will offer a full line of wheel balancers, tire changers and brake lathes, through Myers' nationwide distribution network of more than 160 ...[Read more...]
GM FOUNDATION PLEDGES $500,000 TO HELP VICTIMS OF TEXAS TORNADOES
DETROIT – The General Motors Foundation is pledging $500,000 to Habitat for Humanity to help victims of the recent tornadoes in five Texas counties. The funds will be used to help restore neighborhoods devastated by Wednesday's storms. 'Helping Texas residents rebuild and repair their homes is a critical priority for Habitat for Humanity International in the aftermath of the recent tornadoes,' said Selim Bingol, vice president, GM Global Communications and Public Policy and Chairman of...[Read more...]
BOSCH CONTINUES GROWTH PATH IN NORTH AMERICA
- Regional business results - Automotive and Industrial Sectors Boost 2012 Sales - Bosch 2012 sales in North America up 8.1 percent to $10.6 billion USD - Near double-digit sales growth expected in 2013 - Bosch aligns into four business sectors: Automotive Technology, Industrial Technology, Consumer Goods and Energy & Building Technology FARMINGTON HILLS, Mich., May 15, 2013 - In spite of a cooling global economy in 2012, strong sales in the company's Automotive Technology and Indu...[Read more...]
18th Annual Amelia Island Concours d'Elegance Tickets Now Available Online
Tickets are now available on line for the 18th Annual Amelia Island Concours d'Elegance. The three-day Amelia Island Concours d'Elegance is scheduled for Friday, Saturday and Sunday, March 8-10, 2013 at the Ritz-Carlton Amelia Island Resort, Amelia Island, Florida. The centerpiece, Concours d'Elegance, is schedule for Sunday March 10, 2013 on the Golf Club of Amelia Island at Summer Beach. The field opens at 9:30 A.M., remaining open until 5:00 P.M. Discounted advance sale tickets ...[Read more...]
Champions Crowned at Lime Rock Park
While the setting for the Championship Weekend at Lime Rock Park may be bucolic, the hills today reverberated with the sounds of intense action from the 13th and final race of the 2012 GRAND-AM Rolex Sports Car Series. The yellow flag was in regular use as, right out of pit row, the race started under a full course caution after the #70 SpeedSource Mazda RX-8 went off the course in turn one during the last parade lap. A stop and go pace followed for much of the first half of the race – a seco...[Read more...]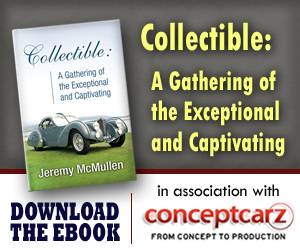 Similarly Priced Vehicles from 1958
Cadillac Series 70 Eldorado Brougham ($13,074-$13,074)
Facel Vega FVS ($5,510-$12,820)
Ferrari 250 GT Drogo ($12,500-$12,500)
Ferrari 250 GT ($12,505-$12,505)
Maserati 3500 GT ($11,410-$12,310)
Mercedes-Benz 300SL ($10,930-$10,930)

Average Auction Sale: $71,873
Mercedes-Benz
Monthly Sales Figures
Volume
July 2014
29,406
June 2014
28,707
May 2014
26,617
April 2014
28,281
March 2014
29,316
February 2014
22,609
January 2014
23,892
December 2013
35,835
November 2013
36,386
October 2013
32,107
September 2013
26,849
August 2013
26,151
(More Details)
© 1998-2014. All rights reserved. The material may not be published, broadcast, rewritten, or redistributed.