1958 Mercedes-Benz 300D news, pictures, specifications, and information

Tweet
Mercedes-Benz's vast 300D was the ultimate evolution of the 300 sedan series that debuted in 1951 and evolved through the B and C variants to the 300D, which incorporated parts from the legendary 300SL. The Mercedes-Benz 300 Series, from road racing champion to limousine of the Chancellor of Germany, was a potent social icon in post-war Germany.

The giant 300D's direct-overhead-cam, six-cylinder engine shared the 300SL's valves and Bosch fuel injection, and produced 160 horsepower. It was the perfect car to transport the Chief of State on the Autobahn at high speed. The D was the ultimate evolution of the 300 Series sedan.

The Brumos Collection is the second owner of this vehicle.
The Mercedes-Benz 300D was introduced in 1951 and produced through 1954. The 300 Series, also known as the W186, was first shown at the 1951 Paris Auto Show. The car instantly became popular with the social elite, the rich, and the famous. The cars were powered by a six-cylinder overhead valve carbureted engine. There were seven Mercedes-Benz colors to select from. Optional equipment included a Becker radio, VHF short-wave telephone, custom wood trims, leather or cloth seats, carpeting, and a dictation machine, to name a few.

In late 1954, the model was updated resulting in the 300b. The 300b included improvements such as finned drum brakes, a brake booster, and vents in the front door.

The next installment of the 300 was the 300c, which appeared in 1955 and continued through 1957. A sedan version of the 300C cost over $10,800 while the convertible version cost $14,230.

The 300 'd' model, series W189, was produced from August of 1957 and continued until March of 1962. There were a total of 3077 examples produced. The cars were powered by a Bosch fuel-injected six-cylinder engine that produced an impressive 160 horsepower. The Borg-Warner automatic gearbox was a popular option. All cars that were sent to the US were given the automatic gearbox.

Total production of the six different 300 series cars, which lasted from 1951 through 1962, totaled 12,290 units.

A limited number of the 300 Series sedan and cabriolet models were given the name 'Adenauer', which was derived from Dr. Konrad Adenauer, the chancellor of Germany. He used six of these 300 models during his time in office.
By Daniel Vaughan | Apr 2007
For more information and related vehicles, click
here
VOLKSWAGEN TAKES HOLISTIC APPROACH TO E-MOBILITY WITH LAUNCH FOR ULTRA LOW CARBON CAR
Aug 5, 2014 • Volkswagen partners with 3Degrees® to purchase carbon offsets in California and around the United States to cover certain greenhouse gas (GHG) emissions associated with 2015 e-Golf models • SunPower® selected as VW's official solar energy partner, providing eligible e-Golf® owners the opportunity to achieve the electricity savings and power management capabilities of its high performance solar solutions • Bosch Automotive Service Solutions® selected as VW's preferred home...[Read more...]
RRDC VOTES IN 37 NEW MEMBERS FOR 2013
HILLIARD, Ohio (Nov. 7, 2013) - Thirty-seven race-car drivers and motorsports professionals have been voted into the Road Racing Drivers Club in 2013. The group includes 13 Regular Members from the open-wheel and sports-car racing ranks, 20 Associate Members and four Honorary Members. The current roster of RRDC members now numbers 440. Voting was held among all current RRDC members. 'This year's crop of new Regular Members truly represents the spirit of the RRDC, as each driver has de...[Read more...]
BOSCH INTRODUCES POWER MAX FIRST SUB-$450 ELECTRIC VEHICLE (EV) CHARGING STATION
Bosch Automotive Service Solutions, a leading supplier of technology and services, introduces Power Max, the automotive industry's first Electric Vehicle (EV) charging station with a price point of less than $450. The Power Max will retail for roughly half the cost of current EV charging stations, offering 240V charging, and reducing charging time by half while helping customers reduce their need for fossil fuels. Leveraging expertise gained in household appliances and automotive solutions, ...[Read more...]
BMW HONORS BOSCH
'BMW Supplier Innovation Award' for outstanding partnership - Special prize in the innovation partnership category - BMW honors several innovation milestones - Bosch continues to drive progress in automotive technology The BMW Group has awarded Bosch its 'BMW Supplier Innovation Award'. The German carmaker presents the prize to suppliers who have distinguished themselves with outstanding innovation and performance. 'We are very proud of this award,' says Peter Tyroller,...[Read more...]
Porsche Captures Four Spots in Top-10 at Homestead-Miami
Homestead, Fla. – April 29 – The rain-soaked weekend at Homestead-Miami Speedway seeded custom-made for the quintet of GT class Porsche 911 GT3 Cup entries in the third round of the 2012 GRAND-AM Rolex Sports Car Series. However, when heavy rain forced officials to call the April 29th Grand Prix of Miami with 50-minutes remaining in the scheduled two-hour, 45-minute event on the 2.3-mile, 11-turn road course in Homestead, Fla., the Porsche teams were left out in the rain. The world's lead...[Read more...]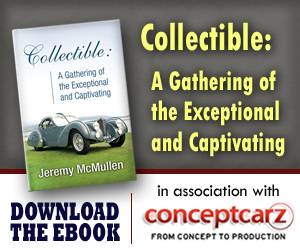 Similarly Priced Vehicles from 1958
Cadillac Series 70 Eldorado Brougham ($13,074-$13,074)
Facel Vega FVS ($5,510-$12,820)
Ferrari 250 GT Drogo ($12,500-$12,500)
Ferrari 250 GT ($12,505-$12,505)
Maserati 3500 GT ($11,410-$12,310)
Mercedes-Benz 300SL ($10,930-$10,930)

Average Auction Sale: $71,873
Mercedes-Benz
Monthly Sales Figures
Volume
September 2014
29,523
August 2014
28,958
July 2014
29,406
June 2014
28,707
May 2014
26,617
April 2014
28,281
March 2014
29,316
February 2014
22,609
January 2014
23,892
December 2013
35,835
November 2013
36,386
October 2013
32,107
(More Details)
© 1998-2014. All rights reserved. The material may not be published, broadcast, rewritten, or redistributed.