1958 Mercedes-Benz 300D news, pictures, specifications, and information

Tweet
Mercedes-Benz's vast 300D was the ultimate evolution of the 300 sedan series that debuted in 1951 and evolved through the B and C variants to the 300D, which incorporated parts from the legendary 300SL. The Mercedes-Benz 300 Series, from road racing champion to limousine of the Chancellor of Germany, was a potent social icon in post-war Germany.

The giant 300D's direct-overhead-cam, six-cylinder engine shared the 300SL's valves and Bosch fuel injection, and produced 160 horsepower. It was the perfect car to transport the Chief of State on the Autobahn at high speed. The D was the ultimate evolution of the 300 Series sedan.

The Brumos Collection is the second owner of this vehicle.
The Mercedes-Benz 300D was introduced in 1951 and produced through 1954. The 300 Series, also known as the W186, was first shown at the 1951 Paris Auto Show. The car instantly became popular with the social elite, the rich, and the famous. The cars were powered by a six-cylinder overhead valve carbureted engine. There were seven Mercedes-Benz colors to select from. Optional equipment included a Becker radio, VHF short-wave telephone, custom wood trims, leather or cloth seats, carpeting, and a dictation machine, to name a few.

In late 1954, the model was updated resulting in the 300b. The 300b included improvements such as finned drum brakes, a brake booster, and vents in the front door.

The next installment of the 300 was the 300c, which appeared in 1955 and continued through 1957. A sedan version of the 300C cost over $10,800 while the convertible version cost $14,230.

The 300 'd' model, series W189, was produced from August of 1957 and continued until March of 1962. There were a total of 3077 examples produced. The cars were powered by a Bosch fuel-injected six-cylinder engine that produced an impressive 160 horsepower. The Borg-Warner automatic gearbox was a popular option. All cars that were sent to the US were given the automatic gearbox.

Total production of the six different 300 series cars, which lasted from 1951 through 1962, totaled 12,290 units.

A limited number of the 300 Series sedan and cabriolet models were given the name 'Adenauer', which was derived from Dr. Konrad Adenauer, the chancellor of Germany. He used six of these 300 models during his time in office.
By Daniel Vaughan | Apr 2007
For more information and related vehicles, click
here
AUDI SPORT IN 2014 AGAIN RELIES ON STRONG PARTNERS IN THE FIA WEC
• Audi Sport has gained Aethra and Oris as two new LMP partners • Long-standing partnerships to continue this year • Dr. Wolfgang Ullrich: 'We're delighted about the internationally renowned partners' Ingolstadt, March 17, 2014 – Audi is defending its titles in the FIA World Endurance Championship (WEC) backed by strong partners. Renowned companies with worldwide operations accompany the presence of up to three Audi R18 e-tron quattro in the WEC. Following two WEC title w...[Read more...]
BOSCH TECHNOLOGY POWERS 2014 CHEVROLET CRUZE CLEAN TURBO DIESEL
- Cruze Clean Turbo Diesel available now in U.S. and Canada - Bosch predicts more than 60 clean diesel models in N.A. market in 2017 - Vehicle achieves industry-best, EPA-estimated 46 mpg highway FARMINGTON HILLS, Mich. – Bosch, a leading global technology supplier, announced today that its clean diesel technology is featured on the 2014 Chevrolet Cruze Clean Turbo Diesel. Bosch provides the fuel injection system, ceramic glow plugs, engine control module, exhaust gas treatment tech...[Read more...]
PORSCHE CUSTOMER TEAMS EARN FOUR OF TOP-10 GRAND-AM GT POSITIONS IN PORSCHE 250
Porsche customer teams placed four 911 GT3 Cup cars in the top-10 of the Porsche 250 held at Birmingham, Alabama's Barber Motorsports Park today. All five of the Porsche Cup cars entered for Round Three of the GRAND-AM Rolex Sports Car Series season finished within the top-11. The two-hour race, a sprint event in the terms of endurance sports car racing, saw the No. 18 Muehlner Motorsports America Porsche led eight laps while the No. 44 Magnus Racing Porsche leaves Alabama holding the lead in th...[Read more...]
JAGUAR EXPANDS POWERTRAIN CHOICE WITH TWO ADDITIONAL FORCED-INDUCTION PETROL ENGINES
As Jaguar expands its product offer in key global markets it is introducing two additional petrol units to its range to enhance customer choice; the new 3.0-litre V6 Supercharged Petrol, and the 2.0-litre I4 Turbocharged Petrol. Adrian Hallmark, Global Brand Director, Jaguar Cars, said: 'Jaguar currently has its strongest range of products for several decades. Our continued growth is dependent on two things; activating the awareness of the brand, and expanding our range to enable us to access...[Read more...]
Active Comfort provides for stress-free driving and recuperation in the car
Mercedes cars take on the role of personal coach What could be better than a personal coach with a tailor-made training programme to enhance your fitness and general well-being, on hand to support you at any time of the day or night? Tomorrow's Mercedes-Benz cars will take on this very role. Active Comfort, defined as 'performance-enhancing comfort', provides for well-being, recuperation and subsequent fitness at the wheel. The experts from Mercedes-Benz Cars and Mercedes-Benz Trucks a...[Read more...]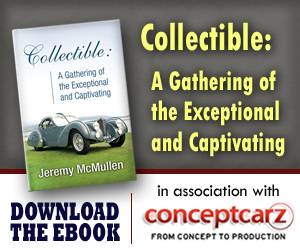 Similarly Priced Vehicles from 1958
Cadillac Series 70 Eldorado Brougham ($13,074-$13,074)
Facel Vega FVS ($5,510-$12,820)
Ferrari 250 GT Drogo ($12,500-$12,500)
Ferrari 250 GT ($12,505-$12,505)
Maserati 3500 GT ($11,410-$12,310)
Mercedes-Benz 300SL ($10,930-$10,930)

Average Auction Sale: $71,873
Mercedes-Benz
Monthly Sales Figures
Volume
November 2014
37,110
October 2014
30,733
September 2014
29,523
August 2014
28,958
July 2014
29,406
June 2014
28,707
May 2014
26,617
April 2014
28,281
March 2014
29,316
February 2014
22,609
January 2014
23,892
December 2013
35,835
(More Details)
© 1998-2014. All rights reserved. The material may not be published, broadcast, rewritten, or redistributed.