1958 Mercedes-Benz 300D news, pictures, specifications, and information

Tweet
Mercedes-Benz's vast 300D was the ultimate evolution of the 300 sedan series that debuted in 1951 and evolved through the B and C variants to the 300D, which incorporated parts from the legendary 300SL. The Mercedes-Benz 300 Series, from road racing champion to limousine of the Chancellor of Germany, was a potent social icon in post-war Germany.

The giant 300D's direct-overhead-cam, six-cylinder engine shared the 300SL's valves and Bosch fuel injection, and produced 160 horsepower. It was the perfect car to transport the Chief of State on the Autobahn at high speed. The D was the ultimate evolution of the 300 Series sedan.

The Brumos Collection is the second owner of this vehicle.
The Mercedes-Benz 300D was introduced in 1951 and produced through 1954. The 300 Series, also known as the W186, was first shown at the 1951 Paris Auto Show. The car instantly became popular with the social elite, the rich, and the famous. The cars were powered by a six-cylinder overhead valve carbureted engine. There were seven Mercedes-Benz colors to select from. Optional equipment included a Becker radio, VHF short-wave telephone, custom wood trims, leather or cloth seats, carpeting, and a dictation machine, to name a few.

In late 1954, the model was updated resulting in the 300b. The 300b included improvements such as finned drum brakes, a brake booster, and vents in the front door.

The next installment of the 300 was the 300c, which appeared in 1955 and continued through 1957. A sedan version of the 300C cost over $10,800 while the convertible version cost $14,230.

The 300 'd' model, series W189, was produced from August of 1957 and continued until March of 1962. There were a total of 3077 examples produced. The cars were powered by a Bosch fuel-injected six-cylinder engine that produced an impressive 160 horsepower. The Borg-Warner automatic gearbox was a popular option. All cars that were sent to the US were given the automatic gearbox.

Total production of the six different 300 series cars, which lasted from 1951 through 1962, totaled 12,290 units.

A limited number of the 300 Series sedan and cabriolet models were given the name 'Adenauer', which was derived from Dr. Konrad Adenauer, the chancellor of Germany. He used six of these 300 models during his time in office.
By Daniel Vaughan | Apr 2007
For more information and related vehicles, click
here
GLOBAL AUTOMOTIVE INDUSTRY LEADERS TO OPEN FISITA 2014 WORLD AUTOMOTIVE CONGRESS
The FISITA 2014 World Automotive Congress takes place 2-6 June 2014 in Maastricht, the Netherlands. The Congress will bring the global automotive engineering community together to address the theme: Intelligent transport to solve our future mobility, safety and environmental challenges. The Congress will open with keynote addresses from: ◾Dr. Ulrich Hackenberg, Board of Management, AUDI AG; Board Member for Technical Development, Volkswagen Group ◾Dr. Li Jun, President, FISITA; Presi...[Read more...]
DAYTONA INTERNATIONAL SPEEDWAY TEST: DAY 2 – NOV. 20, 2013
DAYTONA BEACH, Fla. (Nov. 20, 2013) – The TUDOR United SportsCar Championship's November preseason testing concluded on Wednesday at Daytona International Speedway, with six GTLM and 19 GTD teams posting competitive laps in preparation for the season-opening Rolex 24 At Daytona on Jan. 25-26, 2014. IMSA and Continental Tire officials decided Wednesday morning to suspend testing for Prototype (P) and Prototype Challenge (PC) race cars due to issues that came to light in Tuesday's sessio...[Read more...]
RRDC VOTES IN 37 NEW MEMBERS FOR 2013
HILLIARD, Ohio (Nov. 7, 2013) - Thirty-seven race-car drivers and motorsports professionals have been voted into the Road Racing Drivers Club in 2013. The group includes 13 Regular Members from the open-wheel and sports-car racing ranks, 20 Associate Members and four Honorary Members. The current roster of RRDC members now numbers 440. Voting was held among all current RRDC members. 'This year's crop of new Regular Members truly represents the spirit of the RRDC, as each driver has de...[Read more...]
2014 RANGE ROVER NOW AVAILABLE FOR ORDER WITH A CHOICE OF SUPERCHARGED V6 & V8 ENGINES
•Following the sales success of the all-new 2013 Range Rover, the 2014 Range Rover is now available for order, with deliveries beginning this summer •A new 340hp 3-liter supercharged V6 will offer improved efficiency with reduced emissions and uncompromised capability •A 510hp supercharged 5-liter V8 will continue to be available •The 2014 Range Rover will be equipped with a new Intelligent Stop/Start system which reduces idling to reduce emissions and save fuel •Both engines will be pa...[Read more...]
McLaren GT Confirms Details of Enhanced 12C GT3 To Compete Globally in 2013
•Additional production run of the 12C GT3 confirmed to compete globally •Revisions designed to improve overall efficiency and reliability •12C GT3 competitive debut season summary available to view at the official McLaren Automotive YouTube channel: http://youtu.be/72jgg4BqYsY As was confirmed at the close of last year, McLaren GT will produce further examples of the 12C GT3 available to compete in the 2013 season. These new models are eligible for all GT3 championships and, for the fir...[Read more...]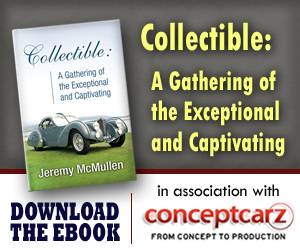 Similarly Priced Vehicles from 1958
Cadillac Series 70 Eldorado Brougham ($13,074-$13,074)
Facel Vega FVS ($5,510-$12,820)
Ferrari 250 GT Drogo ($12,500-$12,500)
Ferrari 250 GT ($12,505-$12,505)
Maserati 3500 GT ($11,410-$12,310)
Mercedes-Benz 300SL ($10,930-$10,930)

Average Auction Sale: $71,873
Mercedes-Benz
Monthly Sales Figures
Volume
July 2014
29,406
June 2014
28,707
May 2014
26,617
April 2014
28,281
March 2014
29,316
February 2014
22,609
January 2014
23,892
December 2013
35,835
November 2013
36,386
October 2013
32,107
September 2013
26,849
August 2013
26,151
(More Details)
© 1998-2014. All rights reserved. The material may not be published, broadcast, rewritten, or redistributed.