1957 Mercury Turnpike Cruiser news, pictures, specifications, and information

Tweet
This 1957 Mercury Turnpike Convertible Cruiser Indy 500 Pace Car with chassis number 57SL66064M is truly a unique creation. It is the only 1957 Indianapolis 500 Pace Car created, and was once owned by Indy Winner Sam Hanks.

The Turnpike Cruiser was Mercury's top-of-the-line offering in 1957 and 1958. It was a bold car that went against the public's opinion that Mercury only produced conservative cars. They came in either two or four door hard top configuration. Matching their style was their list of standard equipment, which was virtually every power item available. The interior was filled with push buttons. Under the hood was an overhead valve V8 with Holley four-barrel carburetors. The 368 cubic-inch beast produced 290 horsepower. The Merc-O-Matic automatic transmission gently sent the power to the rear wheels. The 122 inch wheels base was delicately held in place by coil springs and semi-elliptic leaf springs. Four-wheel hydraulic brakes provided the stopping power.

There were 1265 examples produced of the Turnpike Convertible Cruisers, each carrying a sticker price of $4103.

This example was the actual Pace Car for the 1957 Indy race and was awarded to the winner, Sam Hanks. It was the first pace car to complete two laps, since the parade lap was introduced in 1957. The car was kept by Hanks until the 1980's when it was sold to a collector in California. It is currently owned by its third owner. It has made an appearance at the 2004 Amelia Island Concours d'Elegance.
By Daniel Vaughan | Dec 2006
The Mercury Turnpike features many styling cues from the FoMoCo concept cars prior, including a wrap over and around windshield, roof asto-style vents, power breeze-way rear window and the famous 'Cruiser' fender skirts. Futuristic push-buttons operated the automatic transmission behind the powerful 368ci engine. This car is mostly original with mechanical restoration in 1999.
The Turnpike Cruiser was the flagship Mercury model in 1957 and 1958. At 4,125 pounds, it is powered by a 368 cubic-inch V8 engine rated at 260 horsepower when fitted with Holley four-barrel carburetors, dual exhausts and a Merc-O-Matic transmission with a new-for-1957 Keyboard Control Panel. This car is equipped with power steering, brakes, windows, Memory Matic seats and convertible top.

This car was introduced in late 1957 and designed specifically to be the official pace car for the 1957 Indianapolis 500. Original price was $4,103 and only 1,265 were made with each having the Continental tire kit and many were painted Sunglitter Yellow like the original pace car. With 3,148 franchise dealers, Mercury only produced one for every two-and-one-half dealers.
President Eisenhower signed into law the National Interstate and Defense Highways Act on June 29th of 1956. This piece of legislation appropriated $25 billion for the construction of 41,000 miles of freeways throughout America. This new highway system inspired Mercury to create a concept car for 1956 called the XM Turnpike Cruiser, which soon led to a similar production car that appeared in the brand's all-new 1957 model line.

The production Mercury Turnpike Cruiser was powered by a new 368 cubic-inch V8 engine that offered 290 horsepower. It came as a two-door or four-door hardtop. The bodystyle had design cues from the jet age, including the first compound-curve windscreen, streamlined and angular tailfins that were referred to as 'projectiles,' and 'Breezaway Ventilation,' a cabin cooling innovation in which air passed through intakes at the front of the roofline and out of a rear opening left by a retractable rear glass piece, canopied by an extended roof overhang.

Inside, there was a flat-topped elliptical steering wheel, an instrument panel dubbed the 'Monitor Control Panel' featuring an unusual speed-averaging computer clock.

Production of the Mercury Turnpike Cruiser would last for only two years, as consumers began to take greater interest in smaller, more compact vehicles being offered by other marques.

This example was assembled in Mercury's Los Angeles factory during the first year of the models production. It is believed that the car spent most of its life in Southern California. The current owner purchased the car in February 2006 from Jerry Olmsted of Escondido, California. A short time later, a professional rotisserie restoration was begun, including a complete rebuild of the engine and front end, as well as the installation of new brakes, wheel cylinders, rubber lines and weather stripping. All chrome was replated and period-correct interior panels and carpets were fitted.

This car is fitted with options such as air conditioning and the electrically operated seat function originally known as 'Seat-O-Matic.'

In 2010, this Mercury Turnpike Cruiser was offered for sale at the Gooding & Company Auction held in Amelia Island, Florida. The car was expected to sell for $60,000 - $80,000 and offered without reserve. As bidding came to a close, the car had been sold for the sum of $39,600, inclusive of buyer's premium.
By Daniel Vaughan | Apr 2010
This 1957 Mercury Turnpike Cruiser is an ultra-rare 'M-335 Power Package.' It is powered by a dual quad, 368 cubic-inch engine delivering 335 horsepower and was available only by special order. All M-335-equipped cars were prepared in Bill Stroppe's legendary speed shop as part of a factory initiative to make Mercury more competitive in the NASCAR race series. It is believed that this is the only example equipped with an automatic transmission, and is believed to have been Mr. Stroppe's personal vehicle.

This vehicle is finished in Fiesta Red and Tuxedo Black and is equipped with nearly every factory option available, including air conditioning, power memory 'Seat-O-Matic,' pushbutton chassis lubrication, 'Cruiser' rear skirts, and a continental kit spare tire.

The 1957 Turnpike Cruiser was inspired by a 1956 auto-show car of the same name. It was designed to be the perfect vehicle for cruising the Interstate highways of the future.

Details included an electrically retractable 'Breezeway' rear window and Merc-O-Matic transmission with 'Keyboard Controls' on the 'Monitor Control Panel' (dashboard).
By Daniel Vaughan | Aug 2010
In 1956, Dwight Eisenhower signed into law the National interstate and Defense Highway Act. This Act appropriated 25 billion dollars for the construction of 41,000 miles of American highway. And, in the spirit of free enterprise, the people at Mercury had just the right vehicle to enjoy those roads.

The 1957 Turnpike Cruiser was perched atop the Mercury lineup. It sported a 368 cubic-inch, 290 horsepower V8 engine, a compound curve windshield, tailfins, and Breezeway Ventilation. The futuristic theme continued into the cockpit, where an elliptical steering wheel, Monitor Control Panel, and the pre-cursor to memory seating all ensuring that the occupants were ready to cruise.

Available in both a two door and four door hardtop style, the Turnpike Cruiser remained in production for only two years. The American consumers then turned towards smaller, more economical and lower cost transportation.

This Turnpike Cruiser is one of the special 1957 two-tone combinations, Sunset Orchid and Tuxedo Black.
CHEVROLET SPORTS CAR CLASSIC AT BELLE ISLE PARK
Fast Facts The Place: Detroit Belle Isle - Detroit, Michigan The Track: 2.360-mile, 11-turn street circuit The Format: One-hour, 40-minute race combining Prototype and GT Daytona classes The Schedule: Friday — Practice, 9:35-11:05 a.m. and 1:35-3:05 p.m.; GT Daytona Qualifying, 5:25-5:40 p.m.; Prototype Qualifying, 5:45-6 p.m. Saturday — Warm-Up, 8-8:20 a.m.; Race, 12:10 p.m. TV: FOX Sports 1, Saturday, 1:30 p.m. (ET) Radio: MRN Radio WDFN—AM 1130 Saturday, 12...[Read more...]
HURLEY HAYWOOD HONORED WITH RRDC'S 2014 PHIL HILL AWARD
DAYTONA BEACH, Fla. (Jan. 24, 2014) - Hurley Haywood, winner of more endurance classics than any other driver in racing history, was honored by the Road Racing Drivers Club with the 2014 Phil Hill Award. RRDC president Bobby Rahal presented Haywood with the award at a dinner prior to the running of the Rolex 24 At Daytona, the season opener of the 2014 TUDOR United SportsCar Championship. The Phil Hill Award has been presented annually since 1993 to the person who the RRDC feels has re...[Read more...]
INTERNATIONALLY ACCLAIMED RACING CHAMPION GIL DE FERRAN NAMED AS FORMULA E AMBASSADOR
FLORIDA (August 12, 2013) – Gil de Ferran, a two-time IndyCar National Champion and Indianapolis 500 race winner, has today joined the FIA Formula E Championship as an Official Ambassador. Debuting in September 2014, Formula E is the world's first fully-electric racing Championship competing in city-centre circuits worldwide. The 45-year-old Brazilian, who boasts more than two decades of top-level motorsport experience gained both on and off the track in Formula 1, IndyCar and the Am...[Read more...]
French Indycar Racing Star Simon Pagenaud Will Race At Pikes Peak International Hill Climb
Colorado Springs, June 5----------Honda-powered IndyCar racer Simon Pagenaud of France, winner of Sunday's IZOD IndyCar Series race at the Detroit Grand Prix, and eighth at the Indianapolis 500 two weeks ago, will make his Pikes Peak International Hill Climb debut on June 30 at the 91st edition of the storied race, driving a highly-modified Honda Odyssey in the Exhibition Automobile division as part of Honda's record-setting 11-vehicle, nine-class effort in America's second-oldest motor s...[Read more...]
CHEVROLET INDYCAR V6 ENGINE POWERS TONY KANAAN TO CAREER-FIRST INDIANAPOLIS 500 VICTORY
INDIANAPOLIS (May 26, 2013) – Tony Kanaan, No. 11 Hydroxycut KV Racing Technology SH Racing Chevrolet, had been denied a trip to victory lane many times at Indianapolis Motor Speedway (IMS), but as fate would have it this year, he was in the right place at the right time to capture his first Indianapolis 500 win. Kanaan, the 2004 IZOD IndyCar Series champion, started 12th and led 34 laps, but the key move came when he took the lead on a lap 197 restart, and was stretching his advantage ...[Read more...]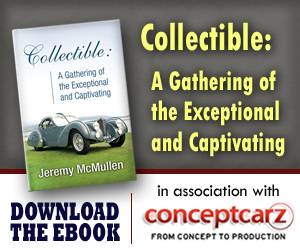 Similarly Priced Vehicles from 1957
Porsche 356 ($3,215-$3,915)
Porsche 356 A ($3,200-$3,910)
Buick Century Series 60 ($3,315-$3,830)
Alfa Romeo Giulietta ($2,800-$3,785)
DeSoto Fireflite ($3,485-$4,120)
Buick Series 75 Roadmaster ($3,945-$4,481)
Jaguar XK-140 ($3,665-$4,400)
Mercedes-Benz 190 SL ($3,999-$4,290)
DeSoto Adventurer ($4,000-$4,270)
Buick Super Series 50 ($3,540-$3,980)

Average Auction Sale: $50,177
© 1998-2014. All rights reserved. The material may not be published, broadcast, rewritten, or redistributed.