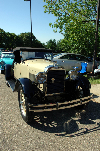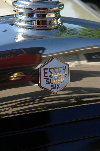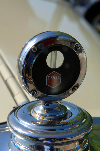 Speedabout
Coachwork:
Biddle and Smart
Chassis Num:
587601
Sold for $47,300 at
2006 RM Auctions
.
Sold for $38,500 at
2009 RM Auctions
.
Sold for $49,500 at
2013 RM Auctions
.
The Essex Motors Company produced small, affordable automobiles. It had been created by the Hudson Motor Car Company for the purpose of creating a smaller version of its Super-Six. The first Essex was first shown in 1919 after it had been delayed due to World War I. The vehicles great quality, durability, and vibration free four-cylinder motor made it an instant success. Over the years, sales continued to escalate and propelled the Hudson Motor Car Company into third place in overall sales for 1929.
The example shown is a two-passenger Speedabout boattail. There is a rumble seat which the company had claimed could carry up to two individuals. This may have been the case for children but in reality, was suitable for only one adult.
The vehicle has coachwork by Biddle and Smart of Amesbury, Massachusetts. The six-cylinder engine with Marvel carburetor was capable of producing 55 horsepower. This meant that the 2500 pound vehicle with boattail body could propel to a top speed of around 70 miles per hour.
In most cases, the Hudson Company only produced Speedabouts as show cars to gauge public interest and to generate press and popularity.
At the Meadow Brook auction presented by RM Auctions, the car was sold for the sum of $47,300. In 2009, it was offered for sale at the Vintage Motor Cars of Hershey sale presented by RM Auctions where it was estimated to sell for $35,000 - $50,000 and offered without reserve. As bidding came to a close, the lot had been sold for the sum of $38,500, including buyer's premium.
By Daniel Vaughan | Oct 2009



Speedabout
Coachwork:
Biddle and Smart
The Speedabout had a boat-tail body by Biddle & Smart, a Massachusetts-based coachbuilder that supplied Hudson with low-volume special bodies. The Speedabout was the least expensive of all 1927 Essex models, selling for $700. Though they were a great value, very few Speedabouts were sold.
For 1929, Essex's total production was just under a quarter-million. In 1932, the company introduced the unit-engineered Essex Terraplane (a favorite of Amelia Earhart). By 1933, the Essex name was retired and the car became simply the Terraplane.
By Daniel Vaughan | Aug 2010