1937 Hudson Deluxe Eight Convertible news, pictures, specifications, and information

Tweet
The Hudson company was named after Joseph L. Hudson, a wealth Detroit businessman and founder of the Hudson Motor Car Company. During the 1920's the company built a reputation for their reliable Six and Super Six models. Their sister company, Essex, began producing a line of vehicles with six cylinder engines in 1924. This put pressure on Hudson to move further up-market which they did in 1930 with their Eight. The eight-cylinder engine used a side valve configuration and propelled Hudson into a new market.
The 1937 Hudsons achieved stunning success in the Class C, closed stock car racing circuit, breaking all existing records. Their durability and performance was unmatched and accounted for 38 records in 1937, many of them high speeds records and endurance runs.
This 1937 Hudson Deluxe Eight Convertible has an L-Head straight eight-cylinder 254.47 cubic-inch engine that produces 122 horsepower. It has a 'Hydraulic Hill Hold' electric pre-selector three speed transmission and four-wheel hydraulic drum brakes.
This example, with chassis number 743063 was estimated to sell between $60,000 - $80,000 at the 2006 RM Auctions in Meadow Brook. At the close of bidding, it found a new home at $72,600.
By Daniel Vaughan | Nov 2006
The Hudson Motor Car Company of Detroit produced the Terraplane automobile from 1932 through 1939. In 1932, it was known as the Essex Terraplane since the vehicle it was replace was known as the Essex. The Essex brand of vehicles had been with Hudson for a long time, first appearing in 1919. The Essex vehicles were low-priced alternative to mass-produced vehicles such as those by Ford and Chevrolet. The Terraplane continued this tradition by offering lots of internal room for its occupants and their luggage. The vehicle was inexpensive and offered in a variety of body-styles such as convertible, utility coupe, and truck. The vehicles were powered by a 212 cubic-inch L-head six-cylinder engine that was mated to a three-speed manual gearbox. Hydraulic brakes provided the stopping power for the 122 inch wheelbase. From 1935 through 1938 the Terraplane was offered with an optional steering column-mounted electric gear pre-selector and electro-mechanical automatic shifting system. It was manufactured by the Bendix Corporation.
By Daniel Vaughan | Nov 2006
Fiat Chrysler Automobiles key player in the Classic Days in Germany
Concours d'elegance, parades and special races on roads closed to traffic: this is the packed programme reserved for the historic cars arriving at the medieval Dyck castle • Alfa Romeo takes part with four precious models: the prototype 750 Competizione (1955), the 8C 2900 Le Mans (1938), the Giulietta SZ (1960) and the 1900 Sport Spider (1954) • Under the spotlight the Lancia 037 Rally (1984 - group B) and the Formula 1 Lancia D50 (1955) • At the German event also the Abarth 1000 Monomille ...[Read more...]
Concours d'Elegance at Stan Hywet Hall & Gardens
The inaugural Concours d'Elegance at Stan Hywet Hall & Gardens welcomed over 180 rare and exclusive automobiles, motorcycles, and bicycles on the well-manicured 70-acre landscape. The backdrop for this elegant affair was the 6th largest historic estate open to the public - the Stan Hywet – which has the reputation as being the home of The Goodyear Tire & Rubber Co. co-founder F.A. Seiberling. On the day of the concours, the weather report predicted rain. Instead, the enthusiasts and colle...[Read more...]
Auctions America Continues Successful 2013 Season with its Annual Fall Carlisle Sale
• Auctions America rounds out its 2013 auction season in Carlisle, Pennsylvania, October 3-4 • Two-day Fall Carlisle sale, held in conjunction with the Carlisle Events Collector Car Swap Meet & Corral, features a diverse roster of 300 classics, exotics, muscle cars, hot rods, and customs • Auction highlights include a desirable 1967 Chevrolet Corvette 427/435 Roadster, a 1969 Chevrolet Camaro Z-28 RS Sport Coupe, and a 1960 Mercedes-Benz 190SL Roadster • Full event details and a frequentl...[Read more...]
GM'S TONAWANDA PLANT RETOOLED FOR HIGH-TECH ENGINES
BUFFALO, N.Y. – Some of General Motors' advanced manufacturing techniques to produce the all-new, Gen 5 Small Block engine family are microscopic, but they have a huge impact on the 75-year-old Tonawanda Engine Plant, where about 1,500 jobs have been created and retained since 2009. As a result of GM's $400 million investment, Tonawanda will eventually produce four versions of the Gen 5 Small Block – a 4.3L V-6, 5.3L V-8 and two variants of a 6.2L V-8. When the plant is at full product...[Read more...]
Auctions America By RM's 2012 Auburn Spring Auction
'Variety' is the buzzword for this year's Auctions America by RM June 1-3 Auburn Spring auction, which will offer a huge range of collector vehicles and an enormous private collection of automotive memorabilia. More than 600 American muscle cars, Classics, foreign sports cars and hot rods will cross the block at the historic Auburn Auction Park, the company's national headquarters in Auburn, Indiana. 'Last year was our first spring event at the park,' said Auctions America by RM's President ...[Read more...]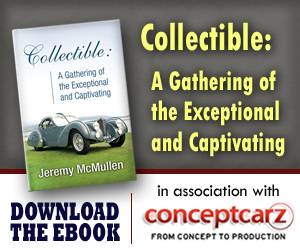 © 1998-2014. All rights reserved. The material may not be published, broadcast, rewritten, or redistributed.