1937 Lincoln Zephyr news, pictures, specifications, and information


After initially offering only two Zephyr body types for 1936, both sedan. Lincoln expanded the 1937 line-up to also include a coupe and town-limousine. This year's Zephyr was promoted as a car 'priced below its specifications.' The Zephyr was powered by a 267-cubic-inch L-head V-12 engine that was designed in the image of the Ford V8 and developed 110 horsepower.

The Ford influence was also seen in the car's employment of transverse-leaf front and rear springs. The Lincoln-Zephyr's single and major innovation was its one-piece welded all-steel body and frame construction (now known as 'unitized'), making it one of the first American cars to use the concept.

This particular example is the Model HB-730 six-passenger sedan, which was priced at $1,265, and had a production run of 23,159. It was found in northern Michigan, where it had languished in a barn for more than 30 years. The ground-up restoration, done by the owner, took 11 months to complete.
Coupe
Chassis Num:
HB7202212
Sold for $66,000 at
2008 RM Auctions
.
The 'teardrop' styling theme of this Art Deco car is repeated in the front and rear lights, the fender skirts, and in the grill emblem. The style along with the V12 engine made the Zephyr one of the first successful 'streamlined' cars and one of Lin
[Read More...]
By Daniel Vaughan | Sep 2008
Coupe
Chassis Num:
H66822
Lincoln offered six body styles on the 1939 Zephyr lineup. This example, a Coupe, has remained in its stock trim, with its monocoque body and chassis that was engineered by Briggs Manufacturing Company's John Tjaarda. It is finished in deep red over
[Read More...]
By Daniel Vaughan | Nov 2016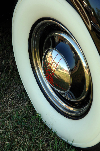 Chassis Num:
H31734
Sold for $85,250 at
2006 RM Auctions
.
The Lincoln Zephyr was designed by John Tjaarda of Briggs with refinement by E.T. 'Bob' Gregorie of Lincoln. Powered by a 267 cubic-inch L-head 12-cylinder engine with aluminum alloy heads and cast steel pistons, and downdraft Stromberg carburetor,
[Read More...]
By Daniel Vaughan | Dec 2006
Coupe
Chassis Num:
H40716
Sold for $71,500 at
2007 RM Auctions
.
Sold for $62,700 at
2008 RM Auctions
.
This 1937 Lincoln Zephyr Coupe was offered for sale at the 2007 RM Auctions held in Amelia Island, Florida. The car was offered without reserve and estimated to sell between $75,000 - $125,000. The car is powered by a 267 cubic-inch L-Head twelve-cyl
[Read More...]
By Daniel Vaughan | Feb 2010
In 1936 Lincoln introduced the Zephyr, named and styled after the streamlined Burlington Zephyr express train. The train was an aerodynamic diesel powered streamliner that brought an end to the steam-engined trains and set many new speed-records. The Zephyr stayed in production until 1942 when it was discontinued to make way for the new Mercury line which was in a similar market segment. Since the Mercury's were derived from a Ford running gear and chassis they were cheaper to produce, Lincoln decided to cancel the Zephyr after only six years of production.
The styling was courteous of the Dutch-Born designer John Tjaarda of the Briggs Body Corporation, however, prior to production Ford's stylist Bob Gregorie restyled the front end. Under the hood was a Ford-derived V-12 that produced 110 horsepower, not enough to do justice to the Zephyr name and what it represented, but a modest amount to carry the vehicle where it was tasked to travel.

In 1936 around 15000 Zephyrs were constructed, nearly 80% of all Lincolns sold. Nearly 1500 were given coupe/sedan body-styles which were a two-door sedan configuration built on a chassis that could have accommodated four-doors.

In the year 2005, Lincoln reintroduced the Zephyr. To help create excitement at auto shows, Lincoln purchased a 1936 Zerphyr serial number H-5739, to tour with the modern Lincoln Zephyr.

Due to the onset of World War II, Lincoln switched to war-related production. Production resumed in 1946 and continued until 1948.
By Daniel Vaughan | Aug 2006
Recent Vehicle Additions