1928 LaSalle Model 303 news, pictures, specifications, and information

Tweet
The LaSalle Company was introduced by General Motors in 1927 as a alternative model to Cadillac. There had been a large price gap between the Buick and Cadillac model line and GM felt a new marque would be appropriate. The LaSalle line was designed by Harley Earl who worked in the newly formed Art and Color department. Inspired by the best of American and European styles, the vehicles were stunning and elegant. The designs were so successful that within a few years, the Cadillac vehicles were updated to resemble the design. By 1929 the LaSalle vehicles were outselling Cadillac's and a year later accounted for 75 percent of the Cadillac's sales.

This 1928 LaSalle Model 303 Convertible Coupe is powered by a 303 cubic-inch Cadillac V8 engine. It has a three-speed selective sliding gear manual transmission and four-wheel mechanical drum brakes.

At the 2006 RM Auctions in Meadow Brook it was estimated to fetch between $60,000 - $80,000. The lot was sold at a price of $66,000.
By Daniel Vaughan | Aug 2008
Convertible Coupe
Coachwork: Fisher

Designed by Harley Earl as a 'companion car' to Cadillac and introduced in 1927. There are minimal differences between the '27s and '28s.

This particular car was rescued from a California salvage yard in the mid-60s and was given an amateur restoration in the early '70s.

Award: AACA Junior 2004
Award: AACA Senior 2004
Award: AACA National Cadillac LaSalle Award 2005
Convertible Coupe
Coachwork: Fisher

LaSalle was produced as a companion marque to Cadillac from 1927 to 1940. General Motors President Alfred P. Sloan originated the 'companion' car concept as a means to introduce new nameplates that could be sold through existing sales organizations. The LaSalle also helped fill a price gap in the GM product line that had developed between the highest priced Buicks and lowest priced Cadillacs in the mid-1920s.

The original 1927 LaSalle was styled by a young California custom car builder named Harley Earl, who developed the car under contract to then Cadillac head Lawrence P. Fisher. Earl drew inspiration from Europe's rakish Hispano-Suiza for his design, creating a sporty yet elegant counterpoint to the larger Cadillacs. The LaSalle was offered in bright two-tone combinations that made it a stand-out among the typically drab-colored cars of the mid-1920s.

Built by Cadillac to Cadillac standards, the original LaSalle was a trend-setting vehicle and it was continued in 1928 with only minor changes. Alfred Sloan had by that time hired Harley Earl to implement his vision of a central design section within GM - Earl would go on to establish GM as the American style leader and would become the auto industry's first design vice-president.

This 1928 LaSalle is one of four Series 303 Convertible Coupes known. It has been well cared for since new and remains factory-original in many details.
Convertible Coupe
Coachwork: Fisher

In 1927 General Motors commissioned a flamboyant young designer from California, Harley J. Earl, to design a 'companion car' to Cadillac. The result was the LaSalle, the first ever production car designed by a stylist. For this design, Earl drew heavily on his previous custom work for his Hollywood clients and European cars of the period, especially the Hispano-Suiza. The 1927 LaSalle was so well received by the public that GM decided to hire the 34-year-old stylist and create the Art and Colour Section around him. This allowed Earl's new design concepts to be applied to all of General Motors products making them more appealing and in turn more marketable. This beautiful cabriolet is a second year LaSalle, and differs only slightly form the previous year. It retains the same 303 cubic-inch V8 engine and a three-speed Synchro Mesh transmission. In fact the only visible difference in the 1928 model is the number of louvers on the side of the hood which were increased from 12 to 28.
The Model 303 was powered by a 303 cubic-inch L-head V8 engine delivering 75 horsepower. They had a three-speed manual transmission and four-wheel mechanical drum brakes.

The LaSalle was introduced in march of 1927 and would be Cadillac's new companion marque. It had Cadillac prestige but at a lower price point. The designs were by Harley Earl, who was newly recruited by GM. This was Earl's first job for a major manufacturer - the LaSalle - and it would be a stylistic tour de force with design inspiration coming from the legendary Hispano-Suiza.

The LaSalle was similar to Cadillac, having a similar chassis and a scaled-down L-head V8 engine. There were eleven standard body styles, all built by Fisher, and available on two wheelbase lengths for 1927. During that year, LaSalle sold 16,850 vehicles, twice the sales rate of the 'senior' Cadillac line. The following year, the LaSalle line continued, with the 17 catalogued body styles from Fisher, plus three by Fleetwood. Sales continued to be strong, with 14,806 units sold that year.

This particular vehicle was owned by a Swedish lady for many years. This car has dual side-mounted spares with engraved mirrors, a correct radiator mascot, an optional suitcase-style truck and excellent brightwork.

In 2010, this Model 303 was offered for sale at the Vintage Motor Cars of Meadow Brook event presented by RM Auctions. The car was estimated to sell for $75,000 - $90,000. Bidding reached $52,500 but was not enough to satisfy the car's reserve. It would leave the auction unsold.
By Daniel Vaughan | Aug 2010
There were two wheelbase lengths for 1927 and eleven standard LaSalle body styles, all built by Fisher. Sales were strong, with 16,850 examples sold during the calendar year. For 1928, model year sales were 14,806 and would rise to 22,961 for 1929.

The 1928 models were a continuation of the 1927 models, now with 17 catalogued body styles from Fisher plus three by Fleetwood.

This Dual-Cowl Sport Phaeton is an AACA and CCCA National First Place winner and features a two-tone deep burgundy exterior with yellow-spoke wheels, a tan convertible top and a tan interior. It has dual side-mounted spare tires and a stanchion-mounted spotlight. It has recently been given a new coat of paint and a new top. This car is one of just two known to exist of only 13 such car originally built.

In 2010, the car was offered for sale at the Vintage Motor Cars of Hershey auction presented by RM Auctions. The car was estimated to sell for $55,000 - $75,000. As bidding came to a close, the car had been sold for the sum of $110,000 including buyer's premium.
By Daniel Vaughan | Oct 2010
The LaSalle was formally introduced on March 5, 1927 as a four-door sedan and offered for $2685. The 303 cubic-inch was capable of producing 75 horsepower and could carry the LaSalle's at speeds of 70 miles an hour. A few months after the vehicles introduction, GM modified a LaSalle Roadster and removed any non-essential elements. It was then driven by the division's test driver, Bill Rader, who traversed 951.8 miles at an average speed of 95.3 mph. This was an impressive accomplishment of speed and stamina. The cars abilities were matched by their elegant style. The bodies were often finished in two-tone colors. The first series was dubbed the 303, named after its 303 cubic-inch engine. There were five body-types, all sitting atop a 125-inch wheelbase. Later, larger bodystyles were added which rode on an enlarged 134-inch chassis. These were the seven-passenger sedans, Imperial sedan, and five-passenger Imperial. All of the bodies were designed by Harley Earl and created by Fisher, though special semi-custom Fleetwood styles were available through special order.

In total, there were 10,767 examples produced in 1927 of the Model 303. For the 1928 model year, little was changed. The original 12 hood louvers were replaced in favor of 28. Horsepower rose slightly to 80. Production increased to 17,038 units. 1929 was the final year of the 303; horsepower rose to 86 and production was at 22,961 units.

The larger wheelbase vehicles had proven to be wildly popular so for 1929 most LaSalle vehicles now rode on this platform. The roadster and two phaeton models remained on the shorter, 130-inch wheelbase. Sales continued to increase and ventured into Cadillac's territory. The demand for Cadillac vehicles fell by more than half.

Most of the LaSalle 303 bodies received coachwork by Fisher. Fleetwood created a few 'Semi-Custom' bodies, also on a 125-inch wheelbase. In 1927, Fleetwood created 22 examples of the Style 3130, 5-passenger Town Car, which ranged in price from $4500 - $5000. There were 13 examples of the 5-Passenger Sedan, style 3120, constructed in 1927, at a price of $3800. Fleetwood bodied 12 examples of the 2-Passenger Coupe, Style 3110, which carried a price of $4,275. The final Fleetwood bodystyle was the 5-Passenger Town Car which carried Style number 3051 and cost $4700. There were nine-examples built between 1927 and 1928.

Only two Fleetwood Semi-Custom cars were built on a 134-inch wheelbase. These were built in 1928. They were 5-passenger Town Cars, style 3751, and cost $4800.

In total, there were 10,767 examples of the LaSalle 303 built in 1927, and 16,038 created in 1928.
By Daniel Vaughan | Apr 2007
For more information and related vehicles, click
here
Sonoma Historic Motorsports Festival Celebrates Corvette'S 60 Years At Sonoma Raceway
• Fast cars, fine food and wine highlight May 18-19 weekend
• Paul Reinhart is honored guest, popular racing seminar scheduled for second year
SONOMA, Calif. (April 27, 2013) - The Sonoma Historic Motorsports Festival returns to Sonoma Raceway on May 18-19 for the fourth straight year under that title. The program for the 27th annual historic-car event organized by General Racing Ltd. in Sonoma will celebrate the 60th Anniversary of the popular Corvette, created by the ...[Read more...]
BUICK TURNS 110: 11 HIGHLIGHTS OF 11 DECADES
Buick vehicles today are built in state-of-the-art facilities around the world. The Enclave luxury crossover's Lansing Delta Township plant was the industry's first LEED Gold-certified manufacturing facility. The brand has evolved in many ways since 1903, when the first Buick was hand-built in a small barn behind David Dunbar Buick's Detroit home. Here are 11 top highlights from Buick's first 11 decades: • Through the end of 2012, Buick has sold more than 43 million vehicles. That's the equiv...[Read more...]
Corvette Shines in the Big Apple
All-new Corvette Stingray comes to New York City 60 years to the day after Motorama debut 2013-01-16 Sixty years ago tomorrow, spectators lined New York City's posh Park Avenue, waiting to get a glimpse of the ground-breaking Chevrolet Corvette on display at the General Motors' Motorama show. On Thursday, the Corvette will be back in The Big Apple, marking the historic milestone with the all-new 2014 Chevrolet Corvette Stingray. The all-new Corvette Stingray debuted earlier...[Read more...]
CADILLAC CONCEPT CARS STAR at AMELIA CONCOURS d'ELEGANCE
There are limited production cars, there are rare cars and there are concept cars that never find their way to the showroom. A fleet of Cadillac's rare and mythic Motorama and Detroit Auto Show Concept Cars will take to the field at the 18th Annual Amelia Island Concours d'Elegance on Sunday March 10, 2013. Created under the supervision of GM's legendary styling chief, Harley Earl, the Cadillac Concept cars of the 'Fifties were created as the stars of GM's Motorama shows. All are blood anc...[Read more...]
NIGHT OF THE WHITE GLOVES AT THE BMW MUSEUM. BMW HISTORY – A HANDS-ON EXPERIENCE.
Touching the exhibits in a museum? Normally that's a big no-no which you ignore at your peril. But as we all know, forbidden fruit is the sweetest – and that's why the BMW Museum is opening its doors on Friday, 23 November for the fifth edition of its 'Night of the White Gloves'. From 7 p.m. onwards, visitors will don a pair of white gloves and be free to stroke the cars they would normally be allowed to caress with their eyes only. 'The 'Night of the White Gloves' is a unique event in the museu...[Read more...]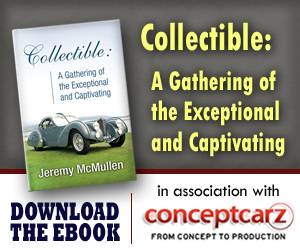 Similarly Priced Vehicles from 1928
Chrysler Model 72 ($1,495-$3,595)
Lincoln Model L ($4,595-$7,345)
Packard 443 Eight ($3,600-$5,300)
Studebaker President ($1,800-$2,475)
Franklin Airman ($2,490-$4,600)

Average Auction Sale: $77,800
© 1998-2014. All rights reserved. The material may not be published, broadcast, rewritten, or redistributed.