1928 LaSalle Model 303 news, pictures, specifications, and information

Tweet
The LaSalle Company was introduced by General Motors in 1927 as a alternative model to Cadillac. There had been a large price gap between the Buick and Cadillac model line and GM felt a new marque would be appropriate. The LaSalle line was designed by Harley Earl who worked in the newly formed Art and Color department. Inspired by the best of American and European styles, the vehicles were stunning and elegant. The designs were so successful that within a few years, the Cadillac vehicles were updated to resemble the design. By 1929 the LaSalle vehicles were outselling Cadillac's and a year later accounted for 75 percent of the Cadillac's sales.

This 1928 LaSalle Model 303 Convertible Coupe is powered by a 303 cubic-inch Cadillac V8 engine. It has a three-speed selective sliding gear manual transmission and four-wheel mechanical drum brakes.

At the 2006 RM Auctions in Meadow Brook it was estimated to fetch between $60,000 - $80,000. The lot was sold at a price of $66,000.
By Daniel Vaughan | Aug 2008
Convertible Coupe
Coachwork: Fisher

Designed by Harley Earl as a 'companion car' to Cadillac and introduced in 1927. There are minimal differences between the '27s and '28s.

This particular car was rescued from a California salvage yard in the mid-60s and was given an amateur restoration in the early '70s.

Award: AACA Junior 2004
Award: AACA Senior 2004
Award: AACA National Cadillac LaSalle Award 2005
Convertible Coupe
Coachwork: Fisher

LaSalle was produced as a companion marque to Cadillac from 1927 to 1940. General Motors President Alfred P. Sloan originated the 'companion' car concept as a means to introduce new nameplates that could be sold through existing sales organizations. The LaSalle also helped fill a price gap in the GM product line that had developed between the highest priced Buicks and lowest priced Cadillacs in the mid-1920s.

The original 1927 LaSalle was styled by a young California custom car builder named Harley Earl, who developed the car under contract to then Cadillac head Lawrence P. Fisher. Earl drew inspiration from Europe's rakish Hispano-Suiza for his design, creating a sporty yet elegant counterpoint to the larger Cadillacs. The LaSalle was offered in bright two-tone combinations that made it a stand-out among the typically drab-colored cars of the mid-1920s.

Built by Cadillac to Cadillac standards, the original LaSalle was a trend-setting vehicle and it was continued in 1928 with only minor changes. Alfred Sloan had by that time hired Harley Earl to implement his vision of a central design section within GM - Earl would go on to establish GM as the American style leader and would become the auto industry's first design vice-president.

This 1928 LaSalle is one of four Series 303 Convertible Coupes known. It has been well cared for since new and remains factory-original in many details.
Convertible Coupe
Coachwork: Fisher

In 1927 General Motors commissioned a flamboyant young designer from California, Harley J. Earl, to design a 'companion car' to Cadillac. The result was the LaSalle, the first ever production car designed by a stylist. For this design, Earl drew heavily on his previous custom work for his Hollywood clients and European cars of the period, especially the Hispano-Suiza. The 1927 LaSalle was so well received by the public that GM decided to hire the 34-year-old stylist and create the Art and Colour Section around him. This allowed Earl's new design concepts to be applied to all of General Motors products making them more appealing and in turn more marketable. This beautiful cabriolet is a second year LaSalle, and differs only slightly form the previous year. It retains the same 303 cubic-inch V8 engine and a three-speed Synchro Mesh transmission. In fact the only visible difference in the 1928 model is the number of louvers on the side of the hood which were increased from 12 to 28.
The Model 303 was powered by a 303 cubic-inch L-head V8 engine delivering 75 horsepower. They had a three-speed manual transmission and four-wheel mechanical drum brakes.

The LaSalle was introduced in march of 1927 and would be Cadillac's new companion marque. It had Cadillac prestige but at a lower price point. The designs were by Harley Earl, who was newly recruited by GM. This was Earl's first job for a major manufacturer - the LaSalle - and it would be a stylistic tour de force with design inspiration coming from the legendary Hispano-Suiza.

The LaSalle was similar to Cadillac, having a similar chassis and a scaled-down L-head V8 engine. There were eleven standard body styles, all built by Fisher, and available on two wheelbase lengths for 1927. During that year, LaSalle sold 16,850 vehicles, twice the sales rate of the 'senior' Cadillac line. The following year, the LaSalle line continued, with the 17 catalogued body styles from Fisher, plus three by Fleetwood. Sales continued to be strong, with 14,806 units sold that year.

This particular vehicle was owned by a Swedish lady for many years. This car has dual side-mounted spares with engraved mirrors, a correct radiator mascot, an optional suitcase-style truck and excellent brightwork.

In 2010, this Model 303 was offered for sale at the Vintage Motor Cars of Meadow Brook event presented by RM Auctions. The car was estimated to sell for $75,000 - $90,000. Bidding reached $52,500 but was not enough to satisfy the car's reserve. It would leave the auction unsold.
By Daniel Vaughan | Aug 2010
There were two wheelbase lengths for 1927 and eleven standard LaSalle body styles, all built by Fisher. Sales were strong, with 16,850 examples sold during the calendar year. For 1928, model year sales were 14,806 and would rise to 22,961 for 1929.

The 1928 models were a continuation of the 1927 models, now with 17 catalogued body styles from Fisher plus three by Fleetwood.

This Dual-Cowl Sport Phaeton is an AACA and CCCA National First Place winner and features a two-tone deep burgundy exterior with yellow-spoke wheels, a tan convertible top and a tan interior. It has dual side-mounted spare tires and a stanchion-mounted spotlight. It has recently been given a new coat of paint and a new top. This car is one of just two known to exist of only 13 such car originally built.

In 2010, the car was offered for sale at the Vintage Motor Cars of Hershey auction presented by RM Auctions. The car was estimated to sell for $55,000 - $75,000. As bidding came to a close, the car had been sold for the sum of $110,000 including buyer's premium.
By Daniel Vaughan | Oct 2010
The LaSalle was formally introduced on March 5, 1927 as a four-door sedan and offered for $2685. The 303 cubic-inch was capable of producing 75 horsepower and could carry the LaSalle's at speeds of 70 miles an hour. A few months after the vehicles introduction, GM modified a LaSalle Roadster and removed any non-essential elements. It was then driven by the division's test driver, Bill Rader, who traversed 951.8 miles at an average speed of 95.3 mph. This was an impressive accomplishment of speed and stamina. The cars abilities were matched by their elegant style. The bodies were often finished in two-tone colors. The first series was dubbed the 303, named after its 303 cubic-inch engine. There were five body-types, all sitting atop a 125-inch wheelbase. Later, larger bodystyles were added which rode on an enlarged 134-inch chassis. These were the seven-passenger sedans, Imperial sedan, and five-passenger Imperial. All of the bodies were designed by Harley Earl and created by Fisher, though special semi-custom Fleetwood styles were available through special order.

In total, there were 10,767 examples produced in 1927 of the Model 303. For the 1928 model year, little was changed. The original 12 hood louvers were replaced in favor of 28. Horsepower rose slightly to 80. Production increased to 17,038 units. 1929 was the final year of the 303; horsepower rose to 86 and production was at 22,961 units.

The larger wheelbase vehicles had proven to be wildly popular so for 1929 most LaSalle vehicles now rode on this platform. The roadster and two phaeton models remained on the shorter, 130-inch wheelbase. Sales continued to increase and ventured into Cadillac's territory. The demand for Cadillac vehicles fell by more than half.

Most of the LaSalle 303 bodies received coachwork by Fisher. Fleetwood created a few 'Semi-Custom' bodies, also on a 125-inch wheelbase. In 1927, Fleetwood created 22 examples of the Style 3130, 5-passenger Town Car, which ranged in price from $4500 - $5000. There were 13 examples of the 5-Passenger Sedan, style 3120, constructed in 1927, at a price of $3800. Fleetwood bodied 12 examples of the 2-Passenger Coupe, Style 3110, which carried a price of $4,275. The final Fleetwood bodystyle was the 5-Passenger Town Car which carried Style number 3051 and cost $4700. There were nine-examples built between 1927 and 1928.

Only two Fleetwood Semi-Custom cars were built on a 134-inch wheelbase. These were built in 1928. They were 5-passenger Town Cars, style 3751, and cost $4800.

In total, there were 10,767 examples of the LaSalle 303 built in 1927, and 16,038 created in 1928.
By Daniel Vaughan | Apr 2007
For more information and related vehicles, click
here
STATEMENT ON PASSING OF ROAD AMERICA BOARD MEMBER AND LEGENDARY RACER JIM JEFFORDS
ELKHART LAKE, Wis., March 25, 2014 - A statement from Road America President and General Manager, George Bruggenthies, about the death of long time Road America board member and racer, Jim Jeffords: 'Jim Jeffords was the definitive example of a gentlemen racer with a heart of gold. He loved racing for the thrill of competition, not for the money. Jim will be best remembered for how his passion for racing carried over into many successful years behind the wheel and many more beyond tha...[Read more...]
GM DESIGN'S TOM PETERS EARNS LIFETIME ACHIEVEMENT AWARD
PASADENA, Calif. – In addition to more than 30 years of designing some of General Motors' most memorable vehicles, Tom Peters led the exterior studio teams that produced two of GM's most important product introductions this year – the 2014 Chevrolet Corvette Stingray and 2014 Chevrolet Silverado full-size pickup. On Sunday, Peters received a lifetime achievement award for his work from his alma mater, Art Center College of Design, which has been at the forefront of art and design educ...[Read more...]
DUKE AND DUCHESS OF WINDSOR'S 1941 CADILLAC TO BE AUCTIONED IN NEW YORK CITY
• RM Auctions and Sotheby's offer one-of-one Cadillac custom built for the Duke and Duchess of Windsor, without reserve, November 21, in New York City • Delivered to the royal couple at the Waldorf, the Cadillac — long thought to be destroyed —has been missing from the public eye since 1952 • Known affectionately as 'The Duchess,' this bespoke limousine is an important piece of automotive and society history • Full sale details now available online at www.rmauctions.com NEW YORK...[Read more...]
MECUM TOPS $18.6 MILLION IN CHICAGO
Walworth, WI - October 15, 2013 -- The windy city welcomed Mecum Auctions with an exceptional sale and enormous crowds at the Schaumburg Convention Center in Schaumburg, Ill., this past weekend. With 965 cars crossing the block throughout the three-day event, 615 hammered sold for a 64 percent sell-through rate and $18,634,223 in sales. The one-of-a-kind personal driver of Corvette's original designer Harley J. Earl led auction sales with a hammer price of $1.5 million. Chicagoland was...[Read more...]
September 15 d'Plaisir Road Rallye will precede
The September 15 road rally that precedes the Palos Verdes Concours d'Elegance the following day has been named the d'Plaisir Road Rallye in honor of the 2012 Concours' theme 'French Curves.' It begins with lunch at the Rolling Hills Country Club in Rolling Hills, traverses the stunning views and winding roads of the Peninsula and ends at the Palos Verdes Golf Club in Palos Verdes Estates with a helicopter golf ball drop and a reception honoring Concours Grand Marshals Peter and Merle Mullin...[Read more...]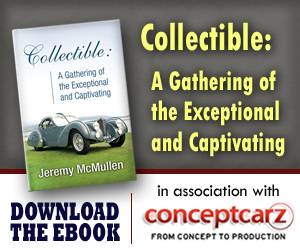 Similarly Priced Vehicles from 1928
Chrysler Model 72 ($1,495-$3,595)
Lincoln Model L ($4,595-$7,345)
Packard 443 Eight ($3,600-$5,300)
Studebaker President ($1,800-$2,475)
Franklin Airman ($2,490-$4,600)

Average Auction Sale: $77,800
© 1998-2014. All rights reserved. The material may not be published, broadcast, rewritten, or redistributed.