1947 Delahaye 135 MS news, pictures, specifications, and information

Tweet
Standing for Modifie Speciale, the 135 MS was the definitive version of Delahaye's signature chassis. First shown at the 1935 Paris Auto Show, the 135 was a lower, more sporting version of the 18 hp Type 138 that it replaced. It had 100 mph performance, which made it one of the fastest cars in the world. When the MS was released in 1938, its chassis had already won many victories, including the 1938 24 Hours of LeMans. What made these Delahayes special was their connection to the great French Carrosseries that made extravagant bodies and interiors for them. Many great coachbuilders bodied the 135 MS, including Saoutchik, Guillore and Franay as well as Henri Chapron who was responsible for this car in 1947.
Delahaye began building dependable, medium priced cars and sturdy trucks in 1895. A chassis with independent front suspension and a 3.2 liter overhead valve six-cylinder engine was introduced in 1934. The engine was enlarged to 3.5 liters in 1936 to create the Type 135. It was first shown at the 1935 Paris Auto Show.

MS is an acronym for Modifie Speciale. It was capable of reaching 100 mph placing it among the fastest cars in the world. The MS chassis won many victories including LeMans and a 135 finished second at the 1936 Monte Carlo Rally. At the French Grand Prix, it placed second, third, fourth and fifth.

This teardrop coupe is the triple-carburetor version of Delahaye's most famous model, the Type 135. The 'S' means it has triple carburetors and 135 horsepower. It has an electromagnetic transmission with four speeds, forward and reverse and the common Delahaye accessory frog hood ornament. Lagenthal, a small Swiss coachbuilder with a good reputation, supplied a convertible body on the car. The original owner complained of noise and poor rear visibility and returned the car to Lagenthal for a removable hardtop. However, the top would have been too heavy for easy removal, so it was permanently attached.

Combining good handling and brakes, spirited performance and the dependability of previous Delahayes, the chassis was a favorite of French coachbuilders. The fact that it cost about half as much as a Bugatti Type 57 also helped.

Only 1,155 postwar 135s had been built by the time the model was dropped in 1952. In 1954, Delahaye merged with another French automaker, Hotchkiss. The new company ended Delahaye automobile production.
1947 Delahaye 135 Ms Roadster Guillore coachwork One-off Paris salon vehicle.

1 st in Pebble Beach 2001
1st CCCA National Winner
1st National AACA winner 2003
1st Meadow Brook Concours 2003
1st Newport Beach Concours 1st Palos Verde
1st Houston Keels and Wheels 2004

Includes Fitted Louis Vouton Luggage. Recent Documented Ground Up Restoration.
This 1947 Delahaye 135 MS Cabriolet with coachwork by Letourneur & Marchand is a one-off roadster creation. Delahaye offered two models, a Type 135M and a 135 MS, meaning Modifiee Speciale. The 135M was equipped with a single Solex carburetor while the 1935 MS had a triple carburetor and could reach speeds of 100 mph. An optional Cotal gearbox was offered at the time, and proved to be a popular choice for many buyers. The four-speed manual gearbox was standard. Also standard on the MS were the Rudge center lock wheels.

These elegant vehicles were sporty and beautiful. They were typically purchased by the social elite, as their high price tag limited the pool of buyers to only a few. As such, a total of 1155 examples of both models were created between 1946 and 1952.
This example is fitted with the Cotal gearbox. The car has been treated to a complete restoration, including a rebuilt of the engine. The chrome-work, electrics, and suspension are also new. The cost of the restoration was over $125,000.

This car was offered for sale at the 2006 Bonhams & Butterfields auction held at the Quail Lodge in Carmel, California where it was estimated to sell between $250,000 - $350,000. The price tag on these type of vehicles vary, but most of the time they are near the million dollar range. It is not uncommon to see the dollar figure exceed that as well. This car was an excellent opportunity to purchase a Delahaye, for a cost that was, in all respects, reasonable. Bidding exceeded the estimated value, with a new owner purchasing the car for a sum of $375,500.
By Daniel Vaughan | May 2007
Emile Delahaye's firm was established in 1845 as a manufacturer of brick-making machinery. By 1894 they were making stationary engine and automobiles. In 1936 they introduced the 135, an exciting sports model with a sophisticated suspension and powerful engine that could propel it to speeds over 100 mph. Throughout its history, Delahaye focused its efforts on chassis and engine development, relying on Europe's finest coachworks to produce its custom automobile bodies. This cabriolet body was built by Guillore.
Emile Delahaye was born in Tours, France in 1843. He studied engineering in Angers, France. In 1869 he began work with his engineering degree in applied arts and crafts.

Emile Delahaye began business in Tours, France in the middle of the 19th century for the purpose of constructing engines for the ceramic industry. The company branched out and began constructing mechanical appliances such as pumps and engines. In 1888, Delahaye designed an internal combustion engine for the shipping industry. It was not until 1896 that Automobile production began for Delahaye. His first automobiles produced were powered by belt-driven single and twin cylinder engines.

Emile used motor racing to promote his vehicles. In 1896, Emile Delahaye entered the Paris-Marseilles race. Not only did he enter a vehicle his company had created, but he entered as the driver. The results were astounding, which truly speaks highly of the caliber and quality of the automobile. The demand for the vehicles began pouring-in and a second factory was opened.

Due to failing health, Delahaye was forced into retirement in 1901. This was a year after the second factory was opened in Paris. Since Delahaye had no heirs, management control was passed onto a young engineer named Charles Weiffenbach. Weiffenbach oversaw operations until 1954.

In 1905, due to failing health, Emile Delahaye passed away.

Automotive racing was paramount during this period in history. This is why many of the vehicles built during this era were built to be raced and to be used as the daily driver. The sales of the vehicles were stimulated by the way the vehicle performed on the race track. Weiffenbach, however had a different philosophy. His main focus and priority was to build dependable vehicles. Many of the early vehicles were equipped with four cylinder engines capable of producing between 9-12 horsepower. Near the beginning of the first World War, a 6 cylinder, 2565cc, engine was used.

In addition to automobiles, the Delahaye company produced trucks, lorries, parcel carriers for the post office, motor ploughs, fire engines, and other commercial and military vehicles. Many of the vehicles were used during the First World War

From 1927 to 1933, productions of the medium-class cars were low, but the vehicles that were produced carried with them a reputation of being reliable and robust.

In the early thirties, Weiffenbach, also known as 'Monsieur Charles' by his piers, was in his early 60's. The decision was made to boldly move into the sports car arena. This was in response to the market trends and a way to re-establish a competitive edge in the automotive technology spectrum. For an automotive company that had never created a car that could achieve a top speed faster than 110 km/h, this would be a major undertaking.

Jean Francois, a 29 year-old engineer, was commissioned to construct a series of sporty cars using as many of the spare parts as possible. Talbot's new independent suspension was used along with a new chassis with box-section side members. The engine was borrowed from one of their trucks. The engine featured a 65mm crankshaft with internal lubrication. In 1933, the vehicles were introduced at the Paris Car Salon. They were the 4 cylinder 12CV and the 6 cylinder 18CV. At the show, Lucy O'Reilly Schell approached Weiffenbach with a request to have a vehicle built that could be entered in rally events.

Lucy O'Reilly, a wealthy American with an Irish origin, had a passion for racing. So fueled by Delahayes desire to produce sports cars and Reilly's financial backing and quest to win motor sport events, the company re-entered the racing scene.

The Type 135 was created with variants such as the 135 Competition Speciale (135 CS), designed specifically for racing. The 135 Sport and the 135 Coupe both featured a 3.2 liter engine. The Sport produced 96 horsepower while the Coupe had 110 horsepower. 120 horsepower was produced by the 3.6 liter engine that rested in the Type 135 Competition model. The engine in the 135 CS was a simple pushrod operated engine borrowed from the 1927 Type 103 truck engine. It gave up horsepower for great acceleration and torque.

The Type 135 is considered as one of the most famous and prestigious vehicles produced by Delahaye. In both design and racing competition, it was very successful. Designed in 1934 it was quickly entered into races such as the 24 Heures du Mans, the Monte-Carlo Rally, and the Paris-Saint-Raphael motor race, where it had great successes at being a competitive and reliable automobile.

The Type 135 Competition Speciale Sports Car (CS) had a chassis 25 cm shorter than the 135 touring car. This shortened version had better weight distribution which greatly improved the handling and performance. The engine and 4-speed Wilson epicyclic gearbox was placed lower in the chassis, thus contributing to the benefits of a better balanced vehicle. The 135 CS came equipped with an 80 liter or a 100 liter fuel tank, this option was left up to the buyer's discretion.

The 135 CS was debut in the 1936 Monte Carlo Rally where it finished 2nd in a field of fierce competition. In 1936 it was the winner of the Marsailles Gran Prix. At the French Gran Prix is placed second, third, fourth and fifth.

Well-known coachbuilders, such as Franay, Letourner & Marchard, Chapron, and Guillore, were tasked with outfitting the 135's. This may have been influenced by Delage, an automotive company that Delahaye merged with in 1935. As a result, the 135 won numerous awards for styling and design.

The Type 135's are truly a prestigious masterpiece with a strong racing history and a heritage that was formed on stability, robustness, and stamina.
By Daniel Vaughan | Feb 2007
For more information and related vehicles, click
here
Postwar Ferrari Named Best of Show at 2014 Pebble Beach Concours d'Elegance
1954 Ferrari 375 MM Scaglietti Coupe Named 'Best of Show' PEBBLE BEACH, Calif. (August 17, 2014) -- Excited cheers echoed across the 18th fairway of Pebble Beach Golf Links Sunday when a 1954 Ferrari 375 MM Scaglietti Coupe was named Best of Show at the 64th annual Pebble Beach Concours d'Elegance. The car, owned by Jon Shirley of Medina, Washington, was the first postwar car to take the top award at the prestigious event in nearly five decades. It was also the first Ferrari to win. ...[Read more...]
80 years ago: victory by the Mercedes-Benz W 25 in the International Eifel Race gave birth to the legend of the Silver Arrows
•The silver-coloured body of the W 25 gave this nickname to the racing cars from Mercedes-Benz •Successful new development by Mercedes-Benz for the750-kilogram racing formula •Manfred von Brauchitsch drove the W 25 to victory and established a new track record for Nürburgring It was a debut in sparkling silver, and it ended with shining gold: the first race at Nürburgring with the completely newly developed Mercedes-Benz W 25 racing car on 3 June 1934 was won by Manfred von Brauchitsch with...[Read more...]
1955 Monaco Grand Prix: Trintignant 'Awash' in Monegasque Praise
Heading around Tabac for the final time, Maurice Trintignant would be greeted by an enthusiastic Monegasque population. He would be the unlikely victor, but a little dip in the Mediterranean would make sure his name joined an exclusive list of Formula One race winners. Maurice Trintignant had started his racing career just prior to the outbreak of the Second World War. Before the war would start he would take his Bugatti and would go on to earn an impressive victory in the 1939 Grand Prix des...[Read more...]
BREMBO CIRCUIT IDENTITY CARDS FOR MOTOGP AT FRENCH GRAND PRIX (LE MANS)
What's the 'toughest' track in MotoGP? Brembo Circuit Identity Cardsfor MotoGP are available to the public on the Friday before each race at www.Brembo.com. Each Circuit Identity Card graphic includes general characteristics of the track itself (layout, length, number of braking events and turns, percentage of time spent under braking per lap), along with technical information of the key braking zones, such as speeds before/after each brake event, braking time and distance, maximum deceler...[Read more...]
Third Annual Sonoma Historic Motorsports Festival to Feature Moments in Time
The Sonoma Historic Motorsports Festival, the third annual event under that title, returns to Infineon Raceway in Sonoma, Calif., June 2-3, 2012, featuring 'Moments in Time: a Celebration of the History of Motorsports.' The program for the 26th annual historic-car event organized by General Racing Ltd. in Sonoma will focus on highlights of the 1950s, '60s, '70s and '80s - the eras in which auto racing began to cement its international status as a world-class spectator sport. In addition, 400 his...[Read more...]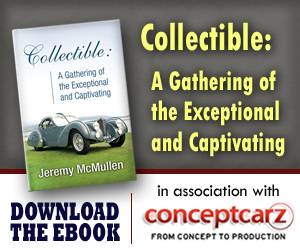 © 1998-2014. All rights reserved. The material may not be published, broadcast, rewritten, or redistributed.