1959 BMW 507 news, pictures, specifications, and information

Tweet
Bayerische Motoren Werke (BMW) or in English, Bavarian Motor Works, was founded in 1917 as a builder of airplane engines and motorcycles. In 1928, BMW acquired Fahrzeugfabrik Eisenach A.G. vehicles which was building cars under license of Decauvilles and Austin since 1898.

At the insistence of Max Hoffman, a USA importer, BMW agreed to build the 507. The 507 was designed by Albrecht Goetz. Because the 507 was each hand built it could not be produced at a prize to make it competitive. Only 252 BMW 507's were manufactured.

The 507 is powered by a 150 horsepower 3168cc straight six.
The BMW 507 existence was brief but a brilliant reinstatement of the company's sporting heritage that had flourished with the BMW 328 prior to World War II. The 507 was launched in 1955 and was envisioned by American BMW importer Max Hoffman to fill the divide between the Mercedes-Benz 300SL and the much less expensive and powerful offerings from Triumph and MG. The mechanical components were courtesy of the 502 and 503 series, with engineering led by Fritz Fiedler. Unsatisfied with preliminary body designs, he had Count Albrecht Goertz, who had the earlier 503 already to his credit, pen the lines of the 507. It was given sensuous curves and a powerful 3.2-liter overhead-valve aluminum block V-8 that it shared with the 502 and 503 series. The hefty price of the 507 guaranteed its exclusivity and its limited numbers. On example was even given to Grand Prix world champion John Surtees for winning the 1956 500cc World Motorcycle Championship with an MV Agusta motorcycle.

For 1957,the design was slightly revised with the appearance of the Series II models. Differences included increased engine output and a little additional space behind the seats to give drivers more comfortable driving position. BMW offered a number of available drive ratios ranging from 3.70:1 to 4.20:1 depending upon customers order. Top speed for the 507 ranged from 124 to 136 mph. Zero-to-sixty was accomplished in 8.8 seconds and the quarter-mile took just 16.seconds.

This example, chassis number 70203, was completed on December 9th of 1958 and on February 25th of 1959 it was delivered to the official BMW importer FADEX Commercial Corp. Years later, the car made its way to Puerto Rico. It later returned to North America for a recent professional restoration by RM Auto Restoration.

The car is finished in black with a green interior. The all-alloy overhead valve V8 engine is fitted with dual carburetors and offers 155 horsepower (DIN rating). It has a four-speed manual gearbox with hydraulic disc brakes in the front and drums in the rear.

In 2012, this vehicle was offered for sale at RM Auction's sale in Scottsdale, Arizona. It was estimated to sell for $900,000-$1,200,000. As bidding came to a close, the car had been sold for the sum of $990,000 inclusive of buyer's premium.
By Daniel Vaughan | Feb 2012
The BMW 507 was produced from 1956 through 1959 with only 254 examples being produced. The styling was inspired by Max Hoffmann, America's largest import car dealer, and designed by Albrecht von Goertz. Goertz was born in Germany and later migrated to America as Graf Albrecht von Goertz. His portfolio included marques such as Studebaker and Datsun. He was also responsible for designing the BMW 503.

The 507 was a combination of power, exquisite styling, and a lightweight body. The exterior was constructed of light-weight alloy and attached to a metal frame and pressed-steel wheels. Under the hood was a 90-degree eight-cylinder engine that produced 150 horsepower. Top speed was achieved at 125 mph.

The official debut was at the 1955 Frankfurt Motor Show where it was the star. The car was shown in incomplete form with objects being place in the engine bay to fill the void of the engine that was still under construction. A working prototype was shown in September at the Paris Show. Customers took delivery the following year in November. One of the more famous customers was Elvis Presley. There were two production runs of the 507, the Series 1 and Series 2. The Series 2 were very similar to the first Series, but include minor updates such as a modified dashboard and revised bulkhead to accommodate extra luggage. With 210 Series 2 cars, they were produced in greater numbers than the 42 created Series 1. A heavy price tag was responsible for theses low production numbers. The cost to produce these was steep, so their price tag followed in similar fashion.

What had set out to be a lightweight, inexpensive, sports car with an estimated 200+ horsepower actually evolved into a heavy, money-pit, that had a poor power-to-weight ratio. The tools to produce the vehicle were expensive resulting in slow sales and BMW inching towards bankruptcy. BMW added performance options such as disc brakes and a five-speed transaxle but this did little to encourage customers.

The two-seater 507 sports cars based on the 503 were built to exceptional quality and engineering but unfortunately not well enough. In modern times, these are highly sought after cars because of their low production figures and the history of the marque.
By Daniel Vaughan | Aug 2006
In the 1930s BMW was famous for their top sports cars, but WWII put the marque so behind that they couldn't return to auto production until 1951. The sensational 507 was monumental in proving that BMW could produce durable, fast, superbly engineered road vehicles.

Introduced at the Waldorf-Astoria Hotel in New York in 1955, the pricy BMW 507 roadster was created with the intent of improving BMW's sporting image. BMW had high hopes for the classy 507, but unfortunately the snappy little roadster was unable to live up to these aspirations. The goal was to export the 507 to the U.S. at a rate of several hundred per year, but the vehicles were too expensive for postwar Germany, and too eccentric for American auto tastes and at a time when most Americans hadn't ever heard of BMW. BMW didn't have the tooling to produce the 507 in the desired numbers by him, and it took longer than expected to get the car to America.

Max Hoffman was a shrewd U.S. automobile importer who sweet-talked BMW management in 1954 into producing a roadster variant of the BMW 501 and BMW 502 saloons to fill the void between the pricy Mercedes-Benz 300SL and the inexpensive and underpowered MG and Triumph sports vehicles. Hoffman convinced BMW that he had plenty of wealthy American customers that wanted a sleek BMW sports car, which he would display at his lux NYC dealership. BMW was competing with rival Mercedes-Benz's 300SL model and needed both an image boost and extra cash flow, so they agreed to build the car. Hoffman had all of the right connections in the U.S. and owned distribution rights on the East Coast for the high-pedigree European auto and also sold them.

Hoffman was unimpressed by any early designs by Ernst Loof and BMW contracted German-American industrial designer Count Albrecht von Goertz to design the BMW sport models with the 502's big chassis and running gear. In November of 1954 Goertz designed the 503 coupe and convertible with the 502's chassis and pushrod aluminum V8 engine. Though he was pleased with the 503 and the boost it gave to BMW, Hoffman wanted a much more dramatic car, one that would be sensationally eye-catching on American streets. Hoffman persuaded Goertz to take even more creative liberty, and the result was the 507 two-seater. Goertz stressed simplicity in the design of the 507 and was intricately involved in every part of the design from the grille to the cockpit.

Fritz Fiedler was BMW's chief engineer who was assigned the task of designing the mechanical package by utilizing existing components wherever able. Hoffman made sure that the 507 had a new 3.2-liter V8 engine during a time when few European cars had a V8 due to stiff engine-size taxes. Even the famous 300SL only had a 6-cylinder engine, but Hoffman knew that the only engine he wanted was a V8 for his American baby.

After it's introduction, production of the BMW 507 began in November of 1956. Hoffman had high hopes of selling the 507 around a price of $5,000, but high production costs made that impossibility. The BMW 507 was closer to an initial price of $9,000, before rising to $10,500, but the model helped to establish BMW as a forward-thinking manufacturer that has continued to this day. Hoffman had hoped to sell around 5,000 units a year, but despite celebrity buyers that included Georg 'Schorsch' Meier and Hans Stuck, the 507 never reached more than 10% of the sales volume that rival Mercedes-Benz 300SL achieved. For 1959 BMW lost around DM 15 million with the company losing money of every single 507 model built.

The 507 sported a pointed nose with BMW's trademark twin grilles. Much like the then-new Ford Thunderbird two-seater, the 507 offered a removable steel top to go with its convertible top. A number of models were sold with an optional hand-fabricated removable hardtop that was unique to the car it was made for and only fit on that specific vehicle. Eventually the styling of the 507 inspired the Z3 and Z4, and especially the Z8. The 507 was built on the same frame as the 503, which was shorted from 111.6 inches to 98 inches. The 507 had an overall length of 190.4 inches and an overall height of 49.5 inches and weighed 2,900 lbs. The body was constructed almost entirely from hand-formed aluminum and no two models were ever exactly alike. Fully equipped and nicely detailed, the largely hand-built 507 cost about the price of two Cadillac's when it finally arrived at Hoffman's prestigious dealership.

The 507's front suspension was parallel double wishbones with torsion bar springs and anti-roll bar. Located by a Panhard rod and a central, transverse A-arm that controlled acceleration and braking forces, the rear suspension featured a live axle, also sprung by torsion bars. The brakes used were Alfin drum brakes 11.2 inches in diameter with optional power brakes. 507 models produced later in the production run sported front Girling disc brakes. The 507 safely could cruise Germany's unlimited speed highways at more than 100 mph thanks to hefty drum, and later disc brakes. When compared with other 1950's convertibles of the time, the 507 was equipped with sharp handling and exceptional rigidity due to precise rack-and-pinion steering, torsion bar front suspension, nicely engineered rear suspension and a high tech tubular chassis.

Powering the 507 was the aluminum alloy BMW OHV V8 engine of 193.3 cubic inch displacement that featured pushrod-operated overhead valves. It featured two Solex Zenith 32NDIX two-barrel carburetors, a chain-driven oil pump and compression ratio of 7.8:1 that produced 150 hp at 5,000 rpm and was joined to a close ratio four-speed manual transmission. Standard was a rear-end ratio of 3.70:1, but optional were ratios of 3.42:1 and 3.90:1. The BMW 507 could hit 0-60 mph in just 7 to 8.8 seconds, depending on gearing and had a top speed range of 128-138 mph.

A stellar example of a highly desirable limited-production German sports car, only 253 507's were built during the models four-year production run. In 1959 production was terminated. The launch of cheaper, newer models like the BMW 700 and the 'New Class' 1500 helped BMW recover as a company. A total of 202 BMW 507's are thought to have survived today.

The landmark model has been owned by numerous famous people including the iconic Elvis Presley who leased a white 507 in 1959 for $3,500 while stationed with the Army in Germany. Elvis would often fight lipstick stains all over his 507. In 1963 he gifted the car to the actress 'Bond Girl' Ursula Andress. John Surtees was another famous owner who received a 507 by Count Agusta after winning the 1956 500cc World Motorcycle Championship on a MV Agusta. Surtees still owns his 507 and worked with Dunlop to add disc brakes for the front wheels, before eventually adding disc brakes on all four wheels. In October 2007 Bernie Ecclestone's 507 sold for $904,000 at a London auction.

The 507 made its big screen debut in the 1964 film Fantômas.

Sources:
http://en.wikipedia.org/wiki/BMW_507
http://www.danjedlicka.com/classic_cars/bmw_507.html

By Jessica Donaldson
For more information and related vehicles, click
here
The Crescendo Effect: As the Days Get Closer, The Cars Get Bigger at Russo and Steele's 15th Anniversary Auction Event!
Scottsdale, Arizona (January 6th, 2015) – For Enthusiasts – By Enthusiasts. ™ This is far more than a tagline at Russo and Steele Collector Automobile Auctions. It's a lifestyle, and we are gearing up to deliver that singular passion to the High Desert of sunny Scottsdale, Arizona for our annual flagship event during the world renowned collector car week. Additionally, Scottsdale marks the kick-off of the year-long celebration of our 15th anniversary. Held over five thrilling and actio...[Read more...]
Russo and Steele Collector Automobile Auctions Kicks Off 15th Anniversary with Eight Initial Offerings to Watch
Scottsdale, Arizona (December 1st, 2014) – For Enthusiasts – By Enthusiasts. ™ This is far more than a tagline at Russo and Steele Collector Automobile Auctions. It's a lifestyle, and we are gearing up to deliver that singular passion to the High Desert of sunny Scottsdale, Arizona for our annual flagship event during the world renowned collector car week. Additionally, Scottsdale marks the kick-off of the year-long celebration of our 15th anniversary. Held over five thrilling a...[Read more...]
1969 United States Grand Prix: The Rise of Rindt
If there was one racer in the Formula One paddock that drivers and spectators alike believed should have scored his first victory before the start of the 1969 season it would almost unanimously be Jochen Rindt. Fast and flamboyant, the Austrian exhibited car control that enthralled just about everyone it seemed, except perhaps the cars themselves. Constantly undercut by poor reliability, it seemed Rindt was to forever suffer under such an oppressive weight. However, at the 1969 United States Gra...[Read more...]
Barrett-Jackson Flavors Its January Scottsdale Auction With NASCAR Treats
• RACING HERITAGE, HIGH PERFORMANCE ARE RECIPES FOR CAR-COLLECTING FEAST
• SPEED™ SET FOR 39 HOURS of LIVE COVERAGE STARTING JAN. 15
The great Henry Ford once said, 'Auto racing began five minutes after the second car was built.' And for more than 60 years, there are few entities that better represent auto racing in America than NASCAR. From the hallowed grounds of Daytona International Speedway, to Sonoma, California's intricate and picturesque road course, the sp...[Read more...]
TOPLINE COLLECTORS PLACE SPOTLIGHT on SPEED'S BARRETT-JACKSON BROADCAST FROM SCOTTSDALE
• TOPLINE COLLECTORS PLACE SPOTLIGHT on SPEED'S BARRETT-JACKSON BROADCAST FROM SCOTTSDALE
• 'LOST' SHELBY DUAL PROTOTYPE, HAGERTY GIVEAWAY & SALON COLLECTION HIGHLIGHT 39 HOURS OF LIVE COVERAGE
The 42nd annual Barrett-Jackson Scottsdale (Ariz.) Collector Car Event, the first of four set for live coverage in 2013, kicks off the auction season in grand style as some of the world's most sought-after machines cross the block starting Tuesday, Jan. 15 at 7 p.m. ET/4 p.m. PT. SP...[Read more...]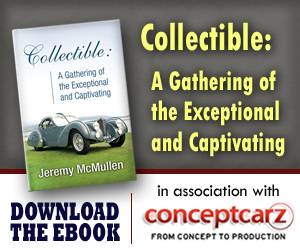 BMW
Monthly Sales Figures
Volume
December 2014
41,526
November 2014
31,019
October 2014
30,602
September 2014
25,586
August 2014
27,214
July 2014
26,409
June 2014
30,201
May 2014
29,602
April 2014
25,202
March 2014
32,107
February 2014
22,017
January 2014
18,253
(More Details)
© 1998-2014. All rights reserved. The material may not be published, broadcast, rewritten, or redistributed.