1910 Hupmobile Model 20 news, pictures, specifications, and information

Tweet
The first Hupmobile was created on November 1st, 1908, built by Robert Craig Hupp. Hupp had worked for Regal, Olds, and Ford but had decided to design and build his own interpretation of the automobile. His first creation was a two-passenger runabout that sold for around $750. A four-cylinder engine provided just under 20 horsepower and a sliding gear transmission sent the power to the rear wheels.

Production was strong in its first year, with 1618 examples being created. Production continued until the 1940's when the company was forced to file for bankruptcy.
By Daniel Vaughan | Aug 2006
| | | |
| --- | --- | --- |
| | | Runabout |
Company founder Robert C. Hupp had already worked for Ford and Oldsmobile when he decided to produce a reliable motorcar that was both economical and offered more standard features than the competition. He introduced his inexpensive, well-made and well-equipped Hupmobile Runabout at the Detroit Auto Show in February 1909 and was soon in full production. The last year of Hupmobile production was 1941.

For 1910, Hupmobile produced 5,340 vehicles. Pricing was set at $750.
Robert Craig Hupp had worked with Olds, Ford and Regal, before he built his own vehicle in November of 1908. It was a two-seat runabout powered by a four-cylinder water-cooled engine. It was introduced at the February 1909 Detroit Automobile Show where it was displayed as the 'Hupmobile Model 20.' Pricing was set at $750 which made it even less expensive than the Ford Model T. Production began in March at the newly-organized Hupp Motor Car Company.

During their first year of production, Hupmoible produced 1,618 cars. The following year they produced 5,340. Their height-of production was in the late 1920s, when they sold 65,862 vehicles in 1928 followed by 50,579 the following year. As the Great Depression began to tighten its grasp on the economy, production fell to 22,183 for 1930 and by 1936, Hupmobile produced just 74 vehicles.

Production of the Model 20 would continue from 1908 through 1913. For 1908, it was available only as a runabout. By 1911, three additional body styles became available including a two-passenger torpedo, a four-passenger touring car and a four-passenger coupe. In 1912, it was joined by a larger Model 32 which had a wheelbase size of 106-inches and a 32 horsepower engine.

1913 was the final year of production for the Model 20 (now called the Model 20-C) and still retained its 86-inch wheelbase and $750 price tag. It was now only available as a runabout.
By Daniel Vaughan | Oct 2010
For more information and related vehicles, click
here
RON BURGUNDY ANCHORS NEW 2014 DODGE DURANGO ADVERTISING CAMPAIGN
◾Co-branded advertising campaign combines power of Detroit automaker, major Hollywood studio and Will Ferrell (as Ron Burgundy) in biggest ever original content promo ◾Campaign launches new 2014 Dodge Durango featuring 'Anchorman 2: The Legend Continues' character Ron Burgundy as its new pitchman ◾Multimedia campaign spans television, digital, social and print ◾Television spots debuted on television and online on Saturday, October 5 ◾Campaign champions holiday release of Paramount Pictures' ...[Read more...]
HYUNDAI'S HCD-14 GENESIS CONCEPT TO BE SHOWCASED ON PRESTIGIOUS CONCEPT LAWN AT 2013 PEBBLE BEACH CONCOURS D' ELEGANCE
◾Futuristic HCD-14 Concept Vehicle Reveals Hyundai's Advanced Design and Technological Leadership for Performance Sedans ◾Eye-tracking Technology and Interactive 3-D Gesture Recognition Hint at Innovative Future Technologies for Premium Vehicles PEBBLE BEACH, Calif., August 12, 2013 – Hyundai's innovative and tech-laden HCD-14 Genesis Concept, which received international acclaim at the 2013 Detroit Auto Show, will again be center stage on the prestigious Concept Lawn at the 2013 Pebb...[Read more...]
Michelin Recognizes 25 Year Partnership with the North American International Auto Show
• Major donation to support DADA Education Foundation
Detroit, Mich., June 27, 2013 - The North American International Auto Show (NAIAS) today announced that it has received a $25,000 donation from Michelin North America in honor of the 25-year partnership between both organizations. The check presentation was made today at the NAIAS 'Covering All Bases' event, an off-season, day-long planning meeting attended by more than 300 representatives of auto manufacturers, sponsors, an...[Read more...]
Lingenfelter Collection Garage Crawl To Take Place Saturday, June 15 During 26Th Annual Eyeson Design
BRIGHTON, Mich. - Ken Lingenfelter, owner of Lingenfelter Performance Engineering, will open the doors of his famed Lingenfelter Collection by hosting a Garage Crawl during the 26th Annual EyesOn Design week of activities. All proceeds from EyesOn Design events, this year themed 'Revolution over Evolution,' will benefit the Detroit Institute of Ophthalmology. Lingenfelter, who serves on the EyesOn Design Board, will also exhibit select vehicles from his collection in the EyesOn...[Read more...]
Shelby Performance Parts Introduces Highly Anticipated Wide Body Kits For 2010-2014 Mustang
Las Vegas – June 6, 2013 – Shelby Performance Parts (SPP), a division of Shelby American, a wholly owned subsidiary of Carroll Shelby International Inc. (CSBI.PK), has now introduced the highly anticipated Shelby Wide Body Kit for 2010-2014 Mustang and Shelby models. The Shelby Wide Body package was unveiled on the 2013 Shelby GT500 Super Snake at the North American International Auto Show in Detroit this January, and was recently released for 2005-2009 Mustang and Shelby cars. Shelby Per...[Read more...]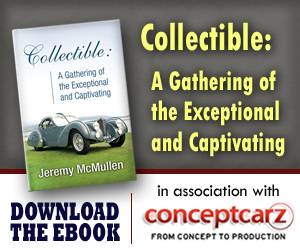 © 1998-2014. All rights reserved. The material may not be published, broadcast, rewritten, or redistributed.