1910 Hupmobile Model 20 news, pictures, specifications, and information

Tweet
The first Hupmobile was created on November 1st, 1908, built by Robert Craig Hupp. Hupp had worked for Regal, Olds, and Ford but had decided to design and build his own interpretation of the automobile. His first creation was a two-passenger runabout that sold for around $750. A four-cylinder engine provided just under 20 horsepower and a sliding gear transmission sent the power to the rear wheels.

Production was strong in its first year, with 1618 examples being created. Production continued until the 1940's when the company was forced to file for bankruptcy.
By Daniel Vaughan | Aug 2006
| | | |
| --- | --- | --- |
| | | Runabout |
Company founder Robert C. Hupp had already worked for Ford and Oldsmobile when he decided to produce a reliable motorcar that was both economical and offered more standard features than the competition. He introduced his inexpensive, well-made and well-equipped Hupmobile Runabout at the Detroit Auto Show in February 1909 and was soon in full production. The last year of Hupmobile production was 1941.

For 1910, Hupmobile produced 5,340 vehicles. Pricing was set at $750.
Hupmobile started production in 1909 with the Model 20. It had a 20 horsepower, 4 cylinder, water-cooled engine with a 2 speed sliding gear transmission. It was light, nimble, sporty, fast for the day, and could be considered among the first sports cars. Its only shortcoming was its ability to climb steep hills due to having only a 2-speed transmission, earning the nick name 'Up No Hill.' It had an 86 inch wheelbase and was available only with a roadster/runabout body. Production was 1,618 cars in 1909 climbing to 5,340 in 1910. The price was $750, $150 less than the comparable Model T Ford. In 1912 Hupmobile introduced the larger 32 horsepower Model 32 starting their trend towards progressively larger more powerful cars. The last year for the Model 20 was 1913. Hupmobile produced a wide variety of models until 1941 when production ceased.

This car was acquired by the present owner in 1985 in Elgin, IL. It was in rough condition requiring a full restoration. In addition to the usual paint, top and upholstery it had missing and badly deteriorated parts both driveline and body. It was necessary to fabricate more power train and body parts from old manuals and parts borrowed from other Model 20s. Even the radiator and wheels required fabrication from scratch. Restoration took 7 years to bring it to its present beautiful condition.
Robert Craig Hupp had worked with Olds, Ford and Regal, before he built his own vehicle in November of 1908. It was a two-seat runabout powered by a four-cylinder water-cooled engine. It was introduced at the February 1909 Detroit Automobile Show where it was displayed as the 'Hupmobile Model 20.' Pricing was set at $750 which made it even less expensive than the Ford Model T. Production began in March at the newly-organized Hupp Motor Car Company.

During their first year of production, Hupmoible produced 1,618 cars. The following year they produced 5,340. Their height-of production was in the late 1920s, when they sold 65,862 vehicles in 1928 followed by 50,579 the following year. As the Great Depression began to tighten its grasp on the economy, production fell to 22,183 for 1930 and by 1936, Hupmobile produced just 74 vehicles.

Production of the Model 20 would continue from 1908 through 1913. For 1908, it was available only as a runabout. By 1911, three additional body styles became available including a two-passenger torpedo, a four-passenger touring car and a four-passenger coupe. In 1912, it was joined by a larger Model 32 which had a wheelbase size of 106-inches and a 32 horsepower engine.

1913 was the final year of production for the Model 20 (now called the Model 20-C) and still retained its 86-inch wheelbase and $750 price tag. It was now only available as a runabout.
By Daniel Vaughan | Oct 2010
For more information and related vehicles, click
here
CADILLAC ELR UNDERGOES WINTER CHASSIS TESTING
Fresh off its award-winning world debut at the North American International Auto Show, the Cadillac ELR is undergoing the real-world extreme testing required to take the extended-range electric luxury coupe from auto show stage to Cadillac showrooms in early 2014. Engineers last week completed winter weather chassis testing on pre-production ELR models in Michigan's Upper Peninsula, evaluating the car's handling in winter weather conditions. More than four inches of fresh snowfall during...[Read more...]
CADILLAC CONCEPT CARS STAR at AMELIA CONCOURS d'ELEGANCE
There are limited production cars, there are rare cars and there are concept cars that never find their way to the showroom. A fleet of Cadillac's rare and mythic Motorama and Detroit Auto Show Concept Cars will take to the field at the 18th Annual Amelia Island Concours d'Elegance on Sunday March 10, 2013. Created under the supervision of GM's legendary styling chief, Harley Earl, the Cadillac Concept cars of the 'Fifties were created as the stars of GM's Motorama shows. All are blood anc...[Read more...]
Mecum's 15th Annual Fall Premier Auction Exceeds $12 Million
Diverse Offerings Hammer Sold Amongst Record Crowd in Chicagoland Record crowds gathered for the 15th Annual Mecum Fall Premier, held Oct. 25-27 at the scenic Pheasant Run Resort in beautiful St. Charles, Ill. Chicagoland's only collector car auction, the Mecum 2012 Fall Premier presented a varied slate of 963 vehicles for sale over three big days, selling 577 for a 60 percent sell-through rate and total sales surpassing $12 Million. True to Mecum's reputation for offering somethi...[Read more...]
2012 Dodge Durango Receives MotorWeek Drivers' Choice Award at the Chicago Auto Show
• 2012 Dodge Durango earns MotorWeek Drivers' Choice award (shared with Jeep® Grand Cherokee)
• Dodge brand January 2012 sales increase 29 percent; best January since 2008
• Dodge Durango January 2012 sales jump 152 percent
February 8, 2012 , Auburn Hills, Mich. - The year may be young, but Dodge brand vehicles are continuing to gain momentum, earning recognition from both new car buyers and the media, alike. On Wednesday, Feb. 8, the editors of MotorWeek pr...[Read more...]
HISTORIC 1950S CONCEPT CARS AMONGST EARLY CONSIGNMENTS FOR RM'S 2010 'AUTOMOBILES OF ARIZONA' EVENT
RM Auctions will shine the spotlight on a historic range of 1950s concept cars when it's highly anticipated Automobiles of Arizona event returns to Phoenix, January 21 and 22, 2010. Five very unique and exciting cars created by Detroit's automakers are set for RM's Automobiles of Arizona event this coming January, including the 1954 Mercury XM-800 Dream Car, the 1956 Cadillac Maharani Motorama Show Car, a 1958 Cadillac Eldorado 'Raindrop' Motorama Dream Car, an all-original 1956 Chrys...[Read more...]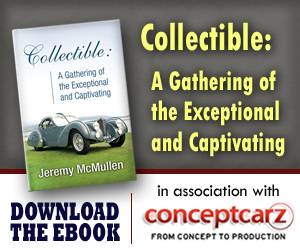 © 1998-2014. All rights reserved. The material may not be published, broadcast, rewritten, or redistributed.