1938 Horch 853 A Erdmann & Rossi Roadster news, pictures, specifications, and information

Tweet
Meaning to 'hear' or 'listen', August Horch's line of automobiles certainly something more to behold than just to hear, for it would be what the eyes would see that whole could be truly appreciated. And perhaps none of the Horch models could be more appreciated for their beauty and elegance than the model 853.

In 1896, August Horch would see his first automobile, which would be a Benz. In a matter of months, Horch would be working for Benz and would ultimately be a plant manager. By 1899, Horch would manage to find enough financial backing to start his own automobile manufacturing company. And, just before the turn of the century, he would found Horch and Co.

From its very beginnings, Horch would become synonymous with quality and innovation. However, by 1910, the turmoil in Europe was beginning to brew and sales lagged for Horch's company. Known for quality and reliability, Horch's automobiles began to suffer from problems in touring events and he would soon be forced out of the very company bearing his name.

Unable to use his name, Horch would turn to the Latin translation word meaning 'to hear', or, 'listen'. So, instead of Horch, 'Audi' would be born. Soon, Horch's new company would pick right up where his old one had left off. Audi would become known for quality and performance. However, the end of the First World War would leave much of Europe, especially Germany, in shambles, and such luxury cars, as the Audis were, would not fare so well in the financial climate. As a result, Horch would leave the company in 1920. Unfortunately, for Audi, and fortunate for Horch, the economic woes facing Germany and Europe in the late 1920s and 1930s would leave production flat, if not in the decline. This potentially spelled doom for Audi and a few other companies.

The four struggling companies, two of them started by August Horch, would join together. Together, Audi, DKW, Horch and Wanderer would create Auto Union, and quickly, Auto Union would begin to rival Mercedes-Benz as Germany's great automobile manufacturers. And in the racing world, the Silver Arrows of Mercedes-Benz and Auto Union would become a force that would not only dominate grand prix races, but that would also set records that would take years to overcome.

When Auto Union came into existence, August Horch, who started two of the companies that made of the union, would be reinstated as head of Horchwerke. The union of the four rings would allow Horch to continue on as a luxury automobile manufacturer.

Auto Union would enter the world of grand prix racing and would routinely battle with Mercedes-Benz for victory after victory. This dominance would give rise to the name 'Silver Arrows'. But the competition between the two German automobile manufacturers wouldn't just be reserved for the circuit. And by the later-part of the 1930s Horch would find itself in competition with Mercedes-Benz, not on the track but in the production of luxury road cars.

Horch had always been known for its quality and innovation but its reputation would be challenged greatly when Mercedes-Benz unveiled its new 540K. Immediately, Horch began to design a concept meant to compete with the new Mercedes. Carved out of wood, the Horch Special Roadster would be undertaken by the factory works in Malan. And though the cars chassis would begin production, the cars would not be made available for sale, at least not right away. The delay would have to do with whether or not the engines would be supercharged.

The decision would be made not to supercharge the 5.0-liter inline eight cylinder engine. However, the transmission would be equipped with overdrive, which would give it performance close, but not quite the same, as the 540K. However, the chassis would boast of a fully-independent De Dion rear suspension placed on double-jointed rear axle shafts designed by Porsche.

What would be considered the 'First Series' would be quite similar to the concept that had been carved out of wood. The first example would be built by the factory. The second example would be designed and built by the exceptional coachbuilders from Berlin, Erdmann and Rossi.

At the time, the Second World War loomed and the Nazi party had complete power throughout Germany. Therefore, Horch would be competing with Mercedes-Benz building cars, especially parade cars, for high ranking members of the Third Reich. Horch would build the first example of the 'Second Series' especially for Hermann Goering, commander-in-chief for the German Luftwaffe. However, Mercedez would also be building a special 540K for him as well, an example with beefed up protection, more so than that would be employed on the Horch. Goering would go with the Mercedes and would have the Horch, that had been built especially for him, dismantled.

Just five of the 'Second Series' 853s would be built. The first would be dismantled by Goering and the last would be lost. This would leave just three examples of the 'Second Series'. And though all five would share the same 'sweep panel' in the body sides and the beautifully-shaped fender skirts, each one would be quite unique in its design.

Chassis 854275 would be just one of the three remaining 'Second Series' 853s and would be one of the very few to feature coachwork by Erdmann and Rossi. And given the fact that just five of the 'Second Series' models would be built, and that each one was quite its own car, this 1938-built Horch 853A Special Roadster would be of much more extraordinary rarity than any of the 540K Mercedes.

But the 853 is not just a rare jewel today. Even in its day and potential buyer had to demonstrate they had at least a certain amount of money in the bank before they would even be considered a potential customer. This would be one of the main reasons why the 853 would be manufactured specifically for prominent government officials within with the Nazi government.

This particular example would become a war souvenir for a United States serviceman returning after World War II. From Germany, the car would be shipped to the United States and then on to Cleveland, Ohio where the serviceman would open a filling station. His intention would be to restore the car to its original condition. He would dismantle a good portion of the car but would never get around to the restoration.

The car would continue to sit in its non-restored state until the 1960s when collector Herbert von Fragstein came calling searching for one of the Special Roadsters. And though it would take a number of phone calls and he would eventually locate the 853A it wouldn't be until 1973 that he would come to own the car with the expectation of restoring the car to its former glory.

However, the restoration would never even begin. The car would still sit in pieces, but it would be joined by some original parts that von Fragstein would manage to locate over the years. It was clear the intention was to rebuild and restore the car, though it would never happen. But thankfully, there would be one that would have the means of making it finally happen.

In 2001, the car would be acquired the famous collector Joseph Cassini. Cassini had seen one of the Special Roadsters years earlier and had become aware of chassis 854275. Fully aware of the condition of the car Cassini would relate, 'It was a beautiful car, and I saw this example as an opportunity to take a diamond in the rough and realize its true potential.' Cassini would turn to RM Auto Restoration and the two year process would begin.

The car would be thoroughly dismantled and every part would be catalogued. Amazingly, the car would be found to have many of its original components. But this was just the beginning. The car would be stripped right down to the chassis so that each component could be inspected and cleaned. As to the wood components used in the car, a good amount of the original wood be able to be saved though some of the ash framing would need to be replaced. It would only be during this tear down and restoration phase of the project that the truly quality of the Horch construction process would be truly appreciated.

Overall, much of the car was in good shape. And where there were some needed repairs, great pains would be taken to save as much of the original elements as possible. A true restoration of the car could not have been completed without several trips to Germany to inspect original photographs and other technical data. The entire project would take more than 12,000 hours, but it would be the final stages that would be as important and much more difficult.

While the restoration of the car required tremendous amounts of sweat, toil and investigation, the car's finish would be agonized over perhaps even more. The finish, after all, would serve as the final testament to the car's restoration. As a result, the decision would be made to finish the car in a period-correct livery that would only enhance its rare lineage and exotic pedigree. Therefore, the car would be finished in a silver and two-tone grey. Just one glimpse and the finish evokes those images of the famed Silver Arrows of Auto Union and Mercedes that dominated the racing scene throughout pre-war Europe.

The finished product could not be described with any other proper adjective other than 'stunning'. The handcrafted elements, the leather and alligator upholstery and the finish and design of the 853A blend together into a rich and remarkably beautiful creation befitting of the Horch reputation for luxury and quality.

After the dedicated and exhaustive restoration, the car would be entered in the Pebble Beach Concours d'Elegance. Complete with its restored inline eight-cylinder engine, four-speed synchromesh transmission, wonderful touches of chrome and its wonderfully crafted Erdmann and Rossi coachwork, the car would go on to win the coveted Best in Show award in 2004. It would be the final confirmation as to the work of the restoration and the special place in automotive history the Horch 853 holds.

The Best in Show award earned at Pebble Beach would then be followed by numerous other concours victories including the 2005 New York Concours and the 2006 Meadow Brook concours. These victories would be followed up with awards at the Glenmore Gathering in 2008, Ault Park in 2009 and another at Greewich in 2012.

Judge Cassini has owned a number of exotic and rare cars throughout his life. In fact, he has owned some of the best marques known on the planet. However, the Horch always has held a special place in his heart. Judge Cassini would remark about his Horch, 'I've had some really outstanding cars—but the Horch is at the top of the pile…'

Accented with such touches as chromed bezels, ornamental fluted louvers, chromed deco Horch logo, a burled walnut veneer and a luxurious fully fitted headliner in the convertible top, the Horch 853A, chassis 854275 certainly began its life as a rare luxurious beauty. As a result of its dedicated restoration, award-winning presence and extraordinary rarity only add to its value and reputation. And amongst the already rare and exceptional Horch automobiles, the Special Roadsters, of which 864275 is one of just three surviving, would have to be regarded as one of the finest of designs in Europe and the rest of the world.

As a result of the tremendous and award-winning restoration, the 1938 Horch 853A Special Roadster would be expected to draw between $6,000,000 and $8,000,000 at auction.

Sources:
'Lot No. 133: 1938 Horch 853A Special Roadster by Erdmann and Rossi', (http://www.rmauctions.com/FeatureCars.cfm?SaleCode=MO12&CarID=r159). RM Auctions. http://www.rmauctions.com/FeatureCars.cfm?SaleCode=MO12&CarID=r159. Retrieved 1 August 2012.

'1938 Horch 853 Phaeton News, Pictures and Information', (http://www.conceptcarz.com/vehicle/z11989/Horch-853-Phaeton.aspx.). Conceptcarz.com: From Concept to Production. http://www.conceptcarz.com/vehicle/z11989/Horch-853-Phaeton.aspx. Retrieved 1 August 2012.

'Horch 853 Sport Cabriolet', (http://www.ultimatecarpage.com/car/2066/Horch-853-Sport-Cabriolet.html). Ultimatecarpage.com: Powered by Knowledge, Driven by Passion. http://www.ultimatecarpage.com/car/2066/Horch-853-Sport-Cabriolet.html. Retrieved 1 August 2012.

Wikipedia contributors, 'Horch', Wikipedia, The Free Encyclopedia, 31 July 2012, 13:49 UTC, http://en.wikipedia.org/w/index.php?title=Horch&oldid=500535116 accessed 1 August 2012

By Jeremy McMullen
The Model 853 Special Roadster is the rarest of the straight-eight Horches, with only eight built in two series. The engine is a 4944cc OHV design producing 120 bhp at 3600 rpm, and is accompanied by a four-speed transmission with overdrive. Suspension is independent at all four corners, and the car is equipped with hydraulic brakes with servo assist. The roadster weighs in at 5,798 lb, and has a top speed of 84 mph. The 853 was referred to in Horch literature as being built on a 'short wheelbase,' but shortness is surely relative, since the wheelbase measures 135 inches. The 853s were bodied by Erdmann & Rossi, and each was slightly different. This example, the fourth car of the second series, was commissioned in January of 1938, and has undergone a 12,000 hour restoration by RM Classic Cars in Blenheim, Canada.

In 2004 it was brought to the Pebble Beach Concours d'Elegance where it was awarded Best of Show.

The Horch Company did not survive the war. The German government had taken over the plants in 1939 and at the conclusion of World War Two the factory was nationalized.
The history of the Horch Company dates back to the beginning of the automobile. August Horch worked with Karl Benz during the 1890's before beginning his own company in 1899, which he named Horch & Cie, and located in Ehrenfeld, Germany. The automobile industry was new and wide open for interpretation in terms, of design, style, and mechanical functionality. Horch is credited with introducing a fiction clutch and a shaft-driven for the rear wheels.

A dispute with his shareholders in 1909 had him leaving his company to form Audi, which is the Latin translation of his surname. The Horch Company continued the production of the automobile using the Horch name until the onset of World War II, though it endured various acquisition and mergers during that time.

By 1901 the company was producing a 4.5 horsepower engine which was used to power their vehicles. The engine was unique in that it used an alloy crankcase in place of the more traditional cast iron unit. A 10 horsepower twin-cylinder engine quickly followed.

There have always been hard times for automobile manufacturers and survival is an art. The Great Depression, World Wars, changing market place, evolving technologies, and stiff competition are some reasons for the demise of many companies. Within a few years, the Horch Company was feeling the pressure of the business and was forced to seek new partners. By 1902 the company had moved to Reichenbach and within a year was producing a four-cylinder engine that produced 20 horsepower. Their latest car was debuted at the Frankfurt Fair in 1903.

By 1904, Horch converted the company into a joint-stock company and the company became known as A. Horch & Cie. Motorwagen-Werke AG. It was later moved to eastern Germany in a city named Zwickaul.

Within the span of three years, the company had created a six-cylinder engine. The vehicles that were produced were some of the most advanced creations on the road. They were considered superior to the Mercedes or Benz, which were separate manufacturers at the time.

In 1909 Horch was forced to leave by the supervisor board. The following year Horch had formed the Audi Company.

By 1926 the Horch Company introduced a straight-eight cylinder engine which would be used to power some of the most elegant vehicles ever created. By 1935 it had been enlarged to nearly five liters and produced 100 horsepower. This potent engine made its debut in the Horch 850 series. The 853 was a shorter wheelbase version of the 850. The 'A' version was introduced in 1937 and was powered by a 120 horsepower straight-eight engine.

Financial problems with Audi in 1932 forced August to merge with Horch, DKW, and Wanderer which created the formation of the Auto Union and the four-ring logo.

This 853A Cabriolet has coachwork courtesy of Erdmann & Rossi, a Berlin based company and one of the elite coachbuilders in Germany. In recent times it was restored by RM Auctions' restoration department and was later awarded 'Best in Show' at the prestigious Pebble Beach Concours d'Elegance. Since then it has been accumulating awards at shows that it visits.
By Daniel Vaughan | Sep 2008
August Horch began producing vehicles with Karl Benz prior to 1899, after which he began building vehicles under his own name, August Horch & Cie. In 1909, after disputes with shareholders, he departed from his company and founded Audi, which is the Latin translation of his surname. The production of the Horch automobile continued without their founder using his name.

In the early part of the 20th century, the automobiles began to appear less like horseless carriages and more like automobiles. The tiller steering and high buggy wheels became a thing of the past and the engine found its way to the front of the vehicle.

In 1926, a new model was introduced powered by a straight eight engine. This engine was used by the company for many years. Over the years it displacement size grew as did the horsepower rating. This engine was instrumental in providing the power-plant necessary to propel the luxurious Horch automobiles to quick speeds while maintaining a competitive price. As was the case with most early automotive manufacturers, Horch would either build the entire vehicle or merely supply the chassis for a coachbuilder to outfit the vehicle.

Horch was instrumental in continuing the growth of Audi as a company and on the race track. During World War I, the direction of Audi switched to producing vehicles for the military.

As was the case for most automotive companies, times were changing and becoming increasingly difficult to stay competitive and stay in business. In 1932, due to financial problems, August sold Audi. It became part of Auto Union. Auto Union was comprised of Horch, Das Kleine Wunder, Audi, and Wanderer. The Union was essential a way to continue production of automobiles while providing financial support necessary to fuel automotive racing and technology.

The Horch Series 850 featured the 100 horsepower straight eight engine, luxury, style and sophistication. The Model 853 was fitted to a shorter wheelbase and used a DeDion axle rear suspension. In an effort to stay competitive, The Model 853A became available in 1937 and featured a 120 horsepower straight eight engine.

When World War II began, production of the Horch Automobiles ceased.
By Daniel Vaughan | Oct 2008
Pebble Beach 'Best Of Show' Winning Horch Returns To Monterey Peninsula For Auction
A stunning, multi-award winning 1938 Horch 853A Erdmann & Rossi Sport Cabriolet, judged 'Best of Show' at the 2004 Pebble Beach Concours d'Elegance, will return to California's Monterey Peninsula, August 17–18, as a featured attraction at RM Auctions' highly anticipated Monterey sale. One of only three known surviving examples of its kind, the sensational Horch 853A was designed by Fritz Fiedler, who later created the BMW 315 and 328. Displaying exquisite coachwork by prominent German coachbu...[Read more...]
Techno Classica 2014: more than 30 racing cars to celebrate 120 years of Mercedes-Benz motor racing history
•Cars that were the heroes of magical moments put their stamp on this high-powered, most comprehensive show presentation •With more than 30 vehicles, Mercedes-Benz Classic presents motor racing history in all its unique breadth and depth •120 years of Mercedes-Benz motor sport in the focus of the leading international classic motor show 120 years of Mercedes-Benz motor racing history have produced a timeline of extraordinary victories which since 1894 also stand for outstanding innovations ...[Read more...]
LE MANS WINNER JOCHEN MASS NAMED 2014 AMELIA ISLAND CONCOURS HONOREE
There are scores of victories on Jochen Mass' hefty racing resume, but the one that stands out in bold print is the win in France on a June weekend a quarter century ago. Mass shared one of the mighty Mercedes-Benz powered Sauber C9 Silver Arrows in the 1989 24 Hours of Le Mans. Mass, co-drivers Stanley Dickens and Manuel Reuter led a Mercedes sweep of the classic enduro with a 1-2-5 Mercedes-Benz powered finish. Mass & Co. were the slowest of the three Silver Arrow C9s in qualifying. Despit...[Read more...]
Goodwood Festival of Speed 2013: auction of Mercedes-Benz W 196 R one of highlights at world's 'largest motorised garden party'
• Mercedes-Benz Classic presents great moments in motor-racing history at Goodwood • Motorsport festival celebrating its 20th anniversary • Auction of only privately owned post-war Silver Arrow by Bonhams sure to cause a stir Stuttgart – This year's Goodwood Festival of Speed in West Sussex, England, includes the auction of a Mercedes-Benz Type W 196 R Grand Prix racing car on 12 July 2013. The auction will be one of the highlights of a weekend dedicated to motor sport. Mercedes-Benz...[Read more...]
Home again: the last Auto Union Type D twin-supercharger Silver Arrow returns to Audi
• Audi Tradition buys back the second 'Karassik restoration' car
• Auto Union Type D built in 1939, then lost in the USSR for many years
• Thomas Frank, Head of Audi Tradition: 'One of the most emotional moments in our heritage work for AUDI AG'
'This is one of the most emotional moments in our heritage work for AUDI AG – we have come full circle,' says Thomas Frank, Head of Audi Tradition. A few weeks ago, the car manufacturer was able to repurchase an extremely rare...[Read more...]
Chinese Grand Prix: Qualifying
The MERCEDES AMG PETRONAS team locked out the front row of the grid for the Chinese Grand Prix at the Shanghai International Circuit today with Nico Rosberg putting the F1 W03 on pole position, and Michael Schumacher qualifying in third place, although he will start the race from second position. • Nico scored his maiden Formula One pole position this afternoon, with an advantage of over half a second • Michael qualified third and will start tomorrow's race from second place following a gr...[Read more...]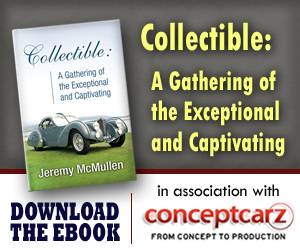 © 1998-2014. All rights reserved. The material may not be published, broadcast, rewritten, or redistributed.