1940 Mercury Eight Series 09A news, pictures, specifications, and information

Tweet
This 1940 Mercury Eight Convertible Sedan was offered for sale at the 2007 Sports and Classic Car Auction presented by The Worldwide Group, in Hilton Head Island, SC where it was estimated to sell for $50,000 - $100,000. It was offered without reserve.

The Mercury nameplate was the result of Edsel Ford who envisioned the it as a brand that would fall below the luxury brand of Lincoln but above the entry-level Fords. As much needed convincing to father, Henry, and other family members, the project was given the green light. By the close of the 1930s, cars were being assembled and producing with Mercury badges.

From the start, the Mercury brand was successful. It competed against General Motors products of Pontiac and Oldsmobile and it took a few years to assemble similar sales figures as these household names.

During the early 1940s, Mercury averaged around 80,000 units per year which put it in twelfth or thirteenth in the industry.

The name 'Mercury' is from the winged messenger god in Greek mythology. In keeping true to its name, the Mercury had performance and style. They sat on a wheelbase four-inches longer than the Ford, measuring 116 inches. Styling featured curved fenders, rounded body lines, and a crisp and pointy front end.

When production began, the Mercury was available in either two- or four-door 'beetleback' sedans, a notchback sedan coupe, and a convertible coupe. Prices ranged from around $915 to just over $1,000. In 1940, a convertible sedan was added to the line-up. Around 1,150 of this bodystyle were created as it was a one-year option and carried a hefty price tag.

This Convertible Sedan is finished in the rare and original color of Albacore Blue. The interior of this car is burgundy with a matching tan top. It has many factory options such as AM radio and factory heater that includes a defroster. Unusual for the era was the locking steering wheel, which helped in theft prevention. This technology would not become widely used throughout the market until the late 1960's.

On auction day this car was sold for $52,800, falling with the low end of the estimated value. It is a brilliant and rare automobile that is one of hte few remaining survivors of this bodystyle in modern times.
By Daniel Vaughan | Nov 2007
| | | |
| --- | --- | --- |
| | | Coupe |
This 1940 Mercury Hollywood Coupe is powered by an original 239 V-8 engine producing 95 horsepower. It has its factory radio, grille guard, and wheel rings. Currently, the car has 47,000 original miles.
By Daniel Vaughan | Jul 2009
| | |
| --- | --- |
| | Convertible Sedan |
Edsel Ford knew that General Motors' marketing plan to create 'A car for every purse and ever purpose' represented the future of the automobile industry; he lobbied for years to convince his father to expand the Ford product line. Finally, in 1939 the Mercury appeared.

The Mercury was priced several hundred dollars more than the Ford V-8. It was targeted at Dodge and Oldsmobile and the lower end of the Chrysler and Buick market. It was styled by E.T. 'Bob' Gregorie and the influence of Gregorie's popular Lincoln-Zephyr design is quite evident.

Wheelbase was increased from 116 inches to 118 for 1940, when this convertible sedan was built. It offered its own version of the Ford V8 - 95 horsepower with hydraulic brakes.
150TH ANNIVERSARY OF HENRY FORD'S BIRTH DECLARED 'HENRY FORD DAY' BY MICHIGAN LEGISLATURE
◾The 150th birthday of Henry Ford – July 30, 2013 – is declared 'Henry Ford Day' in the state of Michigan ◾Celebration honoring Henry Ford's 150th birthday to be held on Saturday, July 27, at Henry and Clara Ford's historic home, Henry Ford Estate/Fair Lane in Dearborn, Mich. ◾Henry Ford Estate Inc., a nonprofit that shares governance with Edsel & Eleanor Ford House, takes ownership of the Dearborn estate DEARBORN, Mich., July 25, 2013 – The enduring impact of Henry Ford and the 150t...[Read more...]
GREG BIFFLE GIVES FORD MOTOR COMPANY 1,000TH NASCAR VICTORY AFTER WINNING AT MICHIGAN INTERNATIONAL SPEEDWAY
◾Ford Motor Company has won 1,000 NASCAR races in the Sprint Cup, Nationwide and Camping World Truck Series combined. ◾Jim Roper won the very first NASCAR-sanctioned stock car race in a Lincoln when he was deemed the winner at Charlotte on June 19, 1949. ◾Ford Motor Company has won 20 manufacturer titles and 13 driver championships in NASCAR's top three series. DEARBORN, MI, (June 16, 2013) – Henry Ford's win over Alexander Winton on Oct. 10, 1901 in what proved to be his only race a...[Read more...]
LOGANO AND EDWARDS HOPING FOR POCONO SUCCESS THIS WEEKEND
Joey Logano, driver of the No. 22 Shell/Pennzoil Ford Fusion, is the defending race winner of the Party in the Poconos 400 and currently sits 18th in the NASCAR Sprint Cup Series point standings. Logano, who will be traveling between Pocono and Iowa this weekend for the NASCAR Nationwide Series race Saturday night, answered questions from the media on Friday. JOEY LOGANO – No. 22 Shell/Pennzoil Ford Fusion – THOUGHTS ON POCONO THIS WEEKEND? 'I love coming up here. Besides the weather, ...[Read more...]
Edsel Ford's Speedster Stars at 'The Amelia'
Edsel Ford's 'continental car', a custom boattail speedster, will take its rightful place in the Sports Car Class of the 18th annual Amelia Island Concours d'Elegance. In the shape of Edsel's seminal speedster is the genesis of Ford's legendary design department. Edsel Ford was hardly 'a chip off the old block'. The acorn fell well away from the mighty oak that was Henry Ford, founder of the Ford Motor Company. Edsel was not just the President of Ford, he was a car guy to his core. His ta...[Read more...]
Lincoln at Los Angeles Auto Show Press Days: Celebration of Its Past and Future As Brand Rolls Out Its Reinvention
> The brand pays tribute to its heritage today, displaying seven of the most influential Lincoln designs > Thursday sees a display full of the all-new MKZ premium midsize sedan and MKZ Hybrid, the future of Lincoln, on the Lincoln stand > Lincoln launches on Tumblr http://lincolnnow.tumblr.com beginning with the visually stunning classic Lincolns shown on the stand and select images from archives. Continues with an all-new collection of photographs by photographers Jamie Beck and Kevin Burg ...[Read more...]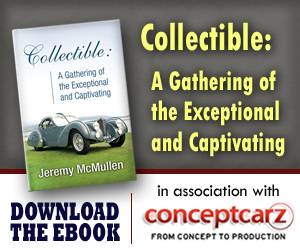 Similarly Priced Vehicles from 1940
Pontiac DeLuxe ($840-$1,050)
Studebaker Commander ($900-$10,000)
Ford Deluxe ($720-$955)
Packard 120 ($1,000-$3,800)
LaSalle Series 50 ($1,240-$1,895)
Cadillac Series 90 Sixteen ($1,180-$6,060)
Nash Ambassador Six-Series 4020 ($900-$1,100)
Nash Ambassador 8 ($1,050-$1,300)

Average Auction Sale: $56,359
© 1998-2014. All rights reserved. The material may not be published, broadcast, rewritten, or redistributed.