Image credits: © Dodge.
1957 Dodge Custom Royal Lancer news, pictures, specifications, and information

Tweet
A step above Plymouth in performance and luxury, Dodge's top-of-the-line Custom Royal models were flamboyant expressions of Virgil Exner's trend-setting 'Forward Look' styling.

This Custom Royal Convertible is one of 2,456 built in 1957 and is equipped with the rare D-500 option, which included a 310-horsepower, 325 cubic-inch, Super Red Ram Hemi V8 engine and Carter 4-barrel carburetor. It is believed to be one of only five D-500 Convertibles ordered with the three-speed manual transmission.

This unusual car was meticulously maintained by its first owner for 47 years and has traveled only 14,985 miles since new. It remains completely original and unrestored, right down to the period-correct plastic seat covers and dealer-installed search light mirror.
Dodge described the 1957 Custom Royal Lancer as 'completely new, from road to roof,' and it was. The longer, lower and wider body sat on a new X-braced frame with side rails. 'Twin-Set Driving and Parking Lights' were neatly placed above the 'Mono-Grille.' Out back, 'Soaring Swept Wings' housed new 'Twin-Jet Taillamps.' The Torque-Flite automatic transmission featured pushbutton controls and a 'Scope-Sight' horizontal red ribbon speedometer accurately reported vehicle speed. All in all, it was a dramatic package that set the pace for medium-priced cars in 1957.

This Custom Royal Convertible is one of only 2,456 built in 1957 and is equipped with the rare Super D-500 option, which included a 330 horsepower, 325 cubic-inch, Super Red Ram Hemi V8 with dual 4-barrel carburetors. It has just completed a full restoration and is refinished in the original colors of 'Tropical Coral and Glacier White.' The unique upholstery fabric has been carefully replicated.
Before the creation of the Daimler Chrysler in 1998, the Dodge Lancer was the model for the Dodge division and used to denote models three times in its history.

Designating both two and four door pillarless hardtop models in the Coronet, Royal and Custom Royal lines, the Lancer name was used by Dodge from 1955 to 1959.

A two door hardtop version of the mid-level models designed by Dodge in 1955, the Lancer ran in the production line until 1960.

On V8 powered models, a V8 emblem was customized to the side, just below the V in the side trim.

The Lancer name was passed on to a clone on the compact model Valiant which was met with huge success during the 1961 year. Given round taillights with full width grilles, Lancers used a Slant-6 engine.

South Africa introduced a right hand drive version of the Lancer that was sold from 1961 to 1963 though renamed as the DeSota Rebel. Equipped with the same 170 in³ Slant 6 engine, most came with the 3-speed manual transmission. In accordance to South Africican vehicle equipment ruglation, white reflectors were mounted to the front bumper.

Though not meeting sales expectations, possibley due to total resign of Dodge's compact car line, the Lancer was discontinued in 1963.

Re-introduced in 1985, a mid-sized 5-door hatchback version cloned from Chrysler LeBaronGTS and based on the Chrysler H platform.

Replaced by the Spirit, production ended April 7, 1989.

All production and design work was done in Sterling Heights Michigan.
By Jessica Donaldson
For more information and related vehicles, click
here
RARE REUNION: CHRYSLER CONCEPT CARS GATHER AT AMELIA, 2014
Nine rare and important Chrysler Concept Cars from the forties, fifties and sixties will be presented together for the first time at the 19th annual Amelia Island Concours d'Elegance on March 9, 2014. From the two-seat Chrysler Thunderbolt roadster and the dual-cowl Chrysler Newport of 1941 through the radical 1963 Chrysler Turbine car, Amelia's Chrysler Concept Car Class shows the genesis of the styling and engineering philosophy that summoned Chrysler's industry-changing 'Forward Look...[Read more...]
RARE CHRYSLER LA COMTESSE CONCEPT APPEARS AT AMELIA 2014
After decades in obscurity Chrysler's La Comtesse Concept Car will re-debut at the 19th annual Amelia Island Concours d'Elegance on March 9, 2014. The Fifties introduced new automotive chemical and paint technologies that helped summon a sea change in the way cars were purchased. It was a subtle component of Detroit's marketing equation, but color had risen near the top of the car buyer's priority list. The important fact was that women invariably chose the color of the new family car....[Read more...]
RON BURGUNDY ANCHORS NEW 2014 DODGE DURANGO ADVERTISING CAMPAIGN
◾Co-branded advertising campaign combines power of Detroit automaker, major Hollywood studio and Will Ferrell (as Ron Burgundy) in biggest ever original content promo ◾Campaign launches new 2014 Dodge Durango featuring 'Anchorman 2: The Legend Continues' character Ron Burgundy as its new pitchman ◾Multimedia campaign spans television, digital, social and print ◾Television spots debuted on television and online on Saturday, October 5 ◾Campaign champions holiday release of Paramount Pictures' ...[Read more...]
2013 Mitsubishi Lancer Sport Recognized By Usaa As The 'Best Value' In The Small Sedan Segment
Mitsubishi Motors North America, Inc. (MMNA) is proud to announce that its well-equipped and affordably-priced 2013 Mitsubishi Lancer sport sedan has been recognized as the 'Best Value' in the small sedan vehicle segment by USAA. USAA, a leading financial services provider to the U.S. military community and its members' families, has created its 'Best Value' list by using quantitative data to evaluate vehicles' cost, safety and reliability, among other important factors. 'The goal of the l...[Read more...]
Joe Bortz to Host Historic Dream Car Discussion Panel
Dream car collector and historian Joe Bortz has prepared a special treat for participants at the 40th Annual Pontiac-Oakland Club International Convention in St. Charles Illinois, this coming July 17-21. In addition to bringing his four historic Pontiac Dream Cars, he has also assembled a panel, conisisting of two noted designers, a retired engineer and two veteran authors to examine the topic of Pontiac's early concept vehicles. The panel discussion will be held on Friday, July 20th at 1...[Read more...]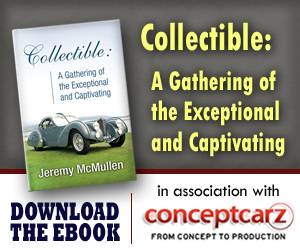 Similarly Priced Vehicles from 1957
Chevrolet Bel Air ($2,173-$2,900)
DeSoto Firesweep ($2,775-$3,308)
Ford Fairlane ($2,230-$2,945)
Oldsmobile Super 88 ($2,685-$3,215)
Pontiac Chieftain ($2,460-$2,900)
Plymouth Belvedere ($2,240-$3,240)
Nash Ambassador Series 80 ($2,820-$3,100)
Pontiac Star Chief ($2,840-$5,780)
Plymouth Fury ($2,900-$2,900)

Average Auction Sale: $58,959
Dodge
Monthly Sales Figures
Volume
February 2014
49,744
January 2014
34,905
December 2013
47,689
November 2013
41,506
October 2013
45,314
September 2013
48,576
August 2013
52,858
July 2013
41,986
June 2013
49,843
May 2013
56,407
April 2013
53,413
March 2013
59,885
(More Details)
© 1998-2014. All rights reserved. The material may not be published, broadcast, rewritten, or redistributed.