1933 Auburn 8-105 news, pictures, specifications, and information

Tweet
Errett Lobban Cord, also known as E.L. Cord (1894-1974) was a leader in United States transport during the early and middle 20th century. Cord founded the Cord Corporation in 1929 as a holding company for over 150 companies he controlled, mostly in the field of transportation. The corporation controlled the Auburn Automobile Company, which built the Auburn Automobile (obtained in a leveraged buyout in 1924) and the Cord Automobile; Lycoming Motors; Duesenberg Inc.; New York Shipbuilding; Checker Cab; Stinson Aircraft Company; and American Airways (American Airlines), amongst other holdings.

The most deluxe 8 cylinder offering of Auburn was the 8-105 in Salon trim, with its stylized fenders and lighting (total production 259 of which 25 were cabriolets). The Lycoming engine produces 100 horsepower. Base cost $1245.00.
The 1933 Auburn 8-105 Saloon Cabriolet sold new for $1295. The 268.6 cubic-inch Lycoming eight-cylinder engine produced 100 horsepower. The wheelbase measures 127 inches and the car weighs 3650 pounds.

The newly introduced Salon series was an attempt by the Auburn Automobile Company to broaden its offerings for both the eight and twelve cylinder models. The Salons were produced for one year in the eight line and only three 1933 Salon Eight Cabriolets are known to exists, from a total production of 129 vehicles. The Salon cars featured different bumpers, v-windshields on closed models, and different radiator shells.

Total Auburn sales for the calendar year of 1933 were just 4,813, a decline of 57.5-percent. This meant the company had a net loss of $2.3 million for the calendar year.
By Daniel Vaughan | Jul 2010
| | |
| --- | --- |
| | Sedan |
This vehicle is a 1933 Auburn 8-105 Salon Eight Sedan and originally cost $1,245 when new. A total of 293 such models were sold. The eight-cylinder Salon Sedan in this configuration was built only for one year. This car was owned for many years by an Auburn resident who dubbed the car 'The Queen.' It was later donated to the ACD Museum.
By Daniel Vaughan | Jul 2010
Salon Cabriolet
Engine Num: GC922

Extremely rare - one of a total production of 129 units, straight 8 cylinder engine, 3-speed transmission, Auburn Heater, dual ratio rear-end, rumble seat, dual sidemounts wîth covers and mirrors, single windshield wiper, trunk rack wîth trunk and trunk cover, dual chrome horns, Startex, two-tone green wîth orange accents and brown leather interior, tan Hartz cloth convertible top, cowl lights, 6 wire wheels, new lester 7.5017 tires, odometer reading 05272 (actual miles unknown), engine #GC922.

This 1933 Auburn 8-105 Salon Cabriolet was offered for sale at the 2006 Barrett-Jackson Auto Auction
Source - Barrett-Jackson
In 1932 a total of 11,347 Auburns were shipped from their factory.

Sometimes referred to as a 'Baby Duesenberg', the Model 8-100A Auburn is a masterpiece of automotive design excellence.

Auburn strove to provide a stylish and innovative automobile to the public at an affordable price. Despite the depression, the talent of designers Gordon Buehrig and Alan Leamy inspired the designs of E.L. Cord's Auburn Cord Duesenberg Company to produce some of the most stunning examples of classic automobile design.

The model 8-100A was an 8 cylinder with 100 horsepower. A custom model, the 8-100 A signified that it was custom, with added features like a Columbia dual ratio rear axel, chrome headlights and taillights, and ride control.

A real eye catcher, the 8-100A, the custom model 4-door sedan cost an average of $1,145 in 1932.

Most Auburn models came with the Lycoming 8-cylinder engine along with Midland steel-draulic brakes. The engine output was rated at 100 horsepower at 3,400 rpm and had a 268.6 cubic inch displacement.

The choice of making a Columbia two-speed rear axle standard equipment on all models was one of the few changes made to the 1932 models.

Several Auburn models came with a 12 cylinder engine, and others were fitted with hydraulic brakes.

Besides the 7 passenger sedan, all 8-100 A models came with a 127' wheelbase, freewheeling and the Bijur chassis lubricating system. 1932 was the first year for the Startix, an automatic feature that would start the engine whenever the ignition was turned on.

Fortune applauded the 1932 Auburn as 'The biggest package in the world for the price.'
By Jessica Donaldson
120 years of motor sport at Mercedes-Benz take centre stage at the Goodwood Festival of Speed 2014
'Addicted to Winning': at this year's Goodwood Festival of Speed, Mercedes-Benz looks back on some fascinating racing victories of the last 120 years •The unique motor sport heritage of the Mercedes-Benz brand is being celebrated with an exclusive installation by sculptor Gerry Judah •Mercedes-Benz and Gran Turismo®6 jointly celebrate '120 years of motor sport' Stuttgart. – The thrilling victories of the Mercedes-Benz Silver Arrows mark the peaks of the history of motor sport for...[Read more...]
Techno Classica 2014: more than 30 racing cars to celebrate 120 years of Mercedes-Benz motor racing history
•Cars that were the heroes of magical moments put their stamp on this high-powered, most comprehensive show presentation •With more than 30 vehicles, Mercedes-Benz Classic presents motor racing history in all its unique breadth and depth •120 years of Mercedes-Benz motor sport in the focus of the leading international classic motor show 120 years of Mercedes-Benz motor racing history have produced a timeline of extraordinary victories which since 1894 also stand for outstanding innovations ...[Read more...]
Auctions America Continues Successful 2013 Season with its Annual Fall Carlisle Sale
• Auctions America rounds out its 2013 auction season in Carlisle, Pennsylvania, October 3-4 • Two-day Fall Carlisle sale, held in conjunction with the Carlisle Events Collector Car Swap Meet & Corral, features a diverse roster of 300 classics, exotics, muscle cars, hot rods, and customs • Auction highlights include a desirable 1967 Chevrolet Corvette 427/435 Roadster, a 1969 Chevrolet Camaro Z-28 RS Sport Coupe, and a 1960 Mercedes-Benz 190SL Roadster • Full event details and a frequentl...[Read more...]
Barrett-Jackson Breaks Sales And Attendance Records At Its Spectacular 5th Annual Las Vegas Auction
The World's Greatest Collector Car Auctions™ Brings Together Auto Enthusiasts from Near and Far Barrett-Jackson, The World's Greatest Collector Car Auctions™, announced today that it generated more than $23 million in sales of rare, high-end collectible vehicles, exotics, customs, classics and Shelbys during its 5th annual Las Vegas auction. The auction company increased its overall hammer average from 2011, proving that the car market is stronger than ever. Automobilia sales reached m...[Read more...]
Worldwide's fifth annual The Auburn Auction to be held at the National Auto and Truck Museum
In recent years, Worldwide Auctioneers has established its annual catalogue event, The Auburn Auction, as an integral part of the Labor Day festivities at the long standing Auburn Cord Duesenberg Festival Weekend. This year the fifth annual event will be at the heart of the action, with today's announcement that The Auburn Auction will take place in the historic setting of the National Auto and Truck Museum (NATMUS), housed in the former factory L29 Cord building of the legendary Auburn Automobi...[Read more...]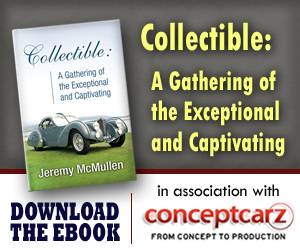 © 1998-2014. All rights reserved. The material may not be published, broadcast, rewritten, or redistributed.