1941 Graham Hollywood Custom Supercharged news, pictures, specifications, and information

Tweet
In September of 1940 the Graham-Paige Company switched production to military items in support of the World War II effort. After the war, in 1946, the company resumed the production of automobiles. Their new car, the Frazer, was named in honor of Joseph Washington Frazer, the president of the Graham-Paige Company.

In 1945 the Henry J. Kaiser and Frazer became the owners of the Graham-Paige assets and became known as the Kaiser-Frazer. Graham's facilities were sold to the Chrysler Corporation.

Graham-Paige went into the real estate building. In 1962 the company changed its name to the Madison Square Garden Corporation.

For 1941 the Graham Company offered two models though they were nearly identical. The models were the Hollywood Custom Supercharged and the Custom Hollywood. Both rode on a 115 inch wheelbase and offered as a four-door sedan. Both were powered by a 217.8 cubic-inch six-cylinder engine and both had a bore of 3.25 inch and a stroke of 4.38 inch. The differences were obvious due to the description of the model, a supercharger. Without the supercharger the horsepower out was 95 but with it horsepower rose to 124.
By Daniel Vaughan | Aug 2006
The Graham Company entered into a contract with Hupmobile in 1940 to build a car called the Skylark. Hupmobile soon went out of business which left Graham with a production line set up. The company renamed the car the Graham Hollywood and continued production.

From the cowl back, the car is based on the 1936-37 Cord. Hupmoible had purchased the body dies from the Auburn automobile Company which had gone out of business. Many changes from the Cord were implemented, including a redesigned front end and the conversion from front-wheel drive to rear-wheel drive.

There were 1,859 examples of the Hollywood built with the majority being fitted with a supercharger. Some of the Hollywood cars were raced, and with a power-to-weight ratio that was unmatched, many drivers found success including Bill France, the father of NASCAR.

The supercharged six-cylinder engine produced 124 horsepower and rested on a 115-inch platform. the car weighs just 2,365 pounds and sold for $1,250 when new.
By Daniel Vaughan | Nov 2010
This car is the only known Graham Hollywood convertible known to exist and was originally driven by the son of company founder Robert Graham.

The unibody Graham was equipped with a supercharged 217 cubic-inch 6-cylinder engine offering 120 horsepower and, with a weight of only 3,000 lbs., offered the highest power-to-weight ratio of any 1941 American car.

The body of this Graham Hollywood was built using the dies used to build the 1936-37 Cord. These cars were not built very long. The Graham company shut down production in September of 1940 and never resumed.
The current owner acquired this car from the granddaughter of Joe Graham, one of the original Graham brothers.
JAGUAR LAND ROVER REPORTS U.S. SALES FOR MAY 2014
◾Jaguar Land Rover North America sales increase 17 percent in May, for its best May sales month result since 2007 ◾Land Rover brand has its best May sales month ever with a 28 percent increase over 2013 ◾Range Rover Evoque sales increase 59 percent for May ◾Jaguar F-TYPE Coupe went on sale in May leading to new high in monthly F-TYPE sales ◾Jaguar sales up 14 percent for the year (MAHWAH, NJ) - June 3, 2014 - Jaguar Land Rover North America today reported May 2014 U.S. sales: Land ...[Read more...]
WESTBROOK LEADS PROTOTYPE, RISI FERRARI FASTEST GTLM IN FINAL PRACTICE BEFORE 52ND ROLEX 24 AT DAYTONA
◾Bird Flies In Final PC Practice, Valverde Pilots No. 556 Ferrari To GTD Lead ◾Grand Marshal David Hobbs Enjoys Revival Of Sports Car Racing's Glory Days DAYTONA BEACH, Fla. (Jan. 24, 2014) – Local race fans will have no problem finding a car to cheer for in Saturday's 52nd Rolex 24 At Daytona. After qualifying second on Thursday, Spirit of Daytona Racing driver Richard Westbrook was fastest in Friday's final practice before the debut of the TUDOR United SportsCar Championship and the...[Read more...]
ALMS INTERNATIONAL SPORTS CAR WEEKEND PRESENTED BY CONTINENTAL TIRE NEWS & NOTES
ALMS Makes First Visit To Circuit Of The Americas The American Le Mans Series presented by Tequila Patrón makes its first visit to Austin's stunning Circuit of The Americas on Saturday, Sept. 21, part of the inaugural International Sports Car Weekend presented by Continental Tire. With only three races remaining in the 2013 season, the championships are heating up in four divisions – P2, Prototype Challenge presented by Continental Tire, GT and GTC. Lucas Luhr and Klaus Graf capture...[Read more...]
Bentley Ready For Classic Thousand Mile Challenge
•Iconic Bentley Blowers ready for great Mille Miglia adventure •Bentley Continental W12 and V8 models join historic cars in Italy (Crewe, England & Brescia, Italy. 16 May, 2012) W.O. Bentley's gift for creating cars that combined the speed of a thoroughbred racing machine with an enviable reputation for strength and comfort, allowing them to effortlessly cover hundreds of miles, is set to be underlined once again at the 2012 Mille Miglia when two 4½ litre Bentley Blowers take on the ...[Read more...]
JAGUAR EXPANDS POWERTRAIN CHOICE WITH TWO ADDITIONAL FORCED-INDUCTION PETROL ENGINES
As Jaguar expands its product offer in key global markets it is introducing two additional petrol units to its range to enhance customer choice; the new 3.0-litre V6 Supercharged Petrol, and the 2.0-litre I4 Turbocharged Petrol. Adrian Hallmark, Global Brand Director, Jaguar Cars, said: 'Jaguar currently has its strongest range of products for several decades. Our continued growth is dependent on two things; activating the awareness of the brand, and expanding our range to enable us to access...[Read more...]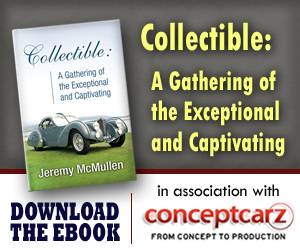 © 1998-2014. All rights reserved. The material may not be published, broadcast, rewritten, or redistributed.