1995 Chevrolet Caprice news, pictures, specifications, and information

Tweet
The Chevrolet Police Package (9C1) was a Special Equipment Option (SEO) code for a police package vehicle. They had several heavier-duty features over the standard vehicles along with several options for police equipment. Over the years, the Police Package was available on the Nova, Malibu, Celebrity, Caprice, Impala, and Tahoe.

Chevrolet added a full perimeter steel frame, oversized sway bars, full-size spare tire, high-output alternator, disc brakes, HD steel wheels, quick-ratio power steering, and transmission and power steering oil coolers. Many were also fitted with digital speedometer, stiffer body mounts, true dual exhaust, anti-stab steel plates in the front seat backs, and extra wiring for the emergency equipment.

From 1994 through 1996, many of the Chevrolet Caprice were fitted with an LT1 350 cubic-inch engine offering 260 horsepower. The 4.3-liter V8 (RPO L99) was standard.
By Daniel Vaughan | Jul 2014
Ford had introduced a luxury series called the LTD and in response, Chevrolet introduced the luxury trim package, Caprice, in 1965. It was available on the four-door Impala models with the name being chosen by Bob Lund, the General Sales Manager, after a New York City restaurant. The package included full wheel covers, a vinyl top, and a upgraded suspension. On the interior the cloth and vinyl seats, and carpeting were of better quality. The dashboard and door panels featured walnut trim. Pull straps were added to the doors to make it a little more luxurious and easier when closing the door. Additional convenience lights completed the package.

The market rewarded Chevrolet for this new offering with strong sales. The following year Chevrolet made the package available on more of its body-styles such as the two-door hardtop and a station wagon. The list of amenities that the Caprice trim offered was expanded to include a standard V8 engine. Other items were offered as optional equipment but most of the Caprice were purchased with the options. The list of popular options included power steering, white sidewall tires, automatic transmission, and vinyl top. Additional items such as power seats, stereo radio, power windows, and air conditioning was also available.

The Caprice was quickly evolving into a luxury car that could rival most other cars in its class. Chevrolet wanted to continue this momentum. The Impala, which was the top-of-the-line model was downgraded and by 1973 the Chevrolet Caprice became the new top-offering. A new bodystyle had been introduced for the Caprice in 1971 and came standard with a Turbo-Hydramatic transmission and a 400 cubic-inch small-block engine.

In 1973 the Caprice was given an addition to its name, now known as the 'Caprice Classic'. A convertible became available but that only lasted for three years and discontinued in 1975. 1973 began a trend of slowing sales for the Caprice Classic mostly due to the oil embargo. Rising fuel costs had customers searching for alternatives to the thirsty V8 luxury vehicles. It took Chevrolet a few years and in 1975 the standard engine was now the 350 cubic-inch V8 replacing the 400 cubic-inch unit.

A slight redesign occurred in 1974 that changed the structure and appearance of the two-door vehicle. The rear quarter window was now fixed and sat next to a thicker 'B' pillar. Part of this change was to comply with ever-increasing government regulations and safety requirements. In the event of a roll-over, the vehicle would be better able to protect its passengers.

Sales continued to slow. Chevrolet began work on a design which was introduced in 1977.

The restyling of the Caprice in 1977 would last until 1996, though major styling changes were performed in 1980, 1986 and 1991. To say the Caprice was popular would be an understatement. It was awarded Motor Trend's Car of the year in 1977 and again in 1991. In 1983 it made it onto Car and Driver magazine's Ten Best List. Because of its popularity the sister company, Pontiac, did not sell very many Catalina's. As a result it was soon removed from Pontiac's line-up. Slow sales were not solely reserved for Pontiac as many other companies experienced the same problems.

In 1979 Chrysler stopped selling their V8 big-block engines. Many Law enforcement agencies and cab companies had been buying their fleet vehicles from Chrysler but with the absence of this power plant, began to look elsewhere. Within a few years, the Chevrolet Caprice and Impala had claimed around sixty-percent of the police market and continued to gain market share into the early 1990s. In 1992 Ford introduced their redesigned Crown Victoria which immediately began to introduce on the Chevrolet fleet-vehicle market.

The Caprice was offered as a two-door pillared coupe, four-door sedan, and a station, having two or three seats.
In 1985 Chevrolet no longer offered the Impala. In its place was an entry-level Caprice. The introduction of the Caprice Classic Brougham of the same year was one of the top-of-the-line offerings for the Caprice. The interior was luxurious, spacious, and accommodating. The front seats were 60/40 bench styled clothed in velour. In 1987 the LS option package became available on the Caprice Classic Brougham which introduced even more luxury and exclusivity. The roof was Landau vinyl room trim and the interior could be decorated in their leather or cloth upholstery. The leather was optional and would set the buyer back an additional cost.

The boxy design introduced in 1977 was replaced with a more aerodynamic design in 1991. Major changes occurred to the exterior but under the body shell things were mostly the same. The chassis, frame, and many mechanical components were still the '1977' technology. Though Chevrolet tried desperately to reclaim popularity and once again be hailed as 'America's favorite automobile', their attempts were left unrewarded. The Caprice had ventured into a design that was controversial with many and not well received. Chevrolet quickly answered by restyling the vehicle in 1993 with the most visual change being the removal of the skirted rear wheel wells. The station wagons did not receive this change only the sedan models. Various other changes continued throughout the years such as new wing mirrors and a redesign of the quarter windows in 1995. The C-pillars also received minor attention during that same year.

By 1996 the Chevrolet was continue to take abuse from critics. Many saw it as a large, beached whale. In 1997 Chevrolet made the decision to replace the Caprice with the Lumina LTZ.

The Caprice had begun life as additional trim on the Impala. Within a few years it was given its own name and continued a long production life span which lasted until 1996. Early into its life span it received the prestigious designation as being Chevrolets most-expensive and luxurious full-size model. Many within GM felt that the market place was shifting from large vehicles to SUV's. Slumping sales, outdated styling and technology, and faith in other up-and-coming models were some of the reasons for the demise of the Caprice.
By Daniel Vaughan | Oct 2010
Dream Car Saturday Ready to Launch at Russo and Steele's 15th Anniversary Scottsdale Auction Event!
Scottsdale, Arizona (January 17, 2015) – Following 2 great days of record attendance, stratospheric sell through and a world class seminar moderated by SEMA Hall of Fame member Wade Kawasaki and featuring an all-star panel of guest experts which included such noted personalities as Wayne Carini from TV's Chasing Classic Cars, McKeel Hagerty of Hagerty Insurance, Jim Menneto from Hemmings Motor News, and Oscar Pereda from Michelin North America, we prepare to enter our exclusive gladiator...[Read more...]
Russo and Steele Collector Automobile Auctions Kicks Off 15th Anniversary with Eight Initial Offerings to Watch
Scottsdale, Arizona (December 1st, 2014) – For Enthusiasts – By Enthusiasts. ™ This is far more than a tagline at Russo and Steele Collector Automobile Auctions. It's a lifestyle, and we are gearing up to deliver that singular passion to the High Desert of sunny Scottsdale, Arizona for our annual flagship event during the world renowned collector car week. Additionally, Scottsdale marks the kick-off of the year-long celebration of our 15th anniversary. Held over five thrilling a...[Read more...]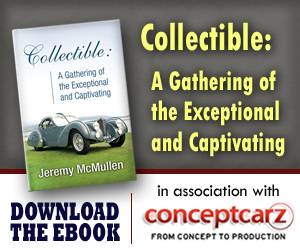 Chevrolet
Monthly Sales Figures
Volume
December 2014
184,938
November 2014
149,673
October 2014
155,965
September 2014
153,873
August 2014
185,930
July 2014
175,155
June 2014
188,567
May 2014
205,010
April 2014
181,648
March 2014
179,681
February 2014
153,913
January 2014
119,089
(More Details)
© 1998-2014. All rights reserved. The material may not be published, broadcast, rewritten, or redistributed.