1973 Mercury Capri 2600 news, pictures, specifications, and information

Tweet
The Mercury / Ford Capri was produced from 1970 through 1977, then from 1979 through 1986, and again from 1991 through 1994. The cars were built in Cologne, Germany and sold through Lincoln-Mercury dealers in the United States. They were labeled as Mercury's as the Ford marque had their own pony car, the Mustang.
By Daniel Vaughan | Jul 2010
In order to appeal to the specific preferences of different markets around the world, automakers rarely offer the same model lineup to all of the countries in which their products are sold. Many European companies produce a range of small, frugal cars that would not appeal to most American buyers, and so those models are usually not offered to the American market. Similarly, most U.S. automakers still provide some large and comfortable (but not necessarily fuel-efficient) models that sell well in the States but are excluded from the vastly different European market.

This variation in carmakers' lineups from country to country is not created only through the exclusion of certain models from foreign sale, though. Many large car companies are able to extend this practice by developing whole new cars specifically for foreign markets. This practice sounds expensive and potentially risky, but, with the Ford Capri standing as an excellent example, it has proven to be a great strategy for increasing sales when a manufacturer's domestic model lineup is at odds with the tastes of foreign buyers.

The Ford Capri, though sold in many different countries, was developed in Europe specifically for British buyers. It was by no means the first model developed by Ford specifically for foreign customers, but it was one of the most iconic and successful.

Ford's domestic offerings throughout the 1960s were largely typical American cars, with big engines, big bodies, and the lazy, laid-back demeanors made possible by their motors' surpluses of cubic inches. Cars like the Galaxie and Fairlane were just what Americans wanted, but they were worlds away from the economical and eager compacts of Europe.

When the groundbreaking Mustang was introduced in April of 1964, it sold phenomenally well in the U.S., where it represented a smaller and sportier type of Ford. Even the relatively small and sprightly Mustang, though, was not a particularly sporty car by European standards. Ford knew that if it could introduce a European equivalent of the Mustang, it would be a hot seller. The Ford Capri was introduced in January of 1969 to capture some of this untapped sales potential

While the Mustang was significantly smaller than most other American Fords, it was not a particularly compact vehicle when compared to the other Fords then available in Europe. In order for a European Ford to be analogous to the domestic Mustang, it would have to be even slimmer than the Mustang and emphasize sporty handling over straight-line speed and cubic inches.

The Capri succeeded in being to the European (and especially British) market nearly everything that the Mustang was to the American market, including a bestseller. Like the Mustang, the Capri had a lengthy list of available options. A base Capri, though an endearing and well-designed car, was hardly an impressive performer. Base models had a 1.3L four, initially producing only 52bhp. Top-of-the-line models were a different story, though, costing almost twice the price of a base Capri and putting down almost three times the power with a 138bhp 3.0L V6.

The Capri Mk I was produced until 1974, with Ford having sold over one million units. A Capri Mk II was introduced to replace the Mk I, and it featured updated styling but was still very similar to the original Capri. The Mk II, like the Mk I before it, offered customers the choice of many options and trim levels. Engine choices were very similar to those of the Mk I, again ranging from 1.3 to 3.0 liters.

By the time the Capri Mk III replaced the Mk II in 1978, the Capri had been in production for nearly a decade. Despite being very similar to the original model, the Capri Mk III remained one of Britain's best-selling cars, testament to the its enduring qualities as well as its being particularly well-suited to the British market.

Up until the very end of Capri production in December of 1986, Ford's European wonder was offered in many different special editions to boost sales. The last of these was the Capri 280, often referred to as the 'Brooklands' because it was offered in only one color: Brooklands green. The Capri 280 was based on the Capri Mk III body, and more specifically the 2.8 Injection model. It had a 160bhp V6 engine that, despite the model's nomenclature, displaced 3.0 liters. Bosch K-Jetronic fuel injection was used, as were attractive 15-inch alloy wheels. The interior was trimmed in black leather with red piping. Significant as being the very last Capri produced, there were just 1,038 Capri 280s made before production ended on December 19, 1986.

With nearly two million examples sold, the Ford Capri was a European bestseller for many years. It was completely different from most of the Fords with which Americans were familiar, but it was an excellent car for the European market that marked Ford as a truly global manufacturer.

Sources:

Ford-Crush, Giles. 'Ford Capri History.' FordCapri.co.uk n. pag. Web. 13 Jul 2010. http://www.fordcapri.co.uk/.

Swetnam, Mark. 'Capri Buyers Guide.' Ford Capri Laser Page n. pag. Web. 13 Jul 2010. http://www.fordcaprilaser.co.uk/buyers_guide.htm.
By Evan Acuña
For more information and related vehicles, click
here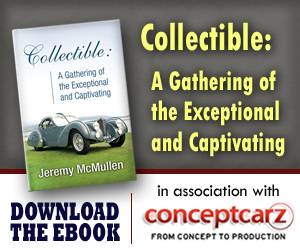 © 1998-2014. All rights reserved. The material may not be published, broadcast, rewritten, or redistributed.