1959 Jaguar XK150 news, pictures, specifications, and information

Tweet
The most elegant Jaguar Sport Car, wîth only 1903 examples ever built between 1958 thru 1961. This 1959 Jaguar XK150 Drop Head is a superb is a rare model that is fast becoming the most sought after XK Jaguar. With its beautiful creme paint and new Connolly leather interior and new black mohair hood, this XK150 'Drop head' is a beauty.

The 'S' designates this car as a Special Equipment Model wîth twin exhaust and wire wheels. This example received a ground up refurbishment from a renowned Jaguar restoration facility. It was then brought to the 2007 Blackhawk Collection display at the Pebble Beach Concours d'Elegance where it was offered for sale.
By Daniel Vaughan | Aug 2007Source - Blackhawk Collection
This vehicle is a very rare automobile, as only 72 of this model were fitted wtih automatic transmissions.

Several series of sports cars were manufactured by Jaguar following WWII. The previous models were the XK-120 and XK-140. When the XK-150 line was retired it was replaced by the E-Type, commonly knkown as the XKE.

Three body styles were offered in the XK-150 line: The Fixed Head Coupe (hardtop), the Drop Head Coupe (convertible top exposed) and the Open Tow Seater (convertible top folds behind the seats).

The famous XK engine is 210 hp and features an alulminum head with hemispherical combustion chambers (so Plymouth wasn't first with the 'Hemi').

The XK-150 was the world's first production automobile to be fitted wtih four wheel disc brakes. This is one reason they fared so well in racing.

The very first XK120 models had all aluminum bodies. Later models, such as this one only have aluminum bonnets (engine hood).
Production of the Jaguar XK150 began in the spring of 1957 and would become the last of the tradition 1950s Jaguars. Although similar in appearance to the XKE cars it was replaced, it was certainly a different machine. It retained the same basic chassis, engine, and Moss four-speed gearbox, but its outward appearance was different and wider and there was more interior room for the occupants. Four inches were added to the centre of the body making the extra width possible. A one-piece wraparound windscreen improved visibility. The radiator grille was changed slightly.

The biggest improvement to the vehicles performance was the addition of Dunlop disc brakes on all four corners of the car. The XK150 produced the same amount of horsepower as the XK140, so their performance was identical in terms of speed. The SE option added a modified cylinder head and larger exhaust valves which increased the standard 190 hp to 210. In 1958 the Model S was introduced which raised the vehicles performance even further. With the help of three two-inch SU HD8 carburetors, a Weslake-developed cylinder head, and high compression pistons, horsepower rose to an impressive 250 brining the zero-to-sixty time in just over seven seconds.

All of the XK150s were offered with an optional Borg-Warner automatic gearbox and a choice of either steel or wire wheels. On the S Model, a limited-slip differential could be ordered as optional equipment.

There were 2265 examples of the XK150 Roadster produced with only 888 being the highly-sought after Model S. This example has recently been restored which took over two years to complete. It has its original factory tool kit and fitted leather luggage. It was brought to the 2008 Automobiles of Amelia presented by RM Auctions where it was estimated to sell for $140,000 - $180,000. It is one of the few Model S Roadsters and its restoration brought it back to its original condition. Collectors saw the beauty and rarity in this car, and drove the bidding to $154,000 including buyer's premium. The lot was sold.
By Daniel Vaughan | Apr 2008
This 1959 Jaguar XK150S 3.4-Liter Roadster was brought to the 2007 Bonhams Auction, An Important Sale of Collectors' Motorcars and Automobilia, held at the Quail Lodge Resort & Golf Club in Carmel, California. The car was sold for a high bid of $135,000 plus premium and taxes. The odometer reads just 39,000 miles from new, is mostly original and unrestored, yet in good enough condition to be rewarded with a 96+ rating in the JCNA Preservation Class. The engine, drive train, suspension and brakes have been recently rebuilt. Only 2,000 miles have been driven over the past nine years.

The car is finished in Sherwood Green with green hide upholstery. It retains its original spare parts box complete with all large and small tools and spares.

The 'Special Equipment' and 'S' versions were fitted 210 and 250 horsepower engines respectively. The large engine could race from zero-to-sixty in a mere 7.3 seconds and reach top speed at 136 mph. Transmission options included an Overdrive and Borg-Warner automatic gearboxes.

Between 1958 and 1960 there were only 888 examples of the XK150S 3.4-liter roadster constructed.
By Daniel Vaughan | Apr 2008
The Jaguar XK150 was introduced in the fall of 1957 and was intended to compete against the BMW 507 and the Mercedes 300SL. This was the third and final evolution of its series, and was the best and most highly developed XK ever built. In the spring of 1958, the high performance 'S' model was introduced. The XK150S featured a gold-colored, Harry Weslake-modified straight-port cylinder head that helped boost the performance of the 3.4-liter engine from 190 to 250 horsepower. It had improved fuel flow by the way of three larger SU carburetors and a higher compression head of 9.0:1 versus 8.0:1, plus more aggressive cam timing. The XK150S came standard with a four-speed manual gearbox with overdrive.

There were 1,466 examples of the XK150S produced until 1961, with fewer than 1,000 being the Open Two seater configuration. There were just 361 left-hand drive XK-150S cars assembled.

This example is one of the 361 LHD models and wears an older but correct restoration. it has accumulated approximately 1000 miles since that time. It is finished in red with a black cloth top, interior and carpeting. It has a four-speed gearbox, chrome wire wheels, and its original spare, tools and factory jack.

In 2009, this 1959 Jaguar XK 150S 3.4 Roadster was offered for sale at the Sports & Classics of Monterey auction in Monterey, California presented by RM Auctions. The car was estimated to sell for $110,000-$120,000. The lot failed to sell after achieving a high bid of $100,000.
By Daniel Vaughan | Dec 2009
There were fewer than 200 examples of the 150S 3.4 Coupe produced. This particular example was constructed on January 12, 1959 and was originally shipped to Jaguar Cars New York. It left the factory painted in Pearl Grey over red and sold to Ray Milland of Beverly Hills, California. It is believed that this car participated in several local competitions, including the Valley Touring Society's 1963 Time Trials, the 1964 Litre Bug Twist slalom and the Santa Barbara Road Races held on September 6, 1964.

The cars next owner was Mr. Billeter who would retain the car for the next four decades.

In 2009, the car was given a nut-and-bolt restoration with no expenses spared. The car was completely disassembled and stripped to bare metal so that any necessary bodywork could be performed. Upon completion, it was painted in its original light gray livery.

The engine is fitted with the rare 'S' head and three SU carburetors. The dual overhead cam six-cylinder engine is capable of producing 250 horsepower which is sent to the rear wheels via a four-speed manual gearbox with overdrive. There are chrome wire wheels and period-correct Firestone whitewall tires.

In 2010, this XK150S 3.4 Fixed Head Coupe was offered for sale at the Gooding & Company auction held in Scottsdale, Arizona. It was estimated to sell for $115,000 - $145,000 but failed to find a buyer willing to satisfy its reserve. The lot left the auction unsold.
By Daniel Vaughan | Feb 2010
In 1957 Jaguar introduced the XK150, a replacement for the XK140. The XK140 had been a replacement for the XK120 which had started the XK series with its elegant styling and impressive 120 mph capabilities. At the time, the XK120 was the fastest production vehicle in the world. The XK150 had many similarities to its predecessors but it featured modern styling and improved mechanics.
When the XK150 was introduced, it could be purchased in DropHead Coupe or FixedHead Coupe configuration. The Open Two Seater (OTS) Roadster version appeared a year later.

The base engine was a DOHC 3.4 liter straight-six that produced 180 horsepower. Most of the vehicles were outfitted with the SE version which had a modified cylinder head, dual SU HD6 carburetors, and larger exhaust valves bringing the horsepower rating to 210. Performance was further increased in 1958 when Jaguar enlarged the bore bringing the liter capacity to 3.8 and the horsepower rating to 220. The 'S' model featured three SU HD8 carburetors and a modified cylinder head bringing the horsepower rating to 260.

The XK120 suffered from poor steering. This was resolved by the adaptation of a rack-and-pinion unit on the XK140. The XK150 used the similar rack-and-pinion configuration, though still lacking power-assistance. The chassis was also similar to its predecessor. Disc brakes were standard on all four corners of the vehicle. The wheels could be ordered as Wire or as discs wheels.

Improvements continued in the interior of the vehicle. With roll-up door windows and door handles, the XK150 was more civilized. The longer hood meant the XK150 Roadsters were just a two seater unlike its 2+2 predecessors.

During its production lifespan lasting from 1958 through 1961, the Fixed Head Coupes were the most popular with 4445 examples being created. That figure was followed by the Drop Head Coupes with around 2670 examples. There were around 2260 Roadsters produced. The Roadster production figures would have been higher if they had not been introduced ten months after the Fixed and Drophead Coupe versions.

The XK150 continued the elegance and performance established by the XK120 and reinforced by the XK140. The long flowing lines of the hood gracefully curved towards the vertical grille which hid a potent engine that made the car legendary.
By Daniel Vaughan | Mar 2006
For more information and related vehicles, click
here
Dream Car Saturday Ready to Launch at Russo and Steele's 15th Anniversary Scottsdale Auction Event!
Scottsdale, Arizona (January 17, 2015) – Following 2 great days of record attendance, stratospheric sell through and a world class seminar moderated by SEMA Hall of Fame member Wade Kawasaki and featuring an all-star panel of guest experts which included such noted personalities as Wayne Carini from TV's Chasing Classic Cars, McKeel Hagerty of Hagerty Insurance, Jim Menneto from Hemmings Motor News, and Oscar Pereda from Michelin North America, we prepare to enter our exclusive gladiator...[Read more...]
FORD MOTOR COMPANY TO SELL NEW SHELBY GT350 MUSTANG AT BARRETT-JACKSON SCOTTSDALE AUCTION TO BENEFIT JDRF
◾First publicly available production unit of the all-new Shelby GT350® Mustang to be auctioned by Barrett-Jackson Scottsdale Auction, with all proceeds benefiting JDRF ◾Winning bidder will be able to choose from available colors and packages for Shelby GT350 ◾Ford-sponsored ride-and-drives during the auction will feature a full lineup of 2015 vehicles Ford Motor Company will commemorate the 50th anniversary of the legendary Shelby GT350 Mustang by auctioning the first production unit of the...[Read more...]
Gooding & Company Adds Two Legendary Ferraris to Scottsdale Offerings Including a 1959 250 GT LWB California Spider
The two-day event will also drop the hammer on a 1962 Ferrari 400 Superamerica SWB Coupe Aerodinamico along with over a dozen other models from the Italian marque SANTA MONICA, Calif. (December 12, 2014) – Gooding & Company, the record-setting auction house acclaimed for selling the world's most significant and valuable collector cars, announced today the addition of two superlative Ferraris to its Scottsdale roster. New consignments include a 1959 Ferrari 250 GT LWB California...[Read more...]
Russo and Steele Collector Automobile Auctions Kicks Off 15th Anniversary with Eight Initial Offerings to Watch
Scottsdale, Arizona (December 1st, 2014) – For Enthusiasts – By Enthusiasts. ™ This is far more than a tagline at Russo and Steele Collector Automobile Auctions. It's a lifestyle, and we are gearing up to deliver that singular passion to the High Desert of sunny Scottsdale, Arizona for our annual flagship event during the world renowned collector car week. Additionally, Scottsdale marks the kick-off of the year-long celebration of our 15th anniversary. Held over five thrilling a...[Read more...]
Barrett-Jackson Breaks Sales And Attendance Records At Its Spectacular 5th Annual Las Vegas Auction
The World's Greatest Collector Car Auctions™ Brings Together Auto Enthusiasts from Near and Far Barrett-Jackson, The World's Greatest Collector Car Auctions™, announced today that it generated more than $23 million in sales of rare, high-end collectible vehicles, exotics, customs, classics and Shelbys during its 5th annual Las Vegas auction. The auction company increased its overall hammer average from 2011, proving that the car market is stronger than ever. Automobilia sales reached m...[Read more...]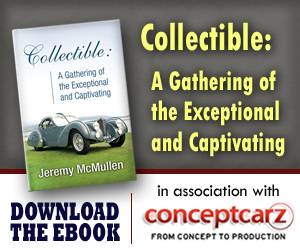 Similarly Priced Vehicles from 1959
Cadillac Series 62 ($4,890-$5,453)
DeSoto Adventurer ($4,425-$4,747)
Alfa Romeo 2000 Spider ($5,048-$5,048)
Mercedes-Benz 190 SL ($5,015-$5,230)
Arnolt DeLuxe ($4,750-$6,000)
Devin C ($4,590-$4,590)
Chrysler New Yorker Series ($4,425-$5,210)
Lancia Appia ($2,850-$4,875)
Imperial Custom Series ($4,910-$5,015)

Average Auction Sale: $98,919
Jaguar
Monthly Sales Figures
Volume
December 2014
1,683
November 2014
1,253
October 2014
1,007
September 2014
1,142
August 2014
1,184
July 2014
1,187
June 2014
1,263
May 2014
1,304
April 2014
1,035
March 2014
1,816
February 2014
1,552
January 2014
1,347
(More Details)
© 1998-2014. All rights reserved. The material may not be published, broadcast, rewritten, or redistributed.