1960 Jaguar XK-150 news, pictures, specifications, and information

Tweet
Competition is not bad. It is how one handles competition that makes all the difference. If understood correctly, competition can be a great part of one's life as it can motivate to do something better than had been done before, or, increase one's own level of performance to a whole different standard.

In the late 1950s, Jaguar faced tremendous competition from BMW and Mercedes-Benz. BMW had introduced its 507 Roadster with a 3.2 liter V-8 engine and Mercedes-Benz unveiled its 300SL in 1955 with a 3.0 liter six-cylinder engine. These were favorites in its day, as they still are even now. This was tremendous and fierce competition to have to face off against. The question for Britain's sports car production company was, 'How would they respond?' Would the company see the challenge as an opportunity, or, would it bow to the German auto makers? Jaguar did not bow and, in fact, responded with a true classic of its own.

The car company already had been producing its familiar and well-loved XK-series, but, in 1957, it introduced what was, perhaps, its best evolution of the chassis, the XK150.

The XK150 bore a striking resemblance to its 120 and 140 predecessors, but its similarities ended with the aesthetics. In almost all respects the car was a revolutionary step-up from the 120 and 140.

The engine bonnet was widened, as was the grille. The two-piece windscreen that had been seen on the 120 and 140 had been replaced with a single curved windscreen. The profile lines of the car didn't drop and fall away toward the rear of the car as had been designed in the 140. Instead, the XK150 had a higher profile around the doors.

Underneath the engine bonnet lie another of the improvements. The XK150 had been given a 3.4 liter dual overhead cam straight-six engine. While the 150 was slower than its predecessors initially, that aspect too would be changed. Both the 120 and 140 had been utilizing C-Type cylinder heads. Jaguar introduced another 150 variant in 1958 called the 'S' and this used a Harry Weslake-modified straight-port 'S' head. This increased the horsepower of the XK150S from 190 bhp to 250 bhp. To help control this increase in power, Jaguar had introduced on the XK150 race-bred, four-wheel disc brakes. For the first time ever on a series production car disc brakes were offered for all four wheels. Three SU carburetors were employed on the 150 S, whereas the 150 just had dual carburetors. This helped control fuel-flow much more efficiently. To deliver the power to the wheels, Jaguar employed a four-speed manual transmission, which had overdrive.

The interior of the XK150 was also revised. The 120 and 140 models had wood trimmed dashboards, specifically walnut. Up until 1958, the center dash had an aluminum panel with X-pattern engraving. All of this was dropped. Instead, Jaguar went with leather trimmed dashboards.

Jaguar was done boosting their 150. And, in 1960, Jaguar dropped their 3.4 liter engine in favor of a 265 bhp 3.8 liter engine. This allowed the car to be able to reach speeds in excess of 130 mph. The Motor magazine road tested the car and, at that time, it was the fastest closed-cabin car they had tested.

Only 89 examples of the XK150 S were built out of the 2,862 XK150s built through 1961. An XK150 S example in the United States was even more-rare, and, that is what rolled across the auction block at the RM Auction in Arizona.

Complete with its 265 bhp, 3.8 liter inline six-cylinder engine, chassis number T838705DN represented Jaguar's ultimate XK-series car. Originally purchased in Ontario in 1960, this Jaguar Drophead Coupe's interior was trimmed in red leather and featured a black finish. The car underwent a complete 'body-off' restoration back in 2003. The gearbox and the engine have gone through an entire rebuild and the paintwork has been redone to concours quality.

This example of the XK150 S comes with other little surprises as well. One of those added bonuses included a matching set of Connolly leather luggage and a set of chrome wire wheels. Presented at the auction in 2011 was Jaguar's ultimate version of the XK-series and surely caused fond memories of Britain's counterattack in the sports car market. Surely, Jaguar faced its challenges and delivered a classic winner.

Source:
'Buy: Feature Lots (Lot 162: 1960 Jaguar XK150 S Drophead Coupe)', (http://www.rmauctions.com/FeatureCars.cfm?SaleCode=AZ11&CarID=r365). RM Auctions Arizona. http://www.rmauctions.com/FeatureCars.cfm?SaleCode=AZ11&CarID=r365. Retrieved 4 January 2011.

Wikipedia contributors, 'Jaguar XK150', Wikipedia, The Free Encyclopedia, 16 October 2010, 03:22 UTC, http://en.wikipedia.org/w/index.php?title=Jaguar_XK150&oldid=390998337 accessed 4 January 2011
By Jeremy McMullen
This 1960 Jaguar XK150S 3.8-liter Drophead Coupe was offered for sale at the 2006 Gooding & Company Auction held in Pebble Beach, Ca. The car is powered by a 3.8-liter Dual Overhead Camshaft engine that produces an impressive 260 horsepower. There is a four-speed manual gearbox with overdrive and disc brakes on all four corners. It is finished in British Racing Green over biscuit leather. It has period correct chrome wire wheels and AM-FM radio. Located in the trunk is correct jack and full factory tool roll.

At auction, it was estimated to sell for $150,000-$200,000. The car did find a new owner and one that was very willing to purchase the car. As the bids continued to escalate, they soon surpassed the estimated value. The car found a new owner for the price of $269,500.
By Daniel Vaughan | Feb 2007
The drophead coupe and fixed head coupe body styles were introduced in 1957 and was followed the following year with a roadster. The XK150 was the last of Jaguar's XK-series and Jaguar celebrated this legacy with numerous upgrades and changes that Jaguar's engineers had learned from designing both the Xk120 and XK140. The curvaceous and dramatic lines of the XK120 and XK140 were smoothed out giving it a more elegant and conservative design. In the front, the bonnet was widened and lengthened, and the front grill was enlarged to allow the engine to breathe better. The interior featured a leather-trimmed dashboard and thinner doors, giving the inside more room and more luxurious ambiance. Four-wheel disc brakes improved stopping power and was a first for a production car. The engine was fitted with a dual overhead cam straight-six with either 3.4 or 3.8 liters of displacement.

This Fixed Head Coupe was originally fitted with the 3.8-liter engine and finished in Imperial Maroon with a black leather interior. The current owner acquired the car in 1985, at which time it was fitted with a 3.4-liter engine. A two year frame-off restoration was undertaken in 1990. Since that time, it has lived a pampered life, accumulating less than 200 miles. Currently, the odometer shows a total of 78,000 miles.
By Daniel Vaughan | Oct 2013
In 1957 Jaguar introduced the XK150, a replacement for the XK140. The XK140 had been a replacement for the XK120 which had started the XK series with its elegant styling and impressive 120 mph capabilities. At the time, the XK120 was the fastest production vehicle in the world. The XK150 had many similarities to its predecessors but it featured modern styling and improved mechanics.
When the XK150 was introduced, it could be purchased in DropHead Coupe or FixedHead Coupe configuration. The Open Two Seater (OTS) Roadster version appeared a year later.

The base engine was a DOHC 3.4 liter straight-six that produced 180 horsepower. Most of the vehicles were outfitted with the SE version which had a modified cylinder head, dual SU HD6 carburetors, and larger exhaust valves bringing the horsepower rating to 210. Performance was further increased in 1958 when Jaguar enlarged the bore bringing the liter capacity to 3.8 and the horsepower rating to 220. The 'S' model featured three SU HD8 carburetors and a modified cylinder head bringing the horsepower rating to 260.

The XK120 suffered from poor steering. This was resolved by the adaptation of a rack-and-pinion unit on the XK140. The XK150 used the similar rack-and-pinion configuration, though still lacking power-assistance. The chassis was also similar to its predecessor. Disc brakes were standard on all four corners of the vehicle. The wheels could be ordered as Wire or as discs wheels.

Improvements continued in the interior of the vehicle. With roll-up door windows and door handles, the XK150 was more civilized. The longer hood meant the XK150 Roadsters were just a two seater unlike its 2+2 predecessors.

During its production lifespan lasting from 1958 through 1961, the Fixed Head Coupes were the most popular with 4445 examples being created. That figure was followed by the Drop Head Coupes with around 2670 examples. There were around 2260 Roadsters produced. The Roadster production figures would have been higher if they had not been introduced ten months after the Fixed and Drophead Coupe versions.

The XK150 continued the elegance and performance established by the XK120 and reinforced by the XK140. The long flowing lines of the hood gracefully curved towards the vertical grille which hid a potent engine that made the car legendary.
By Daniel Vaughan | Mar 2006
For more information and related vehicles, click
here
Next Generation European Compact Car From Nissan To Be Manufactured By Renault In Europe
Nissan Motor Co., Ltd. today announced that the replacement for the current Nissan Micra compact car will be manufactured at a Renault plant in Europe. Due to start production in 2016, the vehicle will be exported across Europe's left-hand drive markets. Under the Nissan Power 88 six-year business plan, the company will launch, on average, one new model every six weeks for the duration of the plan. Consequently, available capacity across the relevant plants in the Nissan manufacturing networ...[Read more...]
Auctions America Readies for Highly Anticipated Spring Carlisle Collector Car Weekend
• Auctions America returns to Carlisle, Pennsylvania for its annual Spring Carlisle sale, April 25-26 • Two-day sale lifts the gavel on a diverse roster of approximately 300 quality collector cars • Notable highlights include a rare 1959 Chevrolet Corvette 'Big-Brake' Fuel-Injected Roadster, a 1970 Chevrolet Chevelle SS LS5 Convertible and a 1999 Bentley Azure Convertible • Sale held during Carlisle Events' highly anticipated Spring Carlisle Collector Car Swap Meet & Corral weekend, April 24...[Read more...]
VICARI AUCTION COMPANY OFFERS RARE '62 & '63 Z06 CORVETTES AT 2013 CRUISIN' NOCONA
In a recent rare find, two classic Chevrolet Corvettes (one '62 and one '63) - stored for decades-are being made available by the Vicari Auction Company. Both vehicles will cross the block during 2013 Cruisin' Nocona, a north Texas collector car auction and classic car poker cruise set for April 19th and 20th in historic Nocona, Texas. The Corvettes are virtually all-original, and have been stored in Texas by a classic-vehicle aficionado and collector since the 1980s. 'These...[Read more...]
NISSAN REVEALS EXPANDING GLOBAL MOTORSPORTS PROGRAM FOR 2013, LED BY NISMO
•Nissan promises an exciting and expanded future motorsports program, led globally by NISMO •Nissan President and Chief Executive Officer Carlos Ghosn pledges a return to the Le Mans 24 Hours in 2014 with a pioneering Nissan race car incorporating electric vehicle technology •Expansion is key to success as Nissan makes long-awaited return to Australia's V8 Supercars Championship with a four-car entry •NISMO steps up GT-R assault on GT3 and SUPER GT Series, highlighted by the flagship GT-R ...[Read more...]
Barrett-Jackson Flavors Its January Scottsdale Auction With NASCAR Treats
• RACING HERITAGE, HIGH PERFORMANCE ARE RECIPES FOR CAR-COLLECTING FEAST
• SPEED™ SET FOR 39 HOURS of LIVE COVERAGE STARTING JAN. 15
The great Henry Ford once said, 'Auto racing began five minutes after the second car was built.' And for more than 60 years, there are few entities that better represent auto racing in America than NASCAR. From the hallowed grounds of Daytona International Speedway, to Sonoma, California's intricate and picturesque road course, the sp...[Read more...]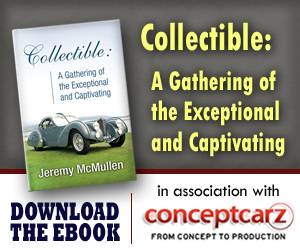 Similarly Priced Vehicles from 1960
Jaguar MK II ($4,560-$4,760)
Alfa Romeo 2000 ($5,030-$5,950)
Mercedes-Benz 220 Series ($4,283-$8,090)
AC Ace ($4,800-$6,600)
Mercedes-Benz 190 SL ($5,030-$5,240)
Huffaker BMC MK1 ($4,500-$4,500)
Chrysler New Yorker ($4,405-$5,130)
Lancia Appia ($2,845-$4,870)

Average Auction Sale: $120,724
Jaguar
Monthly Sales Figures
Volume
June 2014
1,263
May 2014
1,304
April 2014
1,035
March 2014
1,816
February 2014
1,552
January 2014
1,347
December 2013
1,544
November 2013
1,446
October 2013
1,515
September 2013
1,313
August 2013
1,723
July 2013
1,613
(More Details)
© 1998-2014. All rights reserved. The material may not be published, broadcast, rewritten, or redistributed.