1956 MG MGA 1500 news, pictures, specifications, and information

Tweet
The 1956 MGA Roadster with Log Book Roll Bar Number 10 195, color: deep dark red with ivory racing
stripe engine; twin carburetion, fully race prepared to vintage race specification using original parts, chrome competition wire wheels with Dunlop vintage race tires, limited slip and LeMans front spoiler.

History: The MG has spent all of its known race history from 1959 to 1989 based in the Detroit area. A
gentleman named Donald Watson was the first to race the car on July 4, 1959 at Harewood Ontario racetrack in Canada. The roadster was mainly raced in the MG car Club at tracks, like Road America, Mid Ohio and Waterford Hills. When contacted about the MG's history, Mr. Watson declared 'we won a lot more races then we lost with that car.' The next known owner was a Richard Nixon (no relation), also from Detroit. Mr. Nixon registered 'Old 32' with the Detroit region Sports Car Club of America in the early 1970's. He received Log Book Number 10 195. Thanks to Waterford Hills photographer, Al Bizer, great photos and copies of race results have survived. Mr Nixon won many races with 'Old 32' and placed second in the Central Divison Points Championship in F-Production. Following Mr. Nixon, the next known owner was Dave Tyndall, which little is known. Rose and Dave Laske purchased the car from Mr. Tyndall. They attended a SCCA drivers school in the mid 1980's. Eventually David Frederick Dahlin purchased the car from a car broker in Detroit, and a frame-up restoration was completed.

Shawn DeLuna purchased the MG in 2000, and has taken the race-ready car to many HMSA and CSRG circuits, including the Wine Classic, Festival of Speed, and Monterey Historics. The car went through a complete mechanical and engine rebuild in 2005, adding an original Darrington cross flow-head with Weber carburetors. The MGA continues its heritage to be used as a vintage race car.
The MGA began production in 1955. The styling and mechanics were different from previous MG models. The public had been given hints of its new design during the 1951 Le-Mans 24 hour endurance race. The car was driven by George Phillips and was actually a TD Midget with body modifications.
The XPAG engine that had power many previous MG's was replaced by a new power-plant. This 1489 cc four-cylinder, B-series engine provided between 68 and 72 horsepower. The BMC B-series unit had made its debut in the MG Magnette saloon and proved to be a reliable and powerful engine.

To create enthusiasm for the cars prior to release, three aluminum bodied prototypes were created and dubbed EX182. They were entered into the Le Mans race where they finished fifth and sixth in their class. This epic achievement gave the MGA racing credibility and mechanical reliability.

The styling of the car was undeniably elegant. Its aerodynamic design and two-seat open-body was stylish and sporty. The vehicle sat very low to the ground providing an excellent center of gravity. This improved the handling and cornering ability. The chassis was a modified TD Midget unit with widely spaced side rails allowing for a low-seating position.

In the rear of the vehicle was a spare wheel mounted on the upper portion of the outside of the vehicle. Underneath was adequate trunk-space for luggage. At the front of the vehicle sat the engine.

Steel disc wheels were standard equipment but centre-locking wire wheels could be substituted at an additional fee. Since the car had an open top, it was subjected to the elements. A hard-top could be purchased making the vehicle more versatile.

A coupe version quickly followed and offered features such as wind-up windows, soft-top version, and other amenities that helped appeal to a wider customer base. To stay competitive on the race track, the MGA twin-cam version was introduced in 1958. This high performance version could be driven to the race track, race, and then be driven home. The engine had been modified with aluminum components, twin overhead camshafts, and dual SU carburetors. These enhancements increased the horsepower rating to 110 and the overall top speed to 115 miles-per-hour. Disc brakes replaced the drums which not only made the car more competitive, it made it safer. Unfortunately, the vehicle suffered from reliability issues and did not hold up well to the strain of racing. So in 1960, MG discontinued its production.

In 1959, MG introduced the MGA 1600's and offered them in coupe and open form. These were the standard MGA cars but with 1588 cc B-series pushrod engines. Drum brakes were used in the rear of the vehicle, but disc brakes were placed in the front.

In 1961, the MGA 1600 MKII was introduced. It featured a 1622 cc. B-series engine that was capable of producing 93 horsepower. 100 miles per hour was easily achieved by the MKII. Minor aesthetic changes were made to the front and rear of the vehicle.

In 1962, MG ceased production of the MGA. Nearly 100,000 examples had been produced during its life span making it the longest-running and best-selling MG. The success of the vehicle was in part to its styling, racing history, performance, and its competitive pricing. Many of the MGA's produced were exported to the United States. In the end and after so many years, the MGA was having trouble staying competitive with models offered by other manufacturers.
By Daniel Vaughan | Jun 2006
For more information and related vehicles, click
here
RACEQUIP BECOMES SAFETY PARTNER OF ROAD AMERICA
ELKHART LAKE, Wis., June 12, 2014 - Road America announced today a new sponsorship agreement with RaceQuip, a manufacturer of high quality auto racing safety equipment, as its new safety partner. RaceQuip's safety apparel and gear will be available for purchase at Road America's Paddock Shop and RaceQuip will also have a presence on-site at Road America events through venue signage while displaying its full line of products for competitors at many Road America events. In addition, RaceQui...[Read more...]
RRDC VOTES IN 37 NEW MEMBERS FOR 2013
HILLIARD, Ohio (Nov. 7, 2013) - Thirty-seven race-car drivers and motorsports professionals have been voted into the Road Racing Drivers Club in 2013. The group includes 13 Regular Members from the open-wheel and sports-car racing ranks, 20 Associate Members and four Honorary Members. The current roster of RRDC members now numbers 440. Voting was held among all current RRDC members. 'This year's crop of new Regular Members truly represents the spirit of the RRDC, as each driver has de...[Read more...]
ROAD AMERICA ANNOUNCES 2014 SEASON SCHEDULE
ELKHART LAKE, Wis., Oct. 29, 2013 - Road America President and General Manager, George Bruggenthies, announced Road America's 2014 season schedule today. 'Road America is widely known for having the most active and diverse schedule of any road race circuit in the U.S. and we look forward to hosting the AMA, NASCAR Nationwide Series, TUDOR United SportsCar Championship (TUSCC) and three separate vintage events again in 2014,' said Bruggenthies. 'We are equally excited to announce that ...[Read more...]
Mazda Raceway Laguna Seca to Host 2014 SCCA National Championship Runoffs
MONTEREY, Calif. (July 10, 2013) – The Sports Car Club of America today announced the host sites of the next three SCCA® National Championship Runoffs®, including the first visit for amateur road racing's top event to Mazda Raceway Laguna Seca in 2014. Daytona International Speedway, in 2015, and Mid-Ohio Sports Car Course, in 2016, will also hold events over the next three years. The return to the west coast and Monterey's Mazda Raceway Laguna Seca comes 50 years after the inaugural ...[Read more...]
Vintage Racing Ushers In The 2012 Season At Road America
It has been 62 years since racers tore through the streets of this tiny village about 60 miles north of Milwaukee. Still, every spring you would swear that the town speed limit doesn't exist when the sounds of historic racecars from days gone by seem to echo throughout the hillside. May 18-20 the Spring Vintage Weekend returns to Road America and kicks-off the start of a summer full of racing, from vintage and historic cars to motorcycles and even NASCAR. Racing came to Elkhart Lake in 1950...[Read more...]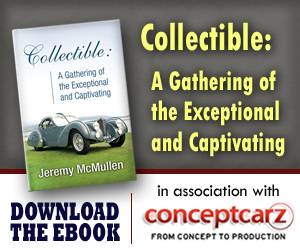 Similarly Priced Vehicles from 1956
Chevrolet Bel Air ($2,022-$23,400)
Studebaker President ($2,185-$2,490)
Simca Vedette Versailles ($2,199-$2,199)
Ford Fairlane ($2,045-$2,500)
Chevrolet Two-Ten ($1,900-$2,500)

Average Auction Sale: $22,439
© 1998-2014. All rights reserved. The material may not be published, broadcast, rewritten, or redistributed.