1930 Ford Sprint Car Special news, pictures, specifications, and information

Tweet
Ever since the creation of the automobile the design and mechanical components have continued to evolve and improve. Fuel sources, engine sizes, suspension, weight distribution, aerodynamics, braking, and more have all been experimented with and undergone rigorous testing and development. It is only suitable that at the local racing circuit, eager individuals were continuing this development in efforts of securing themselves a podium finish. To compete in races during the early years of the automobile, all that was required was a vehicle that could compete. Those who had more money often had more resources at their disposal and could take their vehicle to the next level in terms of power and performance.

At the time, the Ford Flathead V8 was an excellent resource to utilize. Parts were in abundance, power was plentiful, and it was fairly reliable. To fuel the fire, Fred Frame appeared in a 1934 Ford ad declaring 'I picked a Ford V8 for 1933… it brought me home in front. It takes a lot of automobile to average 80.22 miles per hour for 200 miles over a course like that.' Alone, this may not have meant much, but coming from the winner of the 1932 Indianapolis 500, it was a solid endorsement.
By Daniel Vaughan | Sep 2007
BMW TEAM RLL QUALIFIES SECOND AND THIRD FOR 62ND 12 HOURS OF SEBRING
Woodcliff Lake, N.J. – March 14, 2014 . . . The intense competition the GTLM class demonstrated during the Rolex 24 At Daytona in January definitely increased in today's qualifying session for the 62nd annual 12 Hours of Sebring. The top-seven cars of the 11-car class qualified within one second. The top three spots were even closer, seemingly only the blink of an eye covering the pole winning Porsche and the two BMW Team RLL Z4 machines. Dirk Müller's lap of 1:59.024 minutes around ...[Read more...]
HURLEY HAYWOOD HONORED WITH RRDC'S 2014 PHIL HILL AWARD
DAYTONA BEACH, Fla. (Jan. 24, 2014) - Hurley Haywood, winner of more endurance classics than any other driver in racing history, was honored by the Road Racing Drivers Club with the 2014 Phil Hill Award. RRDC president Bobby Rahal presented Haywood with the award at a dinner prior to the running of the Rolex 24 At Daytona, the season opener of the 2014 TUDOR United SportsCar Championship. The Phil Hill Award has been presented annually since 1993 to the person who the RRDC feels has re...[Read more...]
HPD UNVEILS STREET PERFORMANCE PRODUCTS AT 2013 SEMA SHOW
11/05/2013 - LAS VEGAS Long a fixture at race circuits around the world, Honda Performance Development, the racing arm of American Honda Motor Co., Inc., will now be offering a new range of HPD Street Performance products, starting with the Honda CR-Z sport hybrid coupe. Two Honda passenger cars featuring HPD Street Performance products are on display at the 2013 Specialty Equipment Market Association Show in Las Vegas, along with an HPD Civic Si Coupe raced in the Continental Tire Sp...[Read more...]
Mercedes-Benz Silver Arrows Celebrate Silver Anniversary Le Mans Victory At 2014 Amelia Island Concours D'elegance
From their glory days in the 1930s, the all-conquering racers from Mercedes-Benz were known with affection, respect and, occasionally, fear, as the 'Silver Arrows'. The nickname has its roots in a clever solution to a weight restriction mandated by the grand prix rule book. During the 1930s, to save weight and meet the international regulation requiring grand prix cars to race under the maximum weight of 750 Kilograms (1650 lb.), Mercedes-Benz removed Germany's traditional racing white pain...[Read more...]
Simplex to be Featured at 63rd Pebble Beach Concours d'Elegance
Rare Brass Era Cars to be Featured at the 3rd Pebble Beach Concours d'Elegance PEBBLE BEACH, Calif. (June 27, 2013) -- The 900-mile journey to Southern California from Idaho was going as planned until the World War I Liberty dump truck met the winding, steep and frosty grade known as 'The Grapevine'--the primary passage up and over the Tehachapi Mountains into the Los Angeles basin. There, the three-ton behemoth came growling to a halt, and for a time it appeared the truck and ...[Read more...]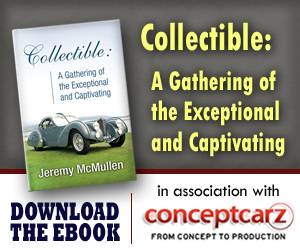 Ford
Monthly Sales Figures
Volume
September 2014
172,261
August 2014
214,028
July 2014
204,373
June 2014
214,793
May 2014
244,501
April 2014
203,552
March 2014
235,198
February 2014
177,286
January 2014
148,671
December 2013
210,074
November 2013
183,722
October 2013
184,854
(More Details)
© 1998-2014. All rights reserved. The material may not be published, broadcast, rewritten, or redistributed.