1930 Ford Sprint Car Special news, pictures, specifications, and information

Tweet
Ever since the creation of the automobile the design and mechanical components have continued to evolve and improve. Fuel sources, engine sizes, suspension, weight distribution, aerodynamics, braking, and more have all been experimented with and undergone rigorous testing and development. It is only suitable that at the local racing circuit, eager individuals were continuing this development in efforts of securing themselves a podium finish. To compete in races during the early years of the automobile, all that was required was a vehicle that could compete. Those who had more money often had more resources at their disposal and could take their vehicle to the next level in terms of power and performance.

At the time, the Ford Flathead V8 was an excellent resource to utilize. Parts were in abundance, power was plentiful, and it was fairly reliable. To fuel the fire, Fred Frame appeared in a 1934 Ford ad declaring 'I picked a Ford V8 for 1933… it brought me home in front. It takes a lot of automobile to average 80.22 miles per hour for 200 miles over a course like that.' Alone, this may not have meant much, but coming from the winner of the 1932 Indianapolis 500, it was a solid endorsement.
By Daniel Vaughan | Sep 2007
BOBBY UNSER INSPIRED INFINITI Q60 DEBUTS AT AMELIA ISLAND CONCOURS
The 19th annual Amelia Island Concours announced today that Infiniti will commemorate the event's Offenhauser celebration by wrapping a 2014 Infiniti Q60 Convertible in the same color scheme as Bobby Unser's 1968 Indianapolis 500 winning racecar. To accompany the inspired Q60 Convertible, Infiniti will also display Unser's Offenhauser-powered Indy winning car, courtesy of the Indianapolis Motor Speedway Hall of Fame Museum. The unique Infiniti Q60 convertible's wrap was created by the company...[Read more...]
THE LEGENDARY 'MONTE' – VOLKSWAGEN STARTS THE WRC WITH A CLASSIC
◾Start of the World Championship: Volkswagen ready for the Rally Monte Carlo ◾Tricky tyre selection on asphalt, ice and snow ◾Three Polo R WRCs for Volkswagen, with Ogier, Latvala and Mikkelsen at the wheel From the hunter to the hunted: Volkswagen's mission to defend its titles in the FIA World Rally Championship (WRC) opens with a genuine motorsport classic at the Rally Monte Carlo, as the 'Monte' is the oldest rally in the world. From 14 to 19 January, the French pairing of Sébastien Ogi...[Read more...]
Maurice Trintignant: The Steady Fortuitous Frenchman
There are certain races in which victories can define a career. In a moment, an unassuming and modest racer can become one of the greats simply by achieving victory in truly special races. No better description fits the French driver that would compete for some 14 years throughout the 1950s and 1960s. Arguably, Maurice Bienvenu Jean Paul Trintignant would have his best years stolen away by war. In fact, his early life would be marked by war. Born just a day before the British forces would bre...[Read more...]
CHRISTIAN FITTIPALDI LOOKS TO EXTEND FAMILY LEGACY AT ROAD AMERICA
ELKHART LAKE, Wis., July 30, 2013 - Spanning the decades, the Fittipaldi name has long been synonymous with winning in the world of motorsport. The Brazilian family's history at Road America dates back nearly 30 years to when Emerson Fittipaldi made his first start at the legendary Wisconsin road course in 1985. Set to make his Daytona Prototype debut at Road America August 8-11 in the DP class, Fittipaldi really knows his way around the revered circuit. Christian is the son of former Grand ...[Read more...]
RM Auctions Lifts Gavel On Charlie Thomas' Texas-Sized Collection of Automobiles
• RM Auctions further expands its 2012 calendar with the addition of 'The Charlie Thomas Collection', a single-day, single-vendor sale to be held in Dallas, Texas, October 20, 2012 • Auction features a superb assortment of more than 150 collector cars, all offered without reserve • Sale further consolidates RM's reputation as the specialist for private and estate collection auctions RM Auctions, the world's largest collector car auction house for investment-quality automobiles, is delighted...[Read more...]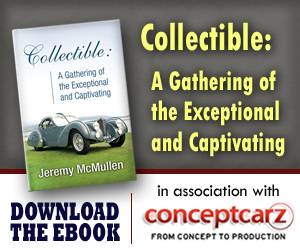 Ford
Monthly Sales Figures
Volume
November 2014
178,221
October 2014
179,014
September 2014
172,261
August 2014
214,028
July 2014
204,373
June 2014
214,793
May 2014
244,501
April 2014
203,552
March 2014
235,198
February 2014
177,286
January 2014
148,671
December 2013
210,074
(More Details)
© 1998-2014. All rights reserved. The material may not be published, broadcast, rewritten, or redistributed.