1930 Ford Sprint Car Special news, pictures, specifications, and information

Tweet
Ever since the creation of the automobile the design and mechanical components have continued to evolve and improve. Fuel sources, engine sizes, suspension, weight distribution, aerodynamics, braking, and more have all been experimented with and undergone rigorous testing and development. It is only suitable that at the local racing circuit, eager individuals were continuing this development in efforts of securing themselves a podium finish. To compete in races during the early years of the automobile, all that was required was a vehicle that could compete. Those who had more money often had more resources at their disposal and could take their vehicle to the next level in terms of power and performance.

At the time, the Ford Flathead V8 was an excellent resource to utilize. Parts were in abundance, power was plentiful, and it was fairly reliable. To fuel the fire, Fred Frame appeared in a 1934 Ford ad declaring 'I picked a Ford V8 for 1933… it brought me home in front. It takes a lot of automobile to average 80.22 miles per hour for 200 miles over a course like that.' Alone, this may not have meant much, but coming from the winner of the 1932 Indianapolis 500, it was a solid endorsement.
By Daniel Vaughan | Sep 2007
TANNER FOUST CONFIRMS 2014 COMPETITION DATES
• Rockstar Energy Drink driver aims for U.S. title, returns to international racing
LOS ANGELES, Calif. (February 25, 2014) - Rockstar Energy Drink driver Tanner Foust will be racing for Volkswagen's first Global Rallycross title in 2014. He will also campaign a select season of events on the new FIA World Rallycross Championship. 'My competition focus for the 2014 season is Global Rallycross,' said Foust, adding: 'I'm looking forward to being able to run some international ...[Read more...]
NASCAR NAMES RICHARD BUCK NASCAR SPRINT CUP SERIES MANAGING DIRECTOR
DAYTONA BEACH, Fla. (Jan. 9, 2014) – NASCAR has named Richard Buck, a NASCAR executive with a wealth of diverse experience in motorsports, as NASCAR Sprint Cup Series managing director. Buck will serve in the role held the past 12 years by John Darby, who will remain at NASCAR as managing director, competition. Buck and NASCAR's two other national series managing directors – Wayne Auton (NASCAR Nationwide Series) and Chad Little (NASCAR Camping World Truck Series) – now will report direct...[Read more...]
RK MOTORS ADDS 'LEGENDS OF MOTORSPORTS' COLLECTION OF HISTORIC RACING MACHINES TO UPCOMING AUCTION
Charlotte, N.C. – October 14, 2013— Only weeks after revealing plans to auction the 1977 McLaren M26 that James Hunt drove to his final F1 victory, RK Motors Collector Car Auctions (RKMCCA) today announced that four additional iconic racing machines will cross the block during its auction at the Charlotte Convention Center, October 31 to November 3. Furthering the auction's historic motorsports theme, RKMCCA will offer bidders an opportunity to own: Mario Andretti's 1974 Viceroy Gurn...[Read more...]
BAYNE AND HORNISH TALK NATIONWIDE RACING AT INDIANAPOLIS
Trevor Bayne will once again pilot the No. 6 Ford Mustang in Saturday's NASCAR Nationwide Series race at Indianapolis Motor Speedway, but this time the car has a distinct look, with a bright pink Pillow Pets sponsor wrap. Bayne passed out Pillow Pets in the media center and then answered a few racing questions Friday. TREVOR BAYNE, No. 6 Pillow Pets Ford Mustang – IS YOUR CAR FAST THIS WEEKEND? 'I didn't know a rainbow bear could go so fast around a race track. Our Pillow Pets Mustang is re...[Read more...]
Pebble Beach Concours d'Elegance Introduces Its First Sport Customs Class
One-off Sport Customs designed to turn heads while tooling down Main Street USA will roll onto the 18th fairway of Pebble Beach Golf Links for the 2012 Pebble Beach Concours d'Elegance on August 19. This year, for the very first time, the Pebble Beach Concours d'Elegance is hosting an entire class dedicated to Sport Customs. 'These are one-of-a-kind cars built in the US, on modified American production chassis with American engines by individuals, designers and craftsmen,' explains auto...[Read more...]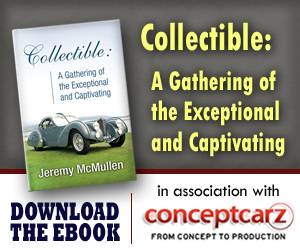 Ford
Monthly Sales Figures
Volume
October 2014
179,014
September 2014
172,261
August 2014
214,028
July 2014
204,373
June 2014
214,793
May 2014
244,501
April 2014
203,552
March 2014
235,198
February 2014
177,286
January 2014
148,671
December 2013
210,074
November 2013
183,722
(More Details)
© 1998-2014. All rights reserved. The material may not be published, broadcast, rewritten, or redistributed.