1966 Jaguar Mark X news, pictures, specifications, and information

Tweet
Jaguar entered the motoring history books in 1961 with the introduction of the luxurious MK X, what has become known as Britain's widest car, a record that it still holds even today. The massive MK X was in many ways a tour-de-force for Jaguar incorporating many features unique for this size. Standard mechanical items included power steering, independent rear suspension, a limited slip differential, air conditioning, power windows, and of course, the E-type 3.8-liter engine with a top speed of 135 mph. This model is often known as the 'businessman's sedan.'

The MKX was designed on a unitary construction floor pan (as opposed to the old MK IX separate chassis). The automobile is a unique blend of American tastes and British tradition.
The Jaguar Mark X, also known as the Mark Ten, was produced from 1961 through 1970 and offered in three variations during that time. The Jaguar was offered with a 3781 cc six-cylinder engine or a larger 4235 cc engine. The 3.8 liter engine was more popular with a total of 13,382 examples produced but by 1964 the 4235 cc ruled out by 1964 and became the only offering. The Mark X was the largest saloon vehicle produced by Jaguar and it was specially created for the United States and their big demands and large roads. At 4200 lbs, the 4.2 liter six-cylinder engine helped this vehicle roll down the road in elegant fashion. The vehicle sat on a 120 inch wheelbase and its 202 inch length provided plenty of room for its occupants.

By 1966 the vehicle was renamed the Jaguar 420G and continued in production until 1970.
By Daniel Vaughan | Sep 2006
Britain's widest car, the gargantuan Mk X set a record in 1961 that holds even still today. Pronounced Jaguar 'mark ten', the Jaguar Mark X was the largest saloon built by British manufacturer Jaguar, and was originally aimed at the U.S. market. Succeeding the Jaguar Mark IX as the company's large saloon model, the Mark X held the record for being the widest production Jaguar ever built. In many ways, the massive Mk X was a tour-de-force for Jaguar, as it incorporated many features unique for this size.

A luxury saloon with four doors and four seats, considered by all to be a majestic vehicle, the Jaguar Mark X was released the same year as the E-type. Launched in 1961, the Mark X was strangely renamed the Jaguar 420G in 1966. 25,000 units were manufactured during production. In 1970, it was discontinued as Jaguar XJ6 production increased. The Mark X had an overall length of 202 inches, over 6 feet wide, nearly 17 foot long and a weight of 4,175 lbs.

Designed with a strange blend of Jaguar and American styling influences, it was unbelievable that this vehicle was mass produced with its large bulging sides and hand-built appearance. The interior of the X was extremely opulent, and incorporated an over abundance of both leather and walnut. Owning the Jaguar Mark X was considered to be as much of a prestige as owning a Rolls Royce.

The Mark X was built on a unitary construction floor plan rather than the old Mk IX separate chassis. With coil springs at the front, the suspension of the vehicle was independent all round. Two engine sizes were available and offered with 3781 cc. The larger 4235 cc unit took over in 1964. Though most vehicles left the factory with the automatic choice of box, manual, manual with overdrive, and automatic transmissions were all options of the Jaguar Mark X. Able to rocket from 0-60 in about 10 seconds, the automatic gear change was situated on the steering column.
Based on the Mark X, the Daimler DS420 was a related model that was often called 'the Daimler Limousine'. The DS420 was produced until 1992 and utilized in various countries in both official capacities and by funeral homes as a hearse vehicle.
By Jessica Donaldson
MERCEDES-BENZ 2014 G63 AMG: THE ULTIMATE G-CLASS
The latest technology for the AMG off-road icon: the new 2014 G63 AMG impresses with a state-of-the-art powertrain, expressive new design and improved efficiency. All this is largely attributable to the AMG 5.5-liter V8 biturbo engine delivering 536 hp and the AMG SPEEDSHIFT PLUS 7-speed automatic transmission. Every new AMG high-performance vehicle offers an outstanding mix of 'more power from less fuel' – and the G63 AMG is no exception. The 'strong man' in the AMG model range has been furt...[Read more...]
Maserati Trofeo Mc World Series Returns To Sonoma After Successful Debut Of Ghibli Sedan Over Pebble Beach Weekend
Englewood Cliffs, NJ, August 21, 2013- Maserati is proud to announce that the Maserati GranTurismo MC Trofeo World Series will make its North American stop for a second year at Sonoma Raceway the weekend of August 21st. Last year, famed actor and accomplished race driver Patrick Dempsey and top stuntman, and Hot Wheels X Games Double Loop World Record holder, Greg Tracy competed in the GranTurismo MC Trofeo to the delight of thousands of fans in attendance. Thanks to the success of last y...[Read more...]
SUBARU ANNOUNCES PRICING FOR 2014 WRX AND WRX STI
Cherry Hill, N.J. - Subaru of America, Inc. today announced pricing for the 2014 WRX® and WRX STI®. Subaru's iconic line of sport models have seen their sales increase by nearly 40-percent year-to-date and have a starting MSRP of $25,995. The 2014 Subaru WRX delivers the biggest performance value in its competitive set. The WRX offers more power than rivals like the Ford Focus ST and Volkswagen GTI, neither of which offers all-wheel drive. In the WRX, a 2.5-liter turbocharged/intercooled fo...[Read more...]
1937 Delage Takes Home Best Of Show At The 10Th Annual Keeneland Concours D'Elegance
Mustangs, classic cars, helicopters and motorcycles take center stage LEXINGTON, KY – July 22, 2013 – A very deserving 1937 Delage was named Best In Show at the annual Keeneland Concours d'Elegance on July 20. The Mari Hulman George award for Best of Show went to the 1937 Delage D8 120 SS Aerodynamic Coupe presented by The Patterson Collection of Louisville. The French car also was named top car in its class, Coach-built Classics. The Best of Show Award is presented by the In...[Read more...]
2014 Honda Odyssey Arrives At Dealers July 2 Delivering More Value To Customers With Refreshed Styling
06/25/2013 - TORRANCE, Calif. The 2014 Honda Odyssey minivan arrives at Honda dealerships nationwide on July 2, refreshed with a host of powertrain, styling, interior, feature and safety upgrades, all designed to meet the needs of today's family. Key changes to the 2014 Odyssey minivan include the addition of a standard 6-speed automatic transmission on all trims resulting in class-leading fuel-economy ratings, enhanced safety equipment, cleaner front and rear exterior styling, plus revis...[Read more...]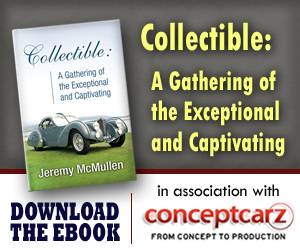 Jaguar
Monthly Sales Figures
Volume
February 2014
1,552
January 2014
1,347
December 2013
1,544
November 2013
1,446
October 2013
1,515
September 2013
1,313
August 2013
1,723
July 2013
1,613
June 2013
1,637
May 2013
1,435
April 2013
1,141
March 2013
1,408
(More Details)
© 1998-2014. All rights reserved. The material may not be published, broadcast, rewritten, or redistributed.