1966 Jaguar Mark X news, pictures, specifications, and information

Tweet
Jaguar entered the motoring history books in 1961 with the introduction of the luxurious MK X, what has become known as Britain's widest car, a record that it still holds even today. The massive MK X was in many ways a tour-de-force for Jaguar incorporating many features unique for this size. Standard mechanical items included power steering, independent rear suspension, a limited slip differential, air conditioning, power windows, and of course, the E-type 3.8-liter engine with a top speed of 135 mph. This model is often known as the 'businessman's sedan.'

The MKX was designed on a unitary construction floor pan (as opposed to the old MK IX separate chassis). The automobile is a unique blend of American tastes and British tradition.
The Jaguar Mark X, also known as the Mark Ten, was produced from 1961 through 1970 and offered in three variations during that time. The Jaguar was offered with a 3781 cc six-cylinder engine or a larger 4235 cc engine. The 3.8 liter engine was more popular with a total of 13,382 examples produced but by 1964 the 4235 cc ruled out by 1964 and became the only offering. The Mark X was the largest saloon vehicle produced by Jaguar and it was specially created for the United States and their big demands and large roads. At 4200 lbs, the 4.2 liter six-cylinder engine helped this vehicle roll down the road in elegant fashion. The vehicle sat on a 120 inch wheelbase and its 202 inch length provided plenty of room for its occupants.

By 1966 the vehicle was renamed the Jaguar 420G and continued in production until 1970.
By Daniel Vaughan | Sep 2006
Britain's widest car, the gargantuan Mk X set a record in 1961 that holds even still today. Pronounced Jaguar 'mark ten', the Jaguar Mark X was the largest saloon built by British manufacturer Jaguar, and was originally aimed at the U.S. market. Succeeding the Jaguar Mark IX as the company's large saloon model, the Mark X held the record for being the widest production Jaguar ever built. In many ways, the massive Mk X was a tour-de-force for Jaguar, as it incorporated many features unique for this size.

A luxury saloon with four doors and four seats, considered by all to be a majestic vehicle, the Jaguar Mark X was released the same year as the E-type. Launched in 1961, the Mark X was strangely renamed the Jaguar 420G in 1966. 25,000 units were manufactured during production. In 1970, it was discontinued as Jaguar XJ6 production increased. The Mark X had an overall length of 202 inches, over 6 feet wide, nearly 17 foot long and a weight of 4,175 lbs.

Designed with a strange blend of Jaguar and American styling influences, it was unbelievable that this vehicle was mass produced with its large bulging sides and hand-built appearance. The interior of the X was extremely opulent, and incorporated an over abundance of both leather and walnut. Owning the Jaguar Mark X was considered to be as much of a prestige as owning a Rolls Royce.

The Mark X was built on a unitary construction floor plan rather than the old Mk IX separate chassis. With coil springs at the front, the suspension of the vehicle was independent all round. Two engine sizes were available and offered with 3781 cc. The larger 4235 cc unit took over in 1964. Though most vehicles left the factory with the automatic choice of box, manual, manual with overdrive, and automatic transmissions were all options of the Jaguar Mark X. Able to rocket from 0-60 in about 10 seconds, the automatic gear change was situated on the steering column.
Based on the Mark X, the Daimler DS420 was a related model that was often called 'the Daimler Limousine'. The DS420 was produced until 1992 and utilized in various countries in both official capacities and by funeral homes as a hearse vehicle.
By Jessica Donaldson
The Petersen Automotive Museum's Newest Exhibit - Town Cars: Arriving In Style
As the evolution from horse-drawn carriage to the automobile was underway in the early 20th century, Town Cars quickly became a pillar of luxury, sophistication and an illustration of one's status – a counterpoint to the average, mass produced Ford Model T. Los Angeles, (Feb. 18, 2014) – Known as 'Mr. Showmanship,' it's no wonder that Liberace not only owned a town car – a vehicle designed around status and opulence – but took it to the next, flashy level by covering the exterior ...[Read more...]
The 'Quadrifoglio Verde' is back on Giulietta and MiTo
The legendary 'Quadrifoglio Verde' that has identified the top performing cars by Alfa Romeo since 1923 is back on the new versions • Giulietta celebrates its 60th anniversary with a new 'Quadrifoglio Verde' • True expression of Alfa Romeo's DNA, this car marks the debut of the new 240 HP 1750 Turbo Petrol engine with all-aluminium direct injection • State-of-the-art 'Alfa TCT' 6-speed twin dry clutch transmission • It's the same engine/transmission as the Alfa Romeo 4C supercar • Giuliet...[Read more...]
Fiat at the 2014 Geneva International Motor Show
New Panda Cross • in just 370 cm, it provides all the exclusivity offered by the SUVs of higher segments • 'Torque on demand' all-wheel drive and Electronic Locking Differential function as standard with Terrain Control, the selector for lovers of off-road driving • Available with the boosted versions of the 80HP 1.3 MultiJet II and 90HP 0.9 TwinAir Turbo, the latter with specific 6-speed transmission with shortened first gear • 'City Brake Control' on request, the active safety syst...[Read more...]
THE COUNTDOWN TO AUCTIONS AMERICA'S FORT LAUDERDALE SALE NOW UNDERWAY
• Auctions America kicks off its 2014 collector car calendar March 14-16 in Fort Lauderdale • Regarded as South Florida's premier collector car auction, the multi-day sale features nearly 500 cars spanning all segments of the collector car market • Joining the list of previously announced feature consignments are a 1970 Plymouth Hemi Superbird, a 1959 Cadillac Eldorado Biarritz and a 1934 Packard Twelve Convertible Sedan • Digital catalog now available for download at auctionsamerica.com [I...[Read more...]
Lost Mercedes - Surfaces At Bonhams
One owner, unrestored, supercharged 'S' Type Mercedes to be sold by Bonhams at Goodwood Revival this autumn One of the greatest and most important motor car finds of the last decade, the 'Lost Mercedes' is to be offered at Bonhams Goodwood Revival sale on Saturday 15th September 2012. Bonhams announced today that it has been commissioned to sell a recently discovered 1928 Mercedes-Benz 26/120/180 'S' Type Sports Tourer which almost without precedent for motor cars of this type and d...[Read more...]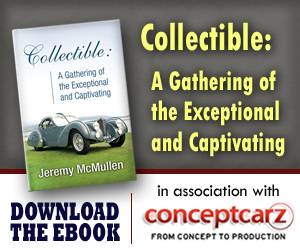 Jaguar
Monthly Sales Figures
Volume
September 2014
1,142
August 2014
1,184
July 2014
1,187
June 2014
1,263
May 2014
1,304
April 2014
1,035
March 2014
1,816
February 2014
1,552
January 2014
1,347
December 2013
1,544
November 2013
1,446
October 2013
1,515
(More Details)
© 1998-2014. All rights reserved. The material may not be published, broadcast, rewritten, or redistributed.