1935 Pierce-Arrow 845 news, pictures, specifications, and information

Tweet
This 1935 Pierce-Arrow Model 845 Four-Door Sedan is a left hand drive vehicle with a 400 cubic-inch eight-cylinder engine that produces 140 horsepower. Its three-speed manual gearbox sends power to the rear wheels while the four-wheel mechanical brakes provides the stopping power. It is dark green with a green interior. At the 2006 Christies Auction in Monterey, CA at the Jet Center it was expected to fetch between $45000-$65000. The lot with chassis number 2090110 was sold for $49350.

This vehicle sits on a 138 inch wheelbase and has undergone a mechanical upgrade which replaced the original 385 cubic-inch engine with a 400 cubic-inch unit.

George N. Pierce began producing automobiles in 1901. Prior to this his talents were used for making everything from bicycles to birdcages. The first automobile by Pierce was the Motorettes and powered by a DeDion Bouton engine. Within a few years, the vehicles were powered by two-cylinders. In 1904 the Pierce Great Arrow was introduced and its four-cylinder engine with stylish body and superior durability made it extremely popular and sought after. By 1907 Pierce raised the bar even further by offering the Great Arrows with six-cylinder engines. By 1909 the company had changed its name to Pierce-Arrow.

The bodies were comprised of cast-aluminum and throughout the vehicle only the finest materials could be found. The vehicles pioneered the use of power brakes and hydraulic tappets. They were elegant, powerful, reliable, and mechanically advanced. The designs were equally advanced. In 1913 the Pierce-Arrow continued to distinguish itself from the competition by incorporating fender-mounted headlamps which now came standard on all series. Perhaps the pinnacle of mechanical stature was the Model 66 which had a 60 horsepower six-cylinder engine and sat on a wheelbase that was in excess of twelve feet. The price tag was equally as impassive, setting the buyer back between $6500 to $8000.

After World War I the company experienced difficulties due to a variety of problems. In 1924 the company introduced the Series 80 which proved the versatility of the company. Competition had become very fierce for the high-priced automotive segment so Pierce had made the decision to create a lower-priced automobile that continued the company's reputation for elegance and reliability. It was powered by a six-cylinder engine.

The six-cylinder engine may have been part of the ultimate demise of the company. Other marques were offering larger eight-cylinder engines which Pierce was stubborn and felt that the six-cylinder engine was more than adequate. As a result, the competition continued to improve and expanded their clientele base. By 1930 Pierce was playing 'catch-up' as they poured much money and resources into the development of an eight-cylinder engine. Once again, they were a few years too late as many marques introduced twelve-cylinder units. Within a few years Cadillac and Marmon shocked the world with their impressive sixteen cylinder engines that were far suprioer to the rest of the market.

The Pierce eight was a technically advanced engine in all respects. It was outfitted with the best materials and built to high standards and workmanship. By 1931 Pierce had introduced a twelve cylinder engine and was again a player in the multi-cylinder race.

A union with the Studebaker Company was expected to help during the hard times brought on by the Great Depression. The union would prove to be a failure and by 1933 the Pierce-Arrow Company entered receivership. The company was reorganized and by May of 1935 was free of bankruptcy. The company focused on generating revenue for the struggling company. In in effort to cut costs, there was little development and few new designs for the next few years.

The Packard Company was managing to stay afloat by creating a lower-cost line that appealed to a broader market segment and had increased revenue and sales. Pierce-Arrow attempted to mimic their achievement by introducing the low-priced One-Twenty model. The move may have worked if it had been done earlier, and Pierce-Arrow was forced to cease production in 1938. On Friday, May 13th the company was sold at auction.
By Daniel Vaughan | Apr 2008
Pierce-Arrow was an American automobile manufacturer based in Buffalo, New York, and was active between 1901 and 1938. Best known for its expensive luxury cars, Pierce-Arrows also manufactured commercial trucks, fire trucks, camp trailers, motorcycles, and bicycles. In 1903 Pierce decided to concentrate on making a larger, more luxurious auto for the upscale market, and the Pierce-Arrow automobile was born. This proved to be Pierce's most successful product, and the solidly-built cars with powerful engines gained positive publicity by winning various auto races. During this period, Pierce's high-end products were sometimes advertised as the Great-Arrow. In 1908 Pierce Motor Company was renamed The Pierce-Arrow Motor Car Company.

The Pierce-Arrow was a status symbol, owned by many Hollywood stars and corporate tycoons; royalty of many foreign nations had at least one Pierce-Arrow in their collections. Among American luxury cars it was rivaled only by the Peerless and Packard, which collectively received the accolade 'Three P's of Motordom.' Pierce-Arrow advertisements were artistic and understated. Some advertisements featured the car in places an automobile would not normally go, such as the West and other rural settings, a testament to car's ruggedness and quality. This Model 845 Coupe is one of two remaining with a rear-mounted spare accentuating the graceful sweep of the fenders.
This 1935 Pierce-Arrow Model 845 Club Sedan is one of only 875 Pierce-Arrow motor cars sold in 1935. It was acquired by the current owner in 1935 and has been treated to a restoration since new. This car was part of the Sterling McCall Old Car Museum Collection in Warrenton, Texas for a period of time and even featured in the 1973 motion picture The Sting, staring Paul Newman, Robert Redford and Robert Shaw.

In 2007 it was brought to Carmel, California where it was offered for sale at Bonhams auction, An Important Sale of Collectors' Motorcars and Automobilia. The lot was sold for $46,000 plus premium and tax.
By Daniel Vaughan | Apr 2008
The aerodynamic styling seen on this V-12 Silver Arrow Coupe is a very rare production series development based upon the famed Pierce Silver Arrow created for the 1933 Century of Progress Exposition in Chicago. This Pierce-Arrow is powered by a 175 horsepower V-12 engine of the company's own making, and it offered free-wheeling and power brakes as standard equipment.
This aerodynamic coupe was influenced by the styling of the famed Silver Arrow show car of 1933 and the subsequent 'production' Silver Arrow models.
The original owner of this car was William Henry Vanderbilt, III of Portsmouth, Rhode Island. The Club Sedan offered slightly more privacy for rear seat passengers than the standard 5-passenger sedan. After about seven years, the car was given to the family chauffeur who used it for the remaining driving years of his life.

Pierce-Arrow offered three series for 1935, which included 18 body styles and a variety of custom bodies, as well as three different chassis lengths and a choice of either an 8- or 12-cylinder engine.

Production for the year amounted to just 875 vehicles.
By Daniel Vaughan | Dec 2011
Pierce-Arrow began by producing bird cages and later bicycles before producing one of the grandest automobiles of all-time. One of the 'three Ps' of automotive aristocracy in the United States - including Packard and Peerless - a Pierce-Arrow is instantly recognizable thanks to its unique flared in-fender headlight treatment and Tireur d'Arc elegant hood ornament (translation: simply 'drawer of the bow'). The first Pierce-Arrow archer was slender, partly clothed and helmeted, but later appeared with all his clothes off, becoming more muscular, and sans helmet. A fellow sweeping the floor of the Pierce-Arrow factory, incidentally, was the model, using his broom for the bow when he posed.

This Pierce-Arrow was sold new in Baltimore, Maryland in 1935, spending much of its early life in nearby Towson. It was cosmetically re-restored in 2010. One of two known convertible coupes, it is one of only 875 cars produced by the Buffalo, New York firm in 1935. Pierce-Arrow was gone after the 1938 model year.
By Daniel Vaughan | Jun 2014
120 years of motor sport at Mercedes-Benz take centre stage at the Goodwood Festival of Speed 2014
'Addicted to Winning': at this year's Goodwood Festival of Speed, Mercedes-Benz looks back on some fascinating racing victories of the last 120 years •The unique motor sport heritage of the Mercedes-Benz brand is being celebrated with an exclusive installation by sculptor Gerry Judah •Mercedes-Benz and Gran Turismo®6 jointly celebrate '120 years of motor sport' Stuttgart. – The thrilling victories of the Mercedes-Benz Silver Arrows mark the peaks of the history of motor sport for...[Read more...]
80 years ago: victory by the Mercedes-Benz W 25 in the International Eifel Race gave birth to the legend of the Silver Arrows
•The silver-coloured body of the W 25 gave this nickname to the racing cars from Mercedes-Benz •Successful new development by Mercedes-Benz for the750-kilogram racing formula •Manfred von Brauchitsch drove the W 25 to victory and established a new track record for Nürburgring It was a debut in sparkling silver, and it ended with shining gold: the first race at Nürburgring with the completely newly developed Mercedes-Benz W 25 racing car on 3 June 1934 was won by Manfred von Brauchitsch with...[Read more...]
Techno Classica 2014: more than 30 racing cars to celebrate 120 years of Mercedes-Benz motor racing history
•Cars that were the heroes of magical moments put their stamp on this high-powered, most comprehensive show presentation •With more than 30 vehicles, Mercedes-Benz Classic presents motor racing history in all its unique breadth and depth •120 years of Mercedes-Benz motor sport in the focus of the leading international classic motor show 120 years of Mercedes-Benz motor racing history have produced a timeline of extraordinary victories which since 1894 also stand for outstanding innovations ...[Read more...]
63rd Pebble Beach Concours d'Elegance Names 1934 Packard 'Best of Show'
The competition showcased 248 cars, including 48 from abroad PEBBLE BEACH, Calif. (August 18, 2013) -- A 1934 Packard 1108 Twelve Dietrich Convertible Victoria owned by Joseph and Margie Cassini III of West Orange, New Jersey, was named Best of Show at the 63rd Pebble Beach Concours d'Elegance, held Sunday on the 18th fairway of Pebble Beach Golf Links at Pebble Beach Resorts. The event showcased 248 cars from 36 states and 12 countries and raised $1,277,007 for charity. 'This Pack...[Read more...]
Mercedes-Benz Classic at the 2012 Grossglockner Grand Prix
• Revival of the mountain race from the 1930s • Mercedes-Benz SSK and W 125 at the start • 92 bends, 14 hairpins, 15 kilometres and a 1300-metre altitude difference The Grossglockner mountain race was one of the most prestigious motor sports events of the 1930s. This year it will be revived with the 2012 Grossglockner Grand Prix to be held from 20 to 22 September 2012 and Mercedes-Benz will be there with some famous cars. In 1938, the brand took part for the first time. As a classic c...[Read more...]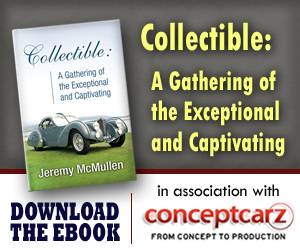 © 1998-2014. All rights reserved. The material may not be published, broadcast, rewritten, or redistributed.