1922 Rolls-Royce Silver Ghost news, pictures, specifications, and information

Tweet
1922 Rolls-Royce Silver Ghost Chassis Number 68ZG Open Tourer by Meynell Phillips
The Rolls-Royce Silver Ghost chassis was built during the years 1907 to 1925 with a total number of 6,703 having been produced. It takes its name from an epithet used for the first production model which was fitted with an open-tourer body painted silver and from the silence of its engine when running.

It is thought that fewer than 1,000 remain today.

The engine has 6 cylinders and a cubic-capacity of 7.5 liters (453 cid). It will cruise at 65-70 miles per hour and covers 10-12 miles per gallon of regular fuel.

The Silver Ghost model won many reliability trials during its production including the 1913 Alpine trials. It was equipped with armoured and ambulance coach work for service during the First World War. Lawrence of Arabia spoke highly of the reliability of his Silver Ghost and it was from these events that the car gained the reputation of being 'simply the best car in the world.'

The car has the red RR insignia, changed to black following the death of Sir Henry Royce in 1934. The Hon. Charles Rolls died in a ballooning accident in 1910.

68ZG is now fitted with an Open Tourer body to a design by the famous Hooper Coach Building Company. It was originally fitted with Hooper Landaulette body when delivered to C. N. Nairn esq of Broughty Ferry, Scotland in 1923. It was fitted with its current coachwork in 1965 by M. Phillips of England.
By Daniel Vaughan | Sep 2012
In 1906 a new model, the 40/50 horsepower, was developed wîth a longer chassis and a six-cylinder engine. The popularity of the new Rolls-Royce grew quickly as it developed a reputation for smoothness, silence, flexibility and, above all, reliability. In 1907 a writer from the 'Autocar' described riding in the Rolls-Royce 40/50 hp as '....the feeling of being wafted through the countryside.' Engineers at Rolls-Royce coined the word 'waftability' to encapsulate that sensation. Today it is a word that cannot be found in any direction but it is a key design and engineering criterion.

The twelfth 40/50 produced had all its fittings silver-plated and the coachwork painted in aluminum paint. This car became known as the Silver Ghost and is probably the most famous car in the world. The name was later adopted for all the 40/50 hp car and had an immediate international impact, enhanced by the coachbuilders of the day, who could produce bodies of breathtaking beauty. The Silver Ghost was, quite simply, in a class of its own.

The motor car's versatility is legendary. It overwhelmingly won every reliability trial and distance record, dominated the great Alpine Trial of 1913 and won the Spanish Grand Prix of that year.


In May 1907, Claude Johnson drove the car to Scotland and back. This run was a precursor to the Scottish Reliability Trial for which the motor car was later awarded a gold model by the RAC.

The original idea was to drive 10,000 miles without stopping the engine, but the Silver Ghost proved so reliable that the target was raised to 15,000 miles. Despite a stall at 629 miles, when rough roads shook the petrol switch to the off position, the Silver Ghost ran faultlessly for 40 days and nights.

A further challenge was designed by Napier for Rolls-Royce to compete against them in a run from London to Edinburgh followed by high-speed runs at Brooklands. But the challenge was to complete the distance without changing gear, as opposed to how far you could travel. The car, driven by Ernest Hives, averaged 24.3 mpg between London and Edinburgh and attained a speed of 78.2 mph at Brooklands.


As an armored car in the First World War The Silver Ghost delivered exemplary service to the extent that Colonel T.E Lawrence (Lawrence of Arabia) is quoted as saying, 'A Rolls in the desert is above rubies'.

In more elegant guise the Silver Ghost was the choice of the rich and famous across the globe. Kings, queens, maharajas, tsars and emperors owned them. The demand for the Silver Ghost was so high that manufacture was started in the Únited States in 1921 and continued in production wîth worldwide success until 1925.
Source - Rolls-Rocye Motor Cars Limited
The Rolls-Royce vehicles have always been the pinnacle of design, technology, and ambiance. The loudest noise that could be heard by occupants of their vehicles was said to be the clock. In 1904 engineer Frederick Henry Royce joined with the entrepreneur and businessman, the Honorable Charles Stewart Rolls. This union became known as the Rolls-Royce Company.

The Silver Ghost became available in 1906 and brought with it quality and technology to a level that had never been seen before on a motor vehicle. Most engines of the time had long and flexible crankshafts that were prone to vibration and noise. The Rolls-Royce engines had large bearings and pressurized oiling systems, secured by seven main bearings. This was then enclosed in a strong aluminum alloy crankcase eliminating much noise and creating a pleasurable driving experience for the occupants of the vehicle. The crankshaft had an accuracy of .00025 on its bearing surface. They were hand polished to remove any surface cracks left by the grinder. Instead of using noisy chains to drive the ignition, Royce used gears. Phosphor bronze and nickel steel were used in the construction of the timing gears which were then ground and polished by hand. The engine was further shortened by casting in triplets. Cooling problems and leaks were eliminated by the removable cylinder blocks and fixed heads. A Royce designed twin jet carburetor gave the engine all the breathing it required.

The Rolls Royce vehicles could accelerate from zero to top speed without shifting. Shifting during the early 1900's was a chore, with the lower gears never being smooth. It was not until top gear was achieved that the automobiles would operate properly. The Rolls-Royce Ghosts would accelerate as though they were being pulled. This feature, coupled with the vehicles silent operation amplified the vehicles prestige and was the ultimate driving experience of its day.

When first introduced, the Ghosts were given a four-speed gearbox with a direct drive third and an overdrive fourth. As time passed, the overdrive was dropped. The chassis was mostly conventional. Royce had fine-tuned the chassis to standards much higher than most marque's of the day. The body was held in place by a live rear axle carried in three quarter elliptical springs. In the front there was a solid axle supported by semi-elliptic leaf springs. Braking was by a food pedal connected to a transmission brake. A hand brake operated twin rear drums.

Where Royce excelled in engineering, Rolls excelled in promoting and marketing. In 1906 a Ghost was entered in the Tourist Trophy Race, one of the most prestigious races of the time. The Ghost emerged victorious - well, much more than that. It had beaten the next nearest competitor by 27 minutes. Next, Rolls and Royce entered a Ghost in a 15,000 mile reliability run in 1907 which it did without incident. Upon its return to the Rolls-Royce shop, it took a small amount of money, about two-pounds or roughly ten-dollars by today's exchange rates, to restore the vehicle back to new condition.

The Silver Ghosts were entered in the Austrian Alpine Trials where the hoods were sealed shut to prevent any maintenance. The Silver Ghosts again dominated the competition and traversed the Alpine passes which were impassable for many motor cars.

This marketing worked and soon the Rolls-Royce vehicles became legendary and renowned for their durability, reliability, and style. To improve upon the prestige even further, Rolls supplied the Silver Ghosts to British royalty, a move that made sure the vehicles were seen in the right places by the right people.

The first Rolls-Royce distributor in the United States was Walter Martin of New York City, who was also a Cadillac distributor. As Cadillac continued to improve the ambiance of their vehicles, Martin naturally gave them more attention as the logistics of company location was in their favor. Rolls-Royce, on the other hand, was an ocean apart.

Over the early years of Rolls-Royce production, Brewster would become more effective in bringing Rolls-Royce chassis to America than Martin. Brewster imported several dozen chassis to supply its coachwork clients.

In 1913, the business manager for Rolls-Royce, Claude Johnson, formed a factory depot in New York and rented space from Brewster. Baker's US agent, Robert W. Schuette was appointed as Rolls-Royce distributor. At the time, Schuette also represented Fleetwood, Holbrook, Brewster, and Quinby. Around 100 Rolls-Royce's were imported over the next two years by Schuette, with around half of them bodied by Brewster.

As the First World War began to escalate, the production of Rolls-Royce automobiles slowed considerably. The factory's attention was turned to cars for military clients. Engines were produced for aircraft. By 1916, there were no more new Rolls-Royces available. Schuette and Brewster were still able to satisfy US demand for Rolls-Royce's by buying up existing chassis, renovating, and then fitting them with new coachwork.
By Daniel Vaughan | May 2008
For more information and related vehicles, click
here
ROLLS-ROYCE MOTOR CARS AND 'HISTORY PIN' PRESENT 100 YEARS OF AUTOMOTIVE HISTORY
Rolls-Royce Motor Cars proudly presents enthusiasts with an extraordinary way of engaging with the 2013 Centenary Alpine Trial. Using pioneering technology and online historic imagery, 'History Pin' enables enthusiasts to view images from the original 1913 Alpenfahrt, juxtaposed against pictures taken live from the 2013 recreation. On 14 June 2013, 47 vintage Rolls-Royce Silver Ghosts will depart from Vienna, wafting through Austria, Slovenia, Croatia and Italy before returning to Vienna ...[Read more...]
Rolls-Royce Makes Final Preparations For 1,800 Mile Alpine Trial
Final preparations are underway for the recreation of the 1913 Alpine Trial. Rolls-Royce Motor Cars' Authorised Dealer in Essex, P&A Wood, is playing an essential role in ensuring cars are in perfect condition for what remains one of the automotive world's most gruelling tests of endurance. Eight of the 40 Rolls-Royce Silver Ghosts participating in the rally, many over a century old, have been meticulously prepared by the dealership's skilled technicians and craftspeople. Since its foun...[Read more...]
Rolls-Royce 'Works Team' Stops Off In London En Route To The 2013 Alpine Trial
In May 1913, James Radley set off from Brown's Hotel in London's Mayfair for a famous motoring adventure – the 1913 Alpine Trial. A century later, the same Rolls-Royce Silver Ghost driven by this pioneer, aviator and adventurer has returned to Brown's Hotel, ready to depart for a re-enactment of the event. Radley's account of his departure in 1913 reflects the spirit of those early days of motoring: 'We must have a bottle to christen her. Here, John, just fetch a bottle of 'The Widow', wil...[Read more...]
Rolls-Royce Motor Cars At Autochina Shanghai 2013
• Asia Pacific premiere for Wraith, the most powerful, dynamic Rolls-Royce in history
• World debut of Alpine Trial Centenary Collection Ghost – the first Bespoke car to pay homage to a heritage Rolls-Royce
• Record year for Bespoke in China
• Plans to ensure continuing sustainable growth in China and Asia Pacific announced
Wraith, the most powerful, dynamic motor car in Rolls-Royce Motor Car's 109-year history made its Asia Pacific debut at AutoChina Shanghai o...[Read more...]
ROLLS-ROYCE MOTOR CARS ALPINE TRIAL CENTENARY COLLECTION SET FOR DEBUT AT AUTO CHINA 2013
• Alpine Trial Centenary Collection celebrates landmark moment in Rolls-Royce and automotive history – the establishment of the Silver Ghost as the 'Best Car in the World'
• First ever Bespoke homage to a heritage Rolls-Royce car
• Rolls-Royce Motor Cars announces entry of Works Team into the centenary 20-Ghost Club reenactment of 1913 Alpine Trial
A century ago this June, four Rolls-Royce Silver Ghosts embarked on the Austrian Alpine Trials, the most arduous test of ...[Read more...]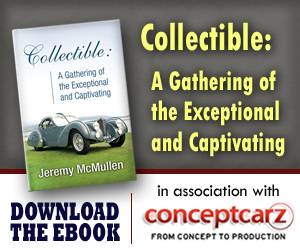 Rolls-Royce
Monthly Sales Figures
Volume
August 2014
75
July 2014
75
June 2014
75
May 2014
75
April 2014
75
March 2014
75
January 2014
86
October 2013
84
September 2013
84
August 2013
84
July 2013
84
June 2013
84
(More Details)
© 1998-2014. All rights reserved. The material may not be published, broadcast, rewritten, or redistributed.