1959 Rolls-Royce Silver Wraith news, pictures, specifications, and information

Tweet
LWB Touring Limousine
Coachwork: Mulliner
Build Num: Style: 356

This 1959 Rolls-Royce Long Wheel Base (LWB) Silver Wraith has coachwork by H. J. Mulliner, (Style 356) Touring Limo. This late example was equipped with factory air conditioning. It has low mileage and is largely in original condition, except for the interior hides that were replaced by Vantage Motorworks.

The car is powered by a water-cooled, F-head (inlet-over-exhaust), 6-cylinder, 4,877 cc (4.88 liter) engine developing 135 horsepower. This 4,620 pound car has a top speed of 80 mph.

The present owner purchased the car from Vantage Motorworks in 1996 with only 18,000 original miles. It has seen only limited use since.
The Silver Wraith was the first new model produced after the Second World War. It had a 4.25 liter overhead valve engine and hydraulic activation for the front brakes. The coachwork was begun by French carrossier Franay who closed his doors before finishing the commission. Henri Chapron who was highly regarded for his elegant and restrained designs completed this 7 passenger car.
The Silver Wraith, launched in 1947, was an evolution of the pre-war Wraith and was offered in the traditional chassis form ready for the fitting of Bespoke coachwork. The 4,257cc overhead-inlet, side-exhaust engine developed before the war was used, as well as a modified coil and wishbone independent front suspension. Hydraulic brakes were used for the first time on a Rolls-Royce wîth hydraulic brakes.

The Silver Wraith was constantly refined during its production. The engine was replaced wîth the 'big bore' 4,566cc in 1951 and automatic transmission was offered as an option in 1952.

Once again the press raved about the car. 'All the world knows that Rolls-Royce carry on an unremitting search for engineering perfection in everything they undertake. The qualities which made their aircraft engines famous, and their cars the finest procurable, are the result of hard work scientifically conducted, and of a painstaking attention to detail from the large to the most minute. And now a new range of cars is about to appear it is believed that the new cars are the best that Rolls-Royce have ever built.'


The Silver Wraith was described like this: 'In common wîth all Rolls-Royce cars, the Silver Wraith has an indefinable something about it, a delicacy of behaviour, which escapes definition in written words. it is a car for the connoisseur in cars'.
Source - Rolls-Royce Motor Cars
At a time when most of England was suffering post war and didn't have much use for a luxury motorcar, Rolls Royce decided to no longer produce cars in strictly separate series. Instead they would create as many parts of the engine, chassis and gearbox that would be identical for the different makes, and therefore easily interchangeable. The British economy had suffered due to raw materials shortages, prohibitive purchase tax and petrol rationing. The Silver Wraith was the embodiment of the new company philosophy of a reliable car with components that could be easily maintained.

Considered by many to be the most technologically advanced Rolls Royce model in history, the Silver Wraith was an exceptional graceful and elegant automobile. Introduced in 1946 the Silver Wraith was produced at the Crewe factory. The first post-war Rolls-Royce model, the Silver Wraith rode on a 127-inch wheelbase that was based heavily on the pre-war Wraith with coil sprung independent front suspension and semi-elliptic rear with a live axle. Also based on the Wraith, the engine featured a cylinder head with overhead inlet valves and side exhaust valves and an initial capacity of 4,257 cc and 135 horsepower.

The capacity was increased to 4566 cc in 1951, and to 4887 in 1954 on the long-wheelbase models. The Wraith's braking system was a hybrid hydro mechanical system with hydraulic front brakes and mechanical rears that utilized the mechanical servo from the pre-war cars, which was patented by Hispano-Suiza and built by Rolls Royce under license. For the first time on a Rolls Royce hydraulic brakes were used.

In 1951 Rolls Royce announced the long, 133-inch wheelbase chassis. A total of 639 of these units were produced until 1969. The final short-wheelbase models were made in 1953. At first only a four-speed manual gearbox was available but in 1952 a General Motors automatic option was added to the list of offerings.

The Silver Wraith was the final Rolls-Royce model that would be delivered in 'chassis only' form with the intent to be bodied by independent coachbuilders. The number of specialist coachbuilders was quickly declining over the years. Many of the Silver Wraith bodies selected used 'formal limousine designs'. The Bentley Mark Vi was offered for customers that wanted to purchase their car with a standard body already fitted. The Silver Wraith differed from the Mark VI in the fact that it wasn't a complete car, merely a rolling chassis. The Silver Wraith outlived the Mark VI and continued to survive until 1959 by undergoing modernizations like automatic gearbox and power assisted steering. The Silver Wraith would be the final Rolls Royce that showed a vast variety of coachwork styles.

The Rolls Royce Silver Wraith has filled many official capacities over the years including the Royal Dutch State Limousine in 1958, the Royal Danish Ceremonial Car 'Store Krone' also in 1958, the Irish Presidential State Car from 1947 until now. Other official uses include the Ceremonial State Car for the Brazilian President in 1952. The

The Silver Wraith had numerous movie cameos over the years including 1968 'The Love Bug', 1975 'The Return of the Pink Panther', 1989 'Batman', 1992 'Batman Returns' and even the recent 2012 film 'The S

Sources:
http://en.wikipedia.org/wiki/Rolls-Royce_Silver_Wraith
http://www.rolls-roycemotorcars.com/wraith/

By Jessica Donaldson
For more information and related vehicles, click
here
World's Top Marques Set to Dominate RM's Arizona Biltmore Sale
• Desirable models from leading marques will cross the stage at RM's Arizona sale, January 15-16 in Phoenix • Classiche-certified 1964 Ferrari 250 LM with fantastic period racing history leads a list of Ferrari highlights • Auction also features terrific Porsche, Mercedes-Benz, Lamborghini, Packard, Bentley, Shelby, and Audi motor cars • Complete list of entries available at www.rmauctions.com BLENHEIM, Ontario (December 11, 2014) – RM Auctions, the world's largest collector ...[Read more...]
Postwar Ferrari Named Best of Show at 2014 Pebble Beach Concours d'Elegance
1954 Ferrari 375 MM Scaglietti Coupe Named 'Best of Show' PEBBLE BEACH, Calif. (August 17, 2014) -- Excited cheers echoed across the 18th fairway of Pebble Beach Golf Links Sunday when a 1954 Ferrari 375 MM Scaglietti Coupe was named Best of Show at the 64th annual Pebble Beach Concours d'Elegance. The car, owned by Jon Shirley of Medina, Washington, was the first postwar car to take the top award at the prestigious event in nearly five decades. It was also the first Ferrari to win. ...[Read more...]
Six Decades Of Ferrari At Mecum's Daytime Auction
1954 Ferrari 750 Monza Headlines Select Offering of Italian Illuminati Mecum Auctions will present its 4th annual Monterey Daytime Auction, Aug. 16-18, 2012 at the Hyatt Regency Monterey Hotel and Spa on Del Monte Golf course, featuring some of finest machines Ferrari has ever produced headlined by a 1954 750 Monza Spyder Scaglietti. By turns part of the Engelbert Stieger, Brando Wang, Walter Burani and Roberto Crippa collections, 1954 Ferrari 750 Monza Spyder Scaglietti S/N 0462MD...[Read more...]
Bentley Sales Leap By A Third
•Six month results up 32% •US overtakes China to re-emerge as largest market •Sales of Bentley's flagship Mulsanne up 30% Bentley's half year results for 2012 show continued strong growth. Sales are up in every region leading to a global increase of 32% (3,929 cars delivered to customers). The US has re-emerged as Bentley's number one market with deliveries up by 25.7% (1,140 cars delivered to customers). Sales in China also remain extremely strong with results up 55.7% (1,059 car...[Read more...]
Cherished Classics From The Pettit Collection Will Be Offered Without Reserve
• The 1929 Duesenberg 'Blue J' and 11 collector cars from the William A. C. Pettit, III Collection will be sold at Gooding & Company's Pebble Beach Auctions
• Estate Proceeds will benefit the Shriners Hospital for Children®-Tampa
Gooding & Company, the acclaimed auction house celebrated for selling the world's most significant and valuable collector cars, is honored to present the finest automobiles of the William A.C. Pettit, III Collection at its Pebble Beach Auctions on Aug...[Read more...]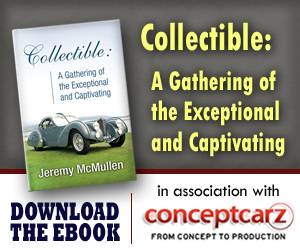 Rolls-Royce
Monthly Sales Figures
Volume
December 2014
75
November 2014
75
October 2014
75
September 2014
75
August 2014
75
July 2014
75
June 2014
75
May 2014
75
April 2014
75
March 2014
75
January 2014
86
(More Details)
© 1998-2014. All rights reserved. The material may not be published, broadcast, rewritten, or redistributed.