1948 Packard Custom Eight news, pictures, specifications, and information

Tweet
Packard had introduced their handsome new 'Clipper' in 1940 but by the post-war period it appeared to be dated. Faced with a styling decision, they decided to hold something of the original lines of the Clipper and endeavor to make it look more contemporary. While a fine car, the styling results are somewhat controversial. Packard set a new sales record with this model.
By Daniel Vaughan | Oct 2006
When the Packard Company began automobile production in 1899, it was known as Ohio Automobile Company. In 1903 the name was changed to the Packard Motor Car Company when it moved from Warren, Ohio to Detroit, Michigan. The move was the result of a majority stock purchase made by investors in the Detroit area.

Packard had sustained a Great Depression and a World War and was still at the fore-front of vehicle production. Advances in automotive technology and design were making vehicles more and more exciting each day. During the early forties Packard decided to compete in a broader market by introducing the Clipper, a vehicle aimed at higher production but lower cost.

The Briggs Manufacturing Company was tasked with building the Clipper bodies. This conclusion was made after the Briggs Manufacturing Company had stated and proven to the Packard Company that they could produce the bodies cheaper than Packard. Production of the bodies began and the price Briggs Manufacturing Company had quoted Packard proved to be too low, so the price was raised leaving Packard with the extra cost. It would have been cheaper for Packard to produce the bodies themselves.

The sales of the Clipper series were very successful, outselling Cadillac and LaSalle. The vehicles were stylish, durable, and elegant. The body of the vehicle had been designed by Howard 'Dutch' Darrin and sat atop the 120 chassis. The Packard 120 was the company's first sub-$1000 car. It was aimed at stimulating sales and increasing production.

The sixteen valve eight-cylinder engine powering the Clipper was capable of producing 125 horsepower, a rather high figure at the time. The modern body, stylish interior, excellent performance, and Packard quality made the Clipper Series very desirable.

In February of 1942 the United States Government ordered all manufacturers to cease production of automobiles and shift their priorities to war related efforts. Packard began the production of aircrafts and marine engines, ambulance and military vehicles. More than 60,000 combined engines were produced by the Packard factory during the war.

In 1945 the war had ended and Packard went back to automobile production. They had made $33 million through their engine and military vehicle sales, $2 million was used to renovate and update their facilities. Packard was in excellent financial condition. Most of the automobile parts that had been created prior to the war were in bad shape. They had been put in storage in order to make space for equipment that was needed to design and build military vehicles. The storage was often subject to the weather and the elements. As a result much of the equipment and supplies needed to be replaced.

Post WWII Era
When automobile production began, Packard decided to only produce the Clipper Series and abandon the other model lines. For 1946 Packard produced the Clipper Six 2100 and 2103, Super Clipper 2103, and the Custom Super Clipper 2106. The Super Eight and Custom convertibles were added in 1947. In 1949 Packard introduced the 23rd Series Eight and Deluxe Eight.

The Clippers were very unique and innovative for their time. They featured an alarm on the gas tank that would whistled as the fuel was pumped, stopping only when the tank was full. The running boards and door hinges were concealed adding to the smooth appearance of the body. The Clipper Series were also very wide. This not only gave passengers extra interior room but it gave the vehicle stability at speed around the corners. The width was a foot wider than it was tall making it the widest vehicle in production at the time.

For 1948, the Clipper name no longer appeared on the Packards; the models were now known as the Eight Series in Standard, Deluxe, Super and Custom. Within these groups, there were standard wheelbases, long wheelbases which were mostly reserved for limousines. The standard/deluxe eight-cylinder engine was an L-head unit with cast-iron block and displaced 288 cubic-inches. Horsepower measured 130. The super eight had a 356 cubic-inch eight-cylinder engine and it produced 145 horsepower. The most powerful engine in the Packard lineup for 1948 was the Custom Eight L-head engine which had a 356 cubic-inch displacement and 160 horsepower. The Custom Eight was Packard's luxury line which required this powerful engine to carry its rather large and luxurious body. The rear wheels were given standard fender skirts, giving the car a clean and graceful line from front to rear. The front had an eggcrate-style grille insert design with a vertical cormorant or pelican mascot adorning the front of the hood. The price range in this category began at $3700 and escalated to nearly $4900 for the 4-door Limousine.

The Super Eight sat in between the Standard/Deluxe and the Custom Eight, offering excellent performance and style at a reasonable price.

The Eight Series, with names such as Deluxe, Standard, and Custom would adorn the Packard's for many years. Packard had one of the more unique naming schemes for an American car company, with each year representing a new Series and did not follow a model year changeover system.
By Daniel Vaughan | Jul 2007
DIVERSE PRIVATE COLLECTIONS ADDED TO AUCTIONS AMERICA'S FLAGSHIP AUBURN FALL SALE
• Numerous private collections to cross the block at Auctions America's Auburn Fall event, August 27 – 31 at Indiana's historic Auburn Auction Park • Latest highlights led by 80 vehicles from a prominent private collection along with 20 cars from The David Disiere Collection • Multi-day sale to feature approximately 1200 quality collector cars and a full day of parts and memorabilia • Frequently updated list of entries and complete event information available at auctionsamerica.com AUBU...[Read more...]
MERCEDES-BENZ 2014 G63 AMG: THE ULTIMATE G-CLASS
The latest technology for the AMG off-road icon: the new 2014 G63 AMG impresses with a state-of-the-art powertrain, expressive new design and improved efficiency. All this is largely attributable to the AMG 5.5-liter V8 biturbo engine delivering 536 hp and the AMG SPEEDSHIFT PLUS 7-speed automatic transmission. Every new AMG high-performance vehicle offers an outstanding mix of 'more power from less fuel' – and the G63 AMG is no exception. The 'strong man' in the AMG model range has been furt...[Read more...]
HIGHLIGHTS AND LOWLIGHTS FOR VOLKSWAGEN AT HOME RALLY
It was the home rally of all races where Volkswagen would fall short of their own high expectations for the first time since joining the FIA World Rally Championship (WRC) in January 2013. This was the first time Volkswagen have missed out on a podium place in a season which has seen the team pick up six rally wins in eight rallies. And all this despite World Championship leaders in the Drivers' and Co-drivers' categories Sébastien Ogier/Julien Ingrassia (F/F) and Jari-Matti Latvala/Miikka Antti...[Read more...]
CHRYSLER GROUP LLC AND FIAT S.P.A. ANNOUNCE MOST ACCESSORIZED VEHICLES AND TOP-SELLING ACCESSORIES
Mopar Offers More Than 25,000 Accessories Worldwide •Ram 1500, Jeep Wrangler and Dodge Challenger are most accessorized vehicles in North America •Side steps, Jeep Wrangler tops and floor mats are best-selling accessories in North America •Fiat 500, Fiat 500L and Jeep Grand Cherokee among most accessorized vehicles in other global regions •Top-selling accessories announced for Europe, Middle East, Africa, Asia Pacific and Latin America February 11, 2013 , Auburn Hills, Mich....[Read more...]
Magnificent Series of Coachbuilt Classics To Grace RM's Amelia Island Concours D'Elegance Sale
• RM Auctions returns as the official auction house of the Amelia Island Concours d'Elegance, March 9, 2013 • Single-day sale features breathtaking roster of more than 80 investment-quality collector cars • Notable highlights include an outstanding series of coachbuilt classics headlined by a multi-million-dollar 1935 Duesenberg Model SJ Walker-LaGrande Convertible Coupe and a trio of Cords from the personal collection of Jim Fasnacht • Frequently updated list of entries available online at r...[Read more...]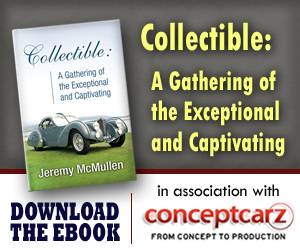 Similarly Priced Vehicles from 1948
Lincoln Mark I Continental ($4,660-$20,000)
Jaguar Mark IV 3.5-Liter ($4,630-$4,755)
Packard Super Eight ($2,670-$3,806)
Cadillac Series 75 Fleetwood ($4,680-$5,200)
Cadillac Series 60 Special ($3,820-$3,820)

Average Auction Sale: $45,324
© 1998-2014. All rights reserved. The material may not be published, broadcast, rewritten, or redistributed.