1967 Morgan Plus Four news, pictures, specifications, and information

Tweet
Super Sport Roadster
Chassis Num: 6430

This car (Chassis #6430) is one of 94 Morgan Factory SuperSport roadsters, originally ordered by Lew Spencer Imports, the Los Angeles Morgan dealer at the time, for Carl Swanson, to be campaigned as their C Production SCCA entry. Swanson, who had won the Championship previously driving a Plus 4 Morgan, decided to race in a different venue and the car was sold locally in the Los Angeles area. It soon became the property of Lee Spencer until 1983 when it was acquired by it's present owner, Dennis Glavis, and is entirely original except for having been painted once in 1983 upon it's acquisition by Glavis. It has 36,000 original miles and represents the epitome of the Plus 4 SuperSport, Morgan's LeMans winning car in the GT Class in 1962, upon which the limited series was based.
Morgan is the oldest continuously operating car company in England. They started building 3-wheel cars in 1913 and four-wheel cars in 1937.

This car was one of the last Morgan Drop Head Coupes built as production for this model ended in 1967.

This car has been driven only 11,500 miles and has not been restored. There was much wood used in building Morgan's, including the frame, floors, and behind the outer body. The seat bottoms are inflatable cushions and they still hold air. The car retains its original 1967 tires.
| | |
| --- | --- |
| | Super Sport Roadster |
Henry Morgan was the son and grandson of clergymen, but drove off in another direction, opening a garage and building a three-wheeled car that was little changed for six decades, though in the 1930s he also began producing four-wheelers. Morgan remains today still building cars mostly by hand in the English countryside.

This 1967 Morgan is one of only six four-passenger +4 Super Sports produced. It has had the same ownership since 1981 and had been driven nearly 220,000 miles before being restored.
In 1936, the Morgan 4/4 was first introduced as Morgan Motor Company's first car. The '4-4', which would later come to be known as '4/4', stood for four cylinders and four wheels. The vehicles that Morgan had produced prior to the 4-4 were three-wheelers, with V-twin engines.

Throughout the years, there have been many variations, bodystyles, and series of the original '4-4'. Production of the '4-4' has been nearly constant since the beginning, except for a short halt-of-production during World War II. During the war it manufactured anti-aircraft gun parts and undercarriage components.

From 1936 through 1939, there were 663 two-seater versions produced. All with a four-speed Meadows transmission. They featured a 1122 cc. Coventry Cimax engine with overhead inlet and side exhaust valves that produced 34 horsepower. The morgan was quick with a top speed of 80 miles-per-hour and a 0 to sixty time of around 28 seconds. A year after the introduction, a four-seater option became available. Though not as popular as the two-seater, 99 were produced from 1937 through 1939. In 1938 the DropHead coupe variation was introduced of which, 58 were produced between 1938 to 1939.

Production took a break during World War II, but later resumed. From 1946 through 1950, 2490 more examples were constructed and used a Standard Special 1256 cc. overhead cam engine producing 38.8 horsepower. A Moss transmission was used in place of the Meadows gearbox. The four-seater and drophead coupe option were still available. During the 1946 to 1950 time frame, 140 four seaters and 106 DropHead coupes were produced.

In 1947, the Standard Motor Company informed Morgan that after 1949, the 1267 cc. engine would not be available due to their 'One Engine Policy'.

In 1949, when the 1267 cc was no longer available, Morgan began using a Vanguard 1.8 litre engine and introduced to the public the 'Plus Four'. Eventually, a 2080cc Vanguard engine produced 68 horsepower was used. The front suspension was improved, the frame was strengthened, and Girling hydraulic brakes were fitted on all four corners. The top speed was 85 miles per hour with a zero to sixty time of 17.9 seconds. Priced competitively, the Plus Four was an instant success.

In 1954 the Vanguar engine was replaced with a Triumph TR2 1991 cc. powerplant that provided 90 horsepower. The zero to sixty time was now around 13 seconds. The 100 mile-per-hour mark was easily achievable. To help with the aerodynamics, the radiator was placed beneath the bodywork.

The Series II was introduced in 1955. Instead of the Standard Special engine, a Ford 100E engine utilizing a Ford three-speed gear was used. The engine was capable of producing 36 horsepower. Production of the Series II lasted five years and ended near the end of 1960. 386 examples were produced.

In 1956, the Plus 4 received a Triumph TR3 engine that was capable of producing 100 horsepower. The vehicle could be ordered in lightweight aluminum bodies making them excellent for competition. In 1959, performance and safety was enhanced by the addition of 11 inch Girling disc brakes.

The Series III picked up where the Series II left off. Mounted in the front, the Ford Anglia 105E, 997 cc. engine was capable of producing 39 horsepower. The three speed transmission was replaced with the four-speed gearbox adding to the performance of the vehicle. During its production life span which last from October of 1960 through November of 1961, only 58 examples were produced.

Following the Series III was the Series IV. It too had a relatively short life span lasting from October of 1961 through March of 1963. The Series IV used a Ford Classic 109E engine that now produced 23 more horsepower than its predecessor. With a total of 62 horsepower and a Ford four-speed transmission, the Series IV was quick. 114 examples were produced.

In 1961, the Plus 4 Super Sport was introduced. With the highly tuned Triumph engine producing 116 horsepower, speeds exceeding 115 miles-per-hour were easily achieved.

The 4/4 Series V was introduced in February of 1963 and produced until March of 1968. 65 horsepower was produced from the Ford Cortina 116E engine. A Ford four-speed manual gearbox was still standard equipment. During it's life span, 639 examples were produced.

During the 1963 Earl's Court Motor Show, Morgan introduced the Plus 4 Plus. The Plus 4 Plus featured a stronger Plus 4 chassis, glass fiber body, and a 2138 cc. Triumph TR4 engine. The top speed was around 100 miles-per-hour. Unfortunately, the car did not sell very well and production ceased two years later. Only twenty-six examples were produced.

In 1966, the Triumph TR engine was replaced with a powerplant supplied by Rover Motor Company. The engine was an aluminum V8 engine which brought about the Morgan Plus 8, a project headed by Maurice Owen. The Plus 8 was not introduced to the public until the 1968 Earls Court Motor Show. The 3529 cc. V8 engine was capable of producing 160 horsepower at 5200 rpm. It was fast! With a 0 to sixty time of 6.7 and a top speed of 125 mph, it was a substantial improvement over the Plus 4.

In 1968, the 1600 was introduced. The name 1600 came about due to its engine size of 1599 cc. The Ford Kent engine came in different flavors. There was a 2737E that produced 70 horsepower, a 2737 GT and 2265E that both produced 95.5 horsepower. Produced until March of 1982, 3513 examples were created.

In November of 1981, the engine was replaced with a Fiat 1584 cc twin-cam engine and Fiat five-speed gearbox. The horsepower rating was now up to 98. Production continued until 1985 during which time 96 examples were created.

In March of 1982, a Ford 1597 cc CVH engine and Ford four-speed gearbox powered the Morgan. A Ford five-speed transmission from the Ford Sierra replaced the four-speed in 1984. During the production life span lasting from 1982 through November of 1991, 1652 examples were created.

In November of 1991, a Ford 1597 cc CVH engine with electronic fuel injection and creating 100 horsepower was being used.

The Morgan 4/4 has stood the test of time. The light and sturdy frame matched with some impressive power plants have made the vehicle practical, cost competitive, and fun to drive.
By Daniel Vaughan | Sep 2009
For more information and related vehicles, click
here
1958 FERRARI 250 GT LWB CALIFORNIA SPIDER STARS AT RM'S 15TH ANNUAL ARIZONA SALE
• RM Auctions announces latest highlights for its two-day Arizona auction, January 16 – 17 in Phoenix, led by a highly prized 1958 Ferrari 250 GT LWB California Spider • Most recent blue-chip entries join a spectacular roster of more than 120 handpicked automobiles for the sale at the beautiful Arizona Biltmore Resort & Spa • Frequently updated list of entries available online at www.rmauctions.com BLENHEIM, Ontario (December 10, 2013) – RM Auctions, the world's largest auctio...[Read more...]
SZYMCZAK CLAIMS TOP SPOT IN MAZDA MX-5 CUP PRACTICE AT ROAD ATLANTA
BRASELTON, Ga. (Oct. 16, 2013) – Christian Szymczak, of Palos Verdes, Calif., is in a familiar place, at the top of the time sheets, after setting the fastest time in practice one, in preparation for Rounds 11 and 12 of the SCCA Pro Racing Playboy MX-5 Cup. Sebastian Landy, of Great Falls, Va., and Elliott Skeer of Carlsbad, Calif., were second and third, respectively. Szymczak recorded a fast time of 1:39.650 (91.761 mph) around the 12-turn, 2.54-mile road course in his No. 34 ALARA R...[Read more...]
ANTOINE L'ESTAGE AND NATHALIE RICHARD CAMPAIGN LEGENDARY CAR AT NEW ENGLAND FOREST RALLY
The Rockstar Energy Drink Rally Team of Antoine L'Estage and Nathalie Richard are bringing a piece of North American rally history to attempt to win their fourth New England Forest Rally victory on July 26-27th in Newry, Maine. At this year's running of the New England Forest Rally the team will campaign a turbocharged, all-wheel-drive 2003 Tiburon maintained and operated by Libra Racing. Rally fans will instantly recognize this Tiburon from having seen action in the SCCA ProRally Champion...[Read more...]
SZYMCZAK TAKES MAZDA MX-5 CUP RACE ONE AT MAZDA RACEWAY
MONTEREY, Calif. (May 10, 2013) – Christian Szymczak, of Palos Verdes, Calif., won Round Three of the SCCA Pro Racing Playboy Mazda MX-5 Cup doubleheader at Mazda Raceway Laguna Seca. Elliott Skeer, of Carlsbad, Calif., crossed the line in second, followed by John Dean, of Sebring, Fla. Szymczak, in the No. 34 ALARA Racing MX-5, set himself up for a clean sweep at the 11-Turn, 2.238-mile Mazda Raceway, with a 9.5-second gap. Szymczak was the fastest in qualifying and each of the practi...[Read more...]
VOLKSWAGEN MOTORSPORT TO CELEBRATE 50th ANNIVERSARY OF FORMULA VEE AT ROLEX 24 AT DAYTONA
• Former stars of Formula Vee and Formula Super Vee will take to the track in historic cars, 50 years after the first official FV race Herndon, VA - Formula Vee will celebrate a big birthday at the Rolex 24 at Daytona this coming weekend (24–27January). Fifty years after the debut of the formula as an officially-sanctioned Sports Car Club of America race series, Volkswagen will return to the place where it all started with a number of significant car and drivers from the past. Among t...[Read more...]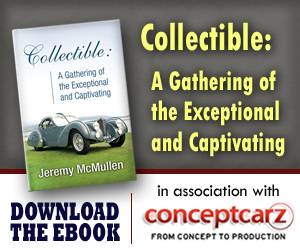 Similarly Priced Vehicles from 1967
Chevrolet Camaro Series ($2,500-$3,310)
Plymouth Satellite ($2,745-$2,990)
Oldsmobile Cutlass Supreme ($2,640-$3,065)
Pontiac Tempest GTO ($2,870-$3,160)
Pontiac Bonneville ($3,230-$3,820)
Chevrolet Chevelle SS Series ($2,800-$3,000)
Dodge Coronet ($2,400-$82,700)
Pontiac Grand Prix ($3,550-$3,810)

Average Auction Sale: $43,800
© 1998-2014. All rights reserved. The material may not be published, broadcast, rewritten, or redistributed.