1925 Bugatti Type 35C news, pictures, specifications, and information

Tweet
Roadster
Chassis Num: 4596

Originally delivered to Belgium in July 1925. Imported to USA in 1952. Comprehensively restored from 1999 through 2002 to 1924/1925 Type 35 specs. This car was driven and raced each year since in Europe and America.

Bugatti introduced the Type 35 as its entry for the 1924 Grand Prix season. Over the following years, the Type 35 achieved legendary success, particularly as the engine was developed with superchargers in 1927 and beyond. Although not very powerful, the car is very light and features superb handling. The cable operated brakes are excellent. This car is presented as it would have looked when racing in 1925 or 1926.
Roadster
Chassis Num: 4572

Delivered to Madame Elizabeth Junek in 1925 and returned to the factory in 1926. The engine was given a supercharger and later bought by the present owner in 1972 from O.A. Phillip and was rebuilt with a new body. The cars history from 1927 through 1947 is not known.

The car was first raced by its present owner in 1979. It was awarded a First in Class at Pebble Beach in 1979 and won its class at the 1980 Monterey Historics.
Though it is personal preference, the Bugatti Type 35 is regarded by many as one of the most beautiful pre-war racer from the legendary Bugatti Company. Its beauty is matched by its accomplishments, being one of the most successful pre-war racer winning over 1000 races and capturing the 1926 Grand Prix World Championship with 351 races. During that two year period it also claimed 47 records. From 1925 through 1929 the Bugatti Type 35 dominated the Targa Florio.

The first Bugatti Type 35 was introduced on August 3rd, 1924. It was powered by a modified engine used in the Type 29. The 3-valve 2-liter overhead cam straight-eight engine had five main bearings and producing around 90 horsepower. The suspension was comprised of leaf springs attached to solid axles. Stopping power was provided by drum brakes in the rear operated by cables which could be seen on the exterior of the vehicle. In total, there were 96 examples produced.

There were multiple versions of the Type 35 which were specifically designed to accommodate many types of racers. The Type 35A, nicknamed 'Tecla' was an inexpensive version of the Type 35 and made its first appearance in May of 1925. Its nickname was given by the public after a maker of imitation jewelry. The engine was a reliable unit borrowed from the Type 30. It used three bearings, had smaller valves, coil ignition, and produced less horsepower than its Type 35 sibling. In total 139 examples of the Type 35A were created.

Though Ettore Bugatti favored naturally aspirated engines, the Type 35C was given a Roots-Type supercharger which boosted power to an impressive 128 horsepower. There were only fifty examples created with many providing historic victories for the company. The Type 35C won the 1928 and 1930 French Grand Prix, undoubtedly their greatest accomplishments.

The Bugatti Type 35T, commonly known as the Targa Florio, was specially prepared for the Targa Florio race. There were only thirteen examples produced. It was powered by a 2.3 liter engine. When Grand Prix rules changed stating that engine displacement sizes of up to 2 liters were required, the Type 35T became obsolete and production ceased.

The Bugatti Type 35B was introduced in 1927 and was the final iteration of the Type 35 series. The name Type 35TC was pondered since it shared the same 2.3 liter engine as the Type 35T and a supercharger just like the Type 35C. The engine produced an astonishing 138 horsepower, by far the most of the Type 35 series. In total there were only 45 examples produced with one of their greatest accomplishments being the victory at the 1929 French Grand Prix.

The Type 39 was produced alongside the Type 35B but adhered to current Grand Prix regulations which limited engine capacities to 1.5 liters. Only ten examples of the Type 39 were produced.
By Daniel Vaughan | Feb 2011
For more information and related vehicles, click
here
Highly Original 1964 Ferrari 250 LM Headlines RM's Exclusive Art of the Automobile New York Sale
• RM Auctions, in association with Sotheby's, secures one of the world's greatest Ferrari road racing cars for its exclusive Art of the Automobile auction, November 21 in New York City • Considered one of the most original and highly prized of all Ferraris, this multi-million-dollar 250 LM emerges for sale following long-term private ownership • Additional sale highlights include a stunning 1936 Talbot-Lago T150C Figoni et Falaschi Cabriolet; the groundbreaking 1963 Chevrolet CERV II; and a b...[Read more...]
Extremely Significant, Early Shelby Cobra Roadster an Exceptional and Early Headline Consignment to Russo and Steele's Upcoming Monterey Auction
Scottsdale, Arizona – With his AC Ace-derived, Ford-powered Cobra, Carroll Shelby and his racing team spearheaded Ford's 'Total Performance' campaign of the 1960s on the world stage and ended Ferrari's dominance of the World Sportscar Championship for GT cars by 1965. This stellar example, CSX2012, is particularly significant as the first Cobra sold to the public from Shelby American's West Coast operations in Venice, California. With highly documented and fascinating history including its...[Read more...]
Italian Sports And Racing Exotics Head To RM's Eagerly Anticipated Monterey Sale
• RM Auctions announces stunning early roster of blue-chip Italian exotics for its flagship Monterey sale, August 16–17 in California • No less than 21 Ferraris already consigned alongside two spectacular Maseratis • Eight Ferraris offered without reserve from the Estate of William H. Tilley • Additional early highlights include a fabulous 1931 Duesenberg Model SJ Murphy Convertible Coupe and a 1935 Hispano-Suiza K6 Brandone Cabriolet • Frequently updated list of entries available online a...[Read more...]
Sonoma Historic Motorsports Festival Celebrates Corvette'S 60 Years At Sonoma Raceway
• Fast cars, fine food and wine highlight May 18-19 weekend
• Paul Reinhart is honored guest, popular racing seminar scheduled for second year
SONOMA, Calif. (April 27, 2013) - The Sonoma Historic Motorsports Festival returns to Sonoma Raceway on May 18-19 for the fourth straight year under that title. The program for the 27th annual historic-car event organized by General Racing Ltd. in Sonoma will celebrate the 60th Anniversary of the popular Corvette, created by the ...[Read more...]
Pair Of 1960s Automotive Icons Take Center Stage At RM Arizona
• RM Auctions secures a highly desirable 1960 Ferrari 250 GT SWB Berlinetta 'Competizione' and an ultra-rare 1965 Ford GT40 for its January 18 sale in Phoenix, Arizona • Latest multi-million-dollar entries join a stellar list of more than 80 blue-chip collector cars, including a rare 1930 Duesenberg Model J Derham Tourster, offered for the first time in 45 years • Frequently updated list of entries available online at rmauctions.com BLENHEIM, Ontario (November 29, 2012) – RM A...[Read more...]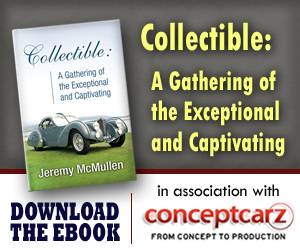 © 1998-2014. All rights reserved. The material may not be published, broadcast, rewritten, or redistributed.