1925 Bugatti Type 35C news, pictures, specifications, and information

Tweet
Roadster
Chassis Num: 4596

Originally delivered to Belgium in July 1925. Imported to USA in 1952. Comprehensively restored from 1999 through 2002 to 1924/1925 Type 35 specs. This car was driven and raced each year since in Europe and America.

Bugatti introduced the Type 35 as its entry for the 1924 Grand Prix season. Over the following years, the Type 35 achieved legendary success, particularly as the engine was developed with superchargers in 1927 and beyond. Although not very powerful, the car is very light and features superb handling. The cable operated brakes are excellent. This car is presented as it would have looked when racing in 1925 or 1926.
Roadster
Chassis Num: 4572

Delivered to Madame Elizabeth Junek in 1925 and returned to the factory in 1926. The engine was given a supercharger and later bought by the present owner in 1972 from O.A. Phillip and was rebuilt with a new body. The cars history from 1927 through 1947 is not known.

The car was first raced by its present owner in 1979. It was awarded a First in Class at Pebble Beach in 1979 and won its class at the 1980 Monterey Historics.
Though it is personal preference, the Bugatti Type 35 is regarded by many as one of the most beautiful pre-war racer from the legendary Bugatti Company. Its beauty is matched by its accomplishments, being one of the most successful pre-war racer winning over 1000 races and capturing the 1926 Grand Prix World Championship with 351 races. During that two year period it also claimed 47 records. From 1925 through 1929 the Bugatti Type 35 dominated the Targa Florio.

The first Bugatti Type 35 was introduced on August 3rd, 1924. It was powered by a modified engine used in the Type 29. The 3-valve 2-liter overhead cam straight-eight engine had five main bearings and producing around 90 horsepower. The suspension was comprised of leaf springs attached to solid axles. Stopping power was provided by drum brakes in the rear operated by cables which could be seen on the exterior of the vehicle. In total, there were 96 examples produced.

There were multiple versions of the Type 35 which were specifically designed to accommodate many types of racers. The Type 35A, nicknamed 'Tecla' was an inexpensive version of the Type 35 and made its first appearance in May of 1925. Its nickname was given by the public after a maker of imitation jewelry. The engine was a reliable unit borrowed from the Type 30. It used three bearings, had smaller valves, coil ignition, and produced less horsepower than its Type 35 sibling. In total 139 examples of the Type 35A were created.

Though Ettore Bugatti favored naturally aspirated engines, the Type 35C was given a Roots-Type supercharger which boosted power to an impressive 128 horsepower. There were only fifty examples created with many providing historic victories for the company. The Type 35C won the 1928 and 1930 French Grand Prix, undoubtedly their greatest accomplishments.

The Bugatti Type 35T, commonly known as the Targa Florio, was specially prepared for the Targa Florio race. There were only thirteen examples produced. It was powered by a 2.3 liter engine. When Grand Prix rules changed stating that engine displacement sizes of up to 2 liters were required, the Type 35T became obsolete and production ceased.

The Bugatti Type 35B was introduced in 1927 and was the final iteration of the Type 35 series. The name Type 35TC was pondered since it shared the same 2.3 liter engine as the Type 35T and a supercharger just like the Type 35C. The engine produced an astonishing 138 horsepower, by far the most of the Type 35 series. In total there were only 45 examples produced with one of their greatest accomplishments being the victory at the 1929 French Grand Prix.

The Type 39 was produced alongside the Type 35B but adhered to current Grand Prix regulations which limited engine capacities to 1.5 liters. Only ten examples of the Type 39 were produced.
By Daniel Vaughan | Feb 2011
For more information and related vehicles, click
here
Sonoma Historics' Racing Seminar to discuss Can-Am and Shadow Race Cars
Sonoma Historic Motorsports Festival's Racing Seminar to discuss early Can-Am years and the radical Shadow Race Cars SONOMA, Calif. (May 12, 2014) - For the third straight year, the Sonoma Historic Motorsports Festival (May 17-18) will host one of its popular racing seminars at Sonoma Raceway. This year's seminar will celebrate the early years of the iconic SCCA Can-Am Series, which ran from 1966 to 1974, with a focus on the unique Shadow race cars that competed in the Series f...[Read more...]
Sonoma Historic Motorsports Festival Celebrates Can-Am at Sonoma Raceway
• More than 350 vintage and historic race cars highlight May 17-18 weekend
• George Follmer and Don Nichols are honored guests; popular racing seminar set for third year
SONOMA, Calif. (May 7, 2014) - The Sonoma Historic Motorsports Festival returns to Sonoma Raceway on May 17-18 for the fifth straight year under that title. The program for the 28th annual historic-car event organized by General Racing Ltd. in Sonoma will celebrate the early years of the iconic SCCA Can...[Read more...]
RRDC VOTES IN 37 NEW MEMBERS FOR 2013
HILLIARD, Ohio (Nov. 7, 2013) - Thirty-seven race-car drivers and motorsports professionals have been voted into the Road Racing Drivers Club in 2013. The group includes 13 Regular Members from the open-wheel and sports-car racing ranks, 20 Associate Members and four Honorary Members. The current roster of RRDC members now numbers 440. Voting was held among all current RRDC members. 'This year's crop of new Regular Members truly represents the spirit of the RRDC, as each driver has de...[Read more...]
RK MOTORS COLLECTOR CAR AUCTIONS REGISTERS $9.5 MILLION IN SALES, HAMMER COMES DOWN ON MORE THAN 100 CARS
Charlotte, N.C. (November 4, 2013) — Spanning two days, two continents and real-time bidding from a global audience, this weekend's RK Motors Collector Car Auction saw the hammer come down on 104 investment-grade racers, rare muscle cars and European classics, generating nearly $9.5 million in total sales. Headquartered at the Charlotte Convention Center, the event was highlighted by the debut of an industry-first remote auction hub at Abu Dhabi's Emirates Palace Hotel on Saturday. Dur...[Read more...]
CURRENT F1 DRIVER TIMO GLOCK WINS TOYOTA RACE OF LEGENDS AT 35TH ROLEX MONTEREY HISTORIC AUTOMOBILE RACES
Mario Andretti performs demonstration laps and waves checkered flag for legends race Day two of the 35th Rolex Monterey Historic Automobile Races presented by Toyota continued with exciting on-track action as official racing got under way. The event, scheduled to continue through Sunday, is being held at Mazda Raceway Laguna Seca in Monterey, Calif. Highlighting Saturday's festivities was the Toyota Race of Legends that pitted current Panasonic Toyota F1 driver Timo Glock agai...[Read more...]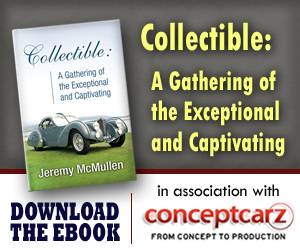 © 1998-2014. All rights reserved. The material may not be published, broadcast, rewritten, or redistributed.