1939 Alfa Romeo 6C 2500 SS news, pictures, specifications, and information

Tweet
With the combination of Vittorio Jano, 6C design and Bruno Trevisan performance upgrades, the reliability and performance along with fully independent suspension made the pre-war Alfa 2500 models one of Europe's most superb road machines.

The 6C 2500 SS Corsa was a light sports/racing car using the Super Sport chassis and had an engine tuned to give 125 horsepower instead of 110 bhp making it capable of 125 mph.

The profound transformation of the car carried out at Scuderia Ferrari in Modena qualified it as a model in its own right; the car's wheelbase was reduced substantially and its engine power significantly increased. The coachwork was either done in-house of by Touring.
Carrozzeria Touring created the aerodynamic design for the 1939 LeMans 24 Hour race. It was aesthetically and aerodynamically refined successor to the radical 1938 8C 2900 LeMans Berlinetta. It is considered to be the foundation of the Gran Turisimo 'fastback' design that has endured ever since. The Tipo 256 Alfas were bodied by Touring and competition-prepared by Scuderia Ferrari. This is one of ten surviving examples, and was discovered in 1993 with incorrect cabriolet coachwork. The reconstruction of this compex Superleggera body was realized through a collaboration between the former head of Carrozzeria Touring, Carlo Ferlice Bianchi Anderloni, and master coachbuilder Dino Cognolato. The main aspects of the body were completed prior to Anderloni's death in 2003. It was his last project. The 2008 Amelia Island Concours d'Elegance was the first time that an Alfa bearing this magnificent design has been seen in public since 1940.

In 2010, this Alfa Romeo 6C 2500 SS Berlinetta Aerodinamica was offered for sale at Gooding & Company Auction held in Amelia Island, Florida. The car was estimated to sell for $800,000 - $1,300,000. As bidding came to a close, the car had been sold for the sum of $748,000, inclusive of buyer's premium.
Roadster
Chassis Num: 913213
Engine Num: 923871

This is a 1939/1940 Alfa Romeo 6C 2500 with chassis number 913213 and engine number 923871. It is fitted with a Mille Miglia Spider body. The chassis was originally fitted with a Touring 5 seat body. The Super Sport engine is correct to the current body; complete with the three side draft Weber carburetors.

This car has run the California Mille Miglia and the Monterey Historic races and participated in various Concours events. It won the Mille Miglia at the Palo Alto Concours in 2005.

Ken Shaff and I (Conrad Stevenson) bought this car in 1991 as a total project --- it had not body but lots of spare parts, so this really is a resurrection or recreation made from original pre-war parts. The chassis #913213 is a 1939/1940 and was registered in Madrid(Spain) at some time in the 1950s. The insurance tags are still on the firewall. The engine is also a pre-war Super Sport motor, correct to the body configuration that the car now has.

This body style is known as a 6C 2500 SS Corsa. These Mille Miglia race cars have 6 cylinder twin cam normally aspirated motors using three single barrel side draft Weber carburetors, wheras the other Alfa Romeo 8 cylinder cars were supercharged. While the 2500 models had substantially less power than the supercharged cars, their better fuel mileage enable them to carry less fuel and be lighter as result, a benefit for the longer events. Unfortunately the Mille Miglia was shortened during the war.

Ken Shaff pssed away after this car ws completed but he and I ran the car in the California Mille Miglia (2004) and a CSRG event at Sears Point/Infineonraceway in 2005. More than anything this car is a tribute to Ken Shaff who was regarded by anyone who knew him as a true gentleman and a greatly missed friend.
The Alfa Romeo 6C 2500 was available as both a road-going and competition car. Alfa Romeo created the rolling chassis and commissioned coachbuilders to create the competition bodies. The competition cars were fitted with a six-cylinder engine tuned to produce around 120 horsepower. They were given a modified suspension and often clothed in lightweight aluminum coachwork. Three were sent to Carrozzeria Touring in 1939 to be prepared for the grueling Mille Miglia race.

The cars were ready but the race was cancelled due to a tragic accident. Instead, the three cars made their inaugural racing debut at the Tobruk-Tripoli race where they finished in first, second and fourth place.

For the LeMans race, a special berlinetta body was prepared that had a strong resemblance to its larger 8C 2900B LeMans sibling which had run the race in the year prior. The 8C would have won the race, as it was leading by over 100 miles when a broken valve meant its hopes for glory were prematurely sidelined.

The preparations for the 6C included an aerodynamic, and curvaceous body, plus the addition of a larger fuel tank. Raymond Sommer and Prince Bira were tasked with driving the berlinetta during the race. As had happened the year prior, the cars potential was limited by its reliability issues. Even after hours of repair work in the pits, the car was unable to finish the race.

It was entered in the 1950 Mille Miglia but with disappointing results.
By Daniel Vaughan | Mar 2008
The Alfa Romeo 6C 2500 was introduced near the end of the 1930's. The 6C name was derived from the engine size, an inline-six while the 2500 represented the engines cubic-centimeter displacement size.

The engine was a version of Vittorio Jano designed six-cylinder engine. The 6C was available in a plethora of body styles and wheelbases and was produced during two different times in history. Most of the coachwork was handled by Touring of Italy or by Pinin Farina. The body styles ranged from coupes and convertible to four-seater salon. In 1939 Alfa Romeo introduced the SS version, a short-wheelbase model, dubbed 'SS' for Super Sport, that had a high-compression 6C engine rated at 105 horsepower. It was the top-of-the line 6C model that married style and performance together to create the perfect road-going vehicle.

World War II had interrupted production for many automobile manufacturers. During this time many switched their efforts to support the war, such as building engines for marine and aircraft or by producing vehicles that were suitable for war time. When Alfa Romeo resumed production, their vehicles were similar to those they had offered in 1939. The main difference was that Alfa Romeo now bodied the cars themselves rather than providing the rolling chassis for custom coachbuilders to body. The designs had become standard but they were still based on sketches and designs produced by coachbuilders such as Pinin Farina and Touring. Pinin Farina built the exclusive bodies such as the Cabriolet. These vehicles were elegant and stylish and had a price tag that matched. Touring built the Coupes which became known as the Villa d'Este in 1949 after winning the famous Concours d'Elegance Villa d'Este. When outfitted with the Superleggera, meaning light weight, bodies they were capable of speed of over 100 mph.

The engines were similar to the Jano designed six-cylinder power plant, capable of producing 110 horsepower. Independent suspension was installed to soften the ride while improving performance and handling characteristics. A four-speed manual transmission was similar to the one used prior to the onset of the war.

The history of the Alfa Romeo 6C 2500 automobiles are extensive. The various designs and body-styles matched with their mechanical capabilities make these one of the finest Alfa Romeos ever produced.
By Daniel Vaughan | Oct 2006
RECORD DAY AT BONHAMS GREENWICH AUCTION
(June 2, 2014) Greenwich, CT – Standing room only crowds packed the Bonhams tent at the 7th annual Greenwich collector motorcar auction with the sale totaling in excess of $8 million dollars—besting last year's record breaking total by over 40%, with over 93% of lots offered finding new homes. The capacity crowd grew nearly silent as the catalog cover lot, a 1975 Lamborghini Countach LP 400 'Periscopica', sold for over $1.2 million dollars to a bidder seated in the front of the room, beat...[Read more...]
CARROZZERIA TOURING SUPERLEGGERA CONFIRMED FOR SALON PRIVÉ 2013
Syon Park, London, 13 August 2013 – Carrozzeria Touring Superleggera has confirmed its return to Salon Privé for 2013. Touring Superleggera has a history stretching back over 80 years as the first custom car builder of an Alfa Romeo and an Isotta Fraschini made in 1928. The Touring brand has always been synonymous with elegance, quality and technical innovation with the Superleggera (super lightweight) construction system patented in 1936. The Bentley Continental Flying Star will fe...[Read more...]
ICONIC BLOWER BENTLEYS PRIMED FOR MILLE MIGLIA CHALLENGE
Famous, supercharged Bentleys set for 1,000 mile Italian epic •'Bentley Boy' Tim Birkin's 1930 Le Mans racer leads charge •Original Bentley Motors 'demonstrator' completes team (Crewe, 14 May 2013) Bentley Motors will compete in this year's Mille Miglia with two unique 4 ½ litre Supercharged 'Blowers'; a 1930 Le Mans race car belonging to perhaps the most famous and daring of the Bentley Boys and a company demonstrator that is still going strong even after nine decades on the road. The N...[Read more...]
Chubb Insurance Concours d'Elegance Judging Day Concludes Salon Prive 2012
• 'Best of Show' prize goes to the 1950 Ferrari 166 MM Barchetta entered by Dudley and Sally Masson-Styrron
• Most prestigious judging panel in Salon Privé history congratulates all category winners for the UK's most outstanding line-up of bikes and cars in 2012
Syon Park, West London, 10th September 2012 – The Chubb Insurance Concours d'Elégance judging day at Salon Privé London marked the close of the Luxury Super Car Show, with a fabulous line up of 111 cars and bikes...[Read more...]
Bentley Ready For Classic Thousand Mile Challenge
•Iconic Bentley Blowers ready for great Mille Miglia adventure •Bentley Continental W12 and V8 models join historic cars in Italy (Crewe, England & Brescia, Italy. 16 May, 2012) W.O. Bentley's gift for creating cars that combined the speed of a thoroughbred racing machine with an enviable reputation for strength and comfort, allowing them to effortlessly cover hundreds of miles, is set to be underlined once again at the 2012 Mille Miglia when two 4½ litre Bentley Blowers take on the ...[Read more...]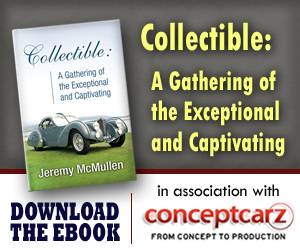 © 1998-2014. All rights reserved. The material may not be published, broadcast, rewritten, or redistributed.