1934 MG N-Type NA news, pictures, specifications, and information

Tweet
BLL 492, is one of the most famous MG's produced. Built by Wilkie Wilkinson for owner Ms. Doreen Evans, who was just around 18-20 years old and one of the most noted female rally drivers of the time; and one of the three cars prepared for the Evan's family (BLL 491 driven by her brother Kenneth, BLL 493 driven by brother Denis, and Doreen's BLL 492). BLL proved successful for Doreen in the 1934 and 1935 rally season, including a first class award in the 1935 R.A.C. Rally in Eastbourne, England.

This car is powered by a six cylinder, 120 horsepower, supercharged, lightweight, special tuned engine, featuring an ENV preselector 4-speed gearbox - a precedessor to the automatic transmission.
In 1933 MG introduced the K type Magnette with a 1.1-liter six-cylinder engine. The vehicles were equipped with a 12-inch cable-operated mechanical brake. The K3 was a modified racing version that sat atop a short-chassis and outfitted with a supercharged engine. One was able to capture a class victory at the Mille Miglia road race. In 1934 a K3 achieved 4th overall in the grueling Le Mans 24 hour endurance race. The list of victories does not end there, but it does establish the K3 as a competitive force in the racing arena. A Long-wheelbase touring version was available and could be fitted with four doors.

In early 1934 the N type Magnette was introduced. It sat atop a 96 inch wheelbase and powered by a 56 horsepower engine. In 1934, MG produced seven racing N's which were dubbed NE. They replaced the supercharged K3's which had been banned from the Tourist Trophy race. The NE vehicles were entered and carried on the legacy of the K3 by winning the race.

The N-Type Magnett was the last in a series of small six-cylinder overhead cam light cars produced by the MG Car Company in the mid-1930s. The six cylinder cars were built in relatively small numbers compared to the less expensive four-cylinder Midgets of the era. N-Type production was limited to approximately 700 cars from 1934 to 1936. Only a handful have survived, and many have been rebodied with special racing bodies. The N-Type six-cylinder engine's single overhead cam is driven by a unique vertical dynamo arrangement with bevel gears. The 1271-cc engine produces 56 bhp, good for a top speed of 80 mph. The four-speed gearbox is designed by Wolsley, and the 12 inch drum brakes are mechanically operated by cables.

The MG NA was given the engine found in the K-Type, a six-cylinder overhead camshaft 1271cc unit. Further development of the engine continued and modifications were made to the cylinder block and head. Twin SU carburetors were fitted and helped drive the horsepower up to a very impressive 56. The cars were given a 96-inch wheelbase and a four-speed manual non-synchromesh gearbox. Semi-elliptic leaf springs could be found in the front and rear. Most were bodied by the factory, but a few were left in chassis form for custom coachbuilders.

The following year control of the company passed from Lord Nuffield to Morris Motors. The first change under the new company was to withdraw from sporting events and the production of racing cars would be stopped. This meant the direction of the company switched to producing road-going vehicles.
By Daniel Vaughan | Sep 2007
For more information and related vehicles, click
here
JAGUAR LAND ROVER REPORTS U.S. SALES FOR MAY 2014
◾Jaguar Land Rover North America sales increase 17 percent in May, for its best May sales month result since 2007 ◾Land Rover brand has its best May sales month ever with a 28 percent increase over 2013 ◾Range Rover Evoque sales increase 59 percent for May ◾Jaguar F-TYPE Coupe went on sale in May leading to new high in monthly F-TYPE sales ◾Jaguar sales up 14 percent for the year (MAHWAH, NJ) - June 3, 2014 - Jaguar Land Rover North America today reported May 2014 U.S. sales: Land ...[Read more...]
JAGUAR LAND ROVER REPORTS U.S. SALES FOR DECEMBER 2013
◾Jaguar Land Rover North America sales increase 20 percent for 2013 with 66,962 units sold ◾Land Rover sets new U.S. full year sales record for the brand of 50,010 units with increase of 15 percent for 2013 ◾All new aluminum Range Rover increases 56 percent for 2013 ◾Jaguar finishes 2013 as one of the fastest growing automotive brands in the United States with 41 percent growth versus 2012 reaching 16,952 units ◾All-wheel drive and new powertrains helps Jaguar XF achieve a 43 percent gain fo...[Read more...]
LAND ROVER BECOMES OFFICIAL VEHICLE PARTNER OF RED BULL DESERT WINGS
◾Land Rover to be the Official Partner to the Red Bull Desert Wings Dakar team in 2014 ◾Land Rover will provide five all-terrain vehicles to Red Bull to support the teams throughout the 2014 Dakar – the toughest race in the world ◾Land Rover-backed Race2Recovery team will share the Red Bull Bivouac throughout the 2014 race (WHITLEY, UK) – December 16, 2013 – Land Rover is pleased to announce that it will be the official vehicle supplier to the Red Bull Desert Wings team for the 2014 ...[Read more...]
Land Rover Celebrates 65 Years Of Technology And Innovation
SIXTY-FIVE YEARS OF LAND ROVER From our earliest days, the desire to create a vehicle that will tackle any terrain has made Land Rover famous around the world. Over the past 65 years, the Land Rover family has grown into the highly respected range of vehicles that are sold in record numbers today. As Land Rover continues to go from strength to strength, we thought it was time to look back at the milestones in our history that have got us here. The last 65 years have been an adventure. ...[Read more...]
Cadillac's 'Sixteen' Headlines The Amelia Concours d'Elegance Cadillac Concept Car Class
Cadillac's 2003 'Sixteen' will headline the 18th annual Amelia Concours d'Elegance's Cadillac Concept Car Class. A decade ago, the elegant excess of Cadillac's 'Sixteen' Concept Car set off alarms throughout the global auto industry as it rolled into the North American International Auto Show. Cadillac's 'Sixteen' Concept Car is a 1000 horsepower 13.6 liter V-16, 5000 pound, 19 foot long engineering and design statement taking conceptual cues from the legendary Cadillac V-16s of the 1...[Read more...]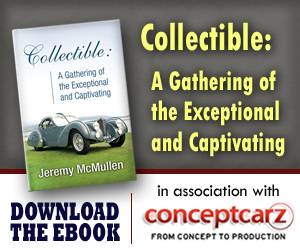 © 1998-2014. All rights reserved. The material may not be published, broadcast, rewritten, or redistributed.