1934 MG N-Type NA news, pictures, specifications, and information

Tweet
BLL 492, is one of the most famous MG's produced. Built by Wilkie Wilkinson for owner Ms. Doreen Evans, who was just around 18-20 years old and one of the most noted female rally drivers of the time; and one of the three cars prepared for the Evan's family (BLL 491 driven by her brother Kenneth, BLL 493 driven by brother Denis, and Doreen's BLL 492). BLL proved successful for Doreen in the 1934 and 1935 rally season, including a first class award in the 1935 R.A.C. Rally in Eastbourne, England.

This car is powered by a six cylinder, 120 horsepower, supercharged, lightweight, special tuned engine, featuring an ENV preselector 4-speed gearbox - a precedessor to the automatic transmission.
In 1933 MG introduced the K type Magnette with a 1.1-liter six-cylinder engine. The vehicles were equipped with a 12-inch cable-operated mechanical brake. The K3 was a modified racing version that sat atop a short-chassis and outfitted with a supercharged engine. One was able to capture a class victory at the Mille Miglia road race. In 1934 a K3 achieved 4th overall in the grueling Le Mans 24 hour endurance race. The list of victories does not end there, but it does establish the K3 as a competitive force in the racing arena. A Long-wheelbase touring version was available and could be fitted with four doors.

In early 1934 the N type Magnette was introduced. It sat atop a 96 inch wheelbase and powered by a 56 horsepower engine. In 1934, MG produced seven racing N's which were dubbed NE. They replaced the supercharged K3's which had been banned from the Tourist Trophy race. The NE vehicles were entered and carried on the legacy of the K3 by winning the race.

The N-Type Magnett was the last in a series of small six-cylinder overhead cam light cars produced by the MG Car Company in the mid-1930s. The six cylinder cars were built in relatively small numbers compared to the less expensive four-cylinder Midgets of the era. N-Type production was limited to approximately 700 cars from 1934 to 1936. Only a handful have survived, and many have been rebodied with special racing bodies. The N-Type six-cylinder engine's single overhead cam is driven by a unique vertical dynamo arrangement with bevel gears. The 1271-cc engine produces 56 bhp, good for a top speed of 80 mph. The four-speed gearbox is designed by Wolsley, and the 12 inch drum brakes are mechanically operated by cables.

The MG NA was given the engine found in the K-Type, a six-cylinder overhead camshaft 1271cc unit. Further development of the engine continued and modifications were made to the cylinder block and head. Twin SU carburetors were fitted and helped drive the horsepower up to a very impressive 56. The cars were given a 96-inch wheelbase and a four-speed manual non-synchromesh gearbox. Semi-elliptic leaf springs could be found in the front and rear. Most were bodied by the factory, but a few were left in chassis form for custom coachbuilders.

The following year control of the company passed from Lord Nuffield to Morris Motors. The first change under the new company was to withdraw from sporting events and the production of racing cars would be stopped. This meant the direction of the company switched to producing road-going vehicles.
By Daniel Vaughan | Sep 2007
For more information and related vehicles, click
here
A LABOR DAY TRADITION: AUCTIONS AMERICA'S FLAGSHIP AUBURN FALL COLLECTOR CAR WEEKEND ATTRACTS RECORD CROWDS, POSTS STRONG RESULTS
• Auctions America's flagship Auburn Fall sale enjoys continued success with more than $25.9 million in sales • A Labor Day Weekend tradition, event attracts record attendance with more than 81,500 enthusiasts descending on Indiana's historic Auburn Auction Park • Top sale: 1935 Duesenberg Model SJ Dual Cowl Phaeton returns 'home' to the Classic Car Capital of America, realizing a strong $1,265,000 • Truly a community event, Auburn Fall raises $44,000 to benefit Honor Flight of Northeast In...[Read more...]
LAND ROVER AT THE 2014 TORONTO AUTO SHOW
(MISSISSAUGA, ON) - February 13, 2014 - Land Rover will showcase its 2014 model year lineup at the 2014 Toronto Auto Show held February 14 to 23, 2014. The Range Rover Long-Wheelbase and the Range Rover Long-Wheelbase Autobiography edition will both be on display. The 2014 model year continues the most dynamic product development and introduction period in the brand's history. An all-new Range Rover Sport is introduced, based on the all-new aluminum-intensive Range Rover that debuted f...[Read more...]
JAGUAR LAND ROVER REPORTS U.S. SALES FOR SEPTEMBER 2013
◾Jaguar Land Rover North America increases 1 percent in September ◾Jaguar continues U.S. growth streak with 31 percent growth in September on new XF and XJ all wheel drive models and F-TYPE sales ◾Land Rover Range Rover and Range Rover Evoque see strong increases in September, up 23 percent and 26 percent respectively ◾Land Rover U.S. sales decrease 7 percent for month due to tight supply of Range Rover Sport during launch; Land Rover brand up 12 percent year-to-date (MAHWAH, NJ) - Oct...[Read more...]
Bentley Ready For Classic Thousand Mile Challenge
•Iconic Bentley Blowers ready for great Mille Miglia adventure •Bentley Continental W12 and V8 models join historic cars in Italy (Crewe, England & Brescia, Italy. 16 May, 2012) W.O. Bentley's gift for creating cars that combined the speed of a thoroughbred racing machine with an enviable reputation for strength and comfort, allowing them to effortlessly cover hundreds of miles, is set to be underlined once again at the 2012 Mille Miglia when two 4½ litre Bentley Blowers take on the ...[Read more...]
JAGUAR EXPANDS POWERTRAIN CHOICE WITH TWO ADDITIONAL FORCED-INDUCTION PETROL ENGINES
As Jaguar expands its product offer in key global markets it is introducing two additional petrol units to its range to enhance customer choice; the new 3.0-litre V6 Supercharged Petrol, and the 2.0-litre I4 Turbocharged Petrol. Adrian Hallmark, Global Brand Director, Jaguar Cars, said: 'Jaguar currently has its strongest range of products for several decades. Our continued growth is dependent on two things; activating the awareness of the brand, and expanding our range to enable us to access...[Read more...]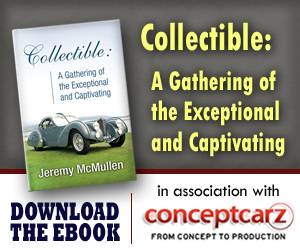 © 1998-2014. All rights reserved. The material may not be published, broadcast, rewritten, or redistributed.