1934 MG N-Type NA news, pictures, specifications, and information

Tweet
BLL 492, is one of the most famous MG's produced. Built by Wilkie Wilkinson for owner Ms. Doreen Evans, who was just around 18-20 years old and one of the most noted female rally drivers of the time; and one of the three cars prepared for the Evan's family (BLL 491 driven by her brother Kenneth, BLL 493 driven by brother Denis, and Doreen's BLL 492). BLL proved successful for Doreen in the 1934 and 1935 rally season, including a first class award in the 1935 R.A.C. Rally in Eastbourne, England.

This car is powered by a six cylinder, 120 horsepower, supercharged, lightweight, special tuned engine, featuring an ENV preselector 4-speed gearbox - a precedessor to the automatic transmission.
In 1933 MG introduced the K type Magnette with a 1.1-liter six-cylinder engine. The vehicles were equipped with a 12-inch cable-operated mechanical brake. The K3 was a modified racing version that sat atop a short-chassis and outfitted with a supercharged engine. One was able to capture a class victory at the Mille Miglia road race. In 1934 a K3 achieved 4th overall in the grueling Le Mans 24 hour endurance race. The list of victories does not end there, but it does establish the K3 as a competitive force in the racing arena. A Long-wheelbase touring version was available and could be fitted with four doors.

In early 1934 the N type Magnette was introduced. It sat atop a 96 inch wheelbase and powered by a 56 horsepower engine. In 1934, MG produced seven racing N's which were dubbed NE. They replaced the supercharged K3's which had been banned from the Tourist Trophy race. The NE vehicles were entered and carried on the legacy of the K3 by winning the race.

The N-Type Magnett was the last in a series of small six-cylinder overhead cam light cars produced by the MG Car Company in the mid-1930s. The six cylinder cars were built in relatively small numbers compared to the less expensive four-cylinder Midgets of the era. N-Type production was limited to approximately 700 cars from 1934 to 1936. Only a handful have survived, and many have been rebodied with special racing bodies. The N-Type six-cylinder engine's single overhead cam is driven by a unique vertical dynamo arrangement with bevel gears. The 1271-cc engine produces 56 bhp, good for a top speed of 80 mph. The four-speed gearbox is designed by Wolsley, and the 12 inch drum brakes are mechanically operated by cables.

The MG NA was given the engine found in the K-Type, a six-cylinder overhead camshaft 1271cc unit. Further development of the engine continued and modifications were made to the cylinder block and head. Twin SU carburetors were fitted and helped drive the horsepower up to a very impressive 56. The cars were given a 96-inch wheelbase and a four-speed manual non-synchromesh gearbox. Semi-elliptic leaf springs could be found in the front and rear. Most were bodied by the factory, but a few were left in chassis form for custom coachbuilders.

The following year control of the company passed from Lord Nuffield to Morris Motors. The first change under the new company was to withdraw from sporting events and the production of racing cars would be stopped. This meant the direction of the company switched to producing road-going vehicles.
By Daniel Vaughan | Sep 2007
For more information and related vehicles, click
here
2015 DODGE CHALLENGER SRT HELLCAT: THE FASTEST MUSCLE CAR EVER WITH A 1/4-MILE ELAPSED TIME OF 11.2 SECONDS
July 11, 2014 , Auburn Hills, Mich. - Dodge is giving its Challenger owners full on bragging rights at the drag strip and racing to the front line of the horsepower wars with its new 2015 Dodge Challenger SRT Hellcat. The 2015 Dodge Challenger SRT Hellcat is the fastest muscle car ever with a National Hot Rod Association-certified ¼-mile elapsed time of 11.2 seconds at 125 miles per hour (mph) with stock Pirelli P275/40ZR20 P Zero tires. With drag radials, the run dropped to just 10...[Read more...]
JAGUAR LAND ROVER REPORTS U.S. SALES FOR JANUARY 2014
◾Jaguar Land Rover North America increases 15 percent in January, for its best January sales month result since 2004 ◾Land Rover brand has its best January sales ever increasing 11 percent on strong Range Rover Sport demand, up 29 percent ◾Jaguar continues growth streak with 31 percent growth in January on new XF sales, up 29 percent ◾Jaguar launches F-TYPE Coupe with British Villains campaign, debuted on broadcast of Super Bowl XLVIII on Fox. (MAHWAH, NJ) - February 3, 2014 - Jagua...[Read more...]
DANA ENABLES EFFICIENCY, PERFORMANCE OF AWARD-WINNING VEHICLES
MAUMEE, Ohio, Jan. 23, 2014 - Technologies from Dana Holding Corporation (NYSE: DAN) are enabling award-winning vehicles and engines to operate at peak efficiency and performance. The company's technologies are prominent on the 2014 Motor Trend Car and Truck of the Year, the North American Car and Truck of the Year, the Green Car of the Year, and six of this year's Ward's 10 Best Engines. Dana's innovative technologies help automakers increase overall vehicle performance and efficiency...[Read more...]
MULSANNE LE MANS LIMITED EDITION MAKES NORTH AMERICAN DEBUT AT PEBBLE BEACH
Continental Range of Le Mans Limited Edition models on display • 1931 Bentley 4½ Litre Supercharged Le Mans headlines a series of vintage Bentleys to be auctioned during the Monterey Classic Car Week (Pebble Beach, 13 August 2013). The past meets the present for Bentley this year as California's Monterey Peninsula is primed for a week of the world's most coveted historic automobile displays and events. Bentley continues to celebrate the 90th Anniversary of the Le Mans 24 Hour...[Read more...]
2014 CALLAWAY SILVERADO AND SIERRA DEVELOPMENT - IN PROCESS
OLD LYME, CONNECTICUT (July 02, 2013)– Callaway engineers are hard at work developing the company's latest Supercharged versions of 2014 GM SportTrucks, after receiving their first 2014 Chevrolet Silverado and GMC Sierra trucks this past week. 2014 Silverado and Sierra product development, testing and validation will be conducted over the next few months. Supercharged 5.3L and 6.2L models are projected to be available later this year, in every GM-built cab and bed combination. Expe...[Read more...]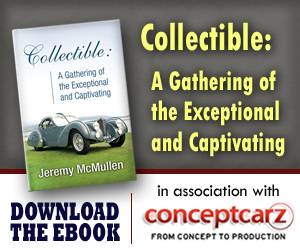 © 1998-2014. All rights reserved. The material may not be published, broadcast, rewritten, or redistributed.