1909 Sears Model H news, pictures, specifications, and information

Tweet
Sears Roebuck & Company advertised this car in their 1909 catalog for $395. Records indicate that about 3000 were introduced by Sears Roebuck from 1909 through 1912. The car is equipped with a 14 horsepower air-cooled 2-cylinder horizontally opposed engine. The transmission is a friction disc type with double-chain drive to the rear wheel. The steering is by Tiller Bar with spark and throttle levers located on the steering wheel.
Sears, Roebuck and Co. offered buyers with a convenient way of purchasing a vehicle at the turn of the century - just by opening a catalog and placing an order. The Sears Motor Buggy was available for purchase by mail order and ranged in price from $325 to $475 depending on which model was selected. All of the models were powered by a mid-mounted engine that displaced 50 cubic-inches and offered around 10 horsepower. The drive was to the rear wheels via two chains and a variable speed friction-drive mechanism. Braking was by friction-pad brakes and there were four-wheel elliptic-spring suspension. Perhaps the most distinguishable feature about these motor buggys were the large, 38-inch wheels that were fitted with hard rubber tires. This height offered excellent ground clearance over the muddy rural roads. The company's slogan for their vehicles were 'Lowest in Original Cost - Lowest in Upkeep Cost,' and 'so safe that a child could run it.'

Unfortunately for Sears, the company lost money on every order that was placed. Between 1908 and 1912 there were a mere 3,500 examples produced.

This particular example is chassis number 3041 and is an original buggy that is finished in black with green trim and is fitted with a top and fenders.

In 2009, this Model H Motor Buggy was offered for sale at the Gooding & Company auction in Scottsdale, Arizona. It was estimated to sell for $10,000 - $12,000 and was offered without reserve. As bidding had come to a close, the lot had been sold for $17,600 including buyer's premium.
By Daniel Vaughan | Apr 2009
BARRETT-JACKSON'S SCOTTSDALE 2014 SALON COLLECTION TO OFFER DIVERSE DOCKET OF WORLD'S MOST SOUGHT-AFTER COLLECTIBLES
Rare and Desirable Vehicles Plus One Fully-Operational Carousel Will Cross the Auction Block at Company's Monumental Scottsdale Auction, Jan. 12-19, 2014 SCOTTSDALE, ARIZ. (Dec. 18, 2013) – Barrett-Jackson, The World's Greatest Collector Car Auctions™, announced today a group of exceptional vehicles representing 85 years of automotive history will cross the auction block as part of the world-renowned Salon Collection. The collection will be offered during the company's 43rd Ann...[Read more...]
POTEET, CIZEK EARN TOP AWARDS AT GOODGUYS 16TH PPG NATIONALS
Columbus, OH – Tennessee's George Poteet and Nebraska's Ron Cizek collected the top two awards at the Goodguys 16th PPG Nationals in Columbus, Ohio last weekend. Under brilliant sunshine and in front of record crowds, Poteet's vintage NASCAR-inspired '69 Torino won the Goodguys 2013 Optima Batteries Street Machine of the Year while Cizek's popular Ridler award-winning '40 Ford coupe collected the Goodguys 2013 Classic Instruments Street Rod of the Year title. For Cizek, it's the second ma...[Read more...]
Barrett-Jackson Cruises North, Launches New Auction At Hot August Nights In Reno, Nev. Aug. 8-10, 2013
SCOTTSDALE, ARIZ. (January 20, 2013) – Today, during the Barrett-Jackson Scottsdale auction, a groundbreaking partnership was announced that brings The World's Greatest Collector Car Auctions™ to the base of the Sierra Nevadas to join the world's premiere classic car and nostalgia festival. The inaugural Hot August Nights Auction Presented by Barrett-Jackson will take place in Reno Tahoe, Aug. 8-10, 2013. This event marks a historic partnership between two of the most recognized names in ...[Read more...]
Jay Leno offers his 2012 Fiat 500 Prima Edizione at Gooding & Company's Pebble Beach Auctions in support of Fisher House Foundation
Gooding & Company, the official auction house of the Pebble Beach Concours d'Elegance, is thrilled to announce that it will present Emmy Award-winning comedian and The Tonight Show host Jay Leno's 2012 Fiat 500 Prima Edizione at its Pebble Beach Auction on Saturday, August 18. The sale of the Mr. Leno's Fiat 500 provides an exciting opportunity to acquire an early collector's edition of Fiat's sensational new 500. In an effort to raise money for and awareness of an important cause close to his h...[Read more...]
Gooding & Company Announces its First Two-Day Scottsdale Auction
GOODING & COMPANY ANNOUNCES THAT MORE THAN 100 CARS WILL BE SOLD AT ITS FIRST TWO-DAY SCOTTSDALE AUCTION, JANUARY 22-23, 2010 Gooding & Company, the internationally-recognized auction house, is thrilled to announce that, for the first time, it will be hosting a two-day auction in Scottsdale, Arizona. Preceding the scheduled Saturday, January 23 sale, Gooding & Company will host an additional auction on Friday, January 22 at the Scottsdale Fashion Square Mall starting at 11 a.m. As a sp...[Read more...]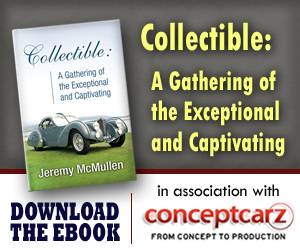 © 1998-2014. All rights reserved. The material may not be published, broadcast, rewritten, or redistributed.