1909 Sears Model H news, pictures, specifications, and information

Tweet
Sears Roebuck & Company advertised this car in their 1909 catalog for $395. Records indicate that about 3000 were introduced by Sears Roebuck from 1909 through 1912. The car is equipped with a 14 horsepower air-cooled 2-cylinder horizontally opposed engine. The transmission is a friction disc type with double-chain drive to the rear wheel. The steering is by Tiller Bar with spark and throttle levers located on the steering wheel.
Sears, Roebuck and Co. offered buyers with a convenient way of purchasing a vehicle at the turn of the century - just by opening a catalog and placing an order. The Sears Motor Buggy was available for purchase by mail order and ranged in price from $325 to $475 depending on which model was selected. All of the models were powered by a mid-mounted engine that displaced 50 cubic-inches and offered around 10 horsepower. The drive was to the rear wheels via two chains and a variable speed friction-drive mechanism. Braking was by friction-pad brakes and there were four-wheel elliptic-spring suspension. Perhaps the most distinguishable feature about these motor buggys were the large, 38-inch wheels that were fitted with hard rubber tires. This height offered excellent ground clearance over the muddy rural roads. The company's slogan for their vehicles were 'Lowest in Original Cost - Lowest in Upkeep Cost,' and 'so safe that a child could run it.'

Unfortunately for Sears, the company lost money on every order that was placed. Between 1908 and 1912 there were a mere 3,500 examples produced.

This particular example is chassis number 3041 and is an original buggy that is finished in black with green trim and is fitted with a top and fenders.

In 2009, this Model H Motor Buggy was offered for sale at the Gooding & Company auction in Scottsdale, Arizona. It was estimated to sell for $10,000 - $12,000 and was offered without reserve. As bidding had come to a close, the lot had been sold for $17,600 including buyer's premium.
By Daniel Vaughan | Apr 2009
Elio Motors to Make Appearance at Barrett-Jackson
• Automotive company expects to inform and impress auction attendees
TROY, Mich., Jan. 15, 2014 – Start up transportation company Elio Motors will attend the Barrett-Jackson Collector Car Auction in Scottsdale, AZ from Jan. 12 to Jan. 19 to showcase their 84 mpg, three-wheel vehicle. The Elio booth will be located in the Sponsor Pavilion of the internationally distinguished and widely popular auction, which caters to car owners and automotive enthusiasts with the sale of automo...[Read more...]
BARRETT-JACKSON SELECT COLLECTION TO DEBUT IN LAS VEGAS
• Six Rare and Sought-after Vehicles Will Cross the Block at Company's Las Vegas Auction on September 26-28, 2013
LAS VEGAS (September 24, 2013) – Barrett-Jackson, The World's Greatest Collector Car Auctions™, announced today that it will debut the Barrett-Jackson Select Collection at the company's Las Vegas auction, September 26-28, 2013 at the Mandalay Bay Resort & Casino. Featuring a boutique offering of sports cars and pre-war classics, these rare vehicles have the pote...[Read more...]
Gooding & Company's 2013 Scottsdale Auctions Realize $52.5 Million, up 31% from 2012
• Gooding & Company breaks an Arizona auction week record selling the 1958 Ferrari 250 GT LWB California Spider for $8.25 million
• Seven cars sell above the $2 million mark and 12 cars sell above $1 million
• Sixteen World Records Realized for Best-of-Category Cars Sold
SCOTTSDALE, Az. (January 20, 2013) —Gooding & Company, the auction house acclaimed for selling the world's most significant and valuable collector cars, realized $52.5 million at its annual Scottsd...[Read more...]
Russo and Steele Smashes World Record in Monterey
1956 Alfa Romeo Sprint Veloce Coupe 'Ultra Light' Breaks the World Record When Sold in Monterey, CA Monterey car week was buzzing when Russo and Steele opened its gates and allowed car enthusiasts into its venue for the first time this August 16-18, 2012. The venue was everything Russo and Steele had promised and more with staging lanes, lifestyle vendors, live entertainment and the perfect setting to view classic cars in Monterey, CA. To kick off the Saturday night auction Russo a...[Read more...]
Blue-Chip Collectible 1965 Shelby GT350 'R' Goes to Auction
Carrying the number of the last 'R' model GT-350 for 1965, its excellent preservation during its years in storage, bulletproof documentation and a top-tier sympathetic restoration this automobile is without peer. In January of 1965, the first batch of 1965 Shelby GT350 models was completed to comply with homologation requirements. One of these cars, a Wimbledon White Mustang with the Ford VlN 5RO9K165905, was assigned the Shelby VIN SFM5021 (Shelby American would not employ an 'S' to d...[Read more...]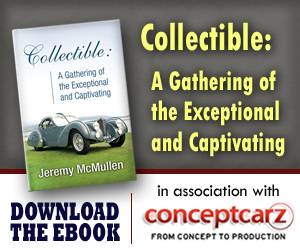 © 1998-2014. All rights reserved. The material may not be published, broadcast, rewritten, or redistributed.