1909 Sears Model H news, pictures, specifications, and information

Tweet
Sears Roebuck & Company advertised this car in their 1909 catalog for $395. Records indicate that about 3000 were introduced by Sears Roebuck from 1909 through 1912. The car is equipped with a 14 horsepower air-cooled 2-cylinder horizontally opposed engine. The transmission is a friction disc type with double-chain drive to the rear wheel. The steering is by Tiller Bar with spark and throttle levers located on the steering wheel.
Sears, Roebuck and Co. offered buyers with a convenient way of purchasing a vehicle at the turn of the century - just by opening a catalog and placing an order. The Sears Motor Buggy was available for purchase by mail order and ranged in price from $325 to $475 depending on which model was selected. All of the models were powered by a mid-mounted engine that displaced 50 cubic-inches and offered around 10 horsepower. The drive was to the rear wheels via two chains and a variable speed friction-drive mechanism. Braking was by friction-pad brakes and there were four-wheel elliptic-spring suspension. Perhaps the most distinguishable feature about these motor buggys were the large, 38-inch wheels that were fitted with hard rubber tires. This height offered excellent ground clearance over the muddy rural roads. The company's slogan for their vehicles were 'Lowest in Original Cost - Lowest in Upkeep Cost,' and 'so safe that a child could run it.'

Unfortunately for Sears, the company lost money on every order that was placed. Between 1908 and 1912 there were a mere 3,500 examples produced.

This particular example is chassis number 3041 and is an original buggy that is finished in black with green trim and is fitted with a top and fenders.

In 2009, this Model H Motor Buggy was offered for sale at the Gooding & Company auction in Scottsdale, Arizona. It was estimated to sell for $10,000 - $12,000 and was offered without reserve. As bidding had come to a close, the lot had been sold for $17,600 including buyer's premium.
By Daniel Vaughan | Apr 2009
SHELBY AMERICAN COMMEMORATES 50TH ANNIVERSARY FIA COBRA WITH SPECIAL EDITION CAR
• Iconic Shelby FIA Cobra to be Celebrated
Scottsdale, Ariz. – Jan. 17, 2014 – In 1964, Shelby American, today a wholly owned subsidiary of Carroll Shelby International Inc. (CSBI:PK) introduced the FIA version of the small block Cobra, which competed in the 1964 World Manufacturers Championship series against marques like Aston Martin, Jaguar and Corvette. To celebrate the birth of the 289 Ford powered roadsters, Shelby American will offer 50 limited edition continuation (CSX70...[Read more...]
Barrett-Jackson generates more than $32 million in sales at 6th annual Las Vegas Auction
'The World's Greatest Collector Car Auctions™' Generates Highest Grossing Las Vegas Sale with Largest Number of Cars which Attracted Nearly 70,000 Attendees Las Vegas, NV. – (October 1, 2013) – Barrett-Jackson, 'The World's Greatest Collector Car Auctions™,' announced today that it generated more than $32 million in gross sales which is a 41% increase over 2012 during its 6th Annual Las Vegas auction at the Mandalay Bay Resort & Casino on September 26-28, 2013. The event was the large...[Read more...]
Barrett-Jackson Generates Nearly $109 Million In Sales
• Sets Record Attendance At The 42nd Annual Scottsdale Auction
• Batmobile sells for $4.62 million dollars to a lifelong fan to worldwide audience; marks second-highest single-car sale at Barrett-Jackson
•1,343 cars sold •$108,766,069 gross sales – A 17% increase over 2012 •300,000 in attendance •Charity cars – 21 total for $5,005,000 Scottsdale, Ariz. – Jan. 22, 2013 – Barrett-Jackson Auction Company, The World's Greatest Collector Car Auctions™, generated nearly $1...[Read more...]
Up 44%, Gooding & Company reports more than $189 million and 45 world records from its 2012 automotive auction sales
Gooding & Company, the auction house acclaimed for selling the world's most significant and valuable collector cars, is pleased to report its 2012 year-end sales of more than $189.6 million for 296 lots sold, averaging $640,635 per car. The 2012 year-end total is 44% higher than last year's results for the same number of cars sold, a significant increase that demonstrates the rising demand for extraordinary cars as well as the quality presented by the auction house. 'Our 2012 auctions attract...[Read more...]
A Trifecta of Chevelles for Discerning Collectors
Three Unique 1970 Chevelle LS6's to be offered at Russo and Steele Scottsdale January 18-22, 2012 Featuring the most powerful rated engine to date when it was built, the 1970 Chevelle LS6 was born of a higher breed. The product of an era of car building in which Chevrolet was determined to join the ranks of top muscle cars in the industry. The Chevelle LS6 surpassed the competition to become one of the most popular cars of the muscle car era. Due to its affordability, popularity and v...[Read more...]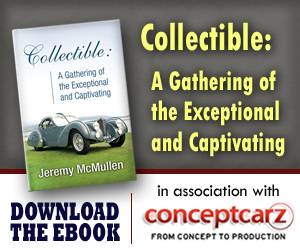 © 1998-2014. All rights reserved. The material may not be published, broadcast, rewritten, or redistributed.