1909 Sears Model H news, pictures, specifications, and information

Tweet
Sears Roebuck & Company advertised this car in their 1909 catalog for $395. Records indicate that about 3000 were introduced by Sears Roebuck from 1909 through 1912. The car is equipped with a 14 horsepower air-cooled 2-cylinder horizontally opposed engine. The transmission is a friction disc type with double-chain drive to the rear wheel. The steering is by Tiller Bar with spark and throttle levers located on the steering wheel.
Sears, Roebuck and Co. offered buyers with a convenient way of purchasing a vehicle at the turn of the century - just by opening a catalog and placing an order. The Sears Motor Buggy was available for purchase by mail order and ranged in price from $325 to $475 depending on which model was selected. All of the models were powered by a mid-mounted engine that displaced 50 cubic-inches and offered around 10 horsepower. The drive was to the rear wheels via two chains and a variable speed friction-drive mechanism. Braking was by friction-pad brakes and there were four-wheel elliptic-spring suspension. Perhaps the most distinguishable feature about these motor buggys were the large, 38-inch wheels that were fitted with hard rubber tires. This height offered excellent ground clearance over the muddy rural roads. The company's slogan for their vehicles were 'Lowest in Original Cost - Lowest in Upkeep Cost,' and 'so safe that a child could run it.'

Unfortunately for Sears, the company lost money on every order that was placed. Between 1908 and 1912 there were a mere 3,500 examples produced.

This particular example is chassis number 3041 and is an original buggy that is finished in black with green trim and is fitted with a top and fenders.

In 2009, this Model H Motor Buggy was offered for sale at the Gooding & Company auction in Scottsdale, Arizona. It was estimated to sell for $10,000 - $12,000 and was offered without reserve. As bidding had come to a close, the lot had been sold for $17,600 including buyer's premium.
By Daniel Vaughan | Apr 2009
BARRETT-JACKSON'S SCOTTSDALE 2014 SALON COLLECTION TO OFFER DIVERSE DOCKET OF WORLD'S MOST SOUGHT-AFTER COLLECTIBLES
Rare and Desirable Vehicles Plus One Fully-Operational Carousel Will Cross the Auction Block at Company's Monumental Scottsdale Auction, Jan. 12-19, 2014 SCOTTSDALE, ARIZ. (Dec. 18, 2013) – Barrett-Jackson, The World's Greatest Collector Car Auctions™, announced today a group of exceptional vehicles representing 85 years of automotive history will cross the auction block as part of the world-renowned Salon Collection. The collection will be offered during the company's 43rd Ann...[Read more...]
MACCACHREN SWEEPS STADIUM SUPER TRUCKS ROUND NO. 6
St. Louis, Mo. (June 8, 2013) – After the first five events primarily on the west coast, SPEED Energy Stadium SUPER Trucks brought the 600 hp high flying machines inside the Edward Jones Dome in St. Louis, Mo., for a night of urban off-road action. Rob MacCachren, Aaron Basl, and Sheldon Creed were able to conquer the multiple challenges of the tacky Missouri clay to record wins in Round No. 6 of SST Competition. Rob MacCachren, of Las Vegas, Nev., driving the No. 21 Traxxas truck made...[Read more...]
Bonhams to offer the renowned Oldenburg family collection of classic automobiles at Scottsdale
More than 30 American, British and Italian cars of various vintages head to Scottsdale, Arizona Bonhams is honored to have been chosen to represent the highly esteemed Oldenburg Family Automobile Collection at its second annual Scottsdale Auction in January. The extensive collection of more than 30 cars from the prominent horse breeding family includes multiple models of the same marque, including Ferrari and Jaguar. The Italians Leading the impressive assembly are ...[Read more...]
Carroll Shelby, Ford Family for More Than Half a Century
Carroll Shelby was a member of the Ford family for the better part of 60 years, producing stunning performance vehicles from concepts to production models. He once said his energy and passion for performance products were always strongest when he was working with Ford. Shelby most recently collaborated with the company on the 2013 Ford Shelby GT500 Mustang, the most powerful production V8 in the world. Working with SVT engineers at Sebring and the Arizona Proving Grounds, at times he drov...[Read more...]
Auctions America By RM's Spring Carlisle Auction Kicks off 2012 Northeastern U.S. Collector Car Season
Auctions America by RM will return to the Carlisle Expo Center in Carlisle, Pennsylvania, on April 26-27, 2012, to kick off the collector car season for the Northeastern U.S. with its Spring Carlisle auction. Featuring nearly 300 American hot rods, muscle cars, classics and memorabilia during its two-day sale, the Spring Carlisle auction is held in conjunction with the Spring Carlisle Collector Car Swap Meet & Corral (April 25-29), hosted each year by Carlisle Events. The auction is one of se...[Read more...]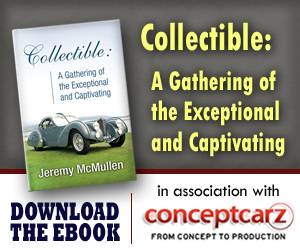 © 1998-2014. All rights reserved. The material may not be published, broadcast, rewritten, or redistributed.