1909 Sears Model H news, pictures, specifications, and information

Tweet
Sears Roebuck & Company advertised this car in their 1909 catalog for $395. Records indicate that about 3000 were introduced by Sears Roebuck from 1909 through 1912. The car is equipped with a 14 horsepower air-cooled 2-cylinder horizontally opposed engine. The transmission is a friction disc type with double-chain drive to the rear wheel. The steering is by Tiller Bar with spark and throttle levers located on the steering wheel.
Sears, Roebuck and Co. offered buyers with a convenient way of purchasing a vehicle at the turn of the century - just by opening a catalog and placing an order. The Sears Motor Buggy was available for purchase by mail order and ranged in price from $325 to $475 depending on which model was selected. All of the models were powered by a mid-mounted engine that displaced 50 cubic-inches and offered around 10 horsepower. The drive was to the rear wheels via two chains and a variable speed friction-drive mechanism. Braking was by friction-pad brakes and there were four-wheel elliptic-spring suspension. Perhaps the most distinguishable feature about these motor buggys were the large, 38-inch wheels that were fitted with hard rubber tires. This height offered excellent ground clearance over the muddy rural roads. The company's slogan for their vehicles were 'Lowest in Original Cost - Lowest in Upkeep Cost,' and 'so safe that a child could run it.'

Unfortunately for Sears, the company lost money on every order that was placed. Between 1908 and 1912 there were a mere 3,500 examples produced.

This particular example is chassis number 3041 and is an original buggy that is finished in black with green trim and is fitted with a top and fenders.

In 2009, this Model H Motor Buggy was offered for sale at the Gooding & Company auction in Scottsdale, Arizona. It was estimated to sell for $10,000 - $12,000 and was offered without reserve. As bidding had come to a close, the lot had been sold for $17,600 including buyer's premium.
By Daniel Vaughan | Apr 2009
2014 CHEVROLET CAMARO Z/28 PRICED AT $75,000
DETROIT – Chevrolet today announced the 2014 Camaro Z/28 will go on sale this spring with a suggested retail price of $75,000, including a $995 destination charge, but excluding tax, title, license and dealer fees. The new Z/28 is offered in five exterior colors – Red Hot, Black, Silver Ice Metallic, Ashen Gray Metallic and Summit White. Only a single option is available: A $1,150 package that adds air conditioning and a total of six audio speakers. The standard Z/28 package includes o...[Read more...]
One of the Three Final Cars Built by Famed Italian Engineer Giotto Bizzarrini To Be Offered at Russo and Steele's Highly Anticipated Monterey Auction
Monterey, California – As the engineer responsible for the design and development of some of the most successful and innovative racing and GT cars ever conceived, Giotto Bizzarrini remains one of the most revered names in motorsport history. Hailing from Livorno, Italy and eventually leaving Alfa Romeo for Ferrari where he began as a test driver and quickly rose to Chief Engineer, Bizzarrini collaborated with Carlo Chiti on the 250 Testa Rossa's V-12 engine and the 250 SWB, with his caree...[Read more...]
Scottsdale Mayor Declares Barrett-Jackson Week As The World's Greatest Collector Car Auction Returns Home Jan. 13-20, 2013
In honor of the World's Greatest Collector Car Auctions™, Scottsdale Mayor W. J. Lane has officially declared January 13 – 20, 2013, 'Barrett-Jackson Week' to commemorate the company's 42nd annual auction in its hometown. Barrett-Jackson has become an honored tradition and point of pride in Scottsdale over the past four decades, attracting more than 250,000 visitors annually, hundreds of hours of worldwide television coverage, nearly $100 million impact on the local economy (not including au...[Read more...]
Gooding & Company's Annual Pebble Beach Auctions
Gooding & Company, the acclaimed auction house celebrated for selling the world's most significant and valuable collector cars, will host its annual Pebble Beach Auctions on August 18th & 19th in association with the prestigious Pebble Beach Concours d'Elegance. Once again, Gooding & Company is poised to present an outstanding array of blue chip and concours-quality collector cars on its record-setting stage, including the elegant 1955 Maserati A6G/54 Frua Berlinetta owned by Grammy Award-winni...[Read more...]
GOODING & COMPANY ANNOUNCES ITS FIRST-EVER AMELIA ISLAND AUCTION
Concours-Winning 'Best of Show' 1931 Voisin Demi-Berline Headlines the Sale on Friday, March 12, 2010 Gooding & Company, the internationally-recognized auction house, is thrilled to announce that it will be hosting its first-ever auction at Amelia Island, Florida. Already starring a number of exceptional consignments including the Best of Show-winning 1931 Voisin C20 'Mylord' Demi-Berline, Gooding & Company's one-day auction will take place on Friday, March 12, 2010 at 4 p.m. on the g...[Read more...]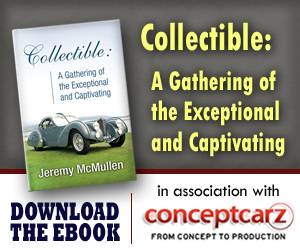 © 1998-2014. All rights reserved. The material may not be published, broadcast, rewritten, or redistributed.