1909 Sears Model H news, pictures, specifications, and information

Tweet
Sears Roebuck & Company advertised this car in their 1909 catalog for $395. Records indicate that about 3000 were introduced by Sears Roebuck from 1909 through 1912. The car is equipped with a 14 horsepower air-cooled 2-cylinder horizontally opposed engine. The transmission is a friction disc type with double-chain drive to the rear wheel. The steering is by Tiller Bar with spark and throttle levers located on the steering wheel.
Sears, Roebuck and Co. offered buyers with a convenient way of purchasing a vehicle at the turn of the century - just by opening a catalog and placing an order. The Sears Motor Buggy was available for purchase by mail order and ranged in price from $325 to $475 depending on which model was selected. All of the models were powered by a mid-mounted engine that displaced 50 cubic-inches and offered around 10 horsepower. The drive was to the rear wheels via two chains and a variable speed friction-drive mechanism. Braking was by friction-pad brakes and there were four-wheel elliptic-spring suspension. Perhaps the most distinguishable feature about these motor buggys were the large, 38-inch wheels that were fitted with hard rubber tires. This height offered excellent ground clearance over the muddy rural roads. The company's slogan for their vehicles were 'Lowest in Original Cost - Lowest in Upkeep Cost,' and 'so safe that a child could run it.'

Unfortunately for Sears, the company lost money on every order that was placed. Between 1908 and 1912 there were a mere 3,500 examples produced.

This particular example is chassis number 3041 and is an original buggy that is finished in black with green trim and is fitted with a top and fenders.

In 2009, this Model H Motor Buggy was offered for sale at the Gooding & Company auction in Scottsdale, Arizona. It was estimated to sell for $10,000 - $12,000 and was offered without reserve. As bidding had come to a close, the lot had been sold for $17,600 including buyer's premium.
By Daniel Vaughan | Apr 2009
FIRST RETAIL 2015 FORD MUSTANG GT FASTBACK CROSSING BARRETT-JACKSON BLOCK TO BENEFIT JDRF
◾The first retail 2015 Ford Mustang GT fastback will be auctioned to benefit leading diabetes research charity, JDRF ◾The winning bidder of the fastback can personalize his or her car with any available Mustang GT options The first retail unit of the all-new Ford Mustang will be sold at Barrett-Jackson Auction Company's event in Scottsdale, Ariz. on Jan. 18, 2014. Offered at no reserve, all proceeds will benefit JDRF, the country's leading global organization funding type 1 diabetes resear...[Read more...]
Singer Vehicle Design Celebrates 50Th Year Of 911 With Latest 'Re-Imagined' Debut At Quail
• Newest Handcrafted Restored Customer Car by Singer Evokes Past Racing Glories of Porsche, With State-of-the-Art Content and Peerless Execution.
LOS ANGELES – August 1, 2013 – When Singer Vehicle Design (SVD) displays the latest handcrafted masterpiece it has restored for a customer at the 2013 Quail Motorsports Gathering on August 15th, it will note a series of 'firsts' while continuing to salute the genius of Porsche and the 50th anniversary of the original 911. For SVD, the...[Read more...]
GORDON RACES TO SECOND SPEED ENERGY STADIUM SUPER TRUCKS WIN OF SEASON
San Diego, Calif. (May 18, 2013) – SPEED Energy Stadium SUPER Trucks made a return trip to Qualcomm Stadium in San Diego, Calif., for the second and final time in 2013. Five distinct racing divisions took to the track to test their driving skills on the uniquely prepared dirt and asphalt course. Robby Gordon, Larry Swim, Apdaly Lopez, Derek Costella and Shelby Anderson were able to record wins in Round No. 5 of SST competition. Robby Gordon, of Orange, Calif., driving the #7 SPEED Ener...[Read more...]
TOPLINE COLLECTORS PLACE SPOTLIGHT on SPEED'S BARRETT-JACKSON BROADCAST FROM SCOTTSDALE
• TOPLINE COLLECTORS PLACE SPOTLIGHT on SPEED'S BARRETT-JACKSON BROADCAST FROM SCOTTSDALE
• 'LOST' SHELBY DUAL PROTOTYPE, HAGERTY GIVEAWAY & SALON COLLECTION HIGHLIGHT 39 HOURS OF LIVE COVERAGE
The 42nd annual Barrett-Jackson Scottsdale (Ariz.) Collector Car Event, the first of four set for live coverage in 2013, kicks off the auction season in grand style as some of the world's most sought-after machines cross the block starting Tuesday, Jan. 15 at 7 p.m. ET/4 p.m. PT. SP...[Read more...]
Barrett-Jackson Concludes 10th Anniversary In Palm Beach
With More Than $18 Million In Revenue; Over 55,000 In Attendance Barrett-Jackson Auction Company, The World's Greatest Collector Car Auctions™, announced today that its 10th Annual Palm Beach Event, held April 5-7 at the South Florida Fairgrounds, generated more than $18 million in sales of Classics, Muscle Cars, Hot Rods, Resto-Mods, Exotics and Contemporary Collectibles in front of a crowd of over 55,000. Both attendance and sales figures were up from last year. The three-day eve...[Read more...]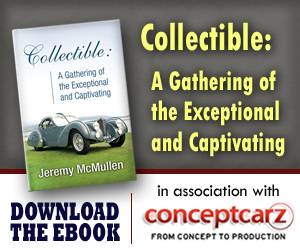 © 1998-2014. All rights reserved. The material may not be published, broadcast, rewritten, or redistributed.