1909 Sears Model H news, pictures, specifications, and information

Tweet
Sears Roebuck & Company advertised this car in their 1909 catalog for $395. Records indicate that about 3000 were introduced by Sears Roebuck from 1909 through 1912. The car is equipped with a 14 horsepower air-cooled 2-cylinder horizontally opposed engine. The transmission is a friction disc type with double-chain drive to the rear wheel. The steering is by Tiller Bar with spark and throttle levers located on the steering wheel.
Sears, Roebuck and Co. offered buyers with a convenient way of purchasing a vehicle at the turn of the century - just by opening a catalog and placing an order. The Sears Motor Buggy was available for purchase by mail order and ranged in price from $325 to $475 depending on which model was selected. All of the models were powered by a mid-mounted engine that displaced 50 cubic-inches and offered around 10 horsepower. The drive was to the rear wheels via two chains and a variable speed friction-drive mechanism. Braking was by friction-pad brakes and there were four-wheel elliptic-spring suspension. Perhaps the most distinguishable feature about these motor buggys were the large, 38-inch wheels that were fitted with hard rubber tires. This height offered excellent ground clearance over the muddy rural roads. The company's slogan for their vehicles were 'Lowest in Original Cost - Lowest in Upkeep Cost,' and 'so safe that a child could run it.'

Unfortunately for Sears, the company lost money on every order that was placed. Between 1908 and 1912 there were a mere 3,500 examples produced.

This particular example is chassis number 3041 and is an original buggy that is finished in black with green trim and is fitted with a top and fenders.

In 2009, this Model H Motor Buggy was offered for sale at the Gooding & Company auction in Scottsdale, Arizona. It was estimated to sell for $10,000 - $12,000 and was offered without reserve. As bidding had come to a close, the lot had been sold for $17,600 including buyer's premium.
By Daniel Vaughan | Apr 2009
BARRETT-JACKSON GALA KICKS OFF LIFESTYLE EVENT IN DYNAMIC FASHION
Craig Jackson Welcomes Bidders, Consignors, VIPs and Celebrities at 43rd Scottsdale Auction SCOTTSDALE, ARIZ. (Jan. 14, 2014) – Barrett-Jackson, The World's Greatest Collector Car Auctions™, held its opening night gala on Monday night, an event that signifies the beginning of Barrett-Jackson's auction week and kick offs the action. Barrett-Jackson's 43rd annual Scottsdale auction – held Jan. 12-19, 2014 – will be seen on channels including FOX Broadcast, the FOX Business Netw...[Read more...]
Barrett-Jackson Revs Up For Sixth Annual Las Vegas Auction September 26-28, 2013
• Hundreds of Unique Collectibles Including Three Exceptional Cars from the Coveted William Munday Collection Set to Cross Block in Las Vegas
LAS VEGAS (September 5, 2013) – Barrett-Jackson, The World's Greatest Collector Car Auctions™, is pleased to announce the return of its renowned Las Vegas auction, taking place at Mandalay Bay Resort & Casino, September 26-28, 2013. A strong offering of classics, exotics, muscle cars, hot rods, resto-mods and contemporary collectibles ...[Read more...]
Russo and Steele Collector Automobile Auctions Grows 100% in 2013
Russo and Steele adds Newport Beach and Las Vegas Auctions To Its 2013 Schedule Building upon over 13 years of success Russo and Steele is growing by 100% with the addition of two new auction events in 2013. The expansion to Newport Beach and Las Vegas in 2013 is a critical step for the auction company and its business growth. Drew Alcazar, owner of Russo and Steele, stated 'Both Scottsdale and Monterey have matured to what we feel exemplifies the Russo and Steele experience. Addin...[Read more...]
Gooding & Company's Saturday Pebble Beach Auction realizes more than $60 million
In the first of two nights, Gooding & Company's Saturday Pebble Beach Auction realizes more than $60 million Gooding & Company, the official auction house of the Pebble Beach Concours d'Elegance acclaimed for selling the world's most significant and valuable collector cars, sold more than $60 million in collector cars last night, at the first of its two Pebble Beach evening auctions. Sixty-one of the 68 lots available sold, a 90% sale rate, the most notable being the 1960 Ferrari 250 G...[Read more...]
Gooding & Company Brings Two of the World's Most Collectible and Iconic Cars to its Scottsdale Auctions Next Month
Gooding & Company, the world's leading auction house for collectors of rare and exceptional cars, is pleased to announce two of its latest consignments for the Scottsdale Auctions: a late-production, Ferrari Classiche-certified 1959 Ferrari 250 GT LWB California Spider factory-equipped with disc brakes and a rare, matching-numbers 1955 Mercedes-Benz 300 SL Alloy Gullwing. 'The Mercedes-Benz 300 SL Alloy Gullwing and Ferrari LWB California Spider we're offering are extraordinary automobiles, ...[Read more...]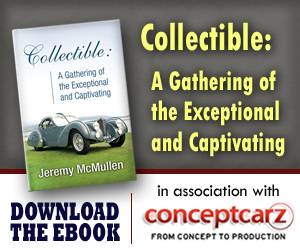 © 1998-2014. All rights reserved. The material may not be published, broadcast, rewritten, or redistributed.