1922 Packard Twin Six Model 335 news, pictures, specifications, and information

Tweet
This car was sold for scrap during WWII, but kept the scrap dealer and not destroyed. John Van Order purchased the car from the scrap dealer in 1944 and was put back into use. The current owner purchased the car in 1999 and treated it to a full restoration.

The car has an all aluminum body except steel fenders and hood and is 100% original. This same twin-six, 12-cylinder engine with minor modifications was used in WWI airplanes.
This 1922 Packard Twin Six Roadster was offered for sale at the 2007 RM Auctions held at Meadow Brook. The car is powered by a 424.1 cubic-inch engine and is capable of producing 90 horsepower. It has two cast iron block of six-cylinders making a total of 12, and thus the reasoning for its name, the Twin Six. There is a three-speed selective-sliding gearbox and mechanical rear wheel brakes. It has been treated to a full ground up restoration and then shown at various concours events in the United States. It is finished in maroon with black accent and black fenders. There are artillery wheels which are painted yellow with a red pin stripe. The interior features black leather upholstery with matching top boot and side curtains.

The Packard Twin Six production began in 1920 and discontinued in 1923 with a total production figure of 8,750 being achieved during that time. The Twin-Six engines, designed by Jesse Vincent, were mounted at a 60-degree angle and featured an aluminum crankcase. It was the only engine offered by Packard between 1916 and 1920 and powered a variety of body styles.

The estimated price tag of over $100,000 is a clear indication of the vehicles rarity and desirability. Bidders at the RM Auctions agreed with the estimated value and drove the sale price to just under the estimates, settling at $90,750.
By Daniel Vaughan | Aug 2007
Cape Top Touring
Coachwork: Brunn

The 1922 Packard Twin Six was the most monumental of American automobiles, with a 60-degree V12 engine that powered a variety of body styles.

Mrs. Agnes Jane Reeves Greer of the Greer Steel Company, Dover, Ohio, commissioned this unusual, one-off Cape Victoria body by Brunn. She was born in the last years of the 19th century. She didn't like doors, which she regarded as cumbersome, so she took it upon herself to draw up a formal carriage for the Twin Six chassis which had none. Brunn & Company in Buffalo constructed this design for her in their coachworks. She wanted a vehicle that resembled the Amish buggies common to the area. The car is completely original and indicates 12,710 miles since it was brand new. The Packard remained in the Greer family until the early 1970s and then was sold to the Canton Classic Car Museum in Ohio where it remained until very recently.
For more information and related vehicles, click
here
2015 PANOZ 25TH ANNIVERSARY EDITION ESPERANTE SPYDER ON DISPLAY AT GORDON MCCALL'S MOTORWORKS REVIVAL
All-new high-performance, limited-edition Panoz25th Anniversary Edition Esperante sports car makes its West Coast debut at Monterey Car Week's kick-off event August 7, 2014, Hoschton, Ga. – The excitement is building for the annual automotive celebration that is Monterey Car Week, and Panoz will be there with the 2015 Panoz 25th Anniversary Edition Esperante Spyder on display at the exclusive Gordon McCall's Motorworks Revival at the Monterey Jet Center. Like past years, t...[Read more...]
The Petersen Automotive Museum's Newest Exhibit - Town Cars: Arriving In Style
As the evolution from horse-drawn carriage to the automobile was underway in the early 20th century, Town Cars quickly became a pillar of luxury, sophistication and an illustration of one's status – a counterpoint to the average, mass produced Ford Model T. Los Angeles, (Feb. 18, 2014) – Known as 'Mr. Showmanship,' it's no wonder that Liberace not only owned a town car – a vehicle designed around status and opulence – but took it to the next, flashy level by covering the exterior ...[Read more...]
SUBARU ANNOUNCES PRICING FOR 2014 WRX AND WRX STI
Cherry Hill, N.J. - Subaru of America, Inc. today announced pricing for the 2014 WRX® and WRX STI®. Subaru's iconic line of sport models have seen their sales increase by nearly 40-percent year-to-date and have a starting MSRP of $25,995. The 2014 Subaru WRX delivers the biggest performance value in its competitive set. The WRX offers more power than rivals like the Ford Focus ST and Volkswagen GTI, neither of which offers all-wheel drive. In the WRX, a 2.5-liter turbocharged/intercooled fo...[Read more...]
Mercedes-Benz Pays Homage to a Regional Classic at the 2013 Greenwich Concours d'Elegance
The all-new 2014 E-Class Wagon Debuts Alongside a 1957 300c Mercedes-Benz USA debuts the all-new 2014 E-Class Wagon alongside one of its predecessors, a pristine 1957 300c at the 18th Annual Greenwich Concours d'Elegance from June 1-2, 2013. The event features rare vehicles from past and present and benefits Americares, the private, non-profit relief and humanitarian aid organization. With the background of the breathtaking Greenwich seaside, Mercedes-Benz highlights one of the Nort...[Read more...]
Lost Mercedes - Surfaces At Bonhams
One owner, unrestored, supercharged 'S' Type Mercedes to be sold by Bonhams at Goodwood Revival this autumn One of the greatest and most important motor car finds of the last decade, the 'Lost Mercedes' is to be offered at Bonhams Goodwood Revival sale on Saturday 15th September 2012. Bonhams announced today that it has been commissioned to sell a recently discovered 1928 Mercedes-Benz 26/120/180 'S' Type Sports Tourer which almost without precedent for motor cars of this type and d...[Read more...]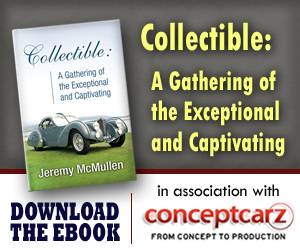 © 1998-2014. All rights reserved. The material may not be published, broadcast, rewritten, or redistributed.