1950 Chevrolet Fleetline news, pictures, specifications, and information

Tweet
The Fleetline model was only built for three years. This example, shown at the 2006 Hilton Head Concours, has 27,300 miles on the odometer. All mechanical components are original an un-restored. The paint and interior have been restored. It has had the same owner since 1983. It has been a first place winner at Super Chevy for the past eleven years.
Chevrolet introduced their 1941 Fleetline part-way through the season. It was positioned at the top of the Chevrolet product line, riding on a 116-inch wheelbase, and powered by a six-cylinder engine. The car came in two bodystyles, an Aerosedan and a Sport Master. The Aerosedan had two-doors while the Sport Master had four. There were over 61,000 examples of the Aerosedan produced while the Sport Master found just 14,530 buyers.

The Fleetline was a sub-series of the Special Deluxe model selling for around $25 more than its Special DeLuxe siblings. The cost for the Aerosedan was $880 while the Four-door sedan sold for $920.
By Daniel Vaughan | Sep 2010
Following the trauma and tumult of World War II, Americans craved a truly patriotic 'new' car rather than a rehashed pre war design, and makeshift repairs on older cars. Chevrolet introduced a stylish fastback design, the 1941 Fleetline halfway through the season, built on a 116-inch wheelbase, powered by a six-cylinder engine. With a striking resemblance to the Buick Super, the 1941 Fleetline was an upscale four-door sedan with blind quarter panels and bustleback contour and a bold new grille.

The '41 Fleetline was catalogued as a one-model Special Deluxe sub-series. Priced only
$26 higher than the Special DeLuxe Sport Sedan, the 41 Chevy Fleetline produced unique, distinctive styling at a nominal extra cost.

Introduced in 1942, the Fleetline came in two bodystyles; an Aerosedan and a Sport Master. The fastback roofline of the Aerosedan was an immediate success with its spunky two doors. The Sport Master features four doors and only 14,530 examples were produced, while over 61,000 Aerosedans were produced. In comparison, the four-door Sport Master sold for $920 while the Aerosedan was priced at $880. The 1942 Chevrolet Fleetline Aerosedan was the best-selling model, and the same body was utilized for some of the smaller Pontiacs, Buicks and Oldsmobiles, but the Chevrolet version, and consequently, the cheapest version, was just as beautiful as any of them.

The Aerosedan was reminiscent of upscale Cadillac models, and sold through 1949 when Chevrolet's first all-new post-war design was introduced. This design allowed Chevrolet to compete with the 1941 line of fabulous two-door fastbacks from Pontiac, Buick, Cadillac and Oldsmobile. The Aerosedan was renamed the Fleetline at this time. To create a more contemporary look, stylists smoothed the car's separate front fenders into the doors, and the earlier triangular rear quarter windows received a dogleg in-a classic styling touch that Chevy utilized, a decade before BMW utilized this design. The Chevrolet Fleetline Aerosedan proved to be Chevy's best-seller for 1942

The 1949 Fleetlines were a sight to see with their polished rounded grilles, low-profile hoods and smooth fenders, but unfortunately their engines were throwbacks from the mid 1940s. Though the Fleetline was a bit advanced in some ways, at a time when many competitors still used outmoded L-head valve configurations, the Fleetline's overhead-valve, 216.5-cu. in. straight-six. With its 3-1/2-inch bore and 3-3/4-inch stroke, this engine produced 90hp at 3,300 rpm while breathing through a single-barrel Carter carb which was joined exclusively to a column-shifted three-speed synchromesh manual transmission.

In 1950, the Fleetlines underwent minor changes in both the Special and DeLuxe trims. These changes included a refined grille, a revised front and rear ornamentation which set the exteriors of the all new vehicles apart from their predecessors. A new powertrain option also became available. At $159, this option came with a heavy-duty 105hp, 235-cu. in straight-six from the Chevy truck, and featured a 3-9/16-inch bore a 3-15/1-inch stroke and was modified with hydraulic lifters and larger intake valves for car duty. Available in DeLuxe models the Powerglide two-speed automatic brought clutch-less driving to the masses the as initial transmission offered in the low-cost field. Rochester carburetors bumped manually shifted cars' power to 92hp. Powewglide-equipped vehicles also used a higher 3.55:1 rear-end drive ratio for quieter cruising at speed.

The final year for the four-door Fleetline sedan was 1951, since this body style was diminishing in popularity as notchback sedans were selling in much larger numbers. The four-door sold at a price between $1,594-$1,680 while the two-door Fleetline retailed between $1,540 and $1,629.

This year the grille was further simplified into three horizontal bars with integral parking lamps in the lower corners, and a new, easier to read instrumental panel design with two gauge clusters. Much like Pontiac during this era, vertical taillamps with new reflector dots were moved from under the trunk to the edge of the rear fenders, while the trunk trip lost its handle while gaining counterbalanced springs. Bench seats remained standard, front and rear on the DeLuxe model, while a new round '39-hour' clock in the top center of the dashboard was utilized.

In 1952, only the two-door $1,696 Fleetline DeLuxe remained in the Chevrolet lineup and it shared its new, ridged center bar, revised badges that included the Chevy script and body side chrome trim with the Styleline notchbacks. New this year were larger parking lamps in the corner enclosures in the grille, and also a new three-position ignition switch that allowed the owner to drive his vehicle without the key if the ignition wasn't previously locked. Down from a record high in 1950 of 189,509, in this year the fastback two-door only sold 37,164 models.

During four years of production, a total of 171,595 four-door Fleetlines were produced in both series, and a massive total of 851,137 two-doors were sold. Until the new sleek hardtop coupes of the 1960s would appear, this would be the final fastback Chevy to be produced. The Fleetline was a truly exclusive design that even to this day has not been reproduced.
By Jessica Donaldson
For more information and related vehicles, click
here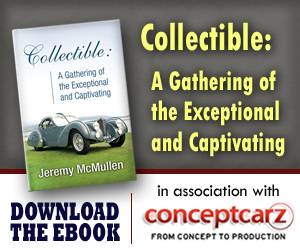 Similarly Priced Vehicles from 1950
Studebaker Champion Starlight Coupe ($1,510-$1,670)
Willys Jeepster ($1,395-$1,535)
Ford Custom Deluxe ($1,510-$2,105)
Volkswagen Beetle 1100 Deluxe ($1,500-$1,995)
Chevrolet Deluxe Series ($1,480-$2,000)
Chevrolet Special Series ($1,335-$1,525)

Average Auction Sale: $8,988
Chevrolet
Monthly Sales Figures
Volume
December 2014
184,938
November 2014
149,673
October 2014
155,965
September 2014
153,873
August 2014
185,930
July 2014
175,155
June 2014
188,567
May 2014
205,010
April 2014
181,648
March 2014
179,681
February 2014
153,913
January 2014
119,089
(More Details)
© 1998-2014. All rights reserved. The material may not be published, broadcast, rewritten, or redistributed.