1917 Stutz Bearcat news, pictures, specifications, and information

Tweet
The inaugural Indianapolis 500 race was held in 1911 and was called the international Sweepstakes race. In modern times, the 500 mile race takes around three hours; back in 1911 traveling 500 miles took much longer to complete the 200 laps of the 2.5 mile oval. It required nearly a full day of racing to get to the checkered flag. The car designed and constructed by Harry C. Stutz crossed the finish line in a very impressive 11th place. The car had no formal testing and the pit stops it made throughout the race were for only tires and fuel.

The Stutz had been entered in the race as a promotional tool and to prove the durability and capability of the vehicle. After it managed to finish the race, and in fine form, the famous slogan 'The Car That Made Good in a Day' was born.

Within a few years and with a little refinement, the Stutz Bearcats were a dominate force on many racing scenes. The factory backed racing team, called the White Squadron, and accumulated numerous victories in 1915, including the grueling Elgin race, Minneapolis, Point Loma, and Sheepshead Bay. At the Indianapolis 500 in 1915, Bearcats finished in third, fourth, and seventh place.

The Bearcats were minimalist vehicles, with two seats, no protection from the elements, spare tires, and a large gas tank. They were lightweight and powerful and highly sought after by racing enthusiasts of its era.

This 1917 Stutz Bearcat was offered for sale at the 2007 RM Auctions held in Meadow Brook. It was estimated to sell between $250,000 - $350,000. It is powered by a 390 cubic-inch four-cylinder engine capable of producing 60 horsepower. It has two-wheel mechanical rear brakes and a selective sliding transaxle. It sits atop a wheelbase that measures 111-inches, which is far shorter than the original size. This car was modified throughout the years and is considered a racing 'Special.' Its original wheelbase measured 120-inch, but was shortened to reduce weight and increase its handling characteristics. The engine was moved back in the chassis to improve weight distribution.

This car has been treated to a comprehensive restoration to the highest standards. It was given a new body in the style of the original Bearcats. At auction, the vehicle failed to stir the necessary interest in the vehicle and bidding reached only $185,000 which was not enough to satisfy the reserve. The vehicle was left unsold.
By Daniel Vaughan | Aug 2007
The Stutz Bearcat was produced from 1914 through 1924. The first version was produced from 1914 to 1917 and was powered by a 6388 cc four-cylinder engine. The Bearcat was a creation inspired by a Indy sports car racer built by the Stutz Motor Company in 1911. It was powered by a 361 cubic-inch four-cylinder engine that produced 50 horsepower. The Bearcat continued the tradition of lightweight construction, potent engine, and superior performance. The vehicle utilized an 'underslung' design which allowed the vehicle to be constructed lower than most vehicles, sitting closer to the ground. They were void of any unnecessary amenities, had no doors and only a small 'monocle' windscreen to protect the driver. It weighed just 4500 pounds and rested on a 120 inch wheelbase. There was usually seating for two and no top to protect the driver or passenger from the elements.

In 1912 the Stutz Bearcats proved their potential by winning 25 out of the 30 races in which they were entered. Their slogan was 'The car that made good in one day'. This was a popular slogan and is still remembered by many even to this day. The title was adorned on Harry C Stutz in 1911 when his driver, Gil Anderson, placed 11th at the Indianapolis 500, an amazing accomplishment and one that immediately inspired sales. The car had been built in just five weeks and was the first automobile to bear the name 'Stutz'. At Indianapolis, it had averaged 110 km/h (about 68 mph) and was only beaten by vehicles with engines much larger than its own.

A disgruntled buyer of a Stutz complained to the Stutz Company that Mercer's were beating his car. In response, the Stutz Company set out to be the coast-to-coast record. In 1915, Erwin George 'Cannonball' Baker drove a Bearcat from San Diego to New York in 11 days, 7 hours, and 15 minutes. This broke the previous record. Baker went on to set 143 distance records. Sales continued to climb. A Wall Street investor spear-headed by Allan A. Ryan bought controlling interest in Stutz. This allowed more capital and allowed Stutz to expand their manufacturing facilities. Harry Clayton Stutz sold his interest in the company in 1919. He turned his attention to two new endeavors, the Stutz Fire Engine Company and the H.C.S. Motor Car Company.

The production of the Stutz Bearcat continued until 1924. The car continued its tradition of being a sports car. It was fast and had excellent performance for the era. The clutch was said to be so stiff that it prevented woman from driving the vehicle - many said this was a 'man's car.' The two-wheel mechanical brakes also required much force to operate.

The Stutz Company stayed in business until 1935 when it was forced out of business due to the Great Depression. In 1923, Frederick Ewan Moskowics, became the president of the Stutz Motor Car Company. Under his direction, the company was repositioned as a company that produced elegant sedans renowned for safety. Essentially, he turned the he-man cars into luxury beauties. In 1929 Moskowics resigned and was succeeded by Edgar S. Gorrell.
By Daniel Vaughan | Dec 2006
MARIO ANDRETTI TO BE HONORED BY RRDC AT LONG BEACH
• Firestone returns as presenting sponsor
HILLIARD, Ohio (March 7, 2014) - Mario Andretti, the world's most recognized race-car driver, will be honored by the Road Racing Drivers Club at the 'RRDC Evening with Mario Andretti presented by Firestone' in Long Beach, Calif., on Thursday, April 10, prior to the running of the Toyota Grand Prix of Long Beach. This is the RRDC's sixth consecutive annual banquet honoring auto racing's most influential leaders. Previous honorees were ...[Read more...]
SRT® Brand Debuts New 2014 Satin Vapor Editions at Chicago Auto Show
February 6, 2014 , Auburn Hills, Mich. - The Chrysler Group LLC's SRT® (Street and Racing Technology) brand is expanding its 2014 vehicle lineup by offering new Satin Vapor Editions of its Chrysler 300 SRT, Dodge Challenger SRT and Dodge Charger SRT models. The new SRT Satin Vapor Edition models will debut at this year's Chicago Auto Show on Feb. 6. 'We're responding to the diversifying tastes of our performance enthusiast customers by expanding our product lineup to offer mor...[Read more...]
PEGASUS MARKETING AND SARAH FISHER HARTMAN RACING JOIN FORCES FOR INDYCAR SEASON
• Announce 'True Heroes Initiative'
LAKE FOREST, IL, and INDIANAPOLIS, IN, Jan. 14, 2014... Building on a 30-year history of bringing first tier motorsport teams together with top-tier sponsors, Pegasus Marketing Group (www.PegasusMarketing.com ) and the ultra competitive Sarah Fisher Hartman Racing (SFHR) (www.sfhracing.com ) have joined forces for commercial representation of the team in the prestigious IndyCar Series and its most storied event, the Indianapolis 500. 'We ar...[Read more...]
TOYO TIRES® ANNOUNCES UNIQUE BOOTH VEHICLES FOR 2013 SEMA SHOW
Cypress, CA - The Toyo Tires® display booths will be filled with one-of-a-kind vehicles next month at the 2013 SEMA Show in Las Vegas. With a larger presence than ever, the company has three locations in the Las Vegas Convention Center, including the new Toyo Tires® Treadpass™, which will feature more than 20 vehicles. In the main Toyo Tires booth located on the first floor of the South Hall, show attendees will see a stunning array of vehicles. Noticeable from afar will be Baja Champi...[Read more...]
2014 Sierra Denali Pairs High-Tech Luxury And Capability
DETROIT – An all-new 2014 Sierra 1500 Denali full-size pickup arrives this fall with an available 6.2L EcoTec3 V-8 that will produce an estimated 420 horsepower and 450 lb-ft of torque, the most power and torque of any light duty truck engine. Final SAE-rated power and torque numbers will be available later this year. Now entering its third generation, the Sierra Denali is the most luxurious and technologically advanced GMC half-ton pickup. Sierra's 6.2L V-8 will also be available f...[Read more...]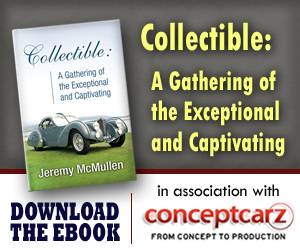 © 1998-2014. All rights reserved. The material may not be published, broadcast, rewritten, or redistributed.