1928 Stutz Model BB news, pictures, specifications, and information

Tweet
Originally called the Ideal Motor Car Company, Stutz built cars in Indianapolis beginning in 1911 and soon grew famous for its high performance roadsters. This Coupe was completed and loaded for shipment from the Stutz factory in Indianapolis on June 14th of 1928. It was purchased new from the Stutz Motor Company of Alabama by Mr. & Mrs. George Bennett of Birmingham on November 19th of 1928. The selling price was $3,200 with $1,200 trade-in value allowed for their Buick Roadster.

After the owner died unexpectedly the car went into storage in 1932 with just 5,921 miles on the clock. Sixty-nine years later, after Mr. DeFreese died in 2000, the car was sold to its current owner, who replaced the tires, refilled the gas tank, topped off the oil and water, and did very little else to the car before putting another 1,000 miles on it. Everything on this car, other than the tires, but including one of the spares, date to 1928 and has been carefully preserved.

The Stutz has its factory-original components, including the two-one green paint, nickel plating, padded fabric covered roof, spare tire covers with the 'Safety Stutz' logo and safety glass with embedded wires. The engine and carburetor, along with the fuel, cooling and exhaust system, are all original. Inside there is a dark green mohair interior upholstery and bright green leather upholstery on the rumble seat.

In 2012, this car was offered for sale at the Pebble Beach Auction presented by Gooding & Company. The car was estimated to sell for $80,000 - $100,000 and offered without reserve. As bidding came to a close, the car had been sold for the sum of $60,500 including buyer's premium.
| | | |
| --- | --- | --- |
| | | Boattail Speedster |
Stutz was a serious competitor in many racing events during the close of the 1920s. They competed at LeMans in 1928 and nearly emerged victorious. They raced in timed speed trials and in 1928, they proved they were the fastest American cars in this category. Their abilities were derived from their potent powerplants and highly advanced chassis designs.

This 1928 Stutz BB Blackhawk Speedster is identical to the one that competed in the most historically famous 'Match Race.' It has a boattail body, red wire wheels, and cycle fenders.
By Daniel Vaughan | Jul 2008
One of the legendary marques of American automotive history is the Stutz, built in Indianapolis, Indiana from 1911 to 1935. The company made its reputation at the Indianapolis '500.'

It built upon that reputation with a series of both sporting and luxurious automobiles. Stutzes were always fast cars - and they were expensive. This convertible coupe (with body by Phillips Body of Warren, Ohio) cost $3,700 new.

A Stutz Black Hawk was America's fastest production car in 1928, average 106.53 mph at Daytona. The 1928 Stutz BB Vertical Eight chassis was powered by an in-line, straight eight engine that developed 110 horsepower.
| | | |
| --- | --- | --- |
| | | Boattail Speedster |
The chassis on the new Stutz Vertical Eight had a central lubrication system and underslung worm drive which gave it a low appearance and allowed for low and sensuous bodies. After winning many races, the Black Hawk Speedster was named the 1927 AAA Stock Car Champion. The following year, the car was labeled as America's fastest production car after setting records at Daytona Beach.

This boattail speedster is believed to have been built for the Stutz race car driver Frank Lockhart. Lockhart was killed during a land speed record attempt at Daytona in the Stutz Black Hawk Special. He never took delivery of the car; it was retained by the company until 1935 when the company folded.

Powering the Stutz is a 289 cubic-inch inline eight-cylinder engine that delivers 115 horsepower. The wheelbase measures 131 inches and the car weighs approximately 3500 pounds. The two-passenger Black Hawk Speedster was priced at $4895.
By Daniel Vaughan | Oct 2010
The Stutz Company was revitalized in 1923 when it was joined by industry veteran Frederick E. Moskovics and the introduction of its new Vertical Eight, also known as the Series AA, for 1926. The new single overhead camshaft eight-cylinder engine was joined by hydraulic brakes, safety glass, a lower ride height, and more. Continual development brought Lockheed hydraulic brakes for 1927 and displacement and power increased for the Series BB of 1928. That was the same year Stutz contested the 24 Hours of LeMans, where Stutz led much of the race and finished second only to Bentley.

This 1928 Speedster drew 115 horsepower from its 298 cubic-inch overhead eight-valve engine and had water-cooled exhaust valves and hydraulic brakes. An underslung worm-drive rear-end differential allowed a lower body, as shown by this BB Robbins Speedster coachwork.

In 1953, this car was purchased in Brooklyn, New York, by William Ruger. In 1958, Mr. Ruger sold the car to Mr. Spotsky, a resident of Coraopolis, Pennsylvania, who participated with it in many CCCA CARavan tours among other events. In 1969, it was purchased by Stearns Motor Museum of Irwin, Pennsylvania, which retained the car until circa 1982, when it was acquired by Johnny Pascucci of Meriden, Connecticut. In 1996, it came into the ownership of the current caretaker.

The new owner treated the car to a restoration. The work was completed in time for the Stutz to be shown at the 1998 AACA show at Hershey, Pennsylvania, where it won First in Class. In 1999, the Stutz went on to win its class at the CCCA National meeting and later that year the Speedster was invited to be shown at the Pebble Beach Concours d'Elegance, where it was awarded Third in Class. When Stutz was the featured marque at Pebble Beach in 2011, this car was invited back where it again placed third.

The car has a complete set of side curtains, a luggage trunk, the original-specification Zenith 105D carburetor, and the original driveshaft.
Weymann Custom Chantilly Sedan
Coachwork: Weymann

This 1928 Stutz wears a custom Weymann body built in a similar fashion of early airplanes. The Zapon leather-like fabric was stretched over a wooden frame in an effort to reduce weight, eliminate squeaks and rattles, and to offer better performance. The designs were popular on European cars, though fewer than a dozen such Weymann-bodied autos remain today. This example also features rudimentary 'safety' glass in which an array of wires were cast into the panes of glass, preventing it from breaking into larger, dangerous shards.
By Daniel Vaughan | Dec 2011
This car is a 1928 Stutz 'bb' Blackhawk speedster, with four-passenger capability. This example is one of three known to exist. The car has a 289 cubic-inch engine developing 110 horsepower. It was from the Ruger Collection (Ruger Firearms).
In 1876, Harry C. Stutz was born. He grew up on the family farm where he often helped repair their farm equipment. This led to a fascination with engines and in 1897 he built his first car; soon after he began designing and creating engines. The Stutz Company, based in Indianapolis, Indiana, introduced its first production vehicle in 1911. The vehicle, after only five months of design and build, was immediately entered in the inaugural Indianapolis 500 mile race where it captured an 11th place finish. Not bad for its first vehicle and first race. Throughout the company's life span, it would endure good and bad times. The Stutz Company was in production during World War I and the Great Depression, both responsible for negatively affecting Industry.
Stutz will be forever remembered for their Bearcat model, a vehicle produced until 1925. This pure-bred race car had an aggressive and masculine stance; the interior was void of luxury and amenities. With its high revving straight 8-cylinder overhead camshaft engine and lightweight construction, the vehicle was poised to compete in national and international competition.

In 1919, Harry Stutz was forced by stock holders to leave his company. In 1922, Charles Schwab was given control of the company. In 1925, Schwab gave control of the company to Frederick Moskovics. Moskovic planed to revitalize the company by shifting the priorities from racing to producing luxurious automobiles. This did not mean that the company was to abandon its racing heritage, rather Moskovics wanted to expand its racing prowess by entering it in International competition. The 24 Hours of Le Mans is a grueling endurance battle that tests stamina, speed, and durability. In 1928 a Stutz Series BB Black Hawk Speedster, driven by Edouard Brisson and Robert Bloch, was entered in the French LeMans race. The vehicle did well, leading for most of the race. Half way through the 22nd hour, the gearbox broke on the Stutz and a Bentley 4.5-liter was able secure a first place finish. The Stutz was second, the best an American car had ever placed in this prestigious race.

In 1929, the Stutz Company decided to increase their chances of victory by entering more than one vehicle into the Le Mans race. The vehicles were designed and prepared especially for the race. Gordon Buehrig was tasked with designing the bodies for the 2-seater sportscars. A modified 5.5-liter straight 8-cylinder with a supercharger were placed in the front and powered the rear wheels. Three vehicles entered by Stutz Paris, Colonel Warwick Wright, and Charles Weymann were anxiously anticipating a repeat of the prior years success or possibly an overall victory. Sadly, only one vehicle would finish. Behind a fleet of Bentley's was the Stutz followed by a Chrysler 75. With a fifth place finish, the Stutz cars were no match for the powerful and agile Bentley Speed Six models.

In the early part of 1929, Moskovics resigned and Edgar Gorrell assumed the duties of president. Many manufacturers were developing multi-cylinder cars which attracted a larger market share of the already small luxury car market. The Stutz Company was not in a financial position to develop an engine of this caliber. Instead, Stutz embarked on developing an inline eight cylinder engine with single overhead cams. The result was the SV16, representing the side-valve 16 meaning that one exhaust and one intake valve per cylinder was allocated for the eight cylinders. By using the name SV16, it gave the vehicle an allure of equal capacity to other nameplates such as the Cadillac and Marmon V16. The SV-16 came equipped with a windshield safety glass and hydrostatic brakes. The chassis sat lower than most of the competition giving it an advantage through turns. During its production run, around 100 examples were produced.

Following on the heals of the SV16 was the DV-32. The engine featured updraft Schebler carburetors and four valves per cylinder equaling 32 valves and dual overhead camshafts. The power-plant was capable of producing 156 horsepower. The vehicle sat atop of a 145 inch wheelbase and outfitted with Stutz 8 hubcaps. At $6,400 these vehicles were extremely expensive at the time.

The Stutz 8 was produced from 1926 through 1935. The engine produced just over 90 horsepower. Within a few years, horsepower had been incrased to over 115.

In 1928, the Blackhawk series was introduced. These sports cars were affordable, competitive, and compact; outfitted with a powerful engines.

During the close of the 1920's, the Stutz company was riddled with lawsuits, including 'breach-of-contract' over engine building. James Scripps-Booth entered a lawsuit about the low-slung worm drive design Stutz had been using. The Stutz Company was beginning to fall on hard times.

The demise on the race track would slowly transcend to the market place. For all of 1930, there were less than 1500 cars produced. Sales declined even more in the following years and in 1934, after only six Stutz cars produced, the factory closed its doors. This is not to suggest the racing results were solely responsible for the company's woes. The Great Depression crippled and destroyed many auto manufacturers at this time. Competition in design and technology was ever present and the dependable, mass-produced, low-cost automobile manufacturers were in the best positions to come out on top. The Stutz Company had an impressive racing heritage and its automobiles are legendary. The Stutz name is respected by many including those overseas.

In 1968 a New York banker named James O'Donnell incorporated Stutz Motor Car of America. Ghia was commissioned to create a design for the Stutz Blackhawk, which was shown to the public in 1970. Sales continued for more than a decade selling very strongly until 1987. Production slowed from 1987 until 1995 when production ceased.
By Daniel Vaughan | Dec 2006
The Stutz Series M coupe was introduced in 1929 and featured an auxiliary trunk, a rumble seat, and dual side-mount spare tires and wire wheels. Right above the front bumper are driving lights that turn in synchronization with the steering.

Before the Series M was the introduction of the Stutz Vertical Eight in 1926, which is considered to be 'the most European of the US auto designs of the era'. The Stutz Model M Supercharged Coupe was dramatic, and featured a very low-slung, one-off coupe coachwork by Lancefield and is one of only 24 supercharged vehicles ever produced by Stutz. A total of 2,320 units Model M units were produced in 1929.

Featuring a rare supercharged engine, the Model M was spectacular in design and featured step plates, a sliding sunroof and cycle fenders that created a truly sporting appearance. Large Zeiss headlamps aided the vehicle in night driving. Originally the Lancefield body has been fabric-covered over wood; the Weymann body building method. The original advertisement was quoted as 'this striking motorcar holds the potential to become one of the premier entrants on the international concours d'elegance circuit.'
By Jessica Donaldson
For more information and related vehicles, click
here
All-New Ford Mustang Offers High Performance with Sleek New Design and Innovative Tech
•All-new sophisticated design clearly inspired by 50 years of Mustang heritage evolved to attract wider array of customers and expand global market availability •The new Mustang is the first car to offer four-, six- and eight-cylinder engines that each produce at least 300 horsepower – a 300-horsepower 3.7-liter V6, a more powerful 435-horsepower 5.0-liter V8, and an all-new 310-horsepower* 2.3-liter EcoBoost® engine •Mustang sets new performance and dynamics benchmarks for the brand with worl...[Read more...]
Gooding & Company Amelia Island Auction Preview
Gooding & Company, the auction house acclaimed for selling the world's most significant and valuable collector cars, will hold its annual Amelia Island Auction on Friday, March 7 on the Omni Amelia Island Plantation. David Gooding, President and founder: 'Originality was the driving force behind our Amelia Island Auction. As always, our specialists have a keen eye for effective preservation of blue chip category cars. Many of the outstanding examples we selected for this sale are excellent ...[Read more...]
Audi Confirmed For Salon Privé 2013
• Salon Privé 2013 - 4th to 6th September
Syon Park, London, 21 August 2013 – Audi is set to display the R8 V8 Spyder, RS 6 Avant and RS 4 Avant at Salon Privé 2013. A hand-built, high-revving V8 engine mounted just behind the passenger compartment of the Audi R8 V8 Spyder launches the stunning soft-top supercar to 62 mph in 4.8 seconds and on to a top speed of 187 mph. The mid-engine configuration helps to lower the centre of gravity for optimum road holding, while the slick...[Read more...]
THREE FORDS SCORE TOP-10 FINISHES AT CALIFORNIA
JOEY LOGANO, No. 22 AAA Southern California Ford Fusion (Finished 6th) – WHAT HAPPENED THERE AT THE END OF THE RACE? 'Racing for the lead. Going for the win. That is what you've got to do.' WHAT HAPPENED WITH TONY STEWART? 'Tony was just upset about a restart that I was racing him really hard on the bottom trying to make sure I protected my spot. What I was doing actually was I was racing the 18 on the restart and he was spinning his tires. The rule is you can't beat him to the start finish ...[Read more...]
Auctions America By RM's 2012 Auburn Spring Auction
'Variety' is the buzzword for this year's Auctions America by RM June 1-3 Auburn Spring auction, which will offer a huge range of collector vehicles and an enormous private collection of automotive memorabilia. More than 600 American muscle cars, Classics, foreign sports cars and hot rods will cross the block at the historic Auburn Auction Park, the company's national headquarters in Auburn, Indiana. 'Last year was our first spring event at the park,' said Auctions America by RM's President ...[Read more...]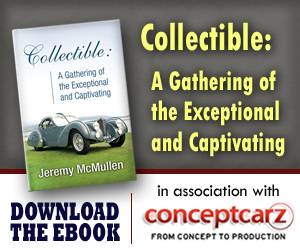 © 1998-2014. All rights reserved. The material may not be published, broadcast, rewritten, or redistributed.