1929 Stutz Model 6 Blackhawk news, pictures, specifications, and information

Tweet
This 1929 Stutz Blackhawk Rumbleseat Roadster was offered for sale at the 2007 Worldwide Group Auction held at Hilton Head Island, SC where it was estimated to sell for $80,000 - $120,000. It was offered without reserve.

In 1911, the Stutz Automobile Company was founded as the Ideal Motor Car Company in Indianapolis, Indiana. A car was entered in the Indianapolis 500 race and finished in a very impressive 11th place. This sparked the birth of the famous slogan, 'The Car That Made Good in a Day.' The designer was Harry C. Stutz, an American automotive engineer, quickly capitalized on the vehicles racing accomplishment and its proven dependability. The public responded by buying various road versions of the racer and soon production was unable to keep pace with demand.

The company was renamed to the Stutz Motor Company in 1912 and focused on selling high-performance roadsters.

Harry C. Stutz built his first automobile at the very early age of 21. The car began life as a buggy, which Stutz morphed into a motorcar. It was given a homemade engine, chain drive, and the name 'Old Hickory.' His career took him to several prominent marque's throughout the years, where he enthusiastically did all he could to learn about the inter-workings of the automobile. He was employed by a tire corporation, a carburetor company, and transmission firm.

He built his second car in 1905 called the American Underslung. It had a chassis that hung below the axles which afforded the car superior stability and excellent handling. It had a straight drive shaft to the rear axle.

Stutz worked as chief engineer with the Marion Motor Car Company for a number of years before departing to create his own automobile.

The production Stutz Automobile was available with a six-cylinder engine and in either Torpedo or Torpedo Roadster configuration. The demand for these vehicles were great; especially when a Stutz when the American road race championship in 1913. A year later, he introduced the Bearcat, a vehicle that would amass more wins than any other car of that period. It was a fast and dependable model offered in both four- and six-cylinder configurations. It came equipped with dual ignition as standard, large brakes, and a rugged frame.

In the early 1920s, the Stutz Company had three main investors, one of them was Charles M. Schwab, who gained control of the company in 1922. Mr. Frederick Ewan Moskowics was brought in a year later, in 1923. Mr. Moskowics resume includes work at Daimler Benz, Marmon and Franklin. Under Moskowics guidance, the company was redirected to focus on safety. Among the new features of the Stutz automobiles was a safety glass, a low center of gravity for better handling, and a hill-holding transmission called 'Noback.' Under the bonnet was a DOHC 32-valve V8 engine, making it one of the earliest multi-valve engines.

The Stutz marque continued to prove their products in racing and endurance competition. In 1927, a Stutz set a world record for speed, averaging 68 mph for 24 hours. At LeMans in 1928, a Stutz completed the 24 Hour race in second place. This would be the best finish for an American car until 1966. In 1929, a Stutz finished in fifth at LeMans.

The Stutz Company would remain in production until 1935 when the troubles caused by the Great Depression forced it to close its doors forever. A total of 35,000 Stutz cars had been manufactured. Today, the Indianapolis factory that was once used for producing Stutz cars is now home to more than eighty artists, sculptors, photographers, designers, architects, and craftsmen.

This Model 6 Blackhawk Rumbleseat Roadster is powered by the original six-cylinder engine which is capable of about 85 horsepower. It is finished in two-tone black and green and appears to be of an older restoration that has held up rather well considering the passage of time. It has a burgundy interior with all gauges and dials still in working condition.

This car has four-wheel hydraulic drum brakes, safety glass, running boards, factory turn signals, factory windshield wipers, and dual sidemount tires.

At auction, the estimated value proved to be accurate as the car was sold for $95,200 including buyer's premium.
By Daniel Vaughan | Nov 2007
In 1876, Harry C. Stutz was born. He grew up on the family farm where he often helped repair their farm equipment. This led to a fascination with engines and in 1897 he built his first car; soon after he began designing and creating engines. The Stutz Company, based in Indianapolis, Indiana, introduced its first production vehicle in 1911. The vehicle, after only five months of design and build, was immediately entered in the inaugural Indianapolis 500 mile race where it captured an 11th place finish. Not bad for its first vehicle and first race. Throughout the company's life span, it would endure good and bad times. The Stutz Company was in production during World War I and the Great Depression, both responsible for negatively affecting Industry.
Stutz will be forever remembered for their Bearcat model, a vehicle produced until 1925. This pure-bred race car had an aggressive and masculine stance; the interior was void of luxury and amenities. With its high revving straight 8-cylinder overhead camshaft engine and lightweight construction, the vehicle was poised to compete in national and international competition.

In 1919, Harry Stutz was forced by stock holders to leave his company. In 1922, Charles Schwab was given control of the company. In 1925, Schwab gave control of the company to Frederick Moskovics. Moskovic planed to revitalize the company by shifting the priorities from racing to producing luxurious automobiles. This did not mean that the company was to abandon its racing heritage, rather Moskovics wanted to expand its racing prowess by entering it in International competition. The 24 Hours of Le Mans is a grueling endurance battle that tests stamina, speed, and durability. In 1928 a Stutz Series BB Black Hawk Speedster, driven by Edouard Brisson and Robert Bloch, was entered in the French LeMans race. The vehicle did well, leading for most of the race. Half way through the 22nd hour, the gearbox broke on the Stutz and a Bentley 4.5-liter was able secure a first place finish. The Stutz was second, the best an American car had ever placed in this prestigious race.

In 1929, the Stutz Company decided to increase their chances of victory by entering more than one vehicle into the Le Mans race. The vehicles were designed and prepared especially for the race. Gordon Buehrig was tasked with designing the bodies for the 2-seater sportscars. A modified 5.5-liter straight 8-cylinder with a supercharger were placed in the front and powered the rear wheels. Three vehicles entered by Stutz Paris, Colonel Warwick Wright, and Charles Weymann were anxiously anticipating a repeat of the prior years success or possibly an overall victory. Sadly, only one vehicle would finish. Behind a fleet of Bentley's was the Stutz followed by a Chrysler 75. With a fifth place finish, the Stutz cars were no match for the powerful and agile Bentley Speed Six models.

In the early part of 1929, Moskovics resigned and Edgar Gorrell assumed the duties of president. Many manufacturers were developing multi-cylinder cars which attracted a larger market share of the already small luxury car market. The Stutz Company was not in a financial position to develop an engine of this caliber. Instead, Stutz embarked on developing an inline eight cylinder engine with single overhead cams. The result was the SV16, representing the side-valve 16 meaning that one exhaust and one intake valve per cylinder was allocated for the eight cylinders. By using the name SV16, it gave the vehicle an allure of equal capacity to other nameplates such as the Cadillac and Marmon V16. The SV-16 came equipped with a windshield safety glass and hydrostatic brakes. The chassis sat lower than most of the competition giving it an advantage through turns. During its production run, around 100 examples were produced.

Following on the heals of the SV16 was the DV-32. The engine featured updraft Schebler carburetors and four valves per cylinder equaling 32 valves and dual overhead camshafts. The power-plant was capable of producing 156 horsepower. The vehicle sat atop of a 145 inch wheelbase and outfitted with Stutz 8 hubcaps. At $6,400 these vehicles were extremely expensive at the time.

The Stutz 8 was produced from 1926 through 1935. The engine produced just over 90 horsepower. Within a few years, horsepower had been increased to over 115.

In 1928, the Blackhawk series was introduced. These sports cars were affordable, competitive, and compact; outfitted with a powerful engines.

During the close of the 1920's, the Stutz company was riddled with lawsuits, including 'breach-of-contract' over engine building. James Scripps-Booth entered a lawsuit about the lowslung worm drive design Stutz had been using. The Stutz Company was beginning to fall on hard times.

The demise on the race track would slowly transcend to the market place. For all of 1930, there were less than 1500 cars produced. Sales declined even more in the following years and in 1934, after only six Stutz cars produced, the factory closed its doors. This is not to suggest the racing results were solely responsible for the company's woes. The Great Depression crippled and destroyed many auto manufacturers at this time. Competition in design and technology was ever present and the dependable, mass-produced, low-cost automobile manufacturers were in the best positions to come out on top. The Stutz Company had an impressive racing heritage and its automobiles are legendary. The Stutz name is respected by many including those overseas.

In 1968 a New York banker named James O'Donnell incorporated Stutz Motor Car of America. Ghia was commissioned to create a design for the Stutz Blackhawk, which was shown to the public in 1970. Sales continued for more than a decade selling very strongly until 1987. Production slowed from 1987 until 1995 when production ceased.
By Daniel Vaughan | Dec 2006
MARIO ANDRETTI TO BE HONORED BY RRDC AT LONG BEACH
• Firestone returns as presenting sponsor
HILLIARD, Ohio (March 7, 2014) - Mario Andretti, the world's most recognized race-car driver, will be honored by the Road Racing Drivers Club at the 'RRDC Evening with Mario Andretti presented by Firestone' in Long Beach, Calif., on Thursday, April 10, prior to the running of the Toyota Grand Prix of Long Beach. This is the RRDC's sixth consecutive annual banquet honoring auto racing's most influential leaders. Previous honorees were ...[Read more...]
PEGASUS MARKETING AND SARAH FISHER HARTMAN RACING JOIN FORCES FOR INDYCAR SEASON
• Announce 'True Heroes Initiative'
LAKE FOREST, IL, and INDIANAPOLIS, IN, Jan. 14, 2014... Building on a 30-year history of bringing first tier motorsport teams together with top-tier sponsors, Pegasus Marketing Group (www.PegasusMarketing.com ) and the ultra competitive Sarah Fisher Hartman Racing (SFHR) (www.sfhracing.com ) have joined forces for commercial representation of the team in the prestigious IndyCar Series and its most storied event, the Indianapolis 500. 'We ar...[Read more...]
MERCEDES-BENZ 2014 G63 AMG: THE ULTIMATE G-CLASS
The latest technology for the AMG off-road icon: the new 2014 G63 AMG impresses with a state-of-the-art powertrain, expressive new design and improved efficiency. All this is largely attributable to the AMG 5.5-liter V8 biturbo engine delivering 536 hp and the AMG SPEEDSHIFT PLUS 7-speed automatic transmission. Every new AMG high-performance vehicle offers an outstanding mix of 'more power from less fuel' – and the G63 AMG is no exception. The 'strong man' in the AMG model range has been furt...[Read more...]
63rd Pebble Beach Concours d'Elegance Names 1934 Packard 'Best of Show'
The competition showcased 248 cars, including 48 from abroad PEBBLE BEACH, Calif. (August 18, 2013) -- A 1934 Packard 1108 Twelve Dietrich Convertible Victoria owned by Joseph and Margie Cassini III of West Orange, New Jersey, was named Best of Show at the 63rd Pebble Beach Concours d'Elegance, held Sunday on the 18th fairway of Pebble Beach Golf Links at Pebble Beach Resorts. The event showcased 248 cars from 36 states and 12 countries and raised $1,277,007 for charity. 'This Pack...[Read more...]
The world-renowned 'Old Bill' Comes to Market
The world-renowned 'Old Bill', which has featured in every book ever written about the incomparable Brough marque, ticks all the above boxes and just about every other one too. It has been consigned by H&H for auction as part of the Roger Allen Collection at the company's Duxford sale on October 4. However, it can be viewed as early as April 28/29 at the International Classic Motorcycle Show, Stafford. It carries an estimate of £250,000-270,000. The motorcycle originally known as 'Spit & Pol...[Read more...]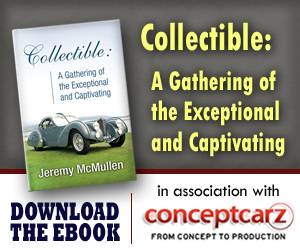 © 1998-2014. All rights reserved. The material may not be published, broadcast, rewritten, or redistributed.