1966 Aston Martin DBR1 Alloy Replica news, pictures, specifications, and information

Tweet
The example shown is a replica. It houses a DB6 four-liter engine coupled to a four-speed manual gearbox. It has forty-more horsepower that the DBR1's three-liter engine. A great deal of attention to detail and the highest level of craftsmanship went into building this replica. It aluminum skin is hand formed and close in appearance and design to the original. It sits atop a 90 inch wheelbase and has four-wheel independent suspension and disc brakes.

At the 2006 RM Auction in Monterey, CA it was expected to fetch $175,000 - $250,000. The vehicle proved popular, shattering the estimates and finding a new owner at the price of $275,000.
By Daniel Vaughan | Dec 2006
Aston Martin had, since its inception back in 1913, always been a keen player in the motor racing scene. However, after having all of its tooling sold to the Sopwith Aviation Company for aircraft production during World War I, later bouts of financial problems and another run in aircraft component production during the the Second World War, that after the war, Aston Martin was about as close to being able to make another assault on Le Mans as what the east is from the west.

Enter Sir David Brown. David Brown Limited would purchase the company right along with Lagonda. Using the desirable Bentley-designed engine, Brown and Aston Martin would focus on creating stylish 'grand touring' cars. However, Sir David Brown's heart always beat right along with the ticks of a second hand. And no place would give him such a rush, such a passionate desire to succeed as Le Mans.

Aston Martin had been successful in the French classic, but those years had long since passed. And with the state of the company during the late 1940s, it seemed like it would be forever before another Aston Martin would ever reach the top stop of the Le Mans podium. Some undoubtedly believed it would never happen again.

But Sir David Brown didn't see it that way. And he would set about creating some truly athletic sportscars that would give him and his company the best chance possible. Brown's company would focus on racing because they knew full well that success on the track meant sales of production cars. It also meant advancements in technology that would only help the company achieve Brown's vision.

By 1951, Aston Martin's DB2 entered production. Aston would then take its new DB2 and would enter it in the S3.0 class at Le Mans in 1951 and would promptly earn clean sweep in the class and would earn a 3rd, 5th and 7th overall finish. Another DB2 would finish 10th overall for the N.H. Mann team.

This success would only wet Brown's appetite all the more. But Brown, being a gearbox manufacturer knew what it would take to compete for overall victories, and the team wasn't quite there yet. Therefore, Aston Martin would use the early part of the 1950s to focus on the smaller classes of endurance racing in order to build up confidence and reliability. But ultimately, the goal was to enter the higher classes and fight for an overall victory.

The Bentley-designed six cylinder engine had served as the resurrection for Aston Martin. However, against the likes of Jaguar, Ferrari and Maserati, the engine was underpowered. As a result, the best result in the overall standings at Le Mans for Aston Martin would come during the tragic 1955 Le Mans in which Mercedes would suffer the terrible accident that killed Pierre Levegh and more than 80 spectators. When they pulled out during the early morning hours Jaguar was left all alone to fight for the overall victory. An Aston Martin Ltd. DB3S would end up picking up the pieces finishing in 2nd place but would be some five laps down to the Jaguar driven by Mike Hawthorn Ivor Bueb.

The problem Brown and Aston Martin had would be that the six cylinder engine was a good one, very reliable and strong. Though it didn't quite have the power of its competitors it had the reliability and strength that were necessary to run for 24 hours and be there still at the end.

So it was clear the engine could be tuned but needed to remain because it offered just too many advantages. Therefore, the performance deficiencies would have to be made up in the chassis itself. Therefore, in 1956, Ted Cutting, Aston's chief designer, set about creating an entirely new spaceframe chassis that not only weighed less but that also offered exceptional rigidity.

Cutting's design would work. He would manage to shave some 50 pounds off of the new design but would improve the rigidity of the car at the same time. Fitted with front and rear suspensions that were holdovers from the DB3S, Lockheed disc brakes and Brown's own transversely mounted gearbox, the twin-cam DBR1/1, as it would become known, would debut in 1956, but it would certainly look better than it performed.

Outclassed in speed, the DBR1 would only take part in one race, the 1956 24 Hours of Le Mans. However, the car would still be useful to the team. John Wyler and Reg Parnell would take the DBR1/1 and would continually develop it for the following season. Things would improve slightly in 1957, but still, the car lacked outright performance.

But then the engineers tried the 3.0-liter six cylinder engine in the DBR1. The 3.0-liter engine had been used in the DB3S. When combined with three Weber carburetors, power of the engine increased to over 250 bhp. Combined with the elegantly-designed body, the 3.0-liter engine would help to forge and beautiful pairing that would have made Astaire and Rogers proud.

Almost immediately the car would be successful winning the Spa Grand Prix in 1957, the first for a DBR1. Before the season was over, the DBR1 would go on to win two more races. One would come at the famous 1000 km of the Nurburgring and another would be in a three hour race back at Spa. However, at Le Mans, the DBR1/2 still could not provide Brown his sought after victory.

But then Providence would drop the opportunity of a lifetime right in their laps. By the end of the 1957 season the regulations would change limiting sports prototypes engine displacement to just 3.0-liters. All of a sudden, Jaguar's D-Types and the Maserati 450S were out of the running. Maserati would have deeper problems than just a displacement issue, and therefore, would withdraw all together. That meant just Ferrari would be Aston Martin's main competition heading into the 1958 season.

It seemed everything was right for Brown to finally achieve his dream of winning at Le Mans. However, as before, it was not to be. Between an accident and a couple of mechanical problems, all of the David Brown Aston Martins would fail to make it to the end of the race. This would be yet another bitter disappointment to Brown's greatest aim.

Still, it seemed the team had all of the necessary elements. The team just needed some reliability and they would be in good shape. So, Aston Martin plugged away, still believing in the DBR1 to be the car that would earn them victory at Le Mans.

And what was there not to believe? Cutting would manage to create an absolutely beautiful car. Bearing similarity to the D-Type Jags with its heavily rounded bulbous fenders, large wide-mouth grille, arching top bodyline and the large single-piece wrap-around windscreen, the DBR1 was certainly a gorgeous car to behold.

But underneath the elegant bodywork, the car was all business. Of course, the major component of this potent package would rest up front. The longitudinally mounted 3.0-liter normally aspirated straight 6, with its Weber 45 DCO carburetors, would produce a little more than 250 bhp at around 6200 rpm. And when combined with a car weighing a little more than 1750 pounds, top speeds would well exceed 160 mph down the Mulsanne.

Carroll Shelby would regard the DBR1 in such positive terms. 'The DBR1 was a very good handling car,' Shelby would relate, 'we were definitely superior to the others in terms of handling.'

The superior handling of the DBR1 would as a result of Cutting shedding pounds off of the spaceframe design and the use of Girling disc brakes on all four corners of the car. Stability within the car would come from Brown's 5-speed gearbox being mounted within the axels of the wheels, a trailing link front suspension and a De Dion rear that boasted of trailing links and torsion bars.

Despite its frustrating results at Le Mans, as Carroll Shelby would make abundantly clear, 'You always felt safe in the car—you always wanted to drive the Aston. I never heard a driver criticize it.' Such feelings toward a car meant the team and drivers could have confidence heading into Le Mans despite the fact the past had not been kind.

This confidence would lead the team to enter the 1959 running of the 24 Hours of Le Mans as a team on the prowl. And despite its history, the team would still determine it would be good to send Stirling Moss and his co-driver, Jack Fairman, out as rabbits in order to coax Ferrari into a high-speed duel. Ferrari knew they could allow Moss and Fairman to escape into the distance only so far before they needed to do something about reeling them back in. Meanwhile, the sister-cars of Roy Salvadori and Carroll Shelby and Maurice Trintignant and Paul Frere, would constitute Aston's main thrust toward an overall victory.

The tactic would work. The DBR1 would open up such a lead that it would force Ferrari to respond. In the end, the incredible pace would take its toll. The Ferraris would be up at the front throughout the running of the race, but in the final few hours it would be Roy Salvadori at the wheel of chassis DBR1/2 in the lead of the race over his Aston Martin teammates of Trintignant and Frere.

Amazingly, at 4pm on the 21st of June Salvadori powered his way across the finish line for the final time ahead of the sister car to complete an Aston Martin one-two! It would be an absolutely demonstrative victory with Aston Martins leading home a field mostly made up of just GT cars. And though Trintignant and Frere would end up a lap behind the victorious car driven by Salvadori and Shelby, the next-closest car out on the circuit would be some 26 laps, or, nearly 218 miles behind!

By the end of the 1959 season Aston Martin would win the World Sportscar Championship, but it would be that moment at 4pm on the 21st of June that David Brown had been waiting for ever since he dreamt of Le Mans and when he took over Aston Martin. He had brought together all of the right pieces. It was all blended into the creation known as the DBR1, and with that, Sir David Brown's Aston Martin entered Le Mans legend.

Sources:

'Company: History', (http://www.astonmartin.com/the-company/history). Aston Martin. http://www.astonmartin.com/the-company/history. Retrieved 7 June 2012.

'Carroll Shelby Looks Back at 1959 Le Mans Victory', (http://www.sportscardigest.com/carroll-shelby-looks-back-at-1959-le-mans-victory/). Sports Car Digest: The Sports, Racing and Vintage Car Journal. http://www.sportscardigest.com/carroll-shelby-looks-back-at-1959-le-mans-victory/. Retrieved 7 June 2012.

'Aston Martin Goes Back to the Future 1959-2009', (http://www.planetlemans.com/2009/06/05/aston-martin-goes-back-to-the-future-1959-2009/). PlanetLeMans: The Latest Sportscar and GT Racing News First. http://www.planetlemans.com/2009/06/05/aston-martin-goes-back-to-the-future-1959-2009/. Retrieved 7 June 2012.

'Aston Martin DBR1', (http://www.ultimatecarpage.com/car/637/Aston-Martin-DBR1.html). Ultimatecarpage.com: Powered by Knowledge, Driven by Passion. http://www.ultimatecarpage.com/car/637/Aston-Martin-DBR1.html. Retrieved 7 June 2012.

Wikipedia contributors, '1959 24 Hours of Le Mans', Wikipedia, The Free Encyclopedia, 6 March 2012, 12:51 UTC, http://en.wikipedia.org/w/index.php?title=1959_24_Hours_of_Le_Mans&oldid=480485018 accessed 7 June 2012


By Jeremy McMullen
Bamford & Martin founded the Aston Martin Company in the early 1910's backed by their desire and passion for racing. Their first victory was at the Aston Hill Climb in 1914 and this victory became the basis for the company's name. Their early years of production focused heavily on racing and competition cars but a need for survival in a fierce marketplace led them to producing road cars.

In 1947 the company was purchased by David Brown and many viewed this as the company giving up on its racing heritage. David Brown quickly dismissed these fears by introducing racing inspired vehicles.

By 1951 the DB3 was introduced as a replacement for the DB2. In comparison to its predecessor, it was very similar. The DB3S was introduced in 1953 and even though it was modern and fast it was outclassed by Ferrari and Maserati. In 1956 the company introduced the DBR1 which was similar to the DB3S but far superior. With Stirling Moss, Tony Brooks, Jack Fairman, Carroll Shelby, and Roy Salvadori the company experienced some of its greatest victories ever. 1959 was the pinnacle of their success with a first and second place finish at Lemans and winning World SportsCar Championship.

After 1959, the company retired from the SportsCar Championship series so they could concentrate on Formula 1. To this day, the DBR1 is still considered one of the greatest racing cars in Aston Martin history. There were only five created with the fourth being constructed as a prototype.
By Daniel Vaughan | Jun 2012
Sir Stirling Moss returns to Le Mans with Aston Martin
Sir Stirling Moss – Britain's most celebrated racing driver – will later this month be re-united wîth the iconic Aston Martin DBR1 that he drove in the 1950s, helping Aston Martin to victory in the 1959 World Sportscar Championship.

The Englishman will drive DBR1/2 – the car that claimed victory in the 1959 Le Mans 24 Hours – at this year's Le Mans Legends race, which takes place before the start of the endurance classic on Saturday 16 June. Moss will share the car wîth Dr Úlrich Bez, Chief Executive of Aston Martin.

Moss drove for Aston Martin at Le Mans three times, making his debut wîth the team in a DB3S for the 1956 race, before competing wîth a DBR1 in 1958 and 1959. Also in the DBR1, he claimed wins at the 1958 and 1959 Goodwood Tourist Trophy, as well as at the Nurburgring 1000 kilometres in Germany. After a brief test, the 77 year-old is lòòking forward to getting back behind the wheel of one of Aston Martin's most famous cars in order to demonstrate it to the public.


He commented: 'I tested the DBR1 at Silverstone last Friday and it felt wonderful. I am delighted to have the opportunity to race at Le Mans again.

Dr Bez said: 'I'm sure every racing enthusiast in the world would love to see Sir Stirling and the DBR1 in action again, and I am delighted that so many will have the opportunity at Le Mans this year, 48 years after they last appeared there together. To partner Sir Stirling in the race is a dream and a great honour for me.'

The Legends race has become a quintessential part of the Le Mans experience. This year the one-hour race will feature over 50 of the finest sports cars ever to grace the track, including the Ford GT40, Ferrari 250LM, Alfa Romeo Tipo 33 and of course the Aston Martin DBR1.


Duncan Wiltshire, Chairman of race organiser Motor Racing Legends, said: 'Sir Stirling's presence couldn't be better news. He is a true motor sport hero to all generations, and a real legend outside the sport as well.'

After the Legends race a record six Aston Martin DBR9s will be competing in the 24-hour race at Le Mans in the GT1 class, for production-based sportscars.
Source - Aston Martin
For more information and related vehicles, click
here
Auctions America Continues Successful 2013 Season with its Annual Fall Carlisle Sale
• Auctions America rounds out its 2013 auction season in Carlisle, Pennsylvania, October 3-4 • Two-day Fall Carlisle sale, held in conjunction with the Carlisle Events Collector Car Swap Meet & Corral, features a diverse roster of 300 classics, exotics, muscle cars, hot rods, and customs • Auction highlights include a desirable 1967 Chevrolet Corvette 427/435 Roadster, a 1969 Chevrolet Camaro Z-28 RS Sport Coupe, and a 1960 Mercedes-Benz 190SL Roadster • Full event details and a frequentl...[Read more...]
Auctions America Readies for Highly Anticipated Spring Carlisle Collector Car Weekend
• Auctions America returns to Carlisle, Pennsylvania for its annual Spring Carlisle sale, April 25-26 • Two-day sale lifts the gavel on a diverse roster of approximately 300 quality collector cars • Notable highlights include a rare 1959 Chevrolet Corvette 'Big-Brake' Fuel-Injected Roadster, a 1970 Chevrolet Chevelle SS LS5 Convertible and a 1999 Bentley Azure Convertible • Sale held during Carlisle Events' highly anticipated Spring Carlisle Collector Car Swap Meet & Corral weekend, April 24...[Read more...]
VICARI AUCTION COMPANY OFFERS RARE '62 & '63 Z06 CORVETTES AT 2013 CRUISIN' NOCONA
In a recent rare find, two classic Chevrolet Corvettes (one '62 and one '63) - stored for decades-are being made available by the Vicari Auction Company. Both vehicles will cross the block during 2013 Cruisin' Nocona, a north Texas collector car auction and classic car poker cruise set for April 19th and 20th in historic Nocona, Texas. The Corvettes are virtually all-original, and have been stored in Texas by a classic-vehicle aficionado and collector since the 1980s. 'These...[Read more...]
Barrett-Jackson Flavors Its January Scottsdale Auction With NASCAR Treats
• RACING HERITAGE, HIGH PERFORMANCE ARE RECIPES FOR CAR-COLLECTING FEAST
• SPEED™ SET FOR 39 HOURS of LIVE COVERAGE STARTING JAN. 15
The great Henry Ford once said, 'Auto racing began five minutes after the second car was built.' And for more than 60 years, there are few entities that better represent auto racing in America than NASCAR. From the hallowed grounds of Daytona International Speedway, to Sonoma, California's intricate and picturesque road course, the sp...[Read more...]
TOPLINE COLLECTORS PLACE SPOTLIGHT on SPEED'S BARRETT-JACKSON BROADCAST FROM SCOTTSDALE
• TOPLINE COLLECTORS PLACE SPOTLIGHT on SPEED'S BARRETT-JACKSON BROADCAST FROM SCOTTSDALE
• 'LOST' SHELBY DUAL PROTOTYPE, HAGERTY GIVEAWAY & SALON COLLECTION HIGHLIGHT 39 HOURS OF LIVE COVERAGE
The 42nd annual Barrett-Jackson Scottsdale (Ariz.) Collector Car Event, the first of four set for live coverage in 2013, kicks off the auction season in grand style as some of the world's most sought-after machines cross the block starting Tuesday, Jan. 15 at 7 p.m. ET/4 p.m. PT. SP...[Read more...]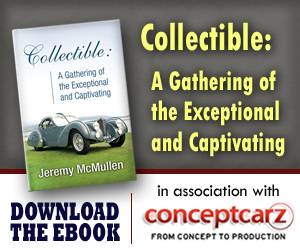 © 1998-2014. All rights reserved. The material may not be published, broadcast, rewritten, or redistributed.