1958 Devin SS news, pictures, specifications, and information

Tweet
Bill Devin built a car that had the style, sophistication, and performance of a Ferrari but sold for less. The prancing horse demanded a high price due to its pedigree; Devin decided to exploit the market and offer a nearly identical vehicle at an affordable price.

Bill had a history of racing that included a win at the first Pebble Beach race in 1949 while driving a modified Crosley Hot Shot. Later he entered the fiberglass body business where he sold hundreds of lightweight but durable bodies at just under $300 a piece. Near the close of the 1950's, his company was producing nearly 100 bodies per week and shipping them throughout the world.

Irishman Malcom MacGregor approached Devin with a sports car that he had built. It was complete without a body. Devin was impressed with the design and soon chassis development was taking place in Ireland. The rolling chassis were then shipped to Devin in Elmonte, California where he would finish the assembly. It included an independent suspension in the front and a De Dion tube setup in the rear. Steering was through a rack-and-pinion unit. 12 inch Girling disc brakes provided ample stopping power while the Dunlop wire wheels held the car firmly in place under heavy cornering.

Around fifteen chassis were sent to Devin who finished them with Chevrolet V8 power, Borg Warner transmission, chromed exhaust pipes, and lightweight bodies. Ferrari's of the day were fetching around $12,000 while a comparable Devin racer cost just under $6000.

On the racing circuit the vehicles quickly proved their potential. One of the Devin racers was driven by Pete Woods who won the C-modified Championship. Many of the others were converted into road friendly vehicles and purchased by customers who were looking for a car that could get them noticed.

Road & Track got their hands on one and recorded a seven second zero-to-sixty time with the quarter mile in 14 seconds. Top speed was just over 130 mph.

The example shown carries chassis SR2-06 and has no known period racing history. It is believed that this is one of the road cars. It was found in a barn in California and has since had a complete frame-up restoration. In recent times it has been entered in the Monterey Historic Races, Coronado Festival, and the Wine Country classic.

It is powered by a 339 cubic-inch Chevrolet V8 engine with Rochester fuel injection and produces 375 horsepower. It is matted to a Borg Warner T-10 four-speed manual gearbox.

At the 2006 RM Auction in Monterey, CA it was expected to sell between $285,000 - $385,000 with no reserve. The winning bidder found a bargain at $247,500.
By Daniel Vaughan | Mar 2007
Bill Devin was an automotive pioneer in the truest sense of the word. For his first car, the 1954 Devin Panhard, he modified a 2-cylinder Panhard engine using Norton Manx heads and created the first ever belt driven overhead cam engine. The cars were not only innovative but had significant racing success. In 1956 Jimmy Orr piloted a Devin Panhard to the SCCA National Championship in the H-Modified class.

In 1958 Devin built the Devin SS, a dual purpose sports car with Chevy V8 power. Like his first car, the SS was inventive. The car was built on a tube chassis which Devin sourced from engineer Malcolm MacGregor of Northern Ireland - giving the car deep European roots. Although Devin's initial idea was to build the best sports car possible, some found their way tot he racetrack. In fact, Pete Woods won the 1959 Cal Club C-Modified Championship in a Devin SS.

Devin SS #SR 4-9 was raced at the 2006 Monterey Historic Races by Andy Porterfield who was the original Devin factory driver in the late 1950's. Porterfield is also the winningest driver in SCCA history.
An independent enthusiast constructed the 1958 Devin Special, combining attractive styling, European suspension and handling with American V8 horsepower coupled to a four-speed synchromesh transmission. Bill Devin's lightweight fiberglass bodies were built in California, emulating a 1952 Ermini designed by Scaglietti. The Austin-Healey running gear, coupled with a modified Corvette engine, exemplifies 1950s sport racer design and construction. The engine utilizes the era's 'hot rod' technology: a high lift camshaft plus three Rochester carburetors that sit atop the only known Devin '3 x 2' intake manifold. Devin valve covers, gauges, steering wheel hub, etc., join innovations like a generator that runs backwards to reflect American sports racers' creativity in the 1950s.

With over 300 horsepower propelling the 1800 pound Devin/Chevrolets, Specials were potent. One achieved 0 - 60 in 4.4 seconds and another reached 202.72 MPH at Bonneville. This level of performance made Devin Specials competitive road racers well into the 1960s.
Bill Devin was considered one of the best home builders creating fiberglass bodies to fit over a variety of chassis. This SS was a competition model that mimicked Italian sports racers of the era. With a Corvette engine and lightweight construction, it was a potent competitor at an affordable price.
There were 15 Devin SS models built at the DEVIN factory in El Monte, California between 1957 and 1959. These cars were sold as complete cars ready to race or for street use.

The rolling chassis with a 92-inch wheelbase were built in Belfast, Ireland. The front suspension was fabricated with equal length parallel A-arms, Coil-over springs/shocks were fitted between the A-arms with 13-inch Girling disc brakes. The rear axle was located by a pair of parallel trailing arms on each side with a 3-inch de Dion tube connecting the rear hubs and disc brakes that are mounted inboard.

The chassis were shipped to California for completion by adding a stock 283-cubic-inch Corvette motor, T10-4speed Corvette rear end. The bodies were molded from fine translucent tan fiberglass and placed on the frame.

The DEVIN's raced successfully in SCCA C-modified class against Ferrari's, Lister's, and Maserati's.
For more information and related vehicles, click
here
John Barnard's Finest: Some of the Greatest of Barnard's Design
The latter-part of Barnard's Formula One career would be filled with disappointments and disputes. However, there was no disputing the genius of the man from London. In fact, a couple of innovations that are mainstays in Formula One design were first introduced by this man who had been involved in motor racing in some form or manner since the 1960s. John Barnard would be born in London on the 4th of May in 1946. The war was over and a whole new world loomed on the horizon. It was t...[Read more...]
Mazda Raceway Laguna Seca to Host 2014 SCCA National Championship Runoffs
MONTEREY, Calif. (July 10, 2013) – The Sports Car Club of America today announced the host sites of the next three SCCA® National Championship Runoffs®, including the first visit for amateur road racing's top event to Mazda Raceway Laguna Seca in 2014. Daytona International Speedway, in 2015, and Mid-Ohio Sports Car Course, in 2016, will also hold events over the next three years. The return to the west coast and Monterey's Mazda Raceway Laguna Seca comes 50 years after the inaugural ...[Read more...]
Corvette's Chassis Innovations Refined on the Race Track
Zora Arkus-Duntov's racing-bred development legacy continues to improve Corvette It's been said that racing improves the breed, and when it comes to the Chevrolet Corvette, nearly six decades of checkered flags are the proof. As Corvette marks its 60th anniversary in 2013, the design of the chassis, suspension and other drivetrain features are rooted in the rigors of competition. 'Candidly, Corvette was not a high-performance car until Zora Arkus-Duntov fitted it with a V-8, and be...[Read more...]
1967 Can-Am Road America: The Beginning of the 'Bruce and Denny Show'
While Formula One will be forever considered the pinnacle of motorsport, from a period between 1966 and 1986 there existed a series that would likely be the closest to 'anything goes' as any motor racing series could truly get. Based upon the FIA Group 7 cars but allowed to showcase unlimited engine sizes and unfettered aerodynamics, the Can-Am cars would have to be considered the pinnacle of motorsport technology and power of their era. And for more than a couple of years there would be one tea...[Read more...]
Carroll Shelby, Ford Family for More Than Half a Century
Carroll Shelby was a member of the Ford family for the better part of 60 years, producing stunning performance vehicles from concepts to production models. He once said his energy and passion for performance products were always strongest when he was working with Ford. Shelby most recently collaborated with the company on the 2013 Ford Shelby GT500 Mustang, the most powerful production V8 in the world. Working with SVT engineers at Sebring and the Arizona Proving Grounds, at times he drov...[Read more...]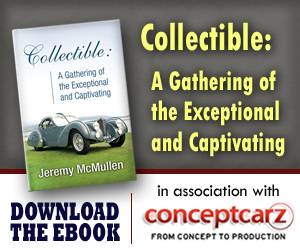 © 1998-2014. All rights reserved. The material may not be published, broadcast, rewritten, or redistributed.