1912 Standard Electric Model Electrique news, pictures, specifications, and information

Tweet
Few examples remain of what was the Standard Electric Car Company of Jackson, Michigan. The company was in business from 1911-1915. Clem Krueger, who had worked for the Studebaker brothers in South Bend, Indiana, ran the Standard Electric Car Company and adhered to strict electric vehicle practices in his automobile's production. The most popular model during those short production years was the closed Coupe, however a Runabout was occasionally offered. The vehicle was steered by a tiller on the left side and was widely advertised as able to run 110 miles between charges. In November 1915, the company discontinued production and sold its factory to Benjamin Briscoe.

The car shown is the only electric vehicle to complete the New London to New Brighton Auto Run in Minnesota, created to mimic the annual London to Brighton Commemorative Run held in England. While the British original covers 57 miles, the Minnesota version is double that in length at nearly 125 miles. Also, the New London to New Brighton Run is not a race but a tour.

This automobile is the Model 'Electrique' Electric Motor. It has a 96-inch wheelbase. The original price was $1,885.00, which would be about $34,410 in today's dollars.
Source - LeMay Museum
LOCALLY EMISSION-FREE, POWERFUL AND CONNECTED
Zero Emissions, Zero Compromises November 14, 2014 - MONTVALE, NJ -- The 2015 B-Class Electric Drive features dynamic design, a premium interior and a powerful electric motor for emission-free mobility. This allows for lively, effortless driving pleasure over a real-world range of 87 miles (EPA). In addition, the B-Class Electric Drive is digitally networked. Thanks to its connectivity, it can be conveniently checked and configured via the internet. As the Mercedes- Benz among e...[Read more...]
VOLVO CARS' ALL-NEW XC90 WILL BE THE WORLD'S MOST POWERFUL AND CLEANEST SUV
◾All-wheel drive, seven seats, around 400 hp and 472 lb.-ft. of torque with ultra-low emissions of around 60g/km ◾Delivering guilt-free luxury SUV ownership ◾New Volvo-developed Plug-in Hybrid, Twin Engine technology Volvo Cars' all-new XC90 will offer an unrivaled combination of power and clean operation when it is launched later this year. The all-wheel drive seven-seater will deliver guilt-free luxury SUV ownership, offering drivers around 400 horsepower but with carbon dioxide (CO2) emi...[Read more...]
SMART ELECTRIC DRIVE ARRIVES ON THE STREETS OF CHINA
• smart becomes the first European importer to bring an all-electric vehicle to the Chinese market
• Following on from Europe, the USA, Canada and Japan, the electric smart reaches its 14th market with its launch in China
• With a market share of around 40 percent, the smart fortwo electric drive is the frontrunner in Germany
Stuttgart. The new smart fortwo electric drive is now available to buy from dealerships in China. The smart brand celebrated this market l...[Read more...]
BRITAIN'S RACING LORD AIMS TO RAISE SUB-1000 KG ELECTRIC CAR WORLD LAND SPEED RECORD AT BONNEVILLE SPEED SHOOTOUT
10 September 2013 : Technology entrepreneur, former UK science minister and racing driver Lord (Paul) Drayson is bringing his spectacular Drayson B12 69/EV electric Le Mans Prototype racing car to the Bonneville Salt Flats in Utah in an attempt to raise the sub-1000kg electric car world land speed record. Drayson Racing achieved a 204.2mph average speed (subject to FIA homologation) over the measured mile earlier this summer at Elvington Airfield in Yorkshire, UK, and is aiming to go e...[Read more...]
Concours d'Elegance Announces 2013 Car Classes
Concours Car Selection Chair, Brian Joseph has announced the 2013 featured classes: • London to Brighton Pre-1905 • Auburn/Cord: The One Offs • Detroit Iron: American Classic Open 1928-1934 Cadillac, Chrysler, Lincoln & Packard • Indianapolis Iron: American Classic Open 1928-1934 Duesenberg, Marmon & Stutz • Motorcycles: Bobbers • Can-Am • Vintage Nascar • Drag Racing • Past, Present & Future: Electric Cars • Most Elegant Cars • Porsche 911 - On the Road - On the Track • Honori...[Read more...]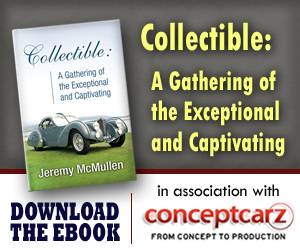 © 1998-2014. All rights reserved. The material may not be published, broadcast, rewritten, or redistributed.