1955 Lincoln Indianapolis Exclusive Study news, pictures, specifications, and information

Tweet
The coachbuilding craft was in desperation after World War II. Many of the marques had brought the styling, designing and building of the vehicles in-house. The availability of suitable chassis also dwindled. At this time, many prominent coachbuilders worked hard to form alliances with marques, especially the American Companies who had deep pockets. Ghia created a relationship with Chrysler; Bertone with Packard; and Touring with Hudson.

This companies looked to the coachbuilders for new designs that were bold and inspiring. Felice Mario Boano had acquaintances in the Ford Motor Company who were instrumental in aiding Boano in securing projects. Henry Ford II had just recently taken control of the company from his father, Edsel Ford. He was anxious to bring the Ford Company into a modern era and so, supplied Boano with a Lincoln chassis. Felice Mario gave the job to his son, Gian Paolo.

Gian Paolo had gained knowledge of the family craft from Liceo Artistico and then apprenticed in his father's company. The wealth of knowledge and experience of the skilled artisans and the family business were nurtured from one generation to the next. One of his first series production vehicle designs was the Lancia Aurelia 2000 while working at Ghia. His designs had Italian style with influences of the contemporary American automobile.

The project was intended for the 1955 Turin Motor Show. It was given the name 'Indianapolis', after the legendary race. The design was very futuristic, and probably inspired by airplanes and aviation. The result was a flamboyant and bold, but elegant concept. The design was graceful and full of detail. Little time had passed from when Ford commissioned the car to be built, to when it was on display at the Motor Show. The result was stunning, and led to Ford extending a contract to Boano. Felice Mario informed Fiat of the contract, which led Fiat to form the Centro Stile department. Boano was select at its leaders. Boano sold their coachworks to Ezio Ellena who was the husband of Gian Paolo's sister.

After the Lincoln Indianapolis Concept was shown at Turin, it was sent to the United States where it was consigned to Henry Ford II. It is believed that it was later given to his friend, Errol Flynn. During the early 1960s the car was involved in a fire and it suffered much damage. The interior was completely ruined. The car passed through ownership throughout the years and remained in un-restored condition for many of those years. It was partially restored in the 1970s before being put into storage for approximately 20 years. A very thorough restoration was performed during the early 2000s. Much care was taken to preserve the cars original appearance and to follow Gian Paolo Boano's original designs. The restoration took two years to complete. It is finished in its original bright orange with a black-and-white checkered interior

The vehicle has three chromed faux exhaust pipes on the sides of the vehicle. Sitting directly behind them are tall air intakes with five chromed air splitters. There is no visible cooling air intakes in the long, front nose of the vehicle. The headlights are stacked with two on each side. The wheels are nearly covered under the fenders. The windshield wraps around and gracefully flows into the side windows and continues to the rear where it is met by another, wrap around piece of glass.

The interior is very clean with many of the instrumentation hidden away. A touch of a button reveals the drop down instrumentation.

The car has made an appearance at the Pebble Beach Concours d'Elegance, along with other prominent events and shows.

The 1955 Lincoln Indianapolis Exclusive Study with coachwork by Boano was offered for sale at the 2006 Gooding & Company Auction held in Pebble Beach, Ca. The car is powered by a V8 engine that produces over 200 horsepower. There is a four-speed automatic gearbox, independent front suspension, and a live rear axle.

At auction, the car was one of the highlights of the event; a duty it has been performing rather well since it was created many years ago. It was flanked by many other impressive automobiles and was one of the top sellers of the day. At the conclusion of the auction, the car had been sold for $1,375,000.
By Daniel Vaughan | Feb 2007
After taking control of Ford Motor Company from his father Edsel Ford in 1945, Henry Ford II was anxious to bring the company into the modern era. The Lincoln-Zephyr and Cosmopolitan were obvious examples of this new direction, but this much more radical car was ordered for the 1955 Turin Motor Show. At the time, many Italian coachbuilders were forming alliances with the American motor companies, which had deeper pockets. Ford tuned to Felice Mario Boano to design and build the Lincoln Indianapolis and his son, Gian Paolo Boano, carried out the work. After its Turn debut, Henry Ford II used it for a time, and later it is believed that he gave it to his friend Errol Flynn. A thorough restoration was started in 2002, utilizing Boano's original designs. It is finished in its original bright orange paint with a black-and-white checkered interior.
RM Auctions in Association with Sotheby's Lifts Gavel on Bespoke American Motor Cars in New York City
• RM Auctions, in association with Sotheby's, announces latest highlights for its exclusive 'Art of the Automobile' event, November 21, in New York City • Celebrating the motor car and its place in the history of design, the highly anticipated collector car auction features elite group of more than 25 investment-quality automobiles • Latest offerings shine spotlight on custom American automotive design, from a streamlined Classic Era roadster through to a flamboyant 1950s dream car • Frequ...[Read more...]
FORD FUND ANNOUNCES $1 MILLION WILLIAM CLAY FORD AUTOMOTIVE DESIGN SCHOLARSHIP
◾Scholarship commemorates the design legacy of William Clay Ford, former chairman of Ford Motor Company's design committee ◾Ford Fund commits $50,000 per year during the next 20 years, giving five automotive design students each $10,000 per year ◾Mr. Ford oversaw design of the iconic Lincoln Continental Mark II, considered by many one of the greatest cars ever built Ford Motor Company Fund will award $1 million in automotive design scholarships during the next 20 years to commemorate the la...[Read more...]
The Fox Body Mustang: A Return To Form
'Thou shall never do a slantback front end.' That was the commandment from Gene Bordinat, Ford's vice president of design, 'Henry Ford II only wants vertical front ends, and he'll show us the door if we ever try anything like it.' This mantra hung over the early development of the third-generation of Ford's wildly successful Mustang. In 1975 Ford designers began the job of redesigning the iconic pony car for the coming 1980s. The car and country had been through a roller coaster 20-year perio...[Read more...]
63rd Pebble Beach Concours d'Elegance Names 1934 Packard 'Best of Show'
The competition showcased 248 cars, including 48 from abroad PEBBLE BEACH, Calif. (August 18, 2013) -- A 1934 Packard 1108 Twelve Dietrich Convertible Victoria owned by Joseph and Margie Cassini III of West Orange, New Jersey, was named Best of Show at the 63rd Pebble Beach Concours d'Elegance, held Sunday on the 18th fairway of Pebble Beach Golf Links at Pebble Beach Resorts. The event showcased 248 cars from 36 states and 12 countries and raised $1,277,007 for charity. 'This Pack...[Read more...]
GREG BIFFLE GIVES FORD MOTOR COMPANY 1,000TH NASCAR VICTORY AFTER WINNING AT MICHIGAN INTERNATIONAL SPEEDWAY
◾Ford Motor Company has won 1,000 NASCAR races in the Sprint Cup, Nationwide and Camping World Truck Series combined. ◾Jim Roper won the very first NASCAR-sanctioned stock car race in a Lincoln when he was deemed the winner at Charlotte on June 19, 1949. ◾Ford Motor Company has won 20 manufacturer titles and 13 driver championships in NASCAR's top three series. DEARBORN, MI, (June 16, 2013) – Henry Ford's win over Alexander Winton on Oct. 10, 1901 in what proved to be his only race a...[Read more...]
Edsel Ford's Speedster Stars at 'The Amelia'
Edsel Ford's 'continental car', a custom boattail speedster, will take its rightful place in the Sports Car Class of the 18th annual Amelia Island Concours d'Elegance. In the shape of Edsel's seminal speedster is the genesis of Ford's legendary design department. Edsel Ford was hardly 'a chip off the old block'. The acorn fell well away from the mighty oak that was Henry Ford, founder of the Ford Motor Company. Edsel was not just the President of Ford, he was a car guy to his core. His ta...[Read more...]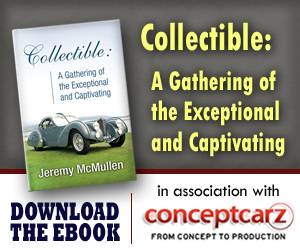 Lincoln
Monthly Sales Figures
Volume
June 2014
7,271
May 2014
8,845
April 2014
6,803
March 2014
8,969
February 2014
6,661
January 2014
5,973
December 2013
7,984
November 2013
6,727
October 2013
7,131
September 2013
6,453
August 2013
8,192
July 2013
6,919
(More Details)
© 1998-2014. All rights reserved. The material may not be published, broadcast, rewritten, or redistributed.