Image credits: © Ferrari.
1974 Ferrari Dino 308 GT4 news, pictures, specifications, and information

Tweet
Considered to be angular, or 'wedge-shaped', the Ferrari Dino 308 was considered to be the groundbreaking model for Ferrari as it featured the new 3.0-liter V8 engine that would become the trademark for the business.


Introduced in 1974, this vehicle came soon after the merge between Ferrari and Fiat. After producing 2,826 vehicles, the Ferrari 308 GT4 was replaced by the Mondial in 1980.

The Ferrari 308 GT4 carried the Dino badge in tribute to Enzo Ferrari's son, Dino at first, before switching to the Ferrari badge.

Affordable, with a superbly styled body, and great performance, the 308 GT4 carried the Bertone bodywork rather than Pininfarina.

These vehicles are considered to be a bargain today, and relatively easy to acquire as they remain priced similarly to a low-end sports car.

Introduced at the Paris Motor Show in 1973, the 308 featured controversial styling at first, due to its angular lines. The chassis was stretched for a 2,550 mm wheelbase to make room for a second row of seats, and was based on the 246 Dino.

The V8 was mounted transversely, and the 3.0L (2827 cc) V8 produced 255 hp and was integrally joined with the gearbox.

Appearing in an episode of BBC's Top Gear and was purchased Richard Hammond. The car was acquired for less than 10,000 British pounds.

Though under frequent ridicule by Jeremy Clarkson, who considered the Ferrari Dino to be 'fake Ferrari', it was the most reliable car of the times.
By Jessica Donaldson
Kia to showcase diesel-electric Kia Optima T-Hybrid at Paris
•More power and lower emissions for Kia Optima mild hybrid show car •Innovative new powertrain pairs 1.7-litre CRDi turbo-diesel engine with 48V lead-carbon battery, small electric motor and an electric supercharger •Kia Optima T-Hybrid concept previews new powertrain technology ahead of future mass production Frankfurt, 29 September 2014 – Kia will reveal the new Kia Optima mild hybrid show car at the 2014 Paris Motor Show on 2 October, the first application and demonstration of the...[Read more...]
1980 Belgian Grand Prix: Pironi's Star on the Rise
Following the outstanding performance in the 1978 24 Hours of Le Mans that resulted in victory for Renault, its only victory in the 24 hour race, Didier Pironi would be considered a man to watch. On the 4th of May, 1980, in just his second season in Formula One, he would prove why. He had to be careful to let the tactics play out. This would not be easy as the sister-car drew far away into the distance. It was the 1978 24 Hours of Le Mans and Renault was still to crack the reliability and per...[Read more...]
BREMBO: THE CHOICE OF CHAMPIONS!
• Leadership confirmed with victories in F1, IndyCar, MotoGP, Le Mans Among Others
PLYMOUTH, Mich., Dec. 31, 2013– Brembo, the leading designer and manufacturer of brake systems and high performance automotive components, confirms its technological leadership through repeated motorsports victories in 2013. The company is very pleased this year to have assisted Sebastian Vettel and Red Bull in achieving the Formula One Drivers' and Constructors' championships for the fourth-st...[Read more...]
Enzo Ferrari: His Example Lives On
Maranello, 13th August – A quarter of a century has passed since that Sunday 14th August back in 1988, the day Enzo Ferrari passed away. That's a whole generation ago: we have colleagues here who were not even born when Ferrari died. And yet, his memory lives on and strongly so, for those who knew him and also for those who barely heard him talk, as well as those lucky enough to own or even to have simply driven a car that bears his name, or were overjoyed at a victory or cried at a defea...[Read more...]
Incredible Hypercar 'Full House' Tops Spectacular Ferrari Extravaganza
• RM Auctions announces amazing 16 car Ferrari haul for its forthcoming sale during the Concorso d'Eleganza Villa d'Este weekend, 25th May, on Lake Como, Italy • Hypercar 'full house' includes Ferrari Enzo, F50, F40, 288 GTO, and 599XX • Full list of handpicked entries available online at rmauctions.com LONDON (16 April, 2013) – RM Auctions, the world's largest collector car auction house for investment-quality automobiles, is delighted to announce that its exclusive sale during the...[Read more...]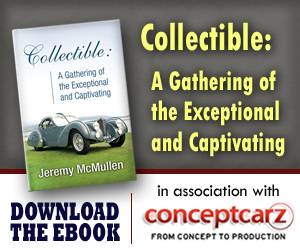 © 1998-2014. All rights reserved. The material may not be published, broadcast, rewritten, or redistributed.