Image credits: © Cadillac. GM Corp.
1928 Cadillac Series 341A news, pictures, specifications, and information

Tweet
The 1928 Cadillac received a new, larger V8 engine to replace the original one that dated back to 1915. This was a good year for the marque; production totaled 20,001 for the year. The Series 341 Cadillac rode on a 140-inch wheelbase, and the 341-cubic inch engine produced a top speed of 70 mph. The chassis had underslung rear springs, which allowed bodies to be lower than before. The 1928 model, which was the first Cadillac designed by Harley Earl, bore a distinct resemblance to the LaSalle introduced the prior year. No less than 42 standard body styles by Fisher or Fleetwood were listed in the catalog for 1928. This example is fitted with a custom Dual-Cowl Phaeton body by Fisher, and has been owned by Mr. Lewis for 15 years.
By Daniel Vaughan | Mar 2007
Cadillac debuted the 341-A Series in 1928. It rode on a longer 140-inch wheelbase and used a bigger 341 cubic-inch L-Head V8. Although the engine only produced 90 horsepower, it produced a massive 208 pound-feet of torque which eliminated unnecessary shifting of the three-speed manual transmission. This fabulous Cadillac dual-cowl phaeton recently won at Amelia Award in March of 2007.
By Daniel Vaughan | Sep 2007
This car is a Series 341, Dual Cowl Sport Phaeton. The body is by Fisher. It is powered by a V-8 engine with 341 CID, it has a 140 inch wheelbase. It cost approximately $4,000 when new. The current owner has owned the car for approximately 20 years.
This Cadillac is the ex-Al Capone vehicle. It is painted green with black fenders, the same as the 85 Cadillacs that were also supplied to Chicago police and city officials. It was also fitted with flashing red lights behind the grille, a regulation police siren, and the first known police-band radio receiver in a private automobile.

This is a 'bulletproof' car that has heavy glass measuring nearly an inch thick and completely lined with 3,000 pounds of steel armor plating. Heavy spring lifts permitted the side window to operate, while the rear window was rigged to drop quickly.

The engine is a 341 cubic-inch L-head V8 unit offering 90 horsepower. There is a three-speed manual transmission and four-wheel mechanical drum brakes.

In 2010, this car was offered for sale at the 'Sports & Classics of Monterey' presented by RM Auctions. It was estimated to sell for $450,000 - $650,000. Bidding reached $355,000 but was not enough to satisfy the car's reserve. It would leave the auction unsold.

The car was purchased in May of 1933 by Mr. Harry LaBreque from Mr. Patrick Moore, of 37 Grove Street in Rockville, Connecticut. It is believed that Mr. Moore purchased the car from an agent in Chicago, with whom they believed it had been placed by Capone. The car was owned by the Moores for about a year.

Capone was caught in October of 1931 attempting to sell his home in Florida, along with two yachts and other items, for $150,000 cash. Al Capone was convicted on October 18th of 1931 and sentenced in November, and had a rehearing of appeal denied in March of 1932, with his sentence at Atlanta U.S. Penitentiary beginning on May 4, 1932.

After the LaBreque ownership, the car was shipped to New York and shipped to England, and was displayed at the Southend-On-Sea amusement park and later at the Blackpool Fun fair in Manchester. Dance hall owner Tony Stuart purchased the car for $510 at an auction in February of 1958 and sold it months later to Harley Nielson, a businessman and car enthusiast from Todmorden, Ontario. Neilson undertook a comprehensive restoration, and in the process, most of the heavy armor plating was removed, but other features, including the bulletproof glass and drop-down rear window, were retained.

The car was sold to the Niagara Falls Antique Auto Museum in the mid-1960s and then sold in late-1971 and displayed at the Cars of the Greats museum, co-owned by Peter Stranges, of Niagara Falls, Ontario. B.H. Atchley's Smoky Mountain Car Museum in Tennessee acquired the car in early-1979; Atchley freshened the restoration, and since the original glass was heavily crazed and deeply yellowed, a specialist supplied replacement glass of identical size and thickness. The car then joined the O'Quinn Collection in 2006.

This is among the earliest surviving bulletproof vehicles, fitted with glass almost an inch thick and lined with nearly 3,000 pounds of armor plating. Heavy spring lifts permitted the side windows to operate, while the rear window was rigged to drop quickly, allowing occupants to fire upon would-be pursuers. The modified windows were also equipped such that the glass could be raised an extra inch or so, revealing a circular cutout large enough to accommodate the muzzle of a machine gun.
By Daniel Vaughan | Jul 2012
In 1928 Cadillac introduced a new V8 engine that was 341 cubic-inches and produced 90 horsepower. The vehicle in which is was installed was called the 341, or the Series 341 and 341B. Production of this engine, and this series, continued until 1929 when it was replaced by the 353. The Series 353 had a 353 cubic-inch engine which benefited from a 3.38 inch bore and 4.94 inch.
By Daniel Vaughan | Mar 2007
For more information and related vehicles, click
here
Postwar Ferrari Named Best of Show at 2014 Pebble Beach Concours d'Elegance
1954 Ferrari 375 MM Scaglietti Coupe Named 'Best of Show' PEBBLE BEACH, Calif. (August 17, 2014) -- Excited cheers echoed across the 18th fairway of Pebble Beach Golf Links Sunday when a 1954 Ferrari 375 MM Scaglietti Coupe was named Best of Show at the 64th annual Pebble Beach Concours d'Elegance. The car, owned by Jon Shirley of Medina, Washington, was the first postwar car to take the top award at the prestigious event in nearly five decades. It was also the first Ferrari to win. ...[Read more...]
RARE 1907 AMERICAN UNDERSLUNG ROADSTER TO HEADLINE BONHAMS' AUTUMN AUCTION PRESERVING THE AUTOMOBILE
Entries are now being accepted for the unique October auction at the Simeone Foundation Museum in Philadelphia Bonhams is pleased to announce that the FC Deemer 'honeymoon' 1907 American Underslung Roadster will be sold at auction on October 6th when it is expected to realize in excess of $900,000. Of the four noted 'Deemer' American Underslungs, this 107-year old example is the first that FC Deemer, a Brookville, Pennsylvania oil man purchased and took on his honeymoon in 1907 – an...[Read more...]
STATEMENT ON PASSING OF ROAD AMERICA BOARD MEMBER AND LEGENDARY RACER JIM JEFFORDS
ELKHART LAKE, Wis., March 25, 2014 - A statement from Road America President and General Manager, George Bruggenthies, about the death of long time Road America board member and racer, Jim Jeffords: 'Jim Jeffords was the definitive example of a gentlemen racer with a heart of gold. He loved racing for the thrill of competition, not for the money. Jim will be best remembered for how his passion for racing carried over into many successful years behind the wheel and many more beyond tha...[Read more...]
GM Design: 85 Years of Making Art That Moves You
As GM Design celebrates its 85th birthday this month, the 1,900 men and women in GM's 10 global design centers are focused on the future, united in their vision to entice consumers to fall in love and see vehicles as they do: art that moves you. 'Our global team is united around its passion for designing vehicles that make an emotional connection with customers,' said Ed Welburn, GM vice president, Global Design. 'What was true 85 years ago is still true today: A designer's role is to create...[Read more...]
Automotive Hall of Fame Inductees Named
Awards to be Presented in Conjunction with the Concours d'Elegance of America The Automotive Hall of Fame will present its annual induction and awards ceremony on Thursday, July 26, 2012 as one of the week-long Concours d'Elegance of America events. It will be held at The Inn at St. John's in Plymouth, Michigan. Both the Concours d'Elegance of America and the Automotive Hall of Fame celebrate the heritage and history of Detroit. The show highlights the evolution of the automobile's...[Read more...]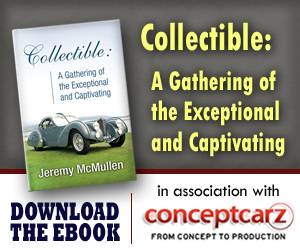 Cadillac
Monthly Sales Figures
Volume
December 2014
16,150
November 2014
13,148
October 2014
13,615
September 2014
13,829
August 2014
16,650
July 2014
15,241
June 2014
13,941
May 2014
14,688
April 2014
13,900
March 2014
14,765
February 2014
13,437
January 2014
11,386
(More Details)
© 1998-2014. All rights reserved. The material may not be published, broadcast, rewritten, or redistributed.