1933 Stutz DV-32 news, pictures, specifications, and information

Tweet
1933 was the 'swan song' for mighty Stutz. As so often seems to be the case, their best work came at the end. Stutz was a company with a strong engineering background - beginning with a spectacular initial success at Indianapolis in 1911 that earned the company a reputation as 'the car that made good in a day.' Along with Duesenberg, Stutz maintained a racing presence, and the specifications of the DV-32 testify to that commitment: double overhead cams, four valves per cylinder and hemispherical combustion chambers. Few modern cars are as advanced. This car features a 156 horsepower, 322 cubic-inch, inline eight-cylinder engine with 32-valves. Bijur chassis lubrication system, a three-speed synchromesh transmission, vacuum-assisted power brakes and thermostatically-controlled hood louvers.

The Stutz marque built a solid reputation for their strong engineering background, beginning with spectacular success at Indianapolis in 1911 that earned the slogan 'the car that made good in a day.' They continued their racing presented and many of their road going vehicles benefited from their experience. The DV32 had double overhead cams, four valves per cylinder and hemispherical combustion chambers. There were also vacuum assisted power brakes.

During the company's 25-year history, they produce a total of 35,000 cars. Their last car was manufactured in 1934.

Rollston of New York, which averaged just 22 bodies per year in the Depression era, created this example with steeply raked windshield and carefully proportioned body lines.

The early history of this Convertible Victoria by Rollston is not known, though it is believed to have begun its life in New York City. There it was sent to the Rollston Company where it received its five-passenger designed body. This formal design has a high beltline, long doors, an aggressively slanted windshield, and rather squared-off proportions. It wears its original colors of Sierra Sandstone and Antique Veridian Green over beige leather upholstery.

The history of the car dates back to 1952, when it was acquired by Carl Pennrich, of Greenwood Lake, New York. In 1960 it was sold to William Harrah where it would remain over a quarter century. At that point in its history it was painted maroon.

When the Harrah Collection was dispersed, the Stutz was purchased by Richard Scott, who got it running and driving again. After several years in the Scott collection, ownership passed through the hands of Joseph Cassini and David Kane, before coming into the ownership of the current owner. The car was treated to a restoration, after which it achieved Second in Class at the Pebble Beach Concours d'Elegance in 2006, Best in Show at the Glenmoor Gathering and Best in Class at Amelia Island in 2007, and Best in Class at the Meadow Brook Concours in 2009.
During the early era of automobile production, there were a number of founders of automobile companies who were later forced out of the company that bore their name. To make matters worse, they were unable to use their name.

John Brisben Walker, publisher of Cosmopolitan magazine, acquired about buying the Stanley brothers business in the late 1900s. The brothers quickly stated a very high sum of $250,000, which was accepted, to much surprise of the Stanley brothers. Part of the agreement between Walker and the Stanley brothers was they would not compete for one year and would serve as general managers for the newly formed Locomobile Company.

The REO Motor Company was formed after Ranson E. Olds was forced out of the Oldsmobile Company. Harry Stutz left the company that bore his name in 1919 after Alan Ryan's acquisition of controlling interest in 1919. At the time, the Stutz Company was one of the leading marques.

In some cases, when the founder left the company soon perished. For the Stutz Company, it would survive and prosper for a number of years. The Company had been acquired by Bethlehem Steel's Charles Schwab for $20 a share which totaled $3.7 million. Mr. Fred Moskovics, an engineer, promoter, marketer, and motivator, was hired as president. Under his tutelage, the company was elevated to a new level of success.

This 1933 Stutz DV32 Dual Cowl Phaeton was offered for sale at the Vintage Motor Cars sale at Hershey, PA presented by RM Auctions. It was estimated to sell for $450,000 - $600,000. Bidding surpassed the estimates and sold for $797,500. Part of the vehicles allure is that it is, possibly, the only DV32 Dual Cowl Phaeton in Existence.

This car spent many years in the famed Harrah Collection where it was in its original condition until the mid-1980s when it was sold to Mr. Irving Davis. Under his care it was treated to a concours standard restoration. Since then, it has been used on several CCCA tours and events and remains in excellent condition. It has LeBaron Coachwork and is considered a Full Classic by the Classic Car Club of America.

It is fitted with an eight-cylinder engine with double overhead cams and displaces 322 cubic-inches. The 156 horsepower engine is mated to a three-speed manual gearbox and has four-wheel vacuum assisted drum brakes.
By Daniel Vaughan | Dec 2007
This 1933 Stutz DV-32 Dual Cowl Phaeton wears coachwork by LeBaron. It was given a concours-quality restoration with all cosmetic and mechanical issues address. It was refinished in its original color scheme. Upon completion, the car was displayed at the 1983 Pebble Beach Concours d'Elegance and made the rounds of the major CCCA shows, earning its Senior badge. It had an extensive show career, including being shown at the Meadow Brook Concours d'Elegance and the Willistead Classic Concours, along with several CCCA tours.

In 2011, this vehicle was offered for sale at the Gooding & Company auction in Scottsdale, Az. where it was estimated to sell for $500,000 - $650,000. As bidding came to a close, the car had been sold for the sum of $660,000 including buyer's premium.
By Daniel Vaughan | Feb 2011
Dual Cowl Phaeton
Coachwork: LeBaron

This LeBaron Dual Cowl Phaeton was part of the collection of Bill Harrah who had over 1,500 vehicles. It was later found its way into the shop of Tom Sparks who restored it to its present condition.
Waterhouse was famous for its Convertible Victoria bodies, and this 1933 example represents one of the last bodies built by Waterhouse as the economy of the 1930s took its toll on custom coachbuilders. Stutz production had also dwindled to around 100 cars by 1933, and just six cars were built in 1934, the last year of production.
The eight-cylinder engine introduced by Stutz in 1927 was advanced and the vehicle's design were well styled and had excellent performance. By 1931 their sales had basically dried up and they began work on a new engine. Lacking the necessary resources to develop a new multi-cylinder motor, they focused on their eight. Their idea was to produce a new twin-overhead cam, 32 valve, cylinder-head to revitalize their line-up. The single cam straight eight now called the SV-16 was a great motor though never produced much over 115 horsepower. The new DV-32 head bumped the engine horsepower up to 156.

The DV-32 engine featured a pair of polished aluminum cam covers with cloisonné DV-32 emblems. The new combustion chamber design eliminated the need for the twin plug arrangement found in the SV-16. Performance was notably improved and the engine had a powerful and high-revving feel.

The Stutz chassis had low-slung worm drive frame which was noticeably lower than its competition and featured vacuum boosted hydraulic brakes.

The DV-32 was 'too little, too late' and only 150 were produced before the company closed up in 1935. This example is a five-passenger sedan mounted on the 145-inch DV-32 chassis. It was fully restored a number of years ago but still presents well today.

In 2011, the car was offered for sale at the Quail Lodge presented by Bonhams auction. As bidding came to a close, the car had been sold for the sum of $87,750 inclusive of buyer's premium.
By Daniel Vaughan | Nov 2011
The Monte Carlo was the largest and most expensive Stutz model for 1933 and features a custom aluminum body by the coachbuilder, Weymann American Body Company of Indianapolis, IN. Weymann was best known for their light-weight fabric covered bodies.

This vehicle rides on a 156-inch wheelbase and sold new for $6,595.
This Stutz DV-32 Monte Carlo was delivered to one of Stutz's wealthy clients in 1933. The listed sales price was between $6475 and $8675, a virtual fortune in those days. Stutz long standing association with racing is evidenced by its development of the DV-32 line. This 332 cubic-inch displacement engine, with its dual overhead cams, four valves per cylinder and hemispherical combustion chambers producing approximately 160 horsepower is a true engineering marvel. This Monte Carlo features a three speed synchromesh transmission, Vacuum assisted power brakes, and thermostatically controlled hood louvers. These features plus its well-appointed interior makes this car a true Icon of automobile manufacturing.
In 1876, Harry C. Stutz was born. He grew up on the family farm where he often helped repair their farm equipment. This led to a fascination with engines and in 1897 he built his first car; soon after he began designing and creating engines. The Stutz Company, based in Indianapolis, Indiana, introduced its first production vehicle in 1911. The vehicle, after only five months of design and build, was immediately entered in the inaugural Indianapolis 500 mile race where it captured an 11th place finish. Not bad for its first vehicle and first race. Throughout the company's life span, it would endure good and bad times. The Stutz Company was in production during World War I and the Great Depression, both responsible for negatively affecting Industry.

Stutz will be forever remembered for their Bearcat model, a vehicle produced until 1925. This pure-bred race car had an aggressive and masculine stance; the interior was void of luxury and amenities. With its high revving straight 8-cylinder overhead camshaft engine and lightweight construction, the vehicle was poised to compete in national and international competition.

In 1919, Harry Stutz was forced by stock holders to leave his company. In 1922, Charles Schwab was given control of the company. In 1925, Schwab gave control of the company to Frederick Moskovics. Moskovic planed to revitalize the company by shifting the priorities from racing to producing luxurious automobiles. This did not mean that the company was to abandon its racing heritage, rather Moskovics wanted to expand its racing prowess by entering it in International competition. The 24 Hours of Le Mans is a grueling endurance battle that tests stamina, speed, and durability. In 1928 a Stutz Series BB Black Hawk Speedster, driven by Edouard Brisson and Robert Bloch, was entered in the French LeMans race. The vehicle did well, leading for most of the race. Half way through the 22nd hour, the gearbox broke on the Stutz and a Bentley 4.5-liter was able secure a first place finish. The Stutz was second, the best an American car had ever placed in this prestigious race.

In 1929, the Stutz Company decided to increase their chances of victory by entering more than one vehicle into the Le Mans race. The vehicles were designed and prepared especially for the race. Gordon Buehrig was tasked with designing the bodies for the 2-seater sportscars. A modified 5.5-liter straight 8-cylinder with a supercharger were placed in the front and powered the rear wheels. Three vehicles entered by Stutz Paris, Colonel Warwick Wright, and Charles Weymann were anxiously anticipating a repeat of the prior years success or possibly an overall victory. Sadly, only one vehicle would finish. Behind a fleet of Bentley's was the Stutz followed by a Chrysler 75. With a fifth place finish, the Stutz cars were no match for the powerful and agile Bentley Speed Six models.

In the early part of 1929, Moskovics resigned and Edgar Gorrell assumed the duties of president. Many manufacturers were developing multi-cylinder cars which attracted a larger market share of the already small luxury car market. The Stutz Company was not in a financial position to develop an engine of this caliber. Instead, Stutz embarked on developing an inline eight cylinder engine with single overhead cams. The result was the SV16, representing the side-valve 16 meaning that one exhaust and one intake valve per cylinder was allocated for the eight cylinders. By using the name SV16, it gave the vehicle an allure of equal capacity to other nameplates such as the Cadillac and Marmon V16. The SV-16 came equipped with a windshield safety glass and hydrostatic brakes. The chassis sat lower than most of the competition giving it an advantage through turns. During its production run, around 100 examples were produced.

Following on the heals of the SV16 was the DV-32. The engine featured updraft Schebler carburetors and four valves per cylinder equaling 32 valves and dual overhead camshafts. The power-plant was capable of producing 156 horsepower. The vehicle sat atop of a 145 inch wheelbase and outfitted with Stutz 8 hubcaps. At $6,400 these vehicles were extremely expensive at the time.

The Stutz 8 was produced from 1926 through 1935. The engine produced just over 90 horsepower. Within a few years, horsepower had been incrased to over 115.

In 1928, the Blackhawk series was introduced. These sports cars were affordable, competitive, and compact; outfitted with a powerful engines.

During the close of the 1920's, the Stutz company was riddled with lawsuits, including 'breach-of-contract' over engine building. James Scripps-Booth entered a lawsuit about the low-slung worm drive design Stutz had been using. The Stutz Company was beginning to fall on hard times.

The demise on the race track would slowly transcend to the market place. For all of 1930, there were less than 1500 cars produced. Sales declined even more in the following years and in 1934, after only six Stutz cars produced, the factory closed its doors. This is not to suggest the racing results were solely responsible for the company's woes. The Great Depression crippled and destroyed many auto manufacturers at this time. Competition in design and technology was ever present and the dependable, mass-produced, low-cost automobile manufacturers were in the best positions to come out on top. The Stutz Company had an impressive racing heritage and its automobiles are legendary. The Stutz name is respected by many including those overseas.

In 1968 a New York banker named James O'Donnell incorporated Stutz Motor Car of America. Ghia was commissioned to create a design for the Stutz Blackhawk, which was shown to the public in 1970. Sales continued for more than a decade selling very strongly until 1987. Production slowed from 1987 until 1995 when production ceased.
By Daniel Vaughan | Aug 2007
For more information and related vehicles, click
here
FINALISTS ANNOUNCED FOR 2014 'GREEN CAR OF THE YEAR®'
• Green Car Journal to Reveal Winner at LA Auto Show® Press Days
LOS ANGELES, CA (October 17, 2013) - Green Car Journal has identified its five finalists for the magazine's high-profile 2014 Green Car of the Year® program. The five 2014 models include the Audi A6 TDI, BMW 328d, Honda Accord, Mazda3, and Toyota Corolla. These five finalists are also honored as Green Car Journal's'Top 5 Green Cars for 2014' and earn the magazine's 'Green Car Product of Excellence' honors. An in...[Read more...]
Magnificent Series of Coachbuilt Classics To Grace RM's Amelia Island Concours D'Elegance Sale
• RM Auctions returns as the official auction house of the Amelia Island Concours d'Elegance, March 9, 2013 • Single-day sale features breathtaking roster of more than 80 investment-quality collector cars • Notable highlights include an outstanding series of coachbuilt classics headlined by a multi-million-dollar 1935 Duesenberg Model SJ Walker-LaGrande Convertible Coupe and a trio of Cords from the personal collection of Jim Fasnacht • Frequently updated list of entries available online at r...[Read more...]
Barrett-Jackson Cruises North, Launches New Auction At Hot August Nights In Reno, Nev. Aug. 8-10, 2013
SCOTTSDALE, ARIZ. (January 20, 2013) – Today, during the Barrett-Jackson Scottsdale auction, a groundbreaking partnership was announced that brings The World's Greatest Collector Car Auctions™ to the base of the Sierra Nevadas to join the world's premiere classic car and nostalgia festival. The inaugural Hot August Nights Auction Presented by Barrett-Jackson will take place in Reno Tahoe, Aug. 8-10, 2013. This event marks a historic partnership between two of the most recognized names in ...[Read more...]
Final Countdown Underway to RM's Michigan Sale
RM Auctions, the official auction house of the Concours d'Elegance of America, has secured a wonderful selection of classic automobiles for its St. John's sale, July 28, in Plymouth, Michigan. Hosted on the beautiful grounds of the Inn at St. John's, the single-day sale is a mainstay on the auction concours circuit and boasts a reputation for including exceptional American classics. The upcoming sale, featuring more than 70 quality collector cars, presents nearly a century of American and Eu...[Read more...]
The Moretti Estate Collection of Packard Twelves
Gooding & Company, the world's leading auction house for collectors of rare and exceptional cars, announces that it will be presenting an exciting collection of Packard Twelves at its 2012 Scottsdale Auctions on January 20 & 21: six extraordinary automobiles from the estate of Thomas A. Moretti, the beloved and respected Packard Twelve collector. The centerpiece of Moretti's collection is an extremely rare 100-point 1932 Packard Twin Six Coupe formerly owned by Hollywood legend Clark Gable. ...[Read more...]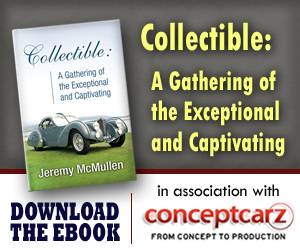 © 1998-2014. All rights reserved. The material may not be published, broadcast, rewritten, or redistributed.