1953 Aston Martin DB3 news, pictures, specifications, and information

Tweet
This car is one of 10 DB3s produced, and is one of eight fitted with the standard right-hand drive 'open' coachwork by Bertone. The cars were the first true 'space frame' sports-racers from the company under David Brown's ownership. This car was raced successfully in a number of hill climbs and UK racing events during the 1953 and 1954 seasons, including the British Empire Trophy Race on the Isle of Man, the Ulster Trophy Formula Libre race, the British Grand Prix Sports Car race held at Silverstone in 1953, and was first in class at the 1953 Rest and Be Thankful Hill Climb. The car has had five owners since new, and was restored to its original specification in 1992. Since then, it has been driven by Sir Stirling Moss in the Japanese LaFest Mille Miglia in 2005, and it competed in the 2001 Mille Miglia Storica.

Aston Martin DB3/6 is one of ten DB3s built by Aston Martin between 1951 and 1953. Entered in the 1953 Tourist Trophy race and other sports car events in the United Kingdom, it was campaigned privately at various race events and hill climbs by British driver Desmond Titterington. It was rebodied in 1954 with an eccentric gullwing design but was rebuilt to correct specifications in 1975. The DB3 was the first postwar Aston built for sports car races. It has the 2.6-liter straight six-engine developed from the W.O. Bentley-designed Lagonda engine.
The DB3 was not as successful as Aston Martin had intended so they tasked Watson to design and engineer a new car. The result was the DB3S, a design that was based on its predecessor but featured a smaller wheelbase and a lighter chassis. The DB3S were built in two series, the first being numbered one through ten, from 1953 through 1956, and built primarily for the works team. The second series was produced from 1954 through 1956. The coupe bodies benefited from a lower drag coefficient which resulted in greater top speeds, unfortunately, there was excessive lift causing the vehicles to become very unstable at speed. The designs and mechanics were changed throughout the years to compensate for aerodynamic and performance limitations.

During its production run, lasting from 1953 through 1957, 31 examples were produced. Eleven were used by the factory for their racing endeavors.

The DB3s were campaigned by Aston Martin at many international racing events where it was met with mixed results, some victories and some disappointments. Arguably the most prestigious and challenging race, the grueling 24 Hour of LeMans, is a true test of a vehicles capabilities. The DB3S was entered in 1953 where it failed to achieve the success it had accumulated throughout the season.

In 1954, two 225 horsepower coupe versions of the DB3S were created to compete at Silversone. More power was needed, especially to be competitive at LeMans. By applying a supercharger, the car developed 240 horsepower. It was entered in LeMans but it was a Ferrari that would capture the overall victory. Due to the high speed and instability of the design, the DB3S coupes crashed.

In 1955 the coupes were rebodied as open cars. The DB3S captured victory at Silverstone and a second place finish at LeMans. In 1956, the DB3S repeated its prior year performance at LeMans, finishing with a second place.

Through design, development, and testing, the DB3S was able to achieve higher success than the DB3. Though never capturing an overall victory at LeMans, they were able to capture many prestigious victories and successes.
By Daniel Vaughan | May 2012
For more information and related vehicles, click
here
Techno Classica 2014: more than 30 racing cars to celebrate 120 years of Mercedes-Benz motor racing history
•Cars that were the heroes of magical moments put their stamp on this high-powered, most comprehensive show presentation •With more than 30 vehicles, Mercedes-Benz Classic presents motor racing history in all its unique breadth and depth •120 years of Mercedes-Benz motor sport in the focus of the leading international classic motor show 120 years of Mercedes-Benz motor racing history have produced a timeline of extraordinary victories which since 1894 also stand for outstanding innovations ...[Read more...]
1956 24 Hours of Le Mans: Collins and Moss Come Close
The 1955 24 Hours of Le Mans would be forever remembered, not for the 24 hours of racing, but for the tragic and terrible events that would take place after just two. The consequences would be dire and would send shockwaves throughout the racing world. Peter Collins would witness the events and would find it very hard to continue. However, he would do just that and would end up a very strong 2nd, practically handed the result by Mercedes. One year later, the mood would be lighter and Collins wou...[Read more...]
1955 Targa Florio: Two Brits Run Wild Over the Sicilian Countryside
The 1955 season for Mercedes-Benz had been filled with great joy, but it would also be muted by great tragedy. Now, with one final race to run, a pair of British drivers prepared to take on an impressive array of cars and drivers. Talented and young, these two would face an experienced field and a formidable course. They would certainly be battered over the course of the race. The question would be if they could rise above it all to stand at the top. Founded in 1906 by Vincenzo Florio, the Ta...[Read more...]
LE MANS WINNER JOCHEN MASS NAMED 2014 AMELIA ISLAND CONCOURS HONOREE
There are scores of victories on Jochen Mass' hefty racing resume, but the one that stands out in bold print is the win in France on a June weekend a quarter century ago. Mass shared one of the mighty Mercedes-Benz powered Sauber C9 Silver Arrows in the 1989 24 Hours of Le Mans. Mass, co-drivers Stanley Dickens and Manuel Reuter led a Mercedes sweep of the classic enduro with a 1-2-5 Mercedes-Benz powered finish. Mass & Co. were the slowest of the three Silver Arrow C9s in qualifying. Despit...[Read more...]
1955 Tourist Trophy: One Last Victory
The tragedy at Le Mans on the 11th of June, 1955 would dramatically affect motor racing. For one of the manufacturers involved, Mercedes-Benz, it would be a confirmation of what it had already come to believe. Toward the end of the 1955 season it was known Mercedes-Benz would withdraw from all motor racing having achieved just about everything possible in Formula One and sportscars. However, on the 18th of September, there would be one last race in which the mighty Silver Arrows would be gunning...[Read more...]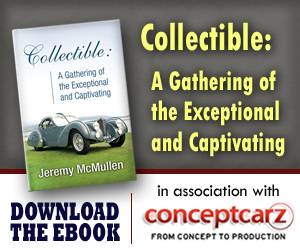 © 1998-2014. All rights reserved. The material may not be published, broadcast, rewritten, or redistributed.