1953 Aston Martin DB3 news, pictures, specifications, and information

Tweet
This car is one of 10 DB3s produced, and is one of eight fitted with the standard right-hand drive 'open' coachwork by Bertone. The cars were the first true 'space frame' sports-racers from the company under David Brown's ownership. This car was raced successfully in a number of hill climbs and UK racing events during the 1953 and 1954 seasons, including the British Empire Trophy Race on the Isle of Man, the Ulster Trophy Formula Libre race, the British Grand Prix Sports Car race held at Silverstone in 1953, and was first in class at the 1953 Rest and Be Thankful Hill Climb. The car has had five owners since new, and was restored to its original specification in 1992. Since then, it has been driven by Sir Stirling Moss in the Japanese LaFest Mille Miglia in 2005, and it competed in the 2001 Mille Miglia Storica.

Aston Martin DB3/6 is one of ten DB3s built by Aston Martin between 1951 and 1953. Entered in the 1953 Tourist Trophy race and other sports car events in the United Kingdom, it was campaigned privately at various race events and hill climbs by British driver Desmond Titterington. It was rebodied in 1954 with an eccentric gullwing design but was rebuilt to correct specifications in 1975. The DB3 was the first postwar Aston built for sports car races. It has the 2.6-liter straight six-engine developed from the W.O. Bentley-designed Lagonda engine.
The DB3 was not as successful as Aston Martin had intended so they tasked Watson to design and engineer a new car. The result was the DB3S, a design that was based on its predecessor but featured a smaller wheelbase and a lighter chassis. The DB3S were built in two series, the first being numbered one through ten, from 1953 through 1956, and built primarily for the works team. The second series was produced from 1954 through 1956. The coupe bodies benefited from a lower drag coefficient which resulted in greater top speeds, unfortunately, there was excessive lift causing the vehicles to become very unstable at speed. The designs and mechanics were changed throughout the years to compensate for aerodynamic and performance limitations.

During its production run, lasting from 1953 through 1957, 31 examples were produced. Eleven were used by the factory for their racing endeavors.

The DB3s were campaigned by Aston Martin at many international racing events where it was met with mixed results, some victories and some disappointments. Arguably the most prestigious and challenging race, the grueling 24 Hour of LeMans, is a true test of a vehicles capabilities. The DB3S was entered in 1953 where it failed to achieve the success it had accumulated throughout the season.

In 1954, two 225 horsepower coupe versions of the DB3S were created to compete at Silversone. More power was needed, especially to be competitive at LeMans. By applying a supercharger, the car developed 240 horsepower. It was entered in LeMans but it was a Ferrari that would capture the overall victory. Due to the high speed and instability of the design, the DB3S coupes crashed.

In 1955 the coupes were rebodied as open cars. The DB3S captured victory at Silverstone and a second place finish at LeMans. In 1956, the DB3S repeated its prior year performance at LeMans, finishing with a second place.

Through design, development, and testing, the DB3S was able to achieve higher success than the DB3. Though never capturing an overall victory at LeMans, they were able to capture many prestigious victories and successes.
By Daniel Vaughan | May 2012
For more information and related vehicles, click
here
MAGNIFICENT 1956 FERRARI 250 GT 'TOUR DE FRANCE' AND MUSCULAR 1964 SHELBY 289 COMPETITION COBRA HEADLINE RM'S LONDON SALE
• Incredible duo lineup for RM's highly anticipated London sale, taking place on 8 September at Battersea Evolution • Ferrari is the eighth of just nine 1956 250 GT Berlinetta Competiziones, and boasts an outstanding period racing history • Campaigned by 'Gentleman' Tom Payne in 1964 and 1965, the Shelby is a highly desirable Team Specification Cobra and the ultimate authentic 'American Muscle' • Auction held in partnership with the Concours of Elegance at Hampton Court Palace • Full event i...[Read more...]
120 years of motor sport at Mercedes-Benz take centre stage at the Goodwood Festival of Speed 2014
'Addicted to Winning': at this year's Goodwood Festival of Speed, Mercedes-Benz looks back on some fascinating racing victories of the last 120 years •The unique motor sport heritage of the Mercedes-Benz brand is being celebrated with an exclusive installation by sculptor Gerry Judah •Mercedes-Benz and Gran Turismo®6 jointly celebrate '120 years of motor sport' Stuttgart. – The thrilling victories of the Mercedes-Benz Silver Arrows mark the peaks of the history of motor sport for...[Read more...]
Jochen Mass: The Mass-ter Breakthrough
The city of Munich, Germany is one of the leading academic cities in the world hosting numerous, and famous, universities within its limits. It would be against this backdrop, in September of 1946, that Jochen Richard Mass would be born. Fittingly, he would become a true well-rounded and respected academic of the world of motor racing. But he needed that breakthrough that would define his career. While the city would have its darker moments in history, there would be very little do...[Read more...]
1951 British Grand Prix: Tapped for a Special Moment in History
The lead and the victory were firmly within his grasp, but would the moment be taken away from him? He had been in a similar situation before and then there would be a tap on the shoulder and he was forced to give up what he had fought so hard to earn. Would this be another one of those moments? Thoughts raced through his head, and then, there was a tap on the shoulder once again. Prior to the 1951 season, Jose Froilan Gonzalez had shown little of his true potential. After making his debut in...[Read more...]
Bentley Ready For Classic Thousand Mile Challenge
•Iconic Bentley Blowers ready for great Mille Miglia adventure •Bentley Continental W12 and V8 models join historic cars in Italy (Crewe, England & Brescia, Italy. 16 May, 2012) W.O. Bentley's gift for creating cars that combined the speed of a thoroughbred racing machine with an enviable reputation for strength and comfort, allowing them to effortlessly cover hundreds of miles, is set to be underlined once again at the 2012 Mille Miglia when two 4½ litre Bentley Blowers take on the ...[Read more...]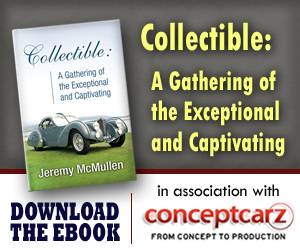 © 1998-2014. All rights reserved. The material may not be published, broadcast, rewritten, or redistributed.