1959 Bocar XP-5 news, pictures, specifications, and information

Tweet
Sportscar
Chassis Num: 006

This car is one of thirty-plus XP-1 through XP6s built by Bob Carnes in Denver over a two-year period. There appears to be only eight or nine running today. The car weighs 1,890 pounds and started life as a 283-FI Chevy V8 with around 365 horsepower. This engine was changed out for a Chevy 350 with the same Rochester FI unit, which develops 418 horsepower. The XP-5 was raced by Art Huttinger in the first televised Daytona race in January of 1960, where it placed second to the D-Type Jaguar of Ed Rahal. It won an SCCA race on the same track in March of 1960, and followed that by setting a speed record of 175 mph on the beach of Daytona. Following many top-five finishes all the way North to Watkins Glen, the car spent many years under the ownership of William Butler, taking a top three at the Bahamas Speed Week and winning the Concours there as well. The car is roadworthy and a beast to drive, just as Bob Carnes envisioned 47 years ago.
The Bocars were produced by Bob Carnes during the late 1950s and early 1960s in Colorado. The vehicles were available in both kit or assembled form. The vehicles were intended for track use and competition but they could also be driven on the road.

Carnes entrance into the racing sport occurred in 1953 when he raced a Glockler Porsche Spyder in hillclimb competition and road races. The following year he piloted a Jaguar XK-120 to an impressive third place finish at Pikes Beak.

Within a few years, he was modifying automobiles to feed his need for speed. He transplanted a Cadillac engine into a Jaguar and dubbed it a 'Jagillac.' In his capable hands, he won the 1956 Buffalo Bill Hillclimb. In 1957, he began work on a car of his own design.

His first creation was the Bocar X-1. It was comprised of a Jaguar suspension and brakes in the front and a Lincoln live axle in the rear. The powerplant was a 283 cubic-inch Chevy engine. The body was fiberglass which aided in lightweight characteristics while maintaining rigidity.

The X-1 was entered in the 1958 Pikes Peak Hillclimb where it finished in fifth place in the sports car class. The car was promising, but needed more refinement and power. After several iterations, the XP-4 was born. These were available near the close of 1958 and offered as a kit car or as a complete package.

The fiberglass body sat atop of a 90 inch wheelbase. A Volkswagen or Porsche suspension could be found in the front and given extra modifications by Carnes. In the back was an Oldsmobile live axle with torsion bars. One vehicle was given Jaguar disc brakes, but most were outfitted with either Chevrolet or Buick drums. The engine were eight-cylinder units from either Pontiac or Chevrolet and matted to a Borg-Warner T-10 four-speed manual gearbox. Engines varied. A completely assembled example would set the buyer back about $6450.

The Bocar XP-5 was very similar to the XP-4. Main changes were to the brakes which now incorporated Buick Alfin drums. Weight distribution was improved; the XP-5 had a 44% of its weight in the front and the remaining in the rear. This was achieved by moving the engine back into the frame and offset to the right. This improved weigh distribution enhancing the vehicles balance and giving it better traction.

The Bocar XP-6 incorporated a supercharged version of a Chevrolet V8. The chassis was enlarged by 14-inches to accommodate the supercharger. Horsepower was around 400 which required changes to the suspension. The suspension was beefed up to include a solid axle with torsion bars in the front and a live axle with torsion bars in the rear. The car was quick, but never really gained much national attention. Only one example was ever created.

The Bocar XP-7 was the next evolution of the Bocar racers. It was very similar to the car it replaced and had a Volkswagen front end. At a price tag of nearly $9000, the cars were produced in very few numbers.

Bocar's last racer built was for the 1960 season, the Stiletto. Less than three were ever created and carried a price tag of about $13,000. The car was intended to race during the 1960 season. Power was from a supercharged Chevrolet V8 engine mated to a four-speed Borg-Warner T-10 transmission. It had a space frame chassis and a fiberglass body.

The early Stiletto was raced at Pikes Peak by Carnes but it encountered problems. A second example was built and sold to Tom Butz for driver Graham Shaw. This second car had a Hillborn-injected small-block engine. A third example is believed to have been built.
By Daniel Vaughan | Mar 2010
Sonoma Historics' Racing Seminar to discuss Can-Am and Shadow Race Cars
Sonoma Historic Motorsports Festival's Racing Seminar to discuss early Can-Am years and the radical Shadow Race Cars SONOMA, Calif. (May 12, 2014) - For the third straight year, the Sonoma Historic Motorsports Festival (May 17-18) will host one of its popular racing seminars at Sonoma Raceway. This year's seminar will celebrate the early years of the iconic SCCA Can-Am Series, which ran from 1966 to 1974, with a focus on the unique Shadow race cars that competed in the Series f...[Read more...]
John Barnard's Finest: Some of the Greatest of Barnard's Design
The latter-part of Barnard's Formula One career would be filled with disappointments and disputes. However, there was no disputing the genius of the man from London. In fact, a couple of innovations that are mainstays in Formula One design were first introduced by this man who had been involved in motor racing in some form or manner since the 1960s. John Barnard would be born in London on the 4th of May in 1946. The war was over and a whole new world loomed on the horizon. It was t...[Read more...]
1964 Nurburgring 1000 Kilometers: Survive for One Last Victory
During the late 1950s, Richie Ginther would begin a relationship with John von Neumann and this partnership would result in one of the most dominant periods of American sportscar racing in which Ginther and Porsche would be virtually unbeatable. Nearly a decade later, that same combination would again join forces to provide one more moment of glory. By the mid-1950s Porsche had developed its 550. This was a small car more than capable of dominating its class and consistently able to challenge...[Read more...]
1967 Can-Am Road America: The Beginning of the 'Bruce and Denny Show'
While Formula One will be forever considered the pinnacle of motorsport, from a period between 1966 and 1986 there existed a series that would likely be the closest to 'anything goes' as any motor racing series could truly get. Based upon the FIA Group 7 cars but allowed to showcase unlimited engine sizes and unfettered aerodynamics, the Can-Am cars would have to be considered the pinnacle of motorsport technology and power of their era. And for more than a couple of years there would be one tea...[Read more...]
Carroll Shelby, Ford Family for More Than Half a Century
Carroll Shelby was a member of the Ford family for the better part of 60 years, producing stunning performance vehicles from concepts to production models. He once said his energy and passion for performance products were always strongest when he was working with Ford. Shelby most recently collaborated with the company on the 2013 Ford Shelby GT500 Mustang, the most powerful production V8 in the world. Working with SVT engineers at Sebring and the Arizona Proving Grounds, at times he drov...[Read more...]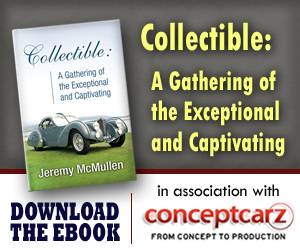 © 1998-2014. All rights reserved. The material may not be published, broadcast, rewritten, or redistributed.