Image credits: © Cadillac. GM Corp.
1903 Cadillac Model A news, pictures, specifications, and information

Tweet
In 1902, the Detroit Automobile Company - a firm on the verge of bankruptcy - called upon engine builder Henry Martyn Leland to appraise the worth of their factory so they could sell it. Instead, Leland showed them his outstanding one-cylinder engine and they quickly changed their minds about closing down. Instead, they formed the Cadillac Automobile Company.

Cadillac's first automobile, the Model A, was completed two months later, and in January 1903, when an astonishing 2,286 orders for the new vehicle were taken at the New York Auto Show; the sales manager declared that the car was 'sold out.'

The Model A has a single-cylinder engine with a two-speed transmission and center chain drive. The 1,370-pound vehicle boasted 6.5 to 8.25 horsepower, with a top speed of 31-34 mph, and sold new for $750. This model is an early production model and is one of five painted all black with nickel trim. It was sold new in Kansas City, KS.
1903 was the first year for Cadillac. William Murphy and Lemuel Bowen founded the Cadillac Automobile Company, and their cars featured engines built by Henry Leland. Rejected by Ransom Olds, the engine was called 'The Little Hercules,' and was a one-cylinder, 10-hosrepower unit. The car is equipped with a two-speed planetary transmission. This example was the first car to win the American Antique Car Club's Senior Award. It has a tonneau, which makes it a four-seater.
| | |
| --- | --- |
| | Runabout Rear Entry Tonneau |
Under Henry Leland's leadership, the company became Cadillac, whose 1903 model closely mimicked by the 1903 Ford. Cadillac introduced its first model at the New York Auto Show in 1903, and by mid-week, company salesmen declared they were 'sold out.'

This Runabout features the optional rear-entrance Tonneau seat, which could accommodate two additional passengers.
There were three Model A Cadillac's brought to the 1903 New York Auto Show. All were sold. This example is serial number 13, one of the three at the show. It was sold to Mr. Homas, owner of the Thomas Winery in Cucamonga, California. According to factory records, this car was the 6th to be invoiced and the 3rd to be shipped.

The original family retained this car until February of 1973 when it was sold to Patrick Herman. In 1985, the car was treated to a restoration.

This car is the oldest known surviving Cadillac in existence. It was offered for sale at the 2007 Bonhams Important Sale of Collectors' Motorcars and Automobilia at the Quail Lodge Resort & Golf Club and sold for $300,000 plus Premium and tax.

Henry Leland started the Cadillac Automobile Company in 1902 after resigning as one of the initial investors of Henry Ford's new Ford Motor Company. By late 1902, Henry Leland had built his own automobile which he would aptly name after the French explorer who discovered the city of Detroit - Le Mothe Cadillac.

1903 was the first full year of production for the new Cadillac. It was powered by an eight-horsepower, single-cylinder engine which sat in a metal frame below the front seat. The engine was coupled to a planetary style transmission with two forward speeds and reverse, driving the rear axle by a chain. The body of the new Cadillac was a single seat roadster which could be modified into a touring car with the addition of the optional rear tonneau seat which attached to the rear of the roadster body. The bodies were produced by outside supplier companies and, ironically, when the new Fords would appear in late 1903, they would look virtually identical to the Cadillacs.

Sales of the new Cadillac were quite successful and Leland would continue producing the single cylinder models until 1908 when Cadillac became part of the new General Motors Co. Leland would stay with GM for only a few years. In 1920 Leland started a new automobile company called Lincoln. Ironically, Leland's Lincoln Company would be bought by Henry Ford in 1922.

This 1903 Cadillac is believed to be the oldest production Cadillac in existence.
By Daniel Vaughan | Aug 2008
Runabout Rear Entry Tonneau
Engine Num: 892

The first Cadillac vehicles offered for sale could be purchased as a Runabout with or without a tonneau. They were powered by a single-cylinder engine rated at only 6.5-horsepower, though they produced as much as 10 horsepower.

For 1903, Cadillac sold approximately 2,400 cars and was considered the best car in its price race and an exceptional value.

This 1903 Cadillac Model A Runabout Rear Entry Tonneau has engine number 692 and was shipped from the factory on June 17th of 1903. Its most recent owner acquired the car in 1999 and performed a restoration in 2002. During its restoration, a new body was fabricated by Terry Martin at Martin Carriage House in Warren, Ohio. The diamond-tufted leather upholstery was courtesy of Loren Burch of Pasadena.

Upon completion of the restoration, this car was shown at the Castle Hill Concours d'Elegance in September 2002 and at Hershey, PA. It was placed in storage in 2006 and in 2008, it was brought to RM Auctions' 'Vintage Motor Cars of Meadow Brook' sale. It was estimated to sell for $115,000-$140,000. Bidding reached $75,000 but was not enough to satisfy the reserve. The lot was left unsold.
By Daniel Vaughan | Sep 2008
This 1903 Cadillac Model A Runabout Rear Entry Tonneau was given a full frame-off restoration by specialist Greg Tocket of Stoneaire Classic Cars. It has participated in several shows, including a CCCA events and, while it has only been driven about 70 miles in total, is reported to drive perfectly.

It has a horizontally mounted single-cylinder engine displacing 98 cubic-inches and produces 6.5 horsepower. There is a two-speed planetary transmission with reverse and two-wheel rear mechanical brakes. The wheelbase measures 72-inches.

In 2009, it was offered for sale at the Vintage Motor Cars of Hershey sale presented by RM Auctions where it was estimated to sell for $75,000 - $100,000 and offered without reserve. As bidding came to a close, the lot had been sold for the sum of $88,000, including buyer's premium.
By Daniel Vaughan | Oct 2009
| | |
| --- | --- |
| | Runabout Rear Entry Tonneau |
1903 marked the first year of production for Cadillac and this 1903 Rear Entrance Tonneau was one of 2,497 cars built in its initial year. It features a Leland and Falconer 6.5 horsepower, single cylinder engine coupled to a two-speed planetary transmission and fitted with adjustable rack-and-pinion steering.

All 1903 Cadillacs had interchangeable parts and sold for $800.
The Cadillac Automobile Company of Detroit was founded by Henry Leland and Robert Faulconer. Both of these individuals were specialists in precision gear cutting before building their own line of vehicles. Their background would provide a solid foundation for the firm's superior manufacturing technology and would soon be established as the foremost builder of quality cars in the United States. The name 'Cadillac' was chosen in honor of the 17th century French explorer who had founded Detroit in 1701. Two of Henry Ford's ex-backers provided the necessary funds to enter business.

The early Cadillac's were powered by a 98 cubic-inch single-cylinder engine, dubbed 'Little Hercules' and mounted horizontally on the left beneath the front seat. The unit was attached to a conventional two-speed-plus-reverse planetary gearbox which was attached to a chain and drove the rear axle. This model was known as the Model A, and was available with either two- or four-seat coachwork. The cars were well engineering, reliable, and had a top speed of around 35 mph.

The first curved-dash Cadillac appeared in 1903; its designation later changed to the Model after the Model B was introduced in 1904. The Model B had a price slightly higher than the Model A, and many cosmetic updates including a box-shaped hood. Mechanically improvements included a press-steel frame, single transverse front spring and an I-Beam front axle.

The Model A Runabout had an attractive price of $750. For an additional $100, one could order a rear entrance detachable tonneau.

From 1903 through 1904, Leland and Faulconer only supplied the engines, transmission and steering mechanisms for the Cadillac's. Olds Motor Works had been contracted for the supply of the Leland-built engine, but the contract soon dissolved. By 1905, the Cadillac Company produced their entire vehicles.

Three examples of the Model A were brought to the 1903 New York Auto Show. These cars had numbers 10, 11, and 13. All three were purchased and an additional 2,286 orders were secured.
By Daniel Vaughan | Apr 2008
Following 65 Years in One of America's Original Collections, the 'Austie' Clark 1911 Mercer Type 35R Raceabout Prepares for Auction Debut
• RM Auctions secures one of the 'Great Mercers,' the 'Austie' Clark 1911 Mercer Type 35R Raceabout, for its flagship Monterey sale, August 15–16 in California • Boasting an outstanding provenance, the Mercer is offered fresh to the market following single-family ownership since 1949 • Additional recent highlights for RM's Monterey sale include a selection of 18 vehicles from the former Bob Pond Collection • Frequently updated list of entries available online at www.rmauctions.com BLE...[Read more...]
Golf R Celebrates Its World Premiere At The Frankfurt Auto Show
Wolfsburg, 2 September 2013 –The most powerful Golf in the range excites with 296 horsepower and a 0 to 62 mph sprint time of just 4.9 seconds. The vehicle's distinctive styling also highlights its sporty character. The new Golf R was developed by Volkswagen R GmbH to provide dynamic performance. The sportiest Golf is powered by a newly configured 296 horsepower TSI engine, which is not only 30 horsepower more powerful, but also 18 per cent more fuel-efficient than the previous engine....[Read more...]
FORD FUND CELEBRATES INNOVATION AS PART OF HENRY FORD'S LEGACY; ELENA FORD AWARDS INVENTORS WITH SPECIAL PRIZES
◾Two days before the 150th birthday of Henry Ford, Ford Motor Company Fund is sponsoring Henry Ford Maker Challenge, named after one of the most influential innovators of the 20th century ◾Elena Ford presented awards to three inventors out of the 400 participating in the fourth annual Maker Faire at The Henry Ford ◾Ford Fund supports innovation in education through long-term partnerships with nonprofits DEARBORN, Mich., July 28, 2013 – Two days before the 150th birthday of Henry Ford...[Read more...]
Lingenfelter Collection Garage Crawl To Take Place Saturday, June 15 During 26Th Annual Eyeson Design
BRIGHTON, Mich. - Ken Lingenfelter, owner of Lingenfelter Performance Engineering, will open the doors of his famed Lingenfelter Collection by hosting a Garage Crawl during the 26th Annual EyesOn Design week of activities. All proceeds from EyesOn Design events, this year themed 'Revolution over Evolution,' will benefit the Detroit Institute of Ophthalmology. Lingenfelter, who serves on the EyesOn Design Board, will also exhibit select vehicles from his collection in the EyesOn...[Read more...]
Barrett-Jackson Flavors Its January Scottsdale Auction With NASCAR Treats
• RACING HERITAGE, HIGH PERFORMANCE ARE RECIPES FOR CAR-COLLECTING FEAST
• SPEED™ SET FOR 39 HOURS of LIVE COVERAGE STARTING JAN. 15
The great Henry Ford once said, 'Auto racing began five minutes after the second car was built.' And for more than 60 years, there are few entities that better represent auto racing in America than NASCAR. From the hallowed grounds of Daytona International Speedway, to Sonoma, California's intricate and picturesque road course, the sp...[Read more...]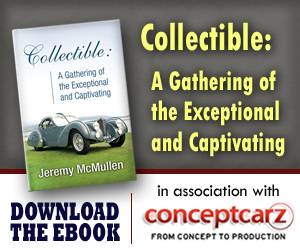 Cadillac
Monthly Sales Figures
Volume
November 2014
13,148
October 2014
13,615
September 2014
13,829
August 2014
16,650
July 2014
15,241
June 2014
13,941
May 2014
14,688
April 2014
13,900
March 2014
14,765
February 2014
13,437
January 2014
11,386
December 2013
18,165
(More Details)
© 1998-2014. All rights reserved. The material may not be published, broadcast, rewritten, or redistributed.