1963 ATS 2500 GT news, pictures, specifications, and information

Tweet
With a sleek body designed by Franco Scaglione and mechanicals by ex-Ferrari virtuosos Carlo Chiti and Giotto Bizzarrini, the ATS set the motoring world reeling with the first mid-engine Italian sport and GT car. Chiti and Bizarrini were part of the 'palace revolt' at Ferrari, which resulted in Enzo's firing of six key employees in 1961 over complaints of his wife's meddling. The six ex-Ferrari men immediately set out to seek financing to start their own Formula One and GT car venture. The GT car, which debuted at the 1963 Geneva Show, was a great success in that it was highly praised for its very rigid and advanced space frame chassis, its handling and high-speed performance. Unfortunately, however, the investors withdrew financial support, and the project collapsed. Only a few cars were completed by the factory. This example was the Paris show car, and was completed as the factory closed. Apparently, it was only used on the show circuit, as it only shows 900 km. It is in completely original condition, with original tires, interior, trim, and most of the exterior paint. The drive train includes the original engine ad ATS factory transaxle; one of perhaps only a very few constructed, other cars having been fitted with ZF units.
In 1961, Enzo Ferrari fired six employees, including engineers Carlo Chiti and Giotto Bizzarrini, after they complained about his wife's meddling. They immediately started their own company, ATS, to design and built Formula One and GT cars. Their Chiti/Bizzarrini-engineered, Franco Scaglione-designed 2500 GT debuted at the 1963 Geneva Motor Show.

With its ATS-designed 220 horsepower aluminum overhead-cam 2.5-liter V8 mounted behind the cockpit and driving a five-speed competition transaxle, the 2500GT was the first Italian mid-engine sports car. The chassis was a sophisticated tube-frame design with four-wheel independent suspension, disc brakes and rack-and-pinion steering. Weighing in at just 1800 lb., the 2500GT was capable of 150 mph.

Unfortunately, the fledgling automaker's financing collapsed the following year with fewer than a dozen cars under construction and only four or five believed to have been completed. All were essentially race cars. Car number 3, shown here, was the Paris Salon show car and was the only one built (as the factory was closing) with a complete interior for everyday driving. Purchased by its current owner in 2003, it is completely original and unrestored but has undergone an exhaustive 2,000-hour conservation effort to put it back into running order and preserve its current state.
The Trident is Raised
One of Italy's most famous marks, and perhaps most troubled, the trident-bearing automaker continues to provoke passion through its search of excellence. Five brothers would come together in December of 1914 to found a motor company bearing their name—Maserati. Alfieri, Bindo, Carlo, Ettore and Ernesto had all demonstrated a passion for automobiles, particularly racing, during those early years at the turn of the 20th century. The foundations of the company would actually begin ...[Read more...]
THE CHOICE OF CHAMPIONS' WITH 23 OVERALL WINS IN 26 YEARS
• Supplying 90% of Teams, Brembo Triumphs in LMP1 & GTE-PRO
LE MANS, France, June 15, 2014 – In the world of motorsports, this weekend's 82nd running of the 24 Hours of Le Mans is the ultimate bench test for automotive development…always evolving, sometimes revolutionary, almost always changing…except for the teams' choice of Brembo brakes – the 'Choice of Champions!' This year's evolution was based on new regulations requiring the Le Mans LMP1 prototypes to get the most spee...[Read more...]
Concorso d'Eleganza Villa D'Este 2013: Classic Weekend On Lake Como
On the weekend of 24 – 26 May 2013, the spectacular grounds of the Grand Hotel Villa d'Este and Villa Erba in Cernobbio on Lake Como will once again be transformed into a unique stage for the most beautiful automobiles and motorcycles from the past and the most extravagant concept cars of the present day. First held at the same location in 1929, the Concorso d'Eleganza Villa d'Este today ranks as the most traditional show of its kind in the world. It lays on an extensive programme throughout the...[Read more...]
Final Countdown Underway To South Florida's Premier Collector Car Auction
• Auctions America kicks off its 2013 auction season, March 22-24 with its highly anticipated Fort Lauderdale Collector Car Auction • Celebrating its 11th year, the multi-day auction features more than 550 quality collector cars • Latest feature attractions include an outstanding 1963 Shelby Cobra and a 1974 Ferrari Dino 246 GTS • Digital catalog now available for download at auctionsamerica.com AUBURN, Indiana (February 27, 2013) – With the final countdown underway to its highly an...[Read more...]
Mercedes-Benz Classic: Topics for 2013
The main topics: • The tradition of the Mercedes-Benz S-Class • Mercedes-Benz Silver Arrows in the 1930s • Originals – authentic vehicles tell authentic stories • Classic vehicles kept in perfect condition with Mercedes-Benz Genuine Parts Important anniversaries: January 75 years ago – on 28 January 1938: With a flying start, Rudolf Caracciola achieved a speed of 432.7 km/h over one kilometre on the Frankfurt–Darmstadt motorway. This is the highest speed ever ach...[Read more...]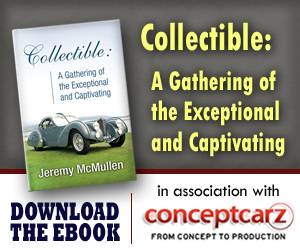 © 1998-2014. All rights reserved. The material may not be published, broadcast, rewritten, or redistributed.