1965 Griffith Series 200 news, pictures, specifications, and information

Tweet
This Griffith Series 200 is a hybrid fiberglass coupe powered by a Ford 289-cubic inch V8 with factory tri-power carburetion and four-speed transmission. It was a project of Jack Griffith and Mark Donohue in the Griffith assembly plant in Syossett, NY. These cars were imported as basic TVRs and mated with the Ford drive-train. The advertised price in 1965 was $3,995, and the dry weight was 1,450 pounds. Performance was startling, with a zero-to-sixty mph time of 4.9 seconds. With independent suspension designed by Grantur, Ltd., of England, the handling was superb, and the rack-and-pinion steering was very precise. The chassis is multi-tubular, with a wheelbase of 85.5 inches an overall length of 138 inches. This example has just completed a five-year restoration.
The Griffith 200 was sold in the UK as the TVR Griffith and in the United States as the Griffith 200. The Griffith 200 was powered by a 289 cubic-inch Ford engine and had many similarities to the TVR Grantura MKIII. The engine produced around 200 horsepower and some believe this is the source of the name '200'. A HiPo engine boosted horsepower to 270.

The cars sat atop of a short wheelbase, had a lightweight body skin, and a very powerful engine. Zero-to-sixty took just under five seconds, all for around $4000. It is believed that just under 200 examles of the Griffith 200 were produced.
By Daniel Vaughan | Feb 2010
TVR Engineering was formed in 1947 by TreVoR Wilkinson in Blackpool. The TVR Griffith began as the brainchild of Jack Griffith in 1962. Griffith ran a car repair workshop in the US for patrons such as Gerry Sagerman and Mark Donohue who had both driven a TVR Grantura at Sebring in 1962. Legend has it that Griffith decided to see if he could drop the Ford V8 from Donohue's AC Cobra into Sagerman's TVR. It didn't fit but the idea prompted further conversations. Griffith wanted TVR to supply him with modified TVR Grantura chassis without engines or transmission and TVR jumped at this idea. The Griffith 200 could either be fitted with a 195 horsepower motor or a Hi-Po 289 that pumped out 271 horsepower. Performance was virtually unbelievable at zero-to-sixty mph in 3.9 seconds and a 150 mph top speed.

This car is the last built of the 181 Griffiths.
This is chassis number 11 of the 192 Series 200 Griffiths built. The owner is the former factory test driver for Griffith Motors. Original delivered price was $4,995. Received 'Best in Class' at Lowes Motor Speedway Auto Fair in 2006.
Ford dealer Andrew 'Jack' Griffith campaigned an early Shelby Competition Cobra. Driven by Bobby Brown and Mark Donahue, it was painted Viking Blue and wore the number 41. Jack's success with this car inspired him to build his own Anglo-American monster. TVR, a builder of sports cars in Blackpool, England, was contracted to supply body-chassis units. Ford furnished their new 289 cubic-inch V8 and four-speed transmission. This hybrid was named the Griffith Series 200. Period magazine articles raved about the car's brutal acceleration and revealed Jack's plan to campaign a Griffith factory racer.

Sold new in November of 1965 by Bailey Motors in Middletown, CT, this car is number 154 of 192 built. The original owner managed only 1,904 miles before crashing. The resulting 42 years of storage ended upon its purchase and restoration in 2008. The featured paint scheme is modeled after Jack's Competition Cobra.
| | |
| --- | --- |
| | Fastback Coupe |
In 1963, Jack Griffith had the idea of placing a 289 cubic-inch American V8 into a small English sports car. As history has it, this became the Griffith 200 Series car.

In March of 2007, Jack Griffith, with help from the 'Griffith Garage,' installed a Ford 427 cubic-inch V8 into the car. The result was the 427 SC (Super Coupe) 200 series car. Throughout the build, they had worked to achieve the first 427 SC 200 Series car. Jack Griffith has acknowledged and conferred on the process of creating the world's first 427 FE powered Griffith 200.
This is one of 57 series 400 cars constructed at the Griffith assembly plant in Syosset, New York. The Griffith is a fiberglass bodied car, using a Ford 289 cubic-inch V8 with triple carburetors. They were very quick, running 0-60 mph in 4.9 seconds.

The first owner was reported to have lost his drivers' license late one night in 1965, when he was caught doing 140 MPH in a 35 MPH zone. It was then sold to a second owner, and became a drag racing champion from 1966 to 1970. Next, it was sold to a Connecticut collector, where it sat, in pieces, for over 30 years.

The present owners have completed extensive mechanical and cosmetic upgrades. The tweed upholstery, transmission, fender flares and other drag racing modifications have all been removed and the car returned to as-production condition.
For more information and related vehicles, click
here
MINI CONVERTIBLE BOAT TO JOIN DAD VAIL REGATTA
Visitors to the 2013 Aberdeen Dad Vail Regatta on May 10-11 will experience an intriguing sight that they won't be expecting… a Chili Red MINI Convertible appearing to 'drive' on the water along the Schuylkill River during this famous annual festival of university and college rowing. It will be the first time that the specially-created MINI Convertible 'boat' has visited Philadelphia and it can be seen throughout Friday and Saturday cruising on the river. This one-of-a-kind boat was the brai...[Read more...]
Eleanor of 'Gone In 60 seconds' Will Cross The Block At Mecum's Indy Auction
The Opportunity to Own the Original Movie Hero Car is this May 18 in Indianapolis A true movie star will make its way down Mecum's signature red carpet this May in Indianapolis. Known by most simply as 'Eleanor,' the modified 1967 Ford Mustang from Touchstone Pictures' 'Gone in 60 Seconds' will cross the block as Lot S135 at Dana Mecum's 26th Original Spring Classic auction this May 14-19. This collector car icon piloted in the movie by retired master car thief Memphis Raines, playe...[Read more...]
Corvette Shines in the Big Apple
All-new Corvette Stingray comes to New York City 60 years to the day after Motorama debut 2013-01-16 Sixty years ago tomorrow, spectators lined New York City's posh Park Avenue, waiting to get a glimpse of the ground-breaking Chevrolet Corvette on display at the General Motors' Motorama show. On Thursday, the Corvette will be back in The Big Apple, marking the historic milestone with the all-new 2014 Chevrolet Corvette Stingray. The all-new Corvette Stingray debuted earlier...[Read more...]
Corvette's Chassis Innovations Refined on the Race Track
Zora Arkus-Duntov's racing-bred development legacy continues to improve Corvette It's been said that racing improves the breed, and when it comes to the Chevrolet Corvette, nearly six decades of checkered flags are the proof. As Corvette marks its 60th anniversary in 2013, the design of the chassis, suspension and other drivetrain features are rooted in the rigors of competition. 'Candidly, Corvette was not a high-performance car until Zora Arkus-Duntov fitted it with a V-8, and be...[Read more...]
1967 Can-Am Road America: The Beginning of the 'Bruce and Denny Show'
While Formula One will be forever considered the pinnacle of motorsport, from a period between 1966 and 1986 there existed a series that would likely be the closest to 'anything goes' as any motor racing series could truly get. Based upon the FIA Group 7 cars but allowed to showcase unlimited engine sizes and unfettered aerodynamics, the Can-Am cars would have to be considered the pinnacle of motorsport technology and power of their era. And for more than a couple of years there would be one tea...[Read more...]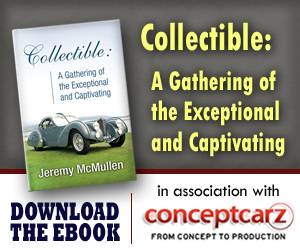 Similarly Priced Vehicles from 1965
Alfa Romeo Giulia Sprint GT ($4,200-$4,200)
Buick Riviera ($4,316-$4,316)
Chevrolet Chevelle Series ($2,100-$4,300)
Chevrolet Chevelle Malibu ($2,300-$4,300)
Porsche 356 SC ($4,575-$4,870)
Porsche 356C ($4,095-$4,500)
Ford Thunderbird ($4,392-$4,850)
Alfa Romeo Giulia Series 101 ($3,315-$4,885)
Alfa Romeo Giulia Series 105 ($2,930-$8,390)

Average Auction Sale: $64,375
© 1998-2014. All rights reserved. The material may not be published, broadcast, rewritten, or redistributed.