1934 LaSalle Series 350 news, pictures, specifications, and information

Tweet
This 1934 LaSalle Convertible Coupe was offered for sale at the 2007 RM Auctions held in Amelia Island, Florida. The car was offered without reserve and estimated to sell between $75,000 - $100,000. The vehicle is powered by a 353 cubic-inch side-valve vee eight-cylinder engine capable of producing nearly 100 horsepower. There is a three-speed manual gearbox and four-wheel drum brakes. The elegant body rests atop a 119 inch wheelbase.

The LaSalle was formally introduced on March 5, 1927 as a four-door sedan and offered for $2685. The 303 cubic-inch was capable of producing 75 horsepower and could carry the LaSalle's at speeds of 70 miles an hour. A few months after the vehicles introduction, GM modified a LaSalle Roadster and removed any non-essential elements. It was then driven by the division's test driver, Bill Rader, who traversed 951.8 miles at an average speed of 95.3 mph. This was an impressive accomplishment of speed and stamina. The cars abilities were matched by their elegant style. The bodies were often finished in two-tone colors. The first series was dubbed the 303, named after its 303 cubic-inch engine. There were five body-types, all sitting atop a 125-inch wheelbase. Later, larger bodystyles were added which rode on an enlarged 134-inch chassis. These were the seven-passenger sedans, Imperial sedan, and five-passenger Imperial. All of the bodies were designed by Harley Earl and created by Fisher, though special semi-custom Fleetwood styles were available through special order.

This 1934 LaSalle is finished in Dove Gray with Sandstone Tan fenders. There is a rumble seat which provides additional seating capacity. A spare tire is mounted in the rear. The car has been treated to a comprehensive restoration in the early 2000s and it was given a new top and interior.

At auction, the car was very popular with the bidders. The bidding was driven to the peak of the estimated value, finding a buyer who paid $99,000 for this elegant and graceful vehicle.
By Daniel Vaughan | Mar 2007
| | | |
| --- | --- | --- |
| | | Convertible Coupe |
Harley Earl designed the first LaSalle, a 1927 model, under contract to Cadillac head Lawrence P. Fisher. Impressed with both the stylish LaSalle and the methods its designer had used to create it, GM President Alfred P. Sloan invited Earl to create an 'Art and Colour' section for GM. This forerunner of today's GM Design Center would be responsible for styling all of the corporation's vehicles.

With the 1934 LaSalle, Harley Earl made history once again. The car's smooth lines, narrow grille and ornamental motifs made it a pioneering and influential example of art moderne design. The 1934 LaSalle started with concept drawings by GM stylist Jules Agramonte. The moment that Harley Earl saw Argamonte's sketches, he knew he was looking at the next LaSalle. When Earl later revealed a full-scale prototype model of the 1934 LaSalle to GM senior management, it was approved for production on the spot.

A Lasalle Convertible similar to this example paced the Indianapolis 500 in 1934. The final LaSalle was built in 1940.

The owner of this beautiful example write, 'The LaSalle reflects my earliest childhood memories of cars. My parents owned a 1934 LaSalle Convertible when I was two. This car is restored to the colors of my father's LaSalle - 'Diana Cream' with chocolate interior.'
Conceived by Harley Earl and introduced in 1927, the new LaSalle series presented a more dashing image for General Motors, different from its rather conservative Cadillac range at the time. The name LaSalle was chosen for the French explorer Robert de La Salle who accompanied Antoine de La Mothe Cadillac in founding the city of Detroit in 1701. Considered to be one of the most fashionable American automobiles of its day, the LaSalle was also a pioneer in its paint schemes; after the introduction of DuPont's revolutionary fast-drying Duco paints, the LaSalle was offered in a wide range of colors. To promote the convertible coupe as a sporting model, a model similar to this car was chosen as the pace car for the running of the 1934 Indianapolis 500.
During the first two decades of the 1900's, Cadillac was the leader in the U.S. luxury-car market. It wasn't until around 1925 when Packard Automobiles began replacing Cadillac as America's new favorite in the premium automobile market when Cadillac realized that they needed to step it up.

With the bottom-end Cadillac priced at $3195, many consumers were unwilling to spend such a significant amount when the top of the line Buick cost $1925. In the years following World War I, Packard's smart new group of lower-priced high-quality 'pocket-size' vehicles were responsible for basically running away with the luxury market, and consequently, much of GM's business.

Conceived as a baby Cadillac with a bit more added style, the La Salle series was introduced on March 5, 1927. To present a youthful, dashing image completely opposite from the staid and proper Cadillac, the La Salle series was meant to be a stepping stone in a perceived gap between Cadillac and Buick in GM's lineup. Priced just above the Buick, the La Salle was designed to be a complete model line that would adequately fill out GM's product roster. The name La Salle was chosen in reference to the famed French explorer that Cadillac had been named after, as one of his compatriots.

Wanting the La Salle to be considerably more stylish than the Cadillac, President of GM Larry Fisher hired a young stylist from Cadillac's California distributor to aid in the design of the new junior series. Harley Earl was given the job as a consultant to design the first La Salle. Though assumed to be only hired for this specific task, Earl went on to become the company's director of design until he retired some 30 years later. During Earl's time at Cadillac, he influenced the entire industry in the areas of both styling and marketing strategy.

The original La Salle produced in 1927 became the first mass-production vehicle to consciously 'styled' in the modern sense. Considered to by the most fashionable American automobiles of its day, the LaSalle was the first of the smaller and more maneuverable luxury vehicles. The LaSalle was also the pioneer in the automobile color industry. Up until this point all vehicles were produced in only black Japan enamel, the only finish available to dry quickly enough to stand up to the pace of mass production. The introduction to DuPont Chemical Company's fast-drying, polychromatic duco finishes in '24 supplied automobiles with a stunning array of colors. La Salle became one of the first cars to take advantage of this modern advancement.

The Series 350 was introduced in 1934 and was considered to be more like an Oldsmobile than a Cadillac. Borrowing an L-head straight eight from the Oldsmobile division to replace the traditional Cadillac V-8, the new series shared the same 240.3-cubic-inch (4-liter) displacement. A completely redesigned chassis was introduced with a much shorter, 119-inch wheelbase. Since the beginning of the La Salle, the double-plate type clutch was utilized until before replaced with a single-plate clutch. Hydraulic brakes were also newly adopted into the series adding yet another first to GM's repertoire.

Independent front suspension now reduced the unsprung weight problem that had been an issue since 1933. Cadillac was able to reduce the price of the LaSalle base models by $650 with these cost cutting new innovative features.

Considered to be the automotive industries fashion leader, the La Salle was equally impressive from its design side. The new design styling for the 1934 model was considered to be dramatic and eye-catching. High-set headlamps in bullet-shaped pods were placed on both sides of a tall, narrow vee'd radiator, along with curvy 'pontoon' fenders at both the front and rear. Wheels were encased in smart chromed discs while hood vent doors gave to 'portholes'.

The La Salle featured bumpers that emulated the shape of twin slim blades separated by two bullets, similar to the '27 Cadillacs. Trunks were absorbed into the main body on all models and spare tires moved inside the vehicles. The LaSalle Series 50 featured a four-door sedan, a new five-passenger club sedan, a two-seat coupe and a rumble-seat convertible coupe in its 1934 lineup. All models showcased Fleetwood bodywork and rear-hinged front doors. Cadillac's standard of quality and luxury were still rated as outstanding despite the money-saving measures. For the 1934 Indianapolis 500, the '34 LaSalle was chosen as a pace car for that year.

Unfortunately the following year's sales dipped far below expectations, even though they doubled the previous year's total. A total of only 7195 models were produced for the 1934 year.

Not much styling was changed for the 1935 LaSalle Series 50. Updates included two-door and four-door 'trunkback' sedans joining the line with an industry trend. Fisher's new 'Turret-Top' construction was introduced to replace the original closed body styles. This update required steel to replace the traditional fabric inserted into the roof. Horsepower was up from 90 to 95 with a slightly higher compression ratio. Very few mechanical changes were made for the '35 model.

Due to the release of Packard's new One-Twenty, about the same size as LaSalle, though slightly lighter and 16% more powerful and costing $450 less, LaSalle sales suffered.

The following year Cadillac responded to the competition by reducing the little-changed Series 50 by $320, though even this wasn't enough to stimulate sales significantly. Packard's One-Twenty continued to thrive, and outsold the LaSalle by better than four to one for 1936.

Time to try a new approach, Cadillac next introduced a new 'compact' Series 60 that same season.
By Jessica Donaldson
120 years of motor sport at Mercedes-Benz take centre stage at the Goodwood Festival of Speed 2014
'Addicted to Winning': at this year's Goodwood Festival of Speed, Mercedes-Benz looks back on some fascinating racing victories of the last 120 years •The unique motor sport heritage of the Mercedes-Benz brand is being celebrated with an exclusive installation by sculptor Gerry Judah •Mercedes-Benz and Gran Turismo®6 jointly celebrate '120 years of motor sport' Stuttgart. – The thrilling victories of the Mercedes-Benz Silver Arrows mark the peaks of the history of motor sport for...[Read more...]
Techno Classica 2014: more than 30 racing cars to celebrate 120 years of Mercedes-Benz motor racing history
•Cars that were the heroes of magical moments put their stamp on this high-powered, most comprehensive show presentation •With more than 30 vehicles, Mercedes-Benz Classic presents motor racing history in all its unique breadth and depth •120 years of Mercedes-Benz motor sport in the focus of the leading international classic motor show 120 years of Mercedes-Benz motor racing history have produced a timeline of extraordinary victories which since 1894 also stand for outstanding innovations ...[Read more...]
VOICES: BMW TEAM RLL IS READY FOR THE ROLEX 24 AT DAYTONA
Woodcliff Lake, N.J. – Jan. 23, 2014 . . . BMW Team RLL brings a power-packed driver lineup to the 52nd Rolex 24 at Daytona to pilot the two BMW Z4 GTLM racing machines. Bill Auberlen, Joey Hand, Maxime Martin and Andy Priaulx will share the black No. 55 car. John Edwards, Dirk Müller, Graham Rahal and Dirk Werner will co-drive the white No. 56 machine. Among them Auberlen has two class wins (1997 GT3, 1998 GT3) and Müller one (1998 GT1) while Hand and Rahal co-drove to the 2011 overal...[Read more...]
Mitsubishi Motors All-New Outlander Crossover the 'Official Safety Vehicle' of the 2013 Pikes Peak International Hill Climb (PPIHC)
CYPRESS, CA, June 17, 2013 -- Mitsubishi Motors North America, Inc. (MMNA) is proud to announce that its completely redesigned 2014 Mitsubishi Outlander crossover will be the 'Official Safety Vehicle' for this year's 91st running of the Pikes Peak International Hill Climb (PPIHC) to be held on June 30, 2013. With available technologically-advanced safety features including Lane Departure Warning (LDW), Adaptive Cruise Control (ACC) and Forward Collision Mitigation (FCM),the stylish se...[Read more...]
BUICK TURNS 110: 11 HIGHLIGHTS OF 11 DECADES
Buick vehicles today are built in state-of-the-art facilities around the world. The Enclave luxury crossover's Lansing Delta Township plant was the industry's first LEED Gold-certified manufacturing facility. The brand has evolved in many ways since 1903, when the first Buick was hand-built in a small barn behind David Dunbar Buick's Detroit home. Here are 11 top highlights from Buick's first 11 decades: • Through the end of 2012, Buick has sold more than 43 million vehicles. That's the equiv...[Read more...]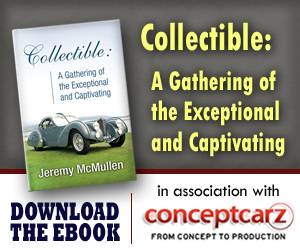 © 1998-2014. All rights reserved. The material may not be published, broadcast, rewritten, or redistributed.