1951 Buick Roadmaster Series 70 news, pictures, specifications, and information

Tweet
There were around 679 examples of the Roadmaster Estate Wagon constructed in 1961. Only twelve are known to exist in modern times. This example shown, finished in light blue with wood door panels was owned by a single family from new until 2006. It is powered by a 320 cubic-inch eight-cylinder engine capable of producing around 150 horsepower. There is a Dynaflow automatic transmission and four-wheel drum brakes.

The Dynaflow transmission was offered by Buick in 1948, which was a fully automatic gearbox. It was instantly popular and doubled Buicks estimated production for that year. For the following year, Buick freshened up its line with an updated look. More visual improvements followed in 1950. The Buick cars introduced some signature design features such as the portholes in the fenders, known as VentiPorts.

This 1951 Buick Roadmaster Estate Wagon was offered for sale at the 2007 RM Auctions held in Amelia Island, Florida. The car was estimated to sell between $80,000 - $100,000. It is in very original condition with the exception of a repaint, thou to its original color. The wood is all original, as are the seats and door panels. It has spent most of its life in Dallas, Texas where it was in single ownership until 2006.

At auction, the car failed to find a buyer. An opportunity was lost, as it is hard to find an Estate Wagon that is in original condition and has been this well treated. With only a few still existing, the opportunity to own one comes only so often.
By Daniel Vaughan | Apr 2007
The 1951 Buick Roadmaster Series 70 Riviera hardtop was the top of the line closed automobile offered by Buick. The Roadmasters exclusively were fit with the large, straight 8,320 cu.in. 'Fireball' engine. The Buick automatic transmission was shift-less and called the DynaFlow, and was known for its smoothness in operation.

This car was displayed at the 100th year anniversary celebration in 2003 in Flint, Michigan - the birthplace of Buick. The hardtop design gave the sportiness of a convertible but with the comfort of a closed car. The original price for the Riviera Hardtop was $4,145 with around 12,901 examples being produced. The Riviera Hardtop rested on a 126.25 inch wheelbase while the Riviera Sedan was given a 130.25-inch wheelbase. The Sedan version cost $3,200 with a total of 48,758 examples being produced. The Other two Series 70 bodystyles available were the two-door Convertible and four-door Estate Wagon. The Wagon cost nearly $4,000 while the convertible fetched $3,450. The estate wagon was the most exclusive with only 679 examples produced. A total of 2911 Convertible Roadmasters were sold.
The Roadmaster named first appeared on Buick automobiles in 1936 as a celebration of their engineering improvements and advancements in design. The Buick Series 80 became known as the Roadmaster. The Roadmasters were built on the longest wheelbase Buick had to offer. From 1946 through 1957 they were the most elegant and prestigious automobiles that Buick sold.

From 1936 through 1948 the Roadmaster appeared in coupe, sedan, convertible and station wagon bodystyles. A hardtop coupe was added in 1949 and dubbed the Riviera.

The Roadmaster named reappeared in 1991 and continued in production until 1996. It served as a replacement for the Electra model line and offered as an Estate Wagon. A sedan was introduced in 1992.

The end of the 1953 Buick Roadmaster station wagon meant the end of the last wood-bodied station wagon to be mass-produced in the United States. In 1996, the end of the Buick Roadmaster Estate Wagon meant the end of the full-size family station wagons.
By Daniel Vaughan | Mar 2006
For more information and related vehicles, click
here
Magic moments: 120 years of Mercedes-Benz motor sport: history at the Retro Classics show from 13 to 16 March 2014
•Mercedes-Benz Classic presents highlights in the history of the DTM in hall 7 at the show in Stuttgart •Strong presence by the company and the brand clubs at southern Germany's leading show for automotive classics •Fascinating dialogue between competition models and the top-of-the-line C-Class models from Mercedes-AMG 120 years of motor sport history at Mercedes-Benz also stand for twelve decades in a culture of ongoing innovation for series production cars which is fuelled by strong impul...[Read more...]
BUICK TURNS 110: MOST SIGNIFICANT BUICK OF EACH DECADE
DETROIT – Remaining in business for 11 decades requires constant innovation, so choosing one model to represent a decade of significance can be a catalyst for debate. Among the hundreds of models designed and engineered for Buick, the 11 below stand out as the most significant for their respective decades since May 17, 1903. Let the debate begin. ◾1903-1912: The first Buick ever is quite significant, so Buick's first decade honor goes to the 1904 Model B. The first one of the line was so...[Read more...]
The Mercedes Benz S Class: automobile comfort of the highest standard
• S Class: the epitome of automobile comfort • Every generation of vehicles provides ground-breaking solutions to the expectations of customers with regard to comfort The history of the Mercedes Benz S Class shows that automobile comfort is far more than just a luxurious ambiance, size and performance. In fact it is far more the intelligent support of the driver and passengers through innovative technical solutions providing answers to current questions and requirements which contribute to t...[Read more...]
Auctions America Announces Exciting List of Attractions for its Auburn Spring Collector Car Weekend
• Final countdown underway to Auctions America's Auburn Spring collector car weekend, May 9 – 11 at the historic Auburn Auction Park in Auburn, Indiana • Sale lifts the gavel on approximately 500 quality collector cars and features full day of memorabilia • Latest auction highlights include a 1930 Packard Dual Cowl Sport Phaeton, a 1938 Cadillac V-16 Convertible Coupe, and a very rare 1967 Ford Fairlane 500XL R-Code in addition to the previously announced John Soneff estate collection • Week...[Read more...]
Auctions America's 2013 Auburn Spring Event Offers Ultimate Collector Car Weekend
• Auctions America presents the first of two annual Auburn sales, May 9 – 11 at historic Auburn Auction Park in Auburn, Indiana • Multi-day sale lifts gavel on 600 quality collector cars and an assortment of memorabilia • Notable early highlights include selection of Hudsons from the respected John Soneff Collection • Weekend also features inaugural Antique Automobile Club of America Central Division National Spring Meet, and an extensive car corral and swap meet presented by Carlisle Events...[Read more...]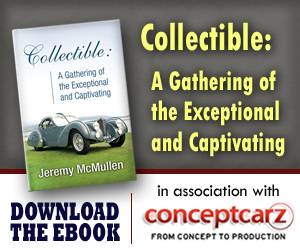 Similarly Priced Vehicles from 1951
Lincoln Cosmopolitan ($3,125-$3,890)
Jaguar XK120 ($3,855-$4,000)
Simca 8 Sport ($3,500-$3,500)
Packard Patrician 400 ($3,660-$3,660)
Packard Series 250 ($3,235-$3,390)
Allard J2 ($3,244-$3,244)
Mercedes-Benz 170D ($3,600-$3,600)
Chrysler New Yorker ($3,350-$4,025)
Chrysler Saratoga ($2,990-$4,240)

Average Auction Sale: $475
Buick
Monthly Sales Figures
Volume
February 2014
19,192
January 2014
13,278
December 2013
15,379
November 2013
15,072
October 2013
17,555
September 2013
15,623
August 2013
24,650
July 2013
16,393
June 2013
18,078
May 2013
17,982
April 2013
17,157
March 2013
18,007
(More Details)
© 1998-2014. All rights reserved. The material may not be published, broadcast, rewritten, or redistributed.