1951 Buick Roadmaster Series 70 news, pictures, specifications, and information

Tweet
There were around 679 examples of the Roadmaster Estate Wagon constructed in 1961. Only twelve are known to exist in modern times. This example shown, finished in light blue with wood door panels was owned by a single family from new until 2006. It is powered by a 320 cubic-inch eight-cylinder engine capable of producing around 150 horsepower. There is a Dynaflow automatic transmission and four-wheel drum brakes.

The Dynaflow transmission was offered by Buick in 1948, which was a fully automatic gearbox. It was instantly popular and doubled Buicks estimated production for that year. For the following year, Buick freshened up its line with an updated look. More visual improvements followed in 1950. The Buick cars introduced some signature design features such as the portholes in the fenders, known as VentiPorts.

This 1951 Buick Roadmaster Estate Wagon was offered for sale at the 2007 RM Auctions held in Amelia Island, Florida. The car was estimated to sell between $80,000 - $100,000. It is in very original condition with the exception of a repaint, thou to its original color. The wood is all original, as are the seats and door panels. It has spent most of its life in Dallas, Texas where it was in single ownership until 2006.

At auction, the car failed to find a buyer. An opportunity was lost, as it is hard to find an Estate Wagon that is in original condition and has been this well treated. With only a few still existing, the opportunity to own one comes only so often.
By Daniel Vaughan | Apr 2007
The 1951 Buick Roadmaster Series 70 Riviera hardtop was the top of the line closed automobile offered by Buick. The Roadmasters exclusively were fit with the large, straight 8,320 cu.in. 'Fireball' engine. The Buick automatic transmission was shift-less and called the DynaFlow, and was known for its smoothness in operation.

This car was displayed at the 100th year anniversary celebration in 2003 in Flint, Michigan - the birthplace of Buick. The hardtop design gave the sportiness of a convertible but with the comfort of a closed car. The original price for the Riviera Hardtop was $4,145 with around 12,901 examples being produced. The Riviera Hardtop rested on a 126.25 inch wheelbase while the Riviera Sedan was given a 130.25-inch wheelbase. The Sedan version cost $3,200 with a total of 48,758 examples being produced. The Other two Series 70 bodystyles available were the two-door Convertible and four-door Estate Wagon. The Wagon cost nearly $4,000 while the convertible fetched $3,450. The estate wagon was the most exclusive with only 679 examples produced. A total of 2911 Convertible Roadmasters were sold.
The Roadmaster named first appeared on Buick automobiles in 1936 as a celebration of their engineering improvements and advancements in design. The Buick Series 80 became known as the Roadmaster. The Roadmasters were built on the longest wheelbase Buick had to offer. From 1946 through 1957 they were the most elegant and prestigious automobiles that Buick sold.

From 1936 through 1948 the Roadmaster appeared in coupe, sedan, convertible and station wagon bodystyles. A hardtop coupe was added in 1949 and dubbed the Riviera.

The Roadmaster named reappeared in 1991 and continued in production until 1996. It served as a replacement for the Electra model line and offered as an Estate Wagon. A sedan was introduced in 1992.

The end of the 1953 Buick Roadmaster station wagon meant the end of the last wood-bodied station wagon to be mass-produced in the United States. In 1996, the end of the Buick Roadmaster Estate Wagon meant the end of the full-size family station wagons.
By Daniel Vaughan | Mar 2006
For more information and related vehicles, click
here
The Trident is Raised
One of Italy's most famous marks, and perhaps most troubled, the trident-bearing automaker continues to provoke passion through its search of excellence. Five brothers would come together in December of 1914 to found a motor company bearing their name—Maserati. Alfieri, Bindo, Carlo, Ettore and Ernesto had all demonstrated a passion for automobiles, particularly racing, during those early years at the turn of the 20th century. The foundations of the company would actually begin ...[Read more...]
CHRYSLER GROUP IN 2015, UNDER THE HOOD: MORE POWER, GREATER EFFICIENCY AND EXCEPTIONAL VALUE
◾Introducing the HEMI® Hellcat – Chrysler Group's most powerful V-8 ever; 18th new engine added to Company lineup in less than five years ◾Celebrated TorqueFlite family grows by one with most robust eight-speed automatic in Chrysler Group history; 15th new transmission ◾TorqueFlite transmissions – projected to save current Chrysler Group customers more than 700 million gallons of gasoline – now available across entire Dodge full-size car lineup ◾Debut of new, high-efficiency, lightweight axle...[Read more...]
Mercedes-Benz USA Announces Pricing for 2014 SLS AMG Black Series and C63 AMG Edition 507
MONTVALE, N.J. – Mercedes-Benz USA (MBUSA) today announced pricing for the 2014 SLS AMG Black Series coupe and the 2014 C63 AMG Edition 507 sedan and coupe. Both models are part of an exclusive lineup of high-performance AMG models available at all U.S. Mercedes-Benz dealers. The Manufacturer's Suggested Retail Pricing for the MY14 SLS AMG Black Series is $275,000 (plus $1,800 for destination and delivery). Pricing for the MY14 C63 AMG Edition 507 sedan will begin at $70,000 (plus $925 fo...[Read more...]
Goodwood Festival of Speed 2013: auction of Mercedes-Benz W 196 R one of highlights at world's 'largest motorised garden party'
• Mercedes-Benz Classic presents great moments in motor-racing history at Goodwood • Motorsport festival celebrating its 20th anniversary • Auction of only privately owned post-war Silver Arrow by Bonhams sure to cause a stir Stuttgart – This year's Goodwood Festival of Speed in West Sussex, England, includes the auction of a Mercedes-Benz Type W 196 R Grand Prix racing car on 12 July 2013. The auction will be one of the highlights of a weekend dedicated to motor sport. Mercedes-Benz...[Read more...]
BUICK TURNS 110: MOST SIGNIFICANT BUICK OF EACH DECADE
DETROIT – Remaining in business for 11 decades requires constant innovation, so choosing one model to represent a decade of significance can be a catalyst for debate. Among the hundreds of models designed and engineered for Buick, the 11 below stand out as the most significant for their respective decades since May 17, 1903. Let the debate begin. ◾1903-1912: The first Buick ever is quite significant, so Buick's first decade honor goes to the 1904 Model B. The first one of the line was so...[Read more...]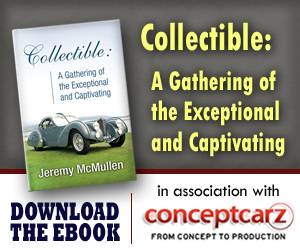 Similarly Priced Vehicles from 1951
Lincoln Cosmopolitan ($3,125-$3,890)
Jaguar XK120 ($3,855-$4,000)
Simca 8 Sport ($3,500-$3,500)
Packard Patrician 400 ($3,660-$3,660)
Packard Series 250 ($3,235-$3,390)
Allard J2 ($3,244-$3,244)
Mercedes-Benz 170D ($3,600-$3,600)
Chrysler New Yorker ($3,350-$4,025)
Chrysler Saratoga ($2,990-$4,240)

Average Auction Sale: $27,738
Buick
Monthly Sales Figures
Volume
December 2014
20,357
November 2014
19,143
October 2014
18,699
September 2014
17,466
August 2014
22,143
July 2014
17,683
June 2014
21,403
May 2014
19,957
April 2014
19,214
March 2014
20,428
February 2014
19,192
January 2014
13,278
(More Details)
© 1998-2014. All rights reserved. The material may not be published, broadcast, rewritten, or redistributed.